Joanna doesn't like to limit where she's from to one place. Instead, Joanna is from everywhere. Though she is a Poland native, she has lived in so many different countries throughout her life that she feels like she belongs to the world. Joanna Szreder is currently an online English teacher for Polish students and she also runs two blogs: OK English and The Blond Travels. Want to learn more about Joanna? Read on!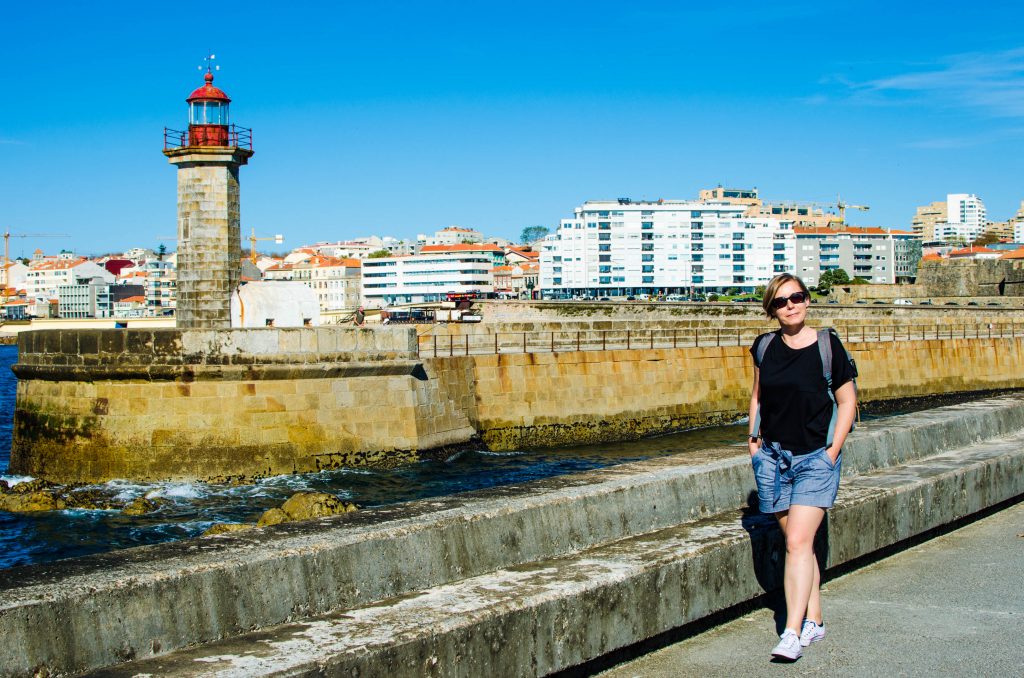 What are you working on right now?
I am currently creating a site with English mini lessons. It will contain courses, which will help self-learners with their English skills.

This year I am also focusing on my other passive income, which mostly comes from my travel blog. My main goal is to do less lessons, so I can enjoy the countries I stay in a bit more.
What is your current desktop wallpaper? and why?
Mountains and a lake. It's a standard Mac wallpaper. I haven't changed it because I hardly ever close the internet browser, even when I finish my work for the day, so I have never thought much about it.
Which book has shaped your life or changed the way you think the most?
The Art of Travel – Alain de Botton
How do you start off your day — aka what's your morning routine?
I get up at around 7-7:30, do yoga for 15 minutes and sometimes I meditate. Then I take a shower, drink my hot water and tea and eat a bowl of porridge. While I eat, I listen to podcasts. I usually start work at around 8:30-9:00. It's only then when I switch on my phone and open my laptop.
What is one thing you do to get motivated?
When I feel that my motivation is low, I listen to podcasts, watch YouTube (I love Tony Robbins and Gary V.) and read books. If that doesn't help, then it means I need a break. I take a few days off and go back to work with new energy.
What made you smile today?
I did a life video lesson on my Facebook page after two weeks of absence and one of my regular followers said that she missed me. I thought it was super nice!
What is something you think everyone should try at least once in their life? Or name one skill you think everyone should have or learn?
Learning a new language. I started learning English when I was little and only recently I finally appreciated the fact that I can speak it fluently. This sparked an interest in languages. I am now learning Thai and Portuguese. I think knowing a foreign language is the best skill you can have.
What is one skill or hobby you've been meaning to learn but haven't had time for?
I've always wanted to learn how to draw. I cannot do it. I still draw like a five-year-old and would love to improve it a little bit. I think drawing seems like such a relaxing thing to do. You can do it anywhere and it helps you to focus. I think I could find time for it, I'm just too shy to ask someone to show me how to do it.
List 3 simple things in life that make you really happy:
– wine
– coffee
– sunny weather
What is the best thing that you have done, just because you were told you can't?
Oh, there have been many of them! I was told I can't be a teacher and that going to Thailand and teaching there will ruin my life. I was also told I will never become an entrepreneur and my blogging is just a silly gig. I have been determined to show everyone who thought so how wrong they were. I am not where I would like to be yet, but I'm working towards it. I think I can say that I am who I am thanks to those that didn't believe in me.
What is your favorite coworking space and why?
Ooops…I don't use coworking spaces. Sorry! I prefer coffee shops, or working at home. I am now living in Lisbon and really like public libraries. I just like to work alone and I try to eliminate distractions as much as possible. I find coworking spaces too distracting for me.
If you had the opportunity to spend a week or month in another country to be your office of the week/month, where would you go?
Thailand – always and forever!
Biggest item on your bucket list at the moment?
I try not to have a bucket list as my plans and desires change all the time, but one of the things I have always wanted to do was to see dolphins in the wild and maybe swim with them.
As a Digital Nomad/Entrepreneur. If you were stranded on a deserted island, what three things would you have and why?
– a knife
– a hammock
– a bug spray
Very reasonable.

What was your first job? Has it shaped where you are today?
This a difficult question actually. I come from a seaside resort in Poland and both my parents had summer businesses, so I always helped them during the high season. I was paid for my work, so I think that was my first job.

My first job where I worked for someone else was a cashier at McDonald's. After finishing studies, I moved to London and that was the first thing I found. It was very stressful because I didn't understand what people were saying; it was fast-paced and our boss always shouted at us. But it also pushed me to find something better. I hated that job and wanted to get out of there.
Any advice for your previous boss?
Keep your feet off your desk! That's rude!
What is your go-to pump up song?