Meet Geri Dempsey, the founder and editor of Irish culture magazine Cove. Though Irish-born Geri now spends her time between London and Dublin, she wanted to create a publication that champions the Irish mentality and spirit. By giving Irish creatives the platform to share their work and perspectives, what began as Geri's college project evolved into a multi-issue and ever-growing publication showcasing the wealth of artistic talent in Ireland. Learn more about Geri's journey in our latest Coworkers of the World spotlight!
First, tell us a little bit about yourself! (i.e. What's your business / what are you currently working on?)
I'm the founder and editor of Cove Magazine. We are a publication examining Irish culture and identity through the written and visual. With each issue, we base ourselves in a different location, focusing on areas housing large Irish emigrant populations.
We also take on a different theme and encourage contributors to submit work based on their interpretation of our chosen theme. Issue 1: Growth was based in Dublin and Issue 2: Failure was based mainly in London. We chose to tackle alienation and isolation for our third iteration and based ourselves in New York.
We feature an assortment of fashion, art, and culture carefully curated to combine our Irish essence with the city we temporarily inhabit. Our roots are based in a desire to showcase talented young creatives, and we achieve this by involving a mix of well-established and innovative new contributors.
"Iarracht comh phairteach" translating to "a joint effort" in Irish embodies our ethos and is responsible for our name "Comh/Cove" meaning "joint."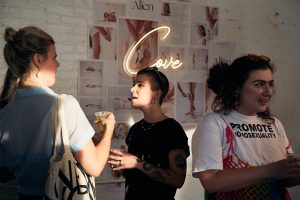 How do you start off your day—a.k.a what's your morning routine? 
I'd love to say that I'm a morning person, but I work much better in the late afternoon/evenings. Aside from running Cove, I'm a freelance graphic designer so I can usually tailor my days to suit me. I normally sleep in as long as I can on any given day and grab a coffee on my way in to the Tara Building. Sadly no lemon water, yoga, or workout for me.
Which book has shaped your life or changed the way you think the most?
I'm currently reading an incredible book called How to be a Gentlewoman – The Art of Soft Power in Hard Times by Lotte Jeffs. I'm only halfway through and it has already been eye opening. I've had my quiet confidence written off as being passive by former bosses, partners, and even friends in the past. This book has affirmed what I already knew: that conflict is rarely the answer, and how the alarmingly simple act of just being nice gets you so far.
What project are you currently working on?
We've just sent Issue 3 of Cove to print so that's a really big load off, but we're launching next month so I don't have much time to relax. I only manage to get one issue out per year as it's more of a side project; however, this time it's taken on a life of its own. We've got more stockists and more contributors than ever so it's taking all of my focus at the moment.
How did you come up with the idea or concept for your business?
Cove evolved from a college project and was only ever envisioned as a single issue. Some stockists in Dublin really liked it and the initial contributors were mainly friends who really enjoyed the process, so I decided to bite the bullet and make a second one. Now here we are.
What was your mission at the outset?
I started Cove as a response to the lack of Irish publications highlighting young creatives. My initial aim was to showcase students and recent graduates who weren't getting the coverage they deserved in Dublin. We lose a huge amount of talented creatives to London every year – guiltily myself included. I thought if I could even slightly contribute to showing Ireland the wide selection of fresh talent we have then I was doing something right.
What is the most rewarding thing you did last year?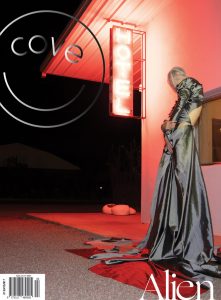 For Issue 3, we partnered with a production studio called Holyrad Studio in New York. I brought on a US Fashion Editor Joe van Overbeek and together we worked to add more diversity to the issue. Our efforts to creative a more diverse publication that shone a light on and involved more minorities didn't show through enough in the first few issues, and this was something I had to acknowledge needed to be more of an active effort. Our theme "Alien" was envisioned to tell the stories of those who had ever felt othered. Having the pleasure of not only showcasing but working alongside a more diverse team was extremely rewarding.
Where is your favorite place you've traveled to?
I was based in New York all of last year and it definitely has my heart.
What entrepreneurial tricks have you discovered to keep you productive in your day-to-day schedule?
It might sound simple to some people but as a major procrastinator, setting a time limit for social media saves me hours every week.
What would you say are the top three skills needed to be a successful entrepreneur?
I'm not sure if they're applicable to everyone, but what got me started was
1. Being naïve enough to think I could start a business

2. Being brave enough to continue when I hit hurdles

3. Being flexible enough to let the business evolve without having a breakdown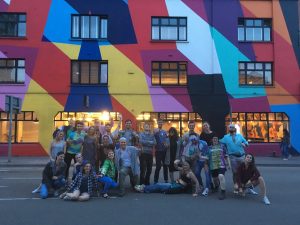 What is your favorite coworking space and why?
The Tara Building is the most welcoming and warm space I've ever worked in. Whether it's the Facebook group where everyone shares advice, photos, and updates on what snacks are in the kitchen to everyone's willingness to help, I never have a dull day. I came for the work space and stayed for the community.
Why did you choose to work from your current coworking space?
I was spending some time back in Ireland and simply couldn't be productive from home. The Tara Building is located right in the city center, so it was ideal for meetings and of course the community and network were the main attraction for me.
With several other coworking spaces around the city, I didn't feel a draw to any as they seemed quite formal and intense. The murals and wood-paneled interiors got the millennial in me, but Tara and everyone in it are the true heart of Dublin. There's movie nights, events, and workshops on constantly and you can participate as much or as little as you like.
With so many office blocks and hotels popping up around Dublin the only workspace that seemed worth being a part of was the Tara Building. They were established as a new creative space for the city and everyone within it is fascinating. It's ideal for me as there are so many members also in creative industries. I've even managed to find contributors and freelancers through just being in the office.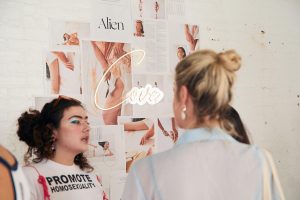 How have coworking spaces made a positive impact on your business?
It has allowed me to tailor everything to myself, hire freelance staff, have meetings based in the city, work whatever hours I like (even well into the night), and find help only a few desks down to help code the website or have a quick chat/coffee. Not to sound cliché, but it really is a great big melting pot.
What are your short-term and long-term goals (both personal and business)?
Short-term, I'm trying to have Cove stocked in as many stores as possible, and long-term, I'd love to see what other formats I can take the magazine and our community into, perhaps even outside of print.
What are the podcasts you're listening to right now and why? 
My essential podcast recommendation is "Nobody Panic." Hosted by two English comedians, Stevie Martin and Tessa Coates, it attempts to answer the age-old question of how you can become a fully-functioning adult. It's conversational and pretty much like catching up with your friends over a couple of gin and tonics once a week. "How to smash public speaking," "How to deal with workplace politics," and the amazing "How to stay sane when you've got the flu" are some of my favorites. It's always reassuring to hear advice from a host who is also a bit of a hot-mess and not preachy in the slightest.
If you had one piece of advice for someone just starting out, what would it be?
Surround yourself with people who are smarter than you. For Cove's most recent issue, I brought on some freelancers to fill in the gaps where my skills weren't quite cutting it. While it's hard to hand over power and delegate, the result was a richer and better-designed issue. I also learned many lessons about how to be a better leader; growth is often painful, but necessary.