Elisa has worked for over a decade creating compelling content and writing for various businesses and publications. Her work has been featured in The New York Times, The Boston Globe, Forbes, Yahoo!, Frommer's Travel Radio, and many others. She is currently the owner of Craft Your Content, an editorial agency that works with professional writers, entrepreneurs, and brands that want a creative partner to help them make their own words even better. She can be found traveling the planet looking for great stories to live, interesting tales to share and new ways to make words sexy.
What are you working on right now?
So many things! Our agency (which focuses on editing and writing coaching services) continues to grow at a rapid pace in 2018, as the past couple of years of establishing our processes and reputation have helped us to gain more and more traction. We essentially provide professional writers a partner so that the entire creation and publishing process doesn't feel so…lonely.
We recently launched an eight-week writing course, Become a Master Writer, based on the concept of copywork, which teaches the essentials of storytelling and narrative through studying master writers.
Additionally, BAMW helps folks who are trying to establish a daily writing habit by removing the pressure of coming up with new topics and words every day.
What is your current desktop wallpaper? And why?
A picture of my niece when she was about a year old, wearing my sister's black-rimmed hipster glasses, and grinning up into the camera. My sister sent it to me when I was having a rough business day, with the note: "Eva and I believe in you."
It's a great reminder whenever I boot up and see her smiling little face, that no matter what challenges or obstacles I might come across, there are people out there who believe in me.
Which book has shaped your life or changed the way you think the most?
Do people actually choose just one book here?!
I have so many, in different genres and for different reasons. For this question, about changing the way I think, my go-tos would be: The Rosie Project by Graeme Simsion and The History of the Decline and Fall of the Roman Empire by Edward Gibbon.
Or you can check out this post I've written on the most important books I've read in my life (so far), because I get asked this question a lot.
How do you start off your day—aka what's your morning routine?
I wake up super early and am actually a morning person, but I like lazing under the warm covers and taking 5-10 minutes to sort out my dreams and mentally prepare for the day.
On my best days, I drink either a large glass of lemon water or water with apple cider vinegar before knocking out a good 20-30 minutes of Sun Salutations. I shower and get ready while listening to a podcast and swishing coconut oil, before making an Americano with my Moka pot and settling in to work for the morning. Yes, bluebirds do surround me as I do all of this.
On my worst days, I stumble out of bed, pull on yesterday's yoga pants and a wrap sweater, make a pot of drip coffee, and immediately open my laptop to tackle a huge task list for the day.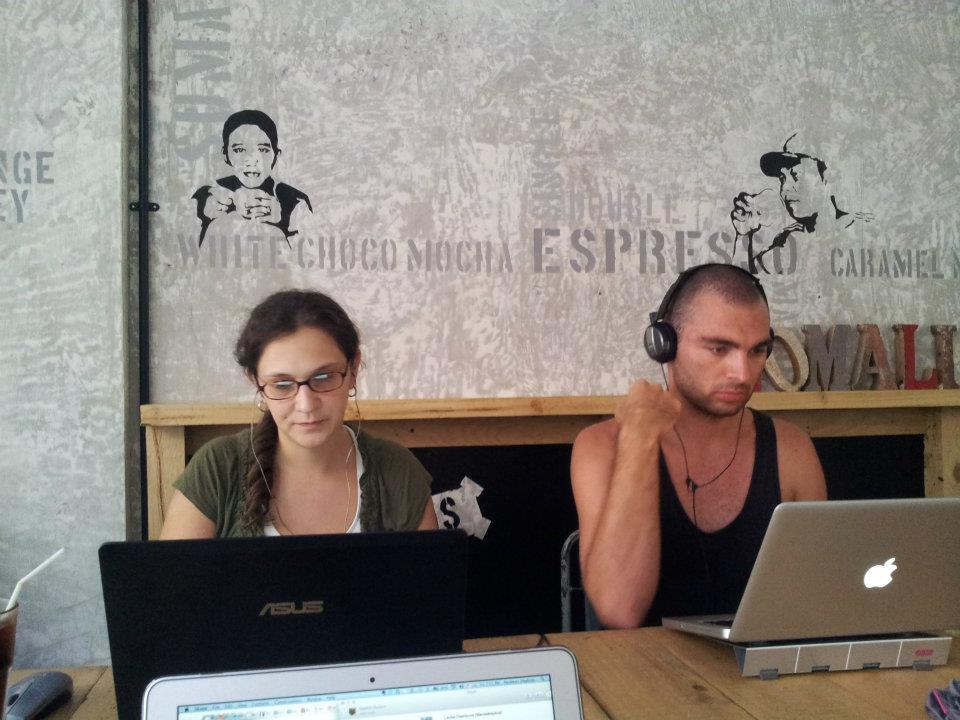 What is one thing you do to get motivated?
Watch YouTube videos of great speeches and motivational talks (not TED/TEDx Talks so much, because I think they've totally jumped the left shark).
My current favorites are Oprah's acceptance of the 2018 Cecil B. deMille Award and Mr. Rogers' induction into the Television Hall of Fame.
What made you smile today?
I went for a long walk through Old Québec City in Canada, where I'm holed up for a hibernating season of deep work on a few different projects. To give an idea of how I feel about cold and snow, I recently told someone that -36C was what it must be when hell actually freezes over, because Satan was running amok in nature for the month of January.
Still, one of my favorite escapes from work and living, to let my mind play and my brain reboot, is to wander aimlessly through the city I'm living in at the time. So even though the chill bit at my face in a way that left my cheeks red and raw when I got back to my flat, I know there were so many times I was stopped on a sidewalk staring at something, and smiling.
What is something you think everyone should try at least once in their life? Or name one skill you think everyone should have or learn.
One thing everyone should try? A spiced Scottish Highland cheddar scone with butter and strawberry jam from The Cult of Coffee in Aberdeen.
One skill everyone should have or learn? Empathy. We should all be working to understand each other more—not agree or become doormats or abandon our own beliefs and opinions—but understand where others are coming from and what their experience is. It's more thoughtful, more intentional, and frankly, more intelligent.
What is one skill or hobby you've been meaning to learn but haven't had time for?
To become better at understanding the tastes, nuances, and quality of various wines and liquors (whisky and bourbon, specifically).
List three simple things in life that make you really happy:
A hot mug of coffee or cup of tea, jazz standards in the background, a vanilla or apple-cinnamon candle burning close by, a huge overstuffed leather chair, and a good book
Dinner parties and game nights with a small group of friends, talking and laughing and eating and drinking until our stomachs hurt from all four
Spending time with my sister and niece, dancing around their living room or curled up on the couch watching Disney sing-alongs
What is the best thing that you have done, just because you were told you can't?
People don't tend to tell me I can't do things, or at least I don't hear them when they try.
What is your favorite coworking space and why?
"The nook" upstairs at Starbucks on Nimman Soi 9 in Chiang Mai. I spent some of my best working hours there, with some of my favorite friends and coworkers from my time in Thailand. The conversations we had when we weren't working were what I showed up for every day.
If you had the opportunity to spend a week or month in another country to be your office of the week/month, where would you go?
I fell absolutely in love with the northern shore of the island of Lesvos in Greece while I was staying at the Birds Bay Resort on a kind of writing sabbatical. It was a gorgeous villa on a cliff overlooking the Aegean Sea, with an infinity pool, a fantastic staff and team, delicious Mediterranean noms, and a peaceful tranquility that I cherished.
In the future, I'm hoping to bring at least a few people back with me, to immerse ourselves in a bit of a deep work retreat, because the island is also blessed with a rather slow wifi connection. Yes, blessed. We don't need to be connected all the time (she says after she learned this lesson the hard way, living on an idyllic island in Greece with a rather slow wifi connection …).
Biggest item on your bucket list at the moment?
I don't really have a bucket list. Not a big fan of having a list of "big things I'll get around to," as I've seen it too often become a list of "one days" rather than a list of "to-dos."
Plus, there's that weird thing that happens, when you share BHAGs (Big Hairy Audacious Goals) publicly that you aren't currently working toward. You get the dopamine rush off of the accolades, then promptly put the task out of your mind because you're happy enough with the recognition and reinforcement.
As a Digital Nomad/Entrepreneur, if you were stranded on a deserted island, what three things would you have and why?
Is it cheating to say I'd want a boat? Assuming stranded means I don't get a boat.
In that case, I'd want a tool chest, a crate of duct tape, and an axe.
That way, I can make myself a boat or raft or something to try to get off of the island.

Tell me something you have never told anyone else.
Not sure if I've never told anyone this before, but my Kindle device name is "Alexandrian," for the Royal Library of Alexandria in Egypt. It was one of the most important cultural repositories in the ancient world, dedicated to the nine Muses, and housing thousands of documents, artifacts, and lecture halls.
Fortunately, I haven't burned my Alexandrian to the ground, but I am on my fourth one in probably a dozen years.
What was your first job? Has it shaped where you are today?
I worked retail in a mall.
It taught me that I never wanted to work retail in a mall again.
Everyone should have to work some sort of menial sales or service gig in their life, as it makes you a better person. Again, that empathy thing. You personally know what it is like to be in those positions, so you know enough not to treat them badly.
What's your favorite part about coworking?
Getting to meet new people, learn new things, hear different opinions and ideas, have those hard conversations and discussions with people, and offer fair critique and feedback that builds each other up—some of the best things that have happened in my professional career have been from coworking with others.
Also, whenever someone brings in cake or pastries or any delicious treats to share, it's like a magical experience.
Or if there's beer on tap.
What is your go-to pump-up song?
I have a whole playlist called Get Amped on Spotify that I listen to some mornings in lieu of a podcast to get my groove back, physically and mentally. I always perk up when All I Do Is Win by DJ Khaled plays on it. Also Pink's So What.