Charlotte is a triple-threat: a web designer, digital strategist and online educator. Originally from Vancouver, Canada, Charlotte O'Hara enjoys leading a lifestyle that gives her the freedom to take risks and experiment in her business in a dynamic way. Now, she's making plenty of coworking connections and memories living in places like Phnom Penh and Bali. Next on her list? Read more about Charlotte to learn more!
What are you working on right now?
I'm currently working on several custom Squarespace websites, one for a small professional business and another for a creative entrepreneur. On top of my services, I am also getting ready to launch two new digital products on my website – the first is an online course that teaches Squarespace users about SEO, and the other is a customizable media kit!
What is your current desktop wallpaper? and why?
My current desktop wallpaper is a photo I took a few weeks ago at sunrise in Uluwatu, Bali. I just wrapped up nearly six months of living and working remotely in Bali, and it's one of my favorite photos from the trip because it takes me back to starting the day off right with an early morning surf session before work.
Which book has shaped your life or changed the way you think the most?
Super cliche but The Four-Hour Work Week. It opened my eyes to a whole new way of working, earning money, automation and long-term travel. After I read that book, it was like the blinders had been taken off and I knew that the traditional 9-5 wasn't going to work for me anymore. I pulled my favorite bits and pieces from that book and it helped me move toward the business I enjoy today.
How do you start off your day — aka what's your morning routine?
I'm definitely a morning person, so I always wake up early, drink a big glass of water, make a cup of tea and then head out for a walk. Sometimes I listen to a podcast or music, but mostly I just use my morning walk as a time to clear my head, think and plan out the day ahead, or even zone out in a mini-meditation.
What is one thing you do to get motivated?
I'm a visual person so whenever I want to get motivated, I look through the saved images/screenshots in my "vision board" folder on my phone. It could be a quote, something I want to buy when I reach a milestone, a place I want to visit, a caption that really stuck with me, whatever! It's something quick and easy that I do nearly every day, and I swear it helps keep me on track and pumped up again.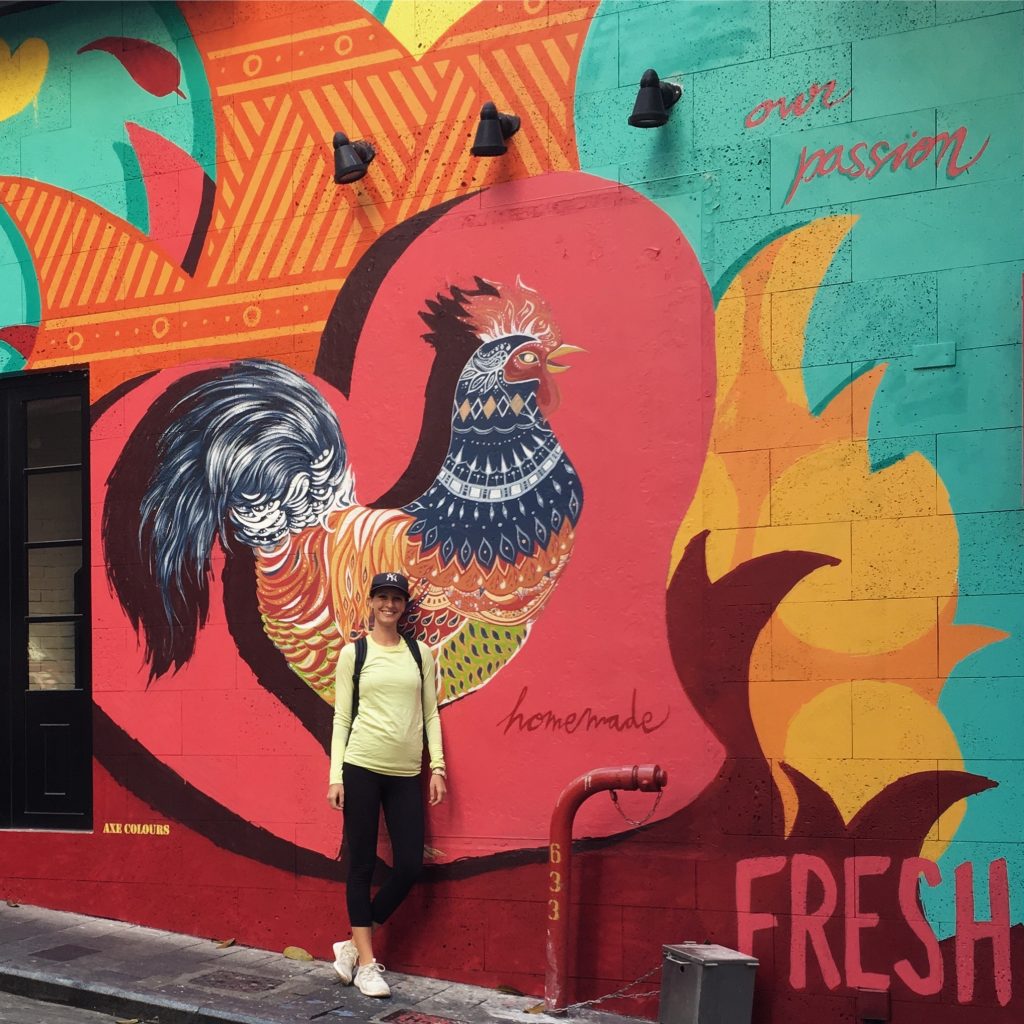 What made you smile today?
The barista at the coffee shop who made me some beautiful latte art and was clearly hyped to show off his newfound skills!
What is something you think everyone should try at least once in their life? Or name one skill you think everyone should have or learn?
In my opinion, everyone should be able to cook at least one basic but delicious meal for a dinner party.
What is one skill or hobby you've been meaning to learn but haven't had time for?
Photography! I always admire people who seem to have a real eye for photography and capture these gorgeous images, but I haven't set aside the time to learn that skill yet.
List 3 simple things in life that make you really happy:
My loved ones
Travel

Spa days
What is the best thing that you have done, just because you were told you can't?
Packing up my things and taking my business "on the road!" When I announced that I was going to live and work remotely from Bali for a few months, most people were supportive but other people were total Debbie Downers and said that my business would take a hit. I went anyways and it turned out to be the best time of my life AND very profitable!
What is your favorite coworking space and why?
Hubud in Ubud, Bali. It's a real community hub and there are so many interesting people working out of that space. Whether you're a newbie to the whole 'remote work' thing or a seasoned veteran, everyone loves it. Hubud host tons of great events, has a wonderful cafe in the coworking space and everyone is genuinely there to work hard and play hard. I love the vibe and can't wait to return!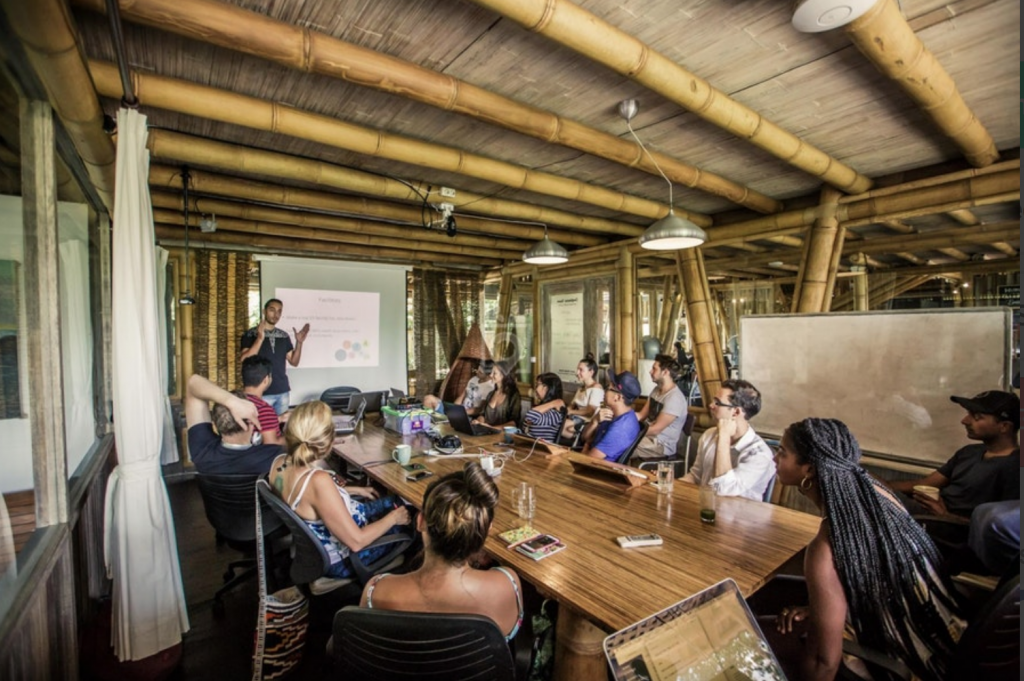 If you had the opportunity to spend a week or month in another country to be your office of the week/month, where would you go?
I've heard great things about Portugal, so I'd like to check that out next! The coworking spaces look great: you can surf and hang out at the beach, there's great food and drinks, and lots to explore. BRB, looking up flights!
Biggest item on your bucket list at the moment?
A surf and road trip in Baja!
As a Digital Nomad/Entrepreneur. If you were stranded on a deserted island, what three things would you have and why?
Ha! Ok first off I would bring my laptop (which I would somehow be able to charge on said deserted island) so that I could stay connected until I was rescued. The second thing I'd bring is sunscreen, because I have zero interest in being burnt to a crisp. Finally the third thing I'd bring would have something to do with survival, maybe a knife or a fire starter? Not sure how long I'd last out there, but I'd take all the help I can get!
What are the podcasts you're listening to right now and Why?
I really like Jenna Kutcher's "Goal Digger" podcast because there's tons of great advice, information and resources for business owners. "Almost 30" is another great one, because the two hosts are hilarious and they always have fun guests on. Finally, I just started listening to "The RFK Tapes," which is really interesting for history/politics junkies or true crime fans.
What was your first job? Has it shaped where you are today?
My first job was as a lifeguard! It was pretty much the best summer job a teenager could ask for. In order to become a lifeguard, you first have to pass a bunch of swimming levels and get certified, so this job taught me a lot about working towards a goal and how great it feels to reach it and enjoy the benefits. It also showed me that work can be fun, doesn't have to be hard all the time and you can have really awesome coworkers.
Any advice for your previous boss?
I'd say that people appreciate when you let them go about their work without being micromanaged, so it's always a good idea to trust your team and empower them to do their best work.
What's your favorite part about coworking?
Hands down my favourite part about coworking is getting to meet so many cool people! Everyone is so diverse but they are all here to do great work and pursue their dreams. People are friendly, keen to share their knowledge and skills, eager to make genuine connections and make the most out of this awesome work setup. Another great thing about coworking is that you can experience places in a whole new way than the regular tourist experience. For example, my coworking experience at Outpost in Cambodia completely exceeded my expectations, and I'm so glad that I got to see this awesome city this way and meet long term residents who have such great insights and recommendations.
What is your go to pump up song?
Anything else you would like to add?
If anyone reading this is thinking about living and working remotely, I say DO IT! I promise it isn't as hard as you think and it's totally possible to do really great and profitable work anywhere. Coworking spaces are super helpful, especially if this is your first rodeo, because they act as a community hub. So you'll get to meet like-minded people, be inspired by the energy of the other members and get a real feel for the place. As long as you're motivated and ready to work hard and smart, I truly believe that anyone can make this lifestyle work! Give it a shot, you won't regret it 🙂