Lifelong travel junkie and mom to three little boys, Carrie is proof that multitasking in a multicultural environment can be a great adventure. Working from her current home base of Bali, Carrie McKeegan manages a remote team of 40+ workers as the CEO of a global accounting business. Passionate about writing and writing, she enjoys yoga and spending time with her family. Want to know more about Carrie? Read on!
What's your name? And where are you from?
Carrie McKeegan
A quick introduction about yourself.
Hi! I am Carrie. I am the CEO of a global accounting business, a mom to three little boys (ages 3, 5 and 8) and a lifelong travel junkie. I manage a remote team of 40+ people from my current home base in Bali, Indonesia.
What are you working on right now?
I have a few projects I am really excited about at the moment! My team is running this terrific survey (we've run this several years in a row now,) which aims to get a sense of how U.S. expats are feeling, what issues are important to them, and how they want to see themselves represented better by the U.S. government. I love reading all the responses and am excited to start sharing the results (the survey ends May 15!) Also, I personally and professionally have been doing tons of writing about building remote teams, raising entrepreneurial families, etc. I love writing and am trying to get back to my passion!
What is your current desktop wallpaper? And why?
A photo of my three little boys, eating popsicles on the beach. It makes me smile!
Which book has shaped your life or changed the way you think the most?
I am a voracious reader, so it's hard to choose just one!
From a personal perspective, The Five Love Languages (Gary Chapman). It really helped me understand the people I love and how to show them love. I also like The Happiness Project (Gretchen Rubin). I love Gretchen Rubin's work and the focus on how understanding yourself is key to creating happiness in your daily routines.

From a business perspective, Traction: Get A Grip on Your Business (Gino Wickman). It resonated with me so much that I have reconfigured my businesses structure over the last two years to follow the Traction approach.

Other top contenders are The 12 Week Year, The Power of Habit, The One Thing, and anything by Brene Brown.
How do you start off your day — aka what's your morning routine?
I wake up early (usually before 5 a.m.), drink a huge glass of water and get a big coffee with coconut milk. Since my team's U.S.-based and I am in Bali, I often start the day with meetings and catching up with the team. I spend a couple of hours on meetings and task-y work, then take an hour or two to do yoga or go to the gym. Then I do my deep work in the afternoon.
What is one thing you do to get motivated?
25 minute pomodoro timers. Mentally, doing something hard for 25 minutes is manageable, and often once you kick off the first 25 minutes, you can keep going happily. Also, if I am really stuck, I write down the problem I am having on a notecard, put it in my pocket, and take a walk on the beach while focusing on solving it. I find  great clarity from long walks.
What made you smile today?
My team! One of our team member's husbands had a bike accident yesterday. When I awoke this morning, I had a note from a lady on my team saying they had organized a delivery of dinner for her and her husband from a local restaurant and a team card to cheer them up, with a personal note from each of them. I love how supportive everyone is of each other!
What is something you think everyone should try at least once in their life? Or name one skill you think everyone should have or learn.
Yoga. But with one caveat–I think you need to try yoga at least five times before you can make a call on whether it is something you enjoy. I think the first five yoga classes, people are so nervous/self-conscious that they can't experience the real benefits of yoga, which for me are also largely mental and emotional. I think everyone can benefit from more stillness and connection to their bodies.
What is one skill or hobby you've been meaning to learn but haven't had time for?
Surfing. I love the ocean and the beach, so knowing that if I can just get past the initial time commitment and nervousness, I would love it.
List 3 simple things in life that make you really happy:
My three little boys.
Being immersed in a good book.
The beach–sand between my toes and the sound of the ocean in the background!
What is the best thing that you have done, just because you were told you can't?
Left my big corporate career in London to start a business and move to Bali!
What is your favourite coworking space and why?
Genius Cafe, Mertasari Beach in Sanur. It's a great place to work creatively–in the open air, facing the beach, with a really healthy menu. It's about a 25=minute walk from my house, and I love walking along the beach to "commute" to my "office."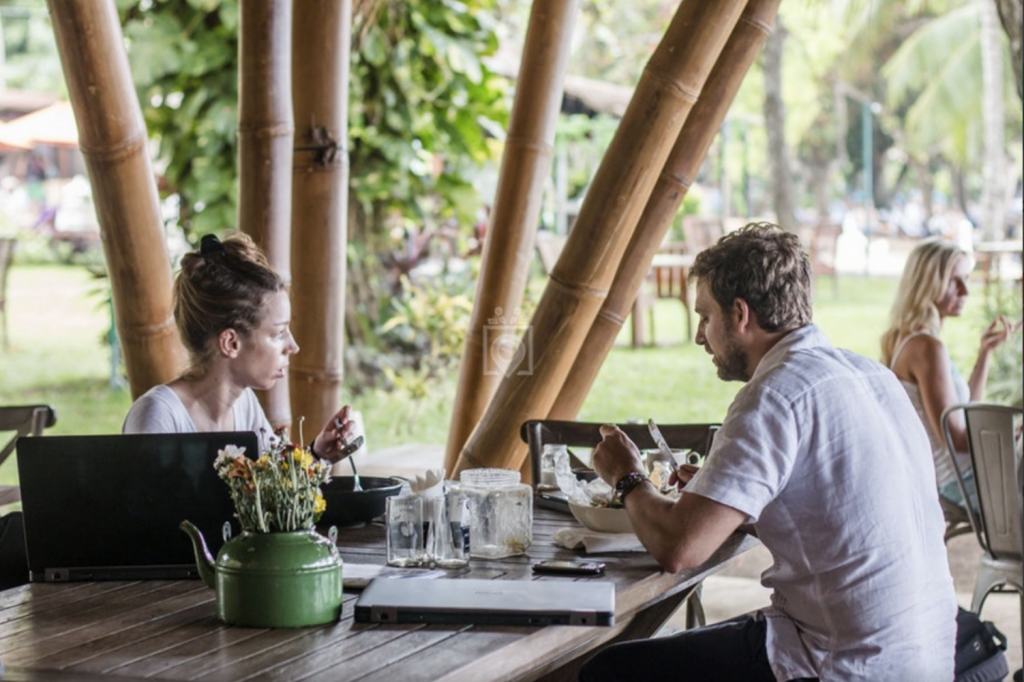 If you had the opportunity to spend a week or month in another country to be your office of the week/month, where would you go?
Barcelona. I love Barcelona (lived there for two years, and go for a visit once a year, if not more). At the moment, I am really craving being back for a few weeks–walking around the little plazas, down by the beach and eating amazing Spanish food…
Biggest item on your bucket list at the moment?
Writing a book! Haven't started yet, but it's on the list!
As a Digital Nomad/Entrepreneur: If you were stranded on a deserted island, what three things would you have and why?
Lots of sunscreen, my kindle (fully loaded with lots of great reading material) and a hammock to lounge in.
What are the podcasts you're listening to right now and why?
Zen Founder: I just started listening a few months ago, and I'm hooked.
Tropical MBA: Always a favorite! I have been enjoying Dan and Ian's show for years.
What was your first job? Has it shaped where you are today?
I worked in a nursing home in the kitchen when I was 14-16 years old. I served meals to the residents. I loved the job, and I developed relationships with many of the residents along with a deep admiration for the kindness I witnessed there. It's a cliche, of course, but at the end of their lives, people mostly want to talk about their families and the people they love. That's always stuck with me.
Any advice for your previous boss?
I've been fortunate to work for amazing bosses in my past, so I think my advice would be, "Keep up the good work!"
What's your favorite part about coworking?
There's a vibe that comes from coworking spaces that you can't get at home on your own (or even in an office). It's almost as if you are drawing from the energy and enthusiasm of those around you.
What is your go to pump up song?
Happy (Pharrell Williams)