Doesn't matter how many times you've told yourself to flee from their overly populated expat scenes and their literally dangerous foods, Chiang Mai and Saigon keep pulling you back. A short annual escape to Pai and Mui Ne is almost mandatory for your own sanity. Yet you know you'll always find yourself back at both Nimman Road and NTMK.
Even though Chiang Mai and Saigon are equally raw and charming, they lure you in different ways. While Chiang Mai calms you down with zen, tantra, and yoga, Saigon excites you with sleepless hustles and bustles. It's almost impossible to determine which one lures better. I'll let you be the judge of that.
For now, we'll be focusing on the coworking scene of the two cities. Because long gone are the days of slouching over coffee tables at noisy coffee shops praying to God that the internet would work (it seemed to me many times that He did not answer), coworking spaces have rapidly become the remote worker's solution. With many new coworking spaces constantly popping up in both cities, it's time for a coworking battle.
1. Seatings
Good news for those who care about standing desks: both Chiang Mai and Saigon have great options for standing desks at multiple coworking spaces.
Chiang Mai: 4 coworking spaces with standing desks
Around Nimman area we have the classic and original Punspace and we also have Brick, a recently opened coworking space right within a few steps from Punspace. Although you will likely not bump into your fellow expats at Brick Space, you might want to kick it there for a while because of its open space and endless seating options: vertically, horizontally, and anything in between.
Outside of Nimman area, we have the second Punspace at Tha Phae Gate, and we also have a little known hidden gem called the Startup Cafe, located in the North East side of the moat, only a short walk from Central Festival.

Brick Space
Saigon: Also 4 coworking spaces with standing desks
Circo, an ambitious pioneer in startup events, is an absolute must if you'd like to get connected with the local and sometimes international startup scene. Or just an absolute must in general. BIGWork, a chained coworking space with two other locations in Bangkok and Singapore, is small and cozy but offers a very very comfortable space. It is also located right on top of M2C Le Quy Don, which is only one of the cutest coffee shops in Saigon. Regus Me Linh, located the Me Linh Point Tower, has an industrial corporate vibe to it. Last coworking space with standing desks is Citihub, location within a short walk from Cuc Gach Quan on Phan Ke Binh. More on Citihub later.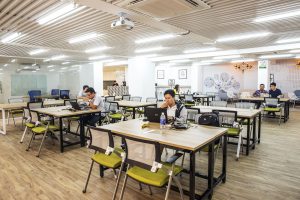 CirCo
Verdict: Tie
2. Facilities
Chiang Mai: Nothing fancy here beside basic facilities like kitchen, shower, and lockers.
Saigon: You want fancy? You've got fancy. Here in Saigon, you'll also be up to date with all the fads (I mean trends) in the coworking world: Podcasting and Coliving.
There are two spaces in Saigon that offer podcasting rooms: Start Saigon and Citihub. Start Saigon was the first coworking space in Saigon. Founded by a nomadic expat and located in the nomadic expat alley, aka 18 NTMK, Start Saigon has been home to loyal expats and locals who started making money on their computers before you and I had our first Yahoo! accounts. Or maybe it was just me.
Although founded by a Vietnamese and not by an expat, Citihub does an equally fantastic job at catering to almost all the needs an expat might have at a coworking space: super fast internet, standing desks, ergonomic chairs, sugar-free coffee, AND podcasting rooms.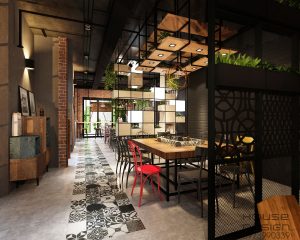 Citihub
There is one space in Saigon that sort-of offers coliving accommodations and one space that will offer coliving accommodations. Not many people know that beside its delicious menu (mashed potatoes and mushroom gravy. WHAT?!), Work Saigon also owns a well-known hipster hostel called Bunker. However, Work Saigon and Bunker are at separate locations. So Work Saigon kinda offers coliving, kinda doesn't. I'll let you decide that one.
One space that fo sho will have coliving setup is Start Saigon. About to move to a bigger and better location in the next few months, Start Saigon is promising to have 7 coliving rooms within the same premise as the coworking area. How cool would that be? I'd stay tuned if I were you.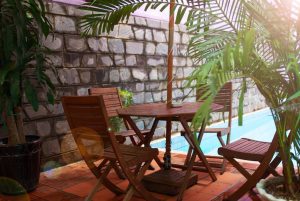 Start Saigon (current location)
Verdict: Saigon 100%. Sorry Chiang Mai
3. 24H Access
Who doesn't fancy a 24h work day? Just kidding. I know we all don't. But sometimes it's better and necessary to get on your computer during EST working hours, aka Southeast Asia sleeping hours.
Chiang Mai: 3 coworking spaces offer 24H member access
The quietly hidden Startup Cafe does open 24H. So if you want to avoid Nimman and live around Central Festival area, you'll always have that option. The other two spaces that have 24H member access are Punspace's both locations. This is the perfect solution for the Punsters that either get out of bed too late to get a seat at Punspace or just want to avoid people in general. I know I'm the latter from time to time.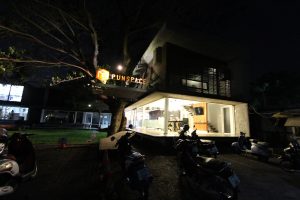 Punspace Nimman at its best
Saigon: Also 3 coworking spaces offer 24H member access
Beside Circo and Start Saigon, both giants in the coworking industry, there's one more coworking space in Saigon with 24H member access: Ka Koncept. Run by three young Vietnamese entrepreneurs who graduated from top business schools in France, Ka Koncept caters only to short-term members, therefore serves a completely different market from a traditional coworking space. With only daily and weekly passes available, Ka Koncept breaks free from the common fear of seeing the same faces that we all secretly have (I swear it's real). At Ka Koncept, you'll see a new crowd every time you come. Consequently, the vibe here is also much more free, new, and exciting.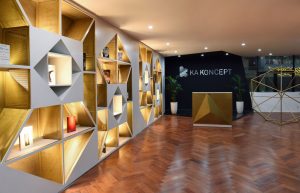 Ka Koncept
Verdict: Tie
4. Pool
Whether or not Chiang Mai is building one, I'm not sure. As of today, Jan 2017, there is no coworking space in Chiang Mai with a swimming pool.
While in Saigon, two coworking spaces come with swimming pools: Work Saigon and Start Saigon. 'Nuff said.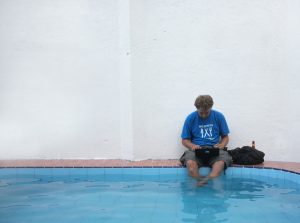 You could be him (@Work Saigon)
Verdict: Saigon obviously
5. Recreation
Chiang Mai: Starwork has foosball.
Some find it more intricate than art. Some find it more difficult than coding. Some are good at it. Most are very bad at it. But all have to admit that it is super fun.
At Starwork, stress-relief breaks are made easy with this little foosball table. Stand up. Stretch your legs. Walk over to the cute girl in the corner. Ask her to play foosball with you. Done. One stone two birds. What? No need to thank me. No you stop it. Ok fine you've very welcome.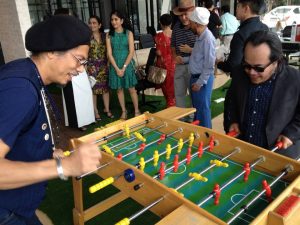 Saigon: Dreamplex offers free beer.
With three floors and a total capacity of over a hundred seats, 8 meeting rooms, over 40 private offices, and multiple chill-out areas, Dreamplex is the biggest coworking space in Saigon. This coworking space has rapidly grown its popularity over the last few years and very well deserves it. So popular that Mr. Obama himself made a personal visit here in 2016. I'm sure this popularity will only grow as Dreamplex is opening another location almost twice as big as the first one.
What make Dreamplex so awesome are not only its infrastructures but also its many networking events and workshops when, I can only imagine, its free beer might come very handy.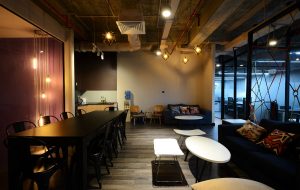 Verdict: Although I really suck at foosball, as an anti-alcoholic mom, I'd have to say Chiang Mai scores on this one.
6. Payment Method
Chiang Mai: No coworking spaces accept credit card. Cash all the way.
Saigon: Most coworking spaces accept credit card. Dreamplex even accepts Paypal. No need to carry your dongs everywhere now. Unless… OK I'll stop here.
Verdict: Saigon 100%
7. Final Verdict
Seating: Tie
Facilities: Saigon
24H Access: Tie
Pool: Saigon
Recreation: Chiang Mai
Payment Method: Saigon
Final Verdict: Saigon wins the coworking game