Located in the heart of the Andes, Bogota is the capital of Colombia and one of Latin America's most exciting cities. With a population of over 8 million, there's always something new to do or someone new to meet.
If you're into big cities, chaos, and vibrant nightlife, Bogota may be for you. While most professionals would take the eternal spring of Medellin over Bogota's weather in a heartbeat, Colombia's capital has some advantages that are simply too strong to ignore.
Here are just a few of them:
— Education: Bogota's workforce is well educated, in large part because two of the country's top three universities are located in Bogota.
— Thriving Startup Scene: Though it now faces some competition from Medellin, Bogota has traditionally been the undisputed startup capital of Colombia. As a result, Bogota still remains home to many of Colombia's top startups and remains the best place in Colombia to receive funding.
— Language: While Colombian's aren't known for their strong English skills, Bogota is one of the easiest cities in the country to "get-by" with only English.
— Airport: Bogota's airport is HUGE and features hundreds of domestic and international flights each day.
— Nightlife: Because the people in Bogota work hard and often have to deal with rainy weather, they really let loose on weekends. Latin America is known for its thrilling nightlife venues, Bogota especially.
Keep in mind that we haven't even gotten to the best part yet… Bogota's coworking spaces! If you're looking for a place to hustle, you won't be short on options in Bogota. In fact, with 43 coworking spaces in Bogota, the problem isn't finding a coworking space — you'll be spoiled for choice.
The struggle is choosing the best space for you. With that being said, here are four suggestions for the best coworking spaces in Bogota to get you started…
Panda Lab is a warm coworking space that's near the excitement, but not in it. Translation: A convenient location without the noise of being directly in the middle of Bogota's hustle and bustle.
While being walking distance from two shopping malls and several parks is nice, this coworking space's real selling point is its community. If you're new to Bogota and looking to grow your network, Panda Lab be the best place to do it.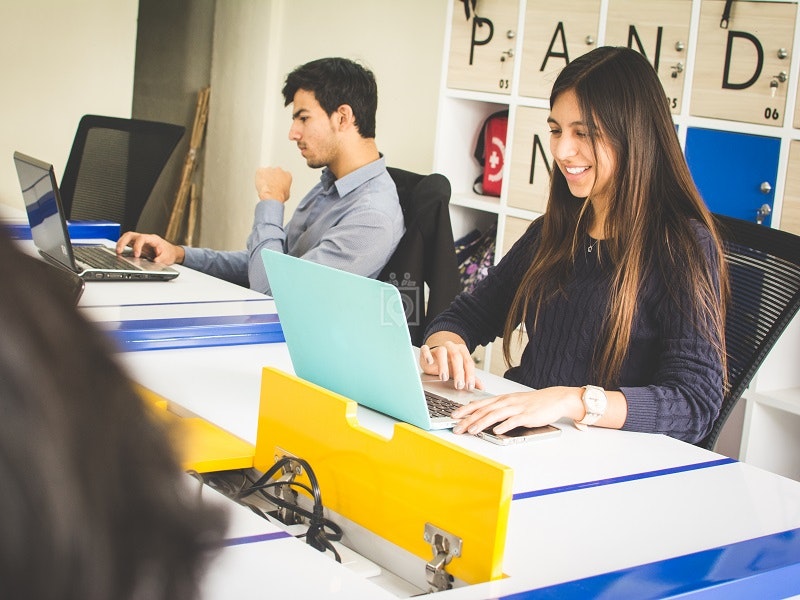 This is especially true if you're an entrepreneur. Panda Lab is known locally for being one of the best places in the city to meet other innovators. The space also hosts regular gatherings, including a well-attended Artificial Intelligence Meetup.
Speaking of technology, this coworking space has one of the coolest perks we've ever seen. After a hard morning of hustling, a networking lunch, and a few more hours of work, head on over to the fourth floor to play a game of… wait for it…. virtual golf!
If a coworking space having a virtual golf simulator doesn't qualify it as cool, we don't know what would. Like we said though, that's for after work. Before that, however, you'll have the opportunity to take advantage of wifi, a nice work ambience, free coffee, and ergonomic chairs.
HubBOG is coworker.com's most reviewed coworking space in Bogota. What has it done to receive such a prestigious award? 😉 Simple — it offers everything you need for a great coworking experience.
HubBOG is probably the biggest tech hub in the city. If you're looking to meet other developers, entrepreneurs, and skilled freelancers, this is the place to do it.

Apart from surrounding you with great people, HubBOG also lets you work on your terms. Whether that means working in a private furnished office with your startup team, or working from a hot desk in the shared office space, you'll have the option of choosing the space that suits you best.
Our outside the box, er… space suggestion is to try working on the space's rooftop terrace. Nothing is better than getting some sun and fresh air while closing your next deal.
Another nice benefit of becoming a member of HubBOG is that you'll enjoy a discount on the space's courses, conferences, workshops, and events. If you buy into the belief that success is about who you know (not what you know), and that it's helpful to learn before you earn, HubBOG is the space you'll want to join.
To see if HubBOG is for you, grab a free day pass to the space here.
Work&Go Zona T is located in what many call the safest and most livable part of Bogota (Zona T). With an upscale shopping center, along with countess restaurants and bars, you'll never be at a loss for things to do in Zona T.
The Work&Go – Zona T coworking space isn't something to just gloss over either. This coworking space brings all the energy of Zona T without any of the distractions. Actually, being able to easily concentrate is one of the biggest reasons you should join this space.


Members at this space are mindful in stepping outside to take calls. You're also unlikely to be bothered by others if they see you're in a creative zone. These facts, along with the motivation and accountability that comes with joining a coworking space will lead to you being more focused than ever before!
That's not to say Work&Go is just in the business of selling focus and flow states. Your coworking membership at Work&Go also includes a speedy internet connection, a business lounge, a personal locker, and a peaceful garden area for brief breaks during the day.
And one more thing… If you like what Work&Go has to offer but aren't looking to stay in or around Zona T, be sure to check out Work&Go's other locations around Colombia:
— Work&Go – Calle 95 (Bogota)
— Work&Go Medellin (Medellin)
— Work&Go Barranquilla (Barranquilla)
Head on over to the Usaquen district of the city and you'll run into the Colabora coworking space. Just as Usaquen is one of the most attractive districts in Bogota, Colabora is one of the most aesthetically appealing spaces in the city.
You may not think you care about interior design much, but work from Colabora for a day and you'll come to appreciate it. When you're working in a beautiful environment you feel good.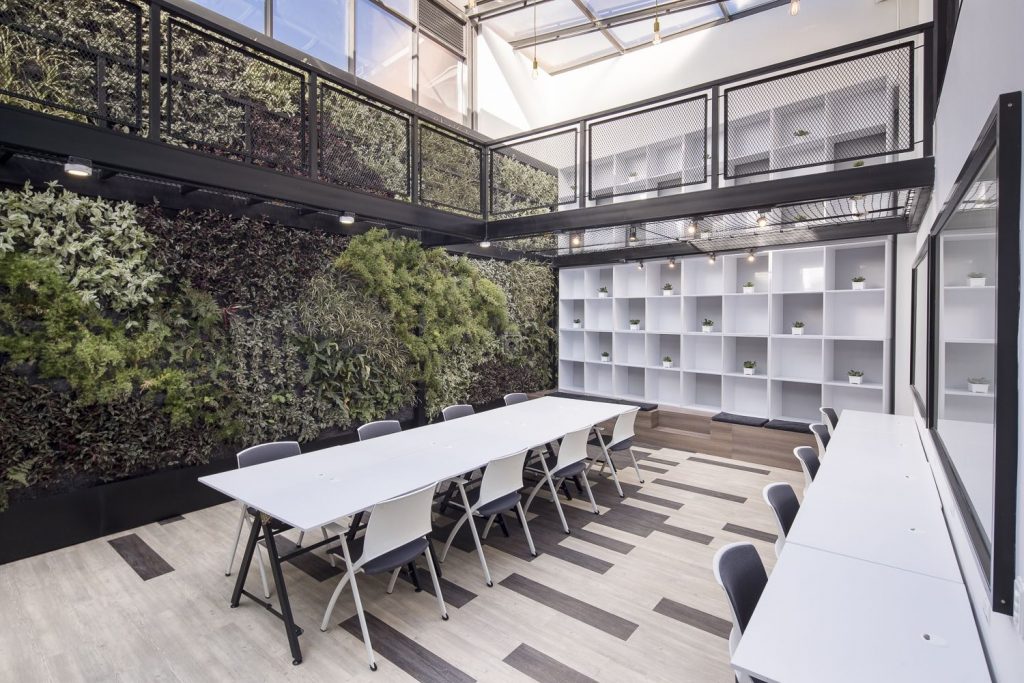 A pleasant relaxed state leads to you being more creative and producing the best work you're capable of. Don't just take our word for it though. Read the reviews.
Beyond its pleasant work atmosphere, Colabora also offers coworking members a number of other perks. We're talking fast internet, a Skype room, a library, a kitchen, printer/scanner, 3D printer, and more.
Whether you work better when you're able to draw inspiration from your environment, or you just need an impressive place to meet with clients, the Colabora coworking space is all but guaranteed to meet your needs.
Coworking in Bogota Conclusion
While it has recently received increased competition from Medellin, Bogota still remains one of the best places in Latin America to receive funding and do business in.
While we hope you enjoyed our list of the best coworking spaces in Bogota, we have to mention again that Bogota has SO many excellent places to work. If you have a favorite coworking space that we forgot to mention, be sure to let us and the rest of the community know in the comments! 🙂