It's the 4th largest metro in the US, the economic hub of northern Texas, and home of the Cowboys. Today we're talking about Daaaaaaa-las Texas. With a more reasonable cost of living than most other major tech hubs in the US, Dallas is an
excellent
city for startups and young professionals.
If you hadn't heard already, Dallas is a city with a BOOMING economy. From oil to real estate, to tech, there's lots of money flowing around Dallas. In fact, the city is known to be home to 25+ billionaires. That alone should vouch for the city's opportunities and excellent standard of living.
Of course, we're not saying you need to reach billionaire-status for you to benefit from living in Dallas. Regardless of how far along in your career you are, you'll enjoy that living in Dallas (or Texas in general) exempts you from having to pay a state income tax.
That alone could save you thousands of dollars each year. And if you're into tech… keep reading.
Dallas is home to over 40 colleges. As a result, there are TONS of talented young professionals you could add to your team.
While Dallas is no Silicon Valley, the city is home to a VERY solid pool of developers. You shouldn't have much trouble finding tech talent in Dallas… at all. The city also has plenty of good business lawyers that have grown comfortable working with startups.
Finally, let's talk logistics. Dallas has two major airports and a convenient geographic location near the center of the country. If you ever need to fly somewhere to meet with potential clients or suppliers, doing so is a breeze.
So… what are you waiting for? You should've started coworking in Dallas yesterday! Check out four of the top coworking spaces in Dallas below!
With contemporary furniture and a wonderful rustic interior, you'll love working at Common Desk Deep Ellum. Add high ceilings along with a craftsmen vibe and you'll be ready for peak creative production every day you come to work.
Of course, this coworking space isn't without its fair share of amenities either. From freshly brewed coffee to speedy wifi, a patio to relax on and more…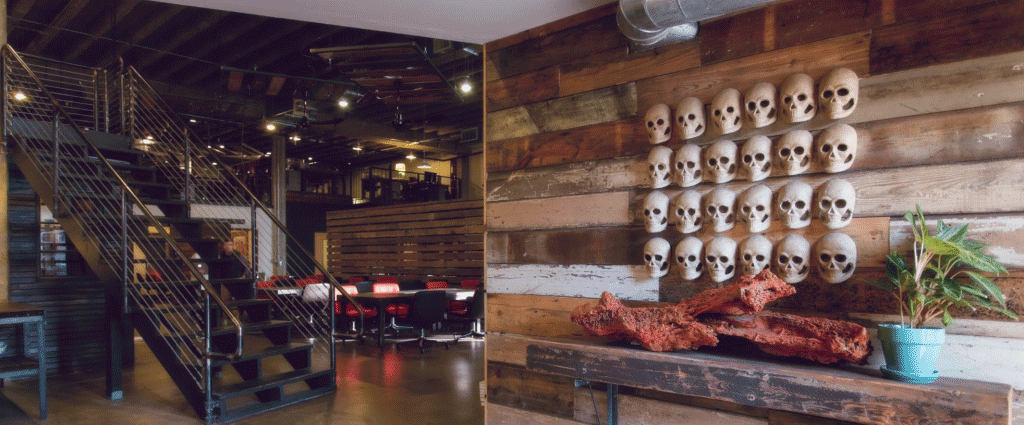 Moving on, it goes without saying that any coworking space worth its salt will have a solid community. Common Desk Deep Elum… well, let's just say it's worth its salt 😉
The members of this space come from a diverse range of backgrounds. We're talking real estate agents, web developers, academics, and more. Best of all, the community at Common Desk is friendly without being intrusive.
Whenever you share knowledge with other members of the space, they'll often surprise you with secrets from their industry. This mutual exchange benefits everyone in the community and results in endless serendipitous business connections.
You'd have to be an idiot not to give GeniusDen coworking a chance. There's sooooooo much to love about this coworking space. Here are just a few of the amenities and privileges your $200/month membership will grant you access to: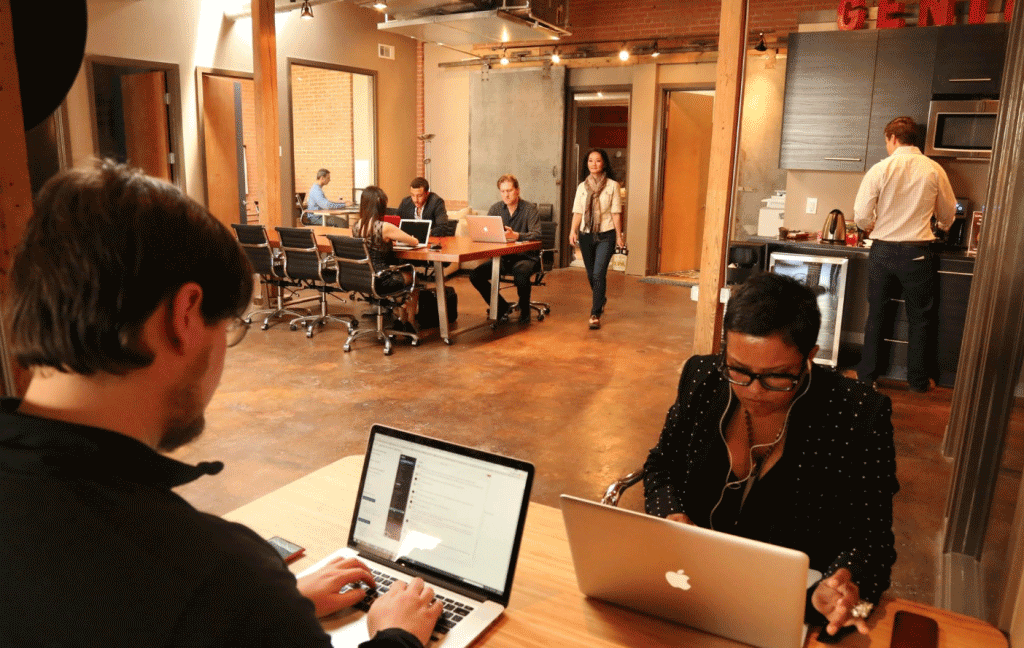 — Bike sharing
— Conference room
— Blazing fast 1GB wifi
— Ethernet ports
— Smartphone access door locks
— Daycare center on the same block (additional fee applies)
— Free beverages (water, coffee, beer)
— Networking events
And that's just the start. Basically, GeniusDen is THE best Dallas coworking space for you if your work is highly dependent on a fast yet stable internet connection.
If you're a video editor, or someone that's making dozens of Skype calls each day, you'd be missing out BIG-TIME if you didn't at least give GeniusDen a chance.
Don't believe the hype? You don't need to. Get your free day pass here.
NŌD is a coworking space in North Dallas that is dedicated to helping you create a healthy lifestyle that balances work and leisure. You'll love working at NŌD if you believe that you can achieve great things in your professional life without the journey itself needing to be stressful.
That's not to say that pursuing your dreams won't require hard work. Rather, the community's philosophy is that it's possible to exert yourself, while still maintaining a light-hearted attitude along the way. This allows you to enjoy both the destination AND the journey.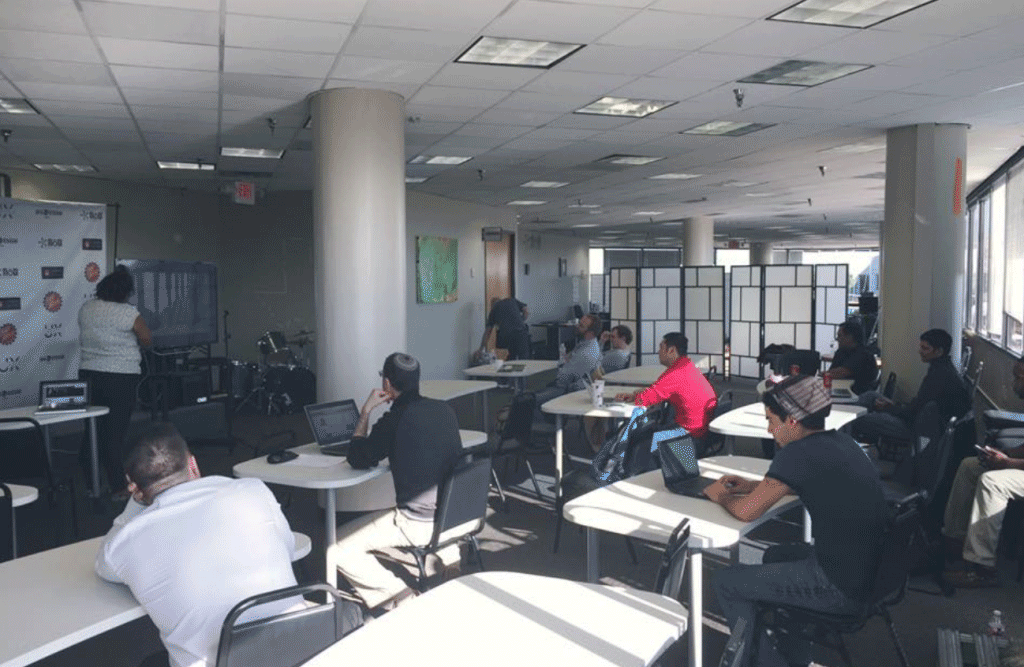 Now, let's move beyond coworking philosophies and get to the specifics. NŌD's coworking lounge offers a comfortable alternative to traditional cubicle offices. At NŌD the coworking area is spacious with lots of space to roam around.
NŌD is also a relaxing place to work. Apart from a library-esque vibe (without the stuffiness), NŌD's large windows also offer nice views and give your workspace plenty of natural light.
Speaking of workspaces, you're free to work at whichever work station makes you the most comfortable. Chair, standing desk, or beanbag, the choice is yours.
Finally, let's talk about community. NŌD's community is wonderful in that it offers a time and place for both collaboration and competition. During the day members are helpful and will collaborate with you on business projects or share knowledge they think may be helpful to you.
After business hours, however… watch out. The ping-pong area can get pretty heated 😉
Located in a modern, boutique building, WeWork Uptown offers a classy work environment in the heart of one of Dallas's most upscale neighborhoods. I
Apart from a phenomenal location, WeWork Uptown also offers fantastic views and workspaces with an abundance of natural lighting. This excellent natural lighting along with the space's hip artistic office theme will give you the energy and inspiration you need to produce your best work each day.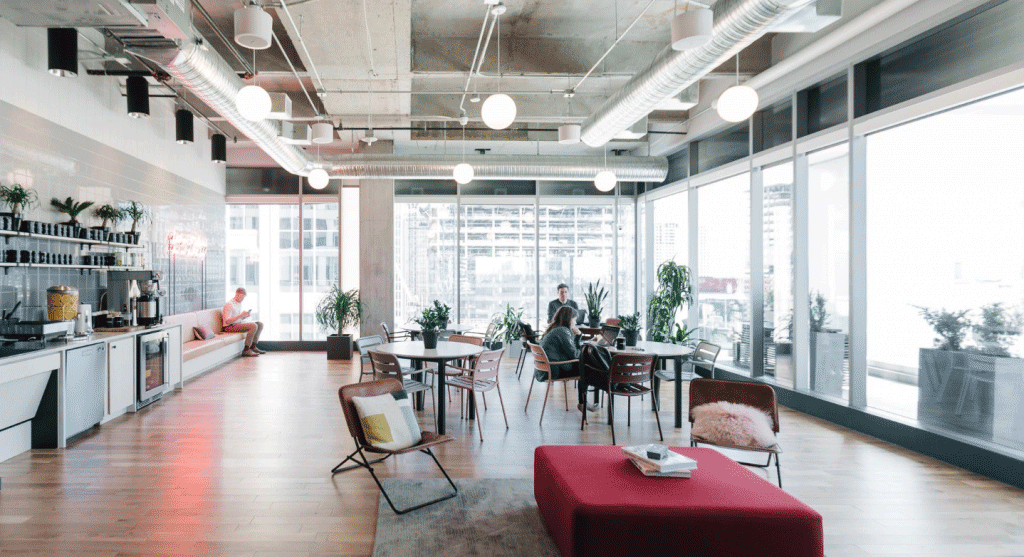 Oh, and don't think we've forgotten that the people are the core of any coworking space. Just about everyone at WeWork is a pleasure to interact with. Reception and management are friendly and willing to quickly address any concerns you have.
Your coworking peers are also lots of fun to hang out with. One of the things members like most about WeWork Uptown is that the space has a great mix of cutting edge startups working alongside more established businesses.
This gives the community both energy and experience to draw from. WeWork's regular community events offer an excellent opportunity to network with other members of the space and learn things from experts in both your field and related industries.
For more information, check out WeWork Uptown's coworking page.
Conclusion
We hope you've enjoyed our list of 4 of the best coworking spaces in Dallas. If you're looking for other great places to work in Dallas, check out our full list with dozens of Dallas coworking spaces here.