With scenic rice fields, enlightening meditation retreats, beautiful beaches, and even smouldering volcanoes, Bali has traditionally been a serene destination to rejuvenate one's soul. Recently, however, Bali has grown to be more than just an island getaway to reconnect with nature.
While Bali is as peaceful as ever, the communities have begun to shift. You'll see proof the first time you head to an upscale restaurant. Conversations of the past at classy venues would have been dominated by topics like veganism and recommended yoga practices.
Today, however, you're just as likely to hear debates on the best form of lead generation, or customer retention. This isn't a surprise as recent years have seen popular startups Magloft, Dragon Game Studio, Bamboomedia, ElevenYellow and more come out of Bali.
Yet, you shouldn't be surprised by Bali's evolution. This heavily touristed island was destined to one day become a hub for innovation and work retreats.
Bali has a great climate, an affordable cost of living, and breathtaking nature that draws the creativity out of developers and designers.
Bali is one of the best coworking destinations in the world if you prioritize a healthy work/life balance.
Whether you're working remotely for a Fortune 500, bootstrapping your startup, or just looking for an inspiring place to produce your next creative work, here are 5 of the best coworking spaces Bali has to offer.
Located in Ubud, the cultural center of the island, Outpost is one of the more luxurious coworking options in Bali. This space really has everything.
Standing desks? Check. Blazing fast internet? Check. Sound recording equipment? Check. We could go on and on — and those are only amenities directly related to work.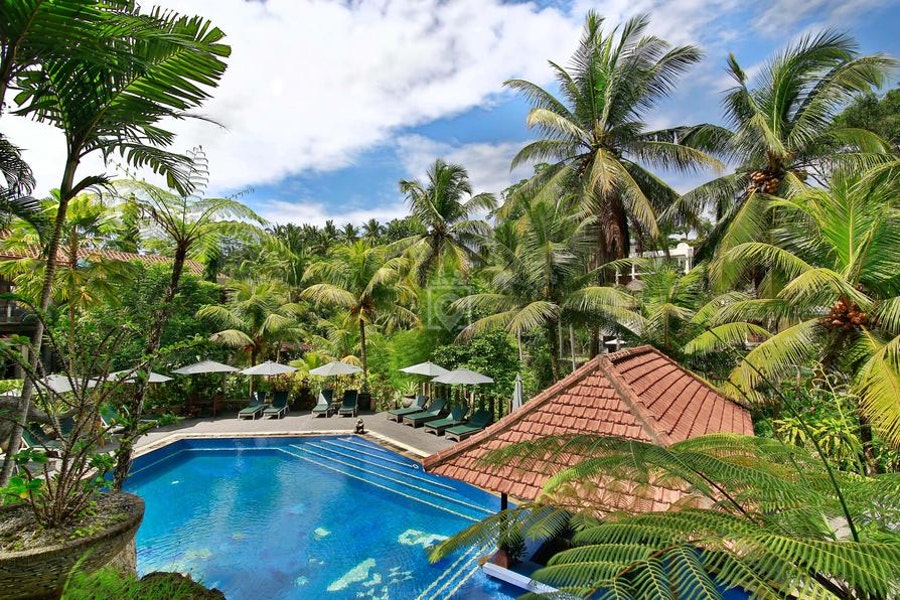 A coworking membership at Outpost will also score you access to two on-site pools, a balcony overlooking a river, and even an onsite massage therapist to loosen up your shoulders. #LuxuryCoworking
The aspect of this space you'll likely enjoy most, however, is its incredible community. Startup founders, wandering nomads, and world-class freelancers all operate out of Outpost.
Between long days of working alongside each other, informal knowledge sharing in the pools, and just relaxing in paradise together, both the quantity and quality of your network will quickly appreciate as a member of Outpost.
If you're really looking for an immersive work experience, you can even consider Outpost's co-living accommodation arrangement. A spacious private villa room, full-time coworking membership, maid service, and daily breakfast starting from just $975/month.
Add hustle and Ubud together and what do you get? Hubud. In addition to being the first coworking space in Ubud, Hubud was also the first coworking space in all of Bali!
Hubud isn't just famous for being Bali's first coworking space though. Hubud's reputation comes primarily from its strong community. With roughly 300-400 events each year, there's a skill-sharing, or networking session nearly everyday at Hubud!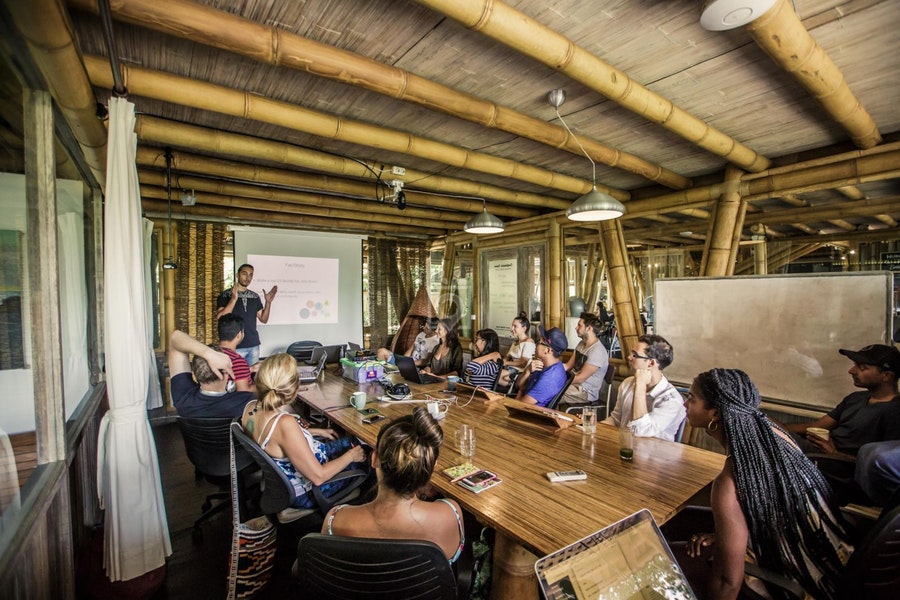 Whether you're introverted and have trouble making new friends, or an extrovert that needs to be around others all hours of the day, a coworking membership at Hubud would be an excellent investment for you.
And don't worry about being a social butterfly that doesn't get any work done. This coworking space has lightning fast internet (a rarity in Bali), 24/7 membership access, and an energetic vibe (there are literally monkeys outside) that'll push you to produce the best of work of your life.
We're not joking when we say Hubud is the space that put hustle into Ubud.
While the hustle and bustle of cities like Saigon and NYC can give you a go-go-go attitude to get things done, eventually being in hyperactive places can be draining. Fortunately, Tempatkita is the perfect coworking space for recovering from big city burnout.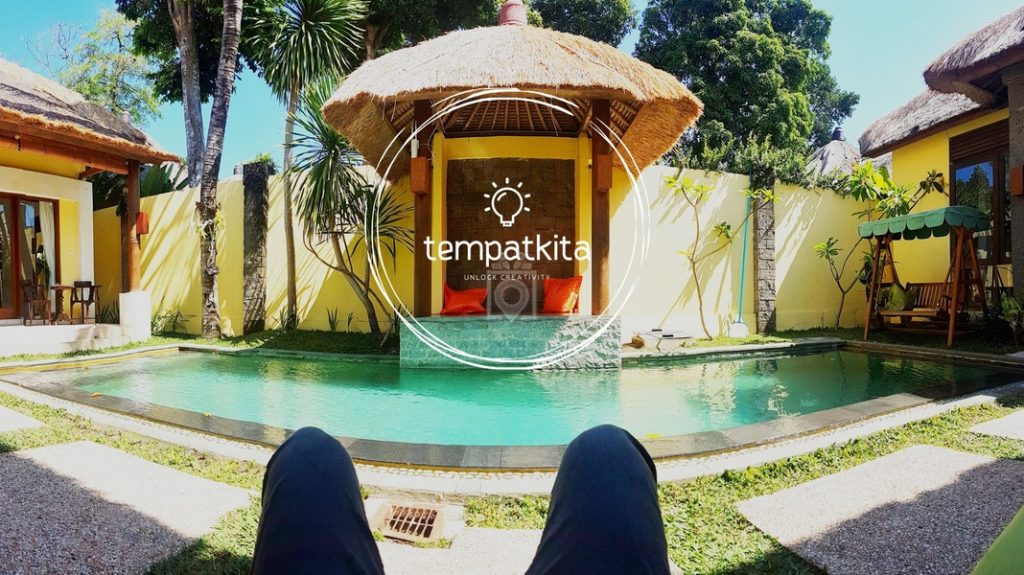 Tempatkita is a laid-back coworking space with a quiet work atmosphere. This space features a swimming pool, along with very accomodating staff members. In fact, the founder of Tempatkita sometimes even cooks meals for the members of the space.
With that being said, many members highlight of Tempatkita is the pool. We've heard countless times that nothing beats a lunchtime swim after a long morning of hard work.
Though Tempatkita is a one-stop shop in that it has all the work facilities, food, and entertainment you'd need for a fulfilling day, the space also has a nice location for when you want to switch things up.
There are plenty of local and western restaurants nearby. More importantly, the famous Sanur beach is just a 10 minute drive (or 30 minute walk) away.
Located in Canggu, a coastal village and beach area in South Bali, you'll find the excellent Finns Bali coworking space. While this space is relatively new, it hasn't wasted anytime establishing itself as one of the best coworking options in Bali.


Finns Bali is the perfect all-in-one work/life space. At Finns Bali you can start your day working in a spacious environment with fast and reliable wifi. You can then take a mid-morning break to get the blood flowing with some yoga or a gym session.
Then you can get another hour or two of work in followed by an amazing lunch at the the space's restaurant. After lunch you can work for a couple more hours, take a swim in the pool, and then connect with other members of the space over dinner, drinks, or a game of football.
If you're not about that motorbike life and want a single place where you can live an active, yet productive life, Finns Bali just may be the best coworking space in Bali for you.
Dojo
— Canggu
Like Finns Bali, Dojo is also located in Canggu. Dojo is a coworking space that features high ceilings, traditional floorings, ergonomic furniture, an art gallery, a balcony workspace with a sea breeze… basically everything you need for a comfortable work experience.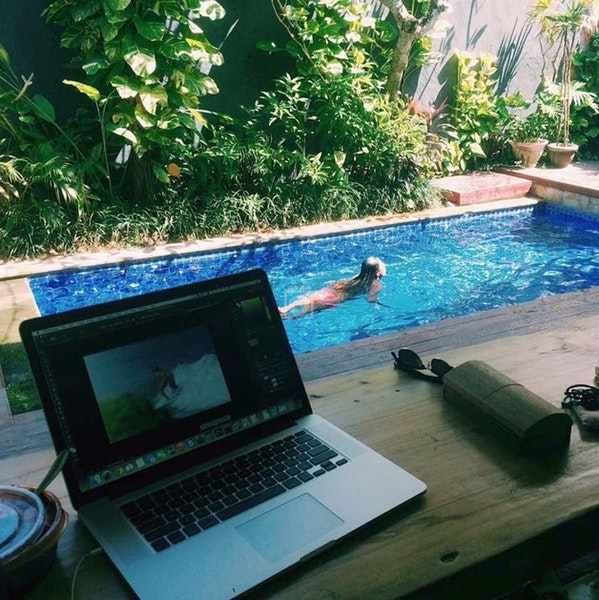 Members say that they love the vibe at this space. The way Dojo is set up makes your work environment feel spacious, while also encouraging you to interact with other members of the space.
This coworking space also has regular community events to help you meet other members of the community. Whether you're an entrepreneur, photographer, designer, or content marketer, you'll feel welcome at Dojo.
Best of all, Dojo is just 100 meters from the beach. There's something magical about working each day at an office that's only a short stroll away from delicious seafood restaurants and panoramic seaside cafes…
Bali's Coworking Scene Conclusion
Bali is one of the most unique places in the world. It's a place you can hustle each day alongside other brilliant creatives, yet continually reconnect to yourself and nature. While the Bali coworking spaces we've written about above should be enough to get you started in Bali, here's our full list of coworking spaces in Bali if you'd like more.