Get out of your house and give yourself a proper desk to work from! If you're an entrepreneur or a freelancer who is sick of working from home or leeching off the inadequately slow wifi at your local café, you need to check out this list of coworking spaces for you to work out of.
Working at one of these spaces can boost your productivity and provide great opportunities for collaborations and networking. Whether you are looking to just get the bare necessities covered or fancy something that comes with more bells and whistles, our list of 10 recommended spaces in London will give you the head start you need in securing your new workstation.
Co Work (Borough)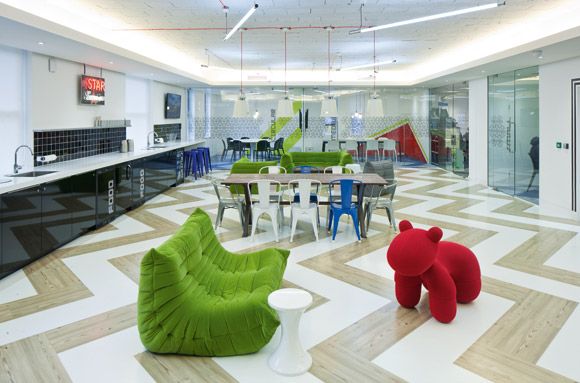 Convenient located 2 minutes from Borough market, Co-work Borough offers a simple, modern and bright space for you to work in. Co-work covers the essentials exceptionally so that you may focus on what's really important, growing your business.
They've got your basic requirements covered. Membership includes a dedicated desk, ergonomic chairs, personal lockable storage units, printing and scanning services, excellent coffee and a selection of teas.
Impact Hub – King's Cross

Being part of a community which boasts over 80 sites across five continents has its perks. You will be provided with ample support and have access to resources and opportunities for you to grow your business. The Impact Hub King's Cross is a 3 story complex furnished with a timbered interior and topped with a glass ceiling that fills the building with natural light. Take a virtual tour of this wonderful space and appreciate its beautiful interior.
Being a member of The Hub makes you part of a huge international community, expanding your networks through the 81 Impact Hubs located worldwide. This space comes with the convenience of an on-site cafe where you can get your daily fill of refreshments.
Co Work Hub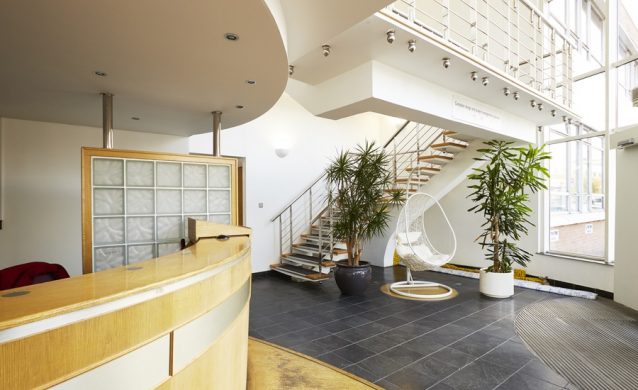 At almost 10,000 sq. ft., Co Work Hub is one of West London's biggest shared offices. Located in a major region for business, it has excellent transport links, and is easily accessible from several tube stations. Membership comes with free weekly drinks on Friday, the perfect time to meet and greet your fellow coworkers.
The Co Work Hub compound comes with its own parking space so you don't have to start your day flustered about not being able to find a lot. A lounge is open to your client-hosting needs and meeting rooms are free for members. Pass the time with some ping pong or shoot some pool in one of the breakout rooms before heading to one of Co Work Hub's weekly events. If you're not in the mood to show off your ping pong prowess, head to the on-site gym and finish off your workout with a nice cool shower.
Launch22
Launch22 is an organization that focuses on accelerating and mentoring next-generation entrepreneurs and startups. The coworking space looks to break down the barriers that traditionally stop entrepreneurs from succeeding. The no-equity business incubator is also a registered charity and provide scholarship programs to help alleviate unemployment and reliance on benefits.
Gain access to Launch22's list of notable mentors to get the right guidance to grow your business. In the day, collaborations are encouraged between members through interactions. And at night, the area becomes a multi-purpose event space where workshops are held.
Shoreditch Works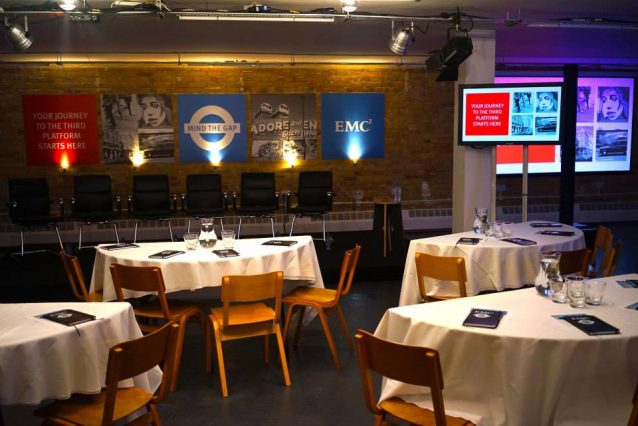 Located right in the heart of Tech City, less than a 5 minute walk from Old Street, this coworking space is built around networking and mentorship. The environment and community are creatively dynamic, perfect for joining like-minded people such as yourself in pursuit of growth.
Shoreditch Works offers a range of memberships to suit your needs, from single desks to private suites that can accommodate up to 12 people. Members have 24/7 access to the facility and meeting rooms are free for use.
Techspace – Commercial Road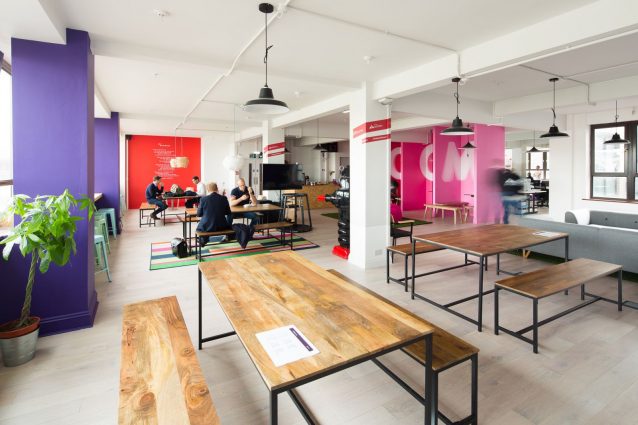 Techspace currently has 4 locations within London, the largest of the lot is the branch down at Commercial Road. It spans over 26,000 sq. ft. and is spread throughout 8 floors. Membership plans range from single desks to whole floors that can accommodate growing enterprises.
All 4 locations are accessible to all members 24/7 and community managers are available 5 days a week to help out where they can. Quiet zones and lounge areas are distributed throughout each workspace, and lockable storage units are available for use.
The Dock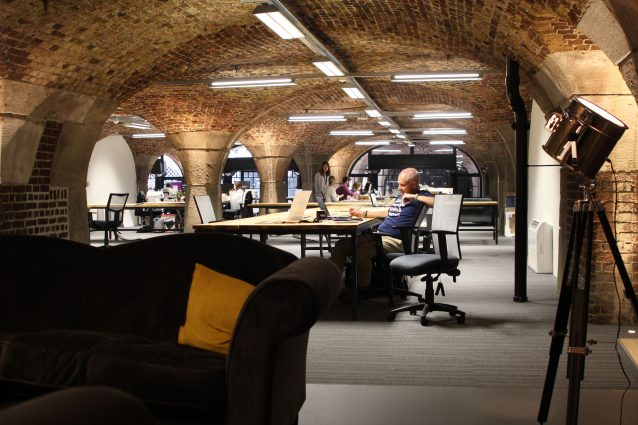 The Dock is a beautiful, Grade 1 listed waterside complex, found just 10 minutes from Tower Bridge, easily accessible from the city, Shoreditch, and Canary Wharf by both overground and underground transport links. They offer over 600 desks set in over 40,000 sq. ft. of iconic space.
The event space is constantly busy with plenty of networking and social happenings, have a look at their upcoming events and start marking them down on your calendar. This massive compound also comes with an outdoor terrace, an on-site café and showers.
Connections at Trafalgar Square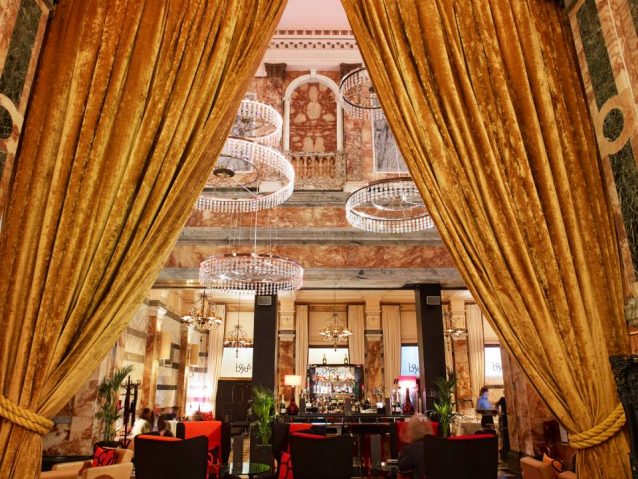 Work, meet, dine and stay, all in one location! Connections at Trafalgar Square is London's finest all-in-one Private Members Business Club. This premier space comes with just about everything one needs for day-to-day working, frequent meetings and client hosting.
Memberships with this prestigious space are issued on a yearly basis and club members enjoy 24/7 access to their fully equipped serviced offices. Members also enjoy exclusive privileges with affiliated hotels, restaurants and bars.
The Office Group – King's Cross Central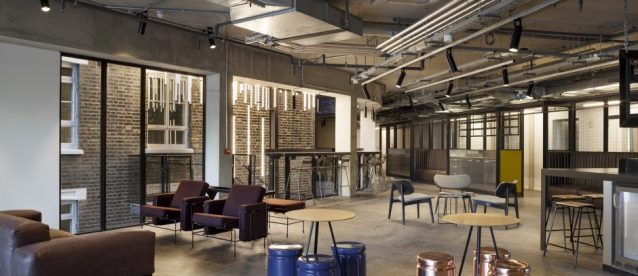 The Office Group – King's Cross Central is part of a network of coworking spaces that is battling climate change. With sustainability in mind, the building is outfitted with numerous fixtures meant to reduce the use of our depleting natural resources. PV panels, low energy lighting, water conservation systems and a green roof terrace are just some of the measures The Office Group has taken to play their part in the conservation of our environment.
Keep in mind that the main benefit of a coworking space is being part of a community and the chance to create the right networks to grow your business. So get in contact with some spaces and have a tour of the place! It's free and it allows you to feel the energy of a space before deciding on one to work from. Explore our extensive list of spaces in London here.