Feeling a bit flat? Your creative juices running low? Does your startup need a breath of fresh air?
Sometimes, the best thing you can do to regain your entrepreneurial inspiration is to travel the world. So if you decided it is time for a change of scenery – but don't want to give up on work while you travel – coworking spaces can be just perfect for you.
Confirmed: Coworking spaces are THE place to be for digital nomads
I recently met with a long time friend and happened to discuss about coworking spaces. Well, she is currently in New York, so we didn't really meet. But we usually catch up online. While in New York, she works remotely for a Finnish based company from a very jazzy coworking space.
I have just come back from a trip to Sydney myself, and even though I didn't need to book a coworking space, I used to hang out with other digital nomads and we would work from the same room.
As both my friend and I soon realized, coworking is a great way of mingling traveling with work. Coworking rooms make a great difference, offering you the chance to network with people doing the same thing as you. Whether it's New York, Sydney or Osaka, you are sure to find a coworking space to your liking.
And since today we are talking about Osaka, it's good to know the city is scattered with real coworking gems. Let's take a look at some of them.
But first, Osaka
Osaka is one of the largest cities in the world, with over 19 million inhabitants. If you are an energetic person who likes to be entertained, Osaka is definitely for you.
You could spend months visiting all the places and attending all the events in the city and still, there would be plenty left for you to see and do here. It's definitely the go-to place if you are looking for work inspiration!
Maybe not many people know it, but Osaka is also an entrepreneurial hotspot with numerous tech startups. Could this be Japan's Silicon Valley? While others debate, Osaka attracts freelancers and startup entrepreneurs from around the world with its combination of beautiful heritage and an openness towards latest technology innovations.
From imposing skyscrapers to relaxing hideaways in the heart of the city, in Osaka you can find clubs, restaurants, coffee places, museums, concerts and a wide variety of events that will suit every taste.
If you are considering Osaka as your travel destination and coworking hub, you have just made one of the best decisions.
I put together a short list of the best coworking spaces in Osaka – feel free to share your findings in the Comments section!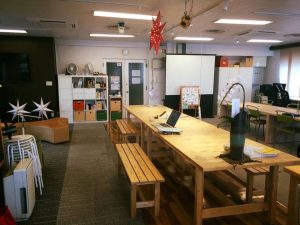 Osakan Space recommends itself as the go-to place for people who are looking to learn and grow. Conveniently located in the heart of the city, working here means you will be close to all the city's hype: from bars to restaurants, to tourist attractions and even business opportunities.
The place takes pride in its open work space where everyone can interact, thus encouraging socialization and networking.
If you feel like you work better in a quieter space, don't worry: Osakan Space also has a "no talking" work room that comes in super-handy when you are working on a tight deadline.
The place is open Monday to Saturday from 8am until 12am.
      2. iMedio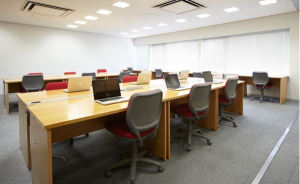 The place brings together people who work in the multimedia industry and offers you all the equipment you might need to do your job as a multimedia expert. From video and sound recording equipment to a recording studio and a presentation room, printer, scanner, photocopier and a library, iMedio has it all.
If you decide to rent a coworking space here, it's good to know the office is open from 10am to 6pm Monday to Saturday, and they accept credit card payments.
The best thing about iMedio is that the use of the coworking space is free of charge (and so is the use of the available computers), but there are several offices that are rented at a cost.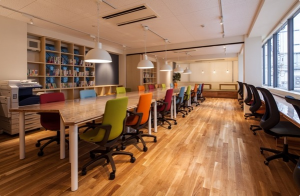 Common Room Nakatsu could easily be considered a global coworking space, as here you will find people from all around the world. So if you are looking for an international experience, then yes, definitely pick Common Room Nakatsu.
The space covers three floors and features a kitchen and a lounge areas, as well as numerous coworking spaces. There is a book corner and even a tatami room. You can benefit from 24/7 access to the coworking space, or you can choose limited access packages that suit your work style.
As mentioned above, the place is packed with foreigners, and most of them are startup founders, entrepreneurs, freelancers. Common Room Nakatsu is considered one of the top cosmopolitan places in Osaka!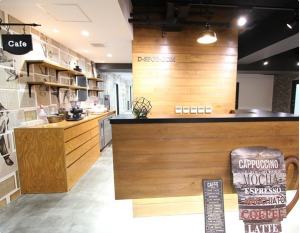 Do you need a coworking space that has a nearby public transport station? D Spot Nagabori is located in the proximity of Matsuyamachi station, connecting you to the rest of the city with just a few steps.
The space looks and feels amazing and covers two floors with more than 20 coworking places available. You can rent a coworking space or a private booth or office, depending on your needs.
Of course, high speed WiFi is available, as are printers, scanners and photocopiers.
       5. Hiraba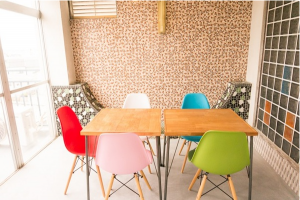 Colorful, fun and full of energy! Hiraba is a spacious coworking office organized on an open floor plan and featuring shared work spaces and a business meeting room for five people.
If you are getting ready for a special event, the entire space can be rented per hour on weekends. If you work on weekends, perhaps this is not the best place for you to rent, but it does make work easier by offering its clients a projector, printer/scanner, coffee machines and high speed WiFi.
Coffee and tea are on the house.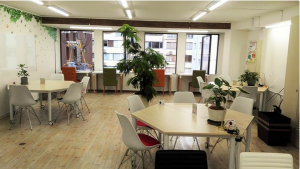 In Osaka, Shinsaibashi is the largest shopping area of the city, with numerous boutiques, shops and stores. The area attracts both locals and tourists, being approximately 600 meters long.
The Shinsaibashi Join coworking space is close to public transport and conveniently located nearby the shopping center. With a sleek interior design, comfortable chairs and lots of natural light, the place gives you an option of choosing between working in an open space or renting cubicles.
There are 44 coworking places available at Shinsaibashi Join, and those who come here benefit from free WiFi, AC, printer, scanner, photocopier. You can rent a desk per month or per hour.
Did you know? Shinsaibashi Join is located in the Shinsaibashi district, nearby Amerika-mura, an American themed shopping area and the centre of Osaka's youth culture.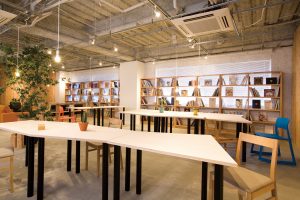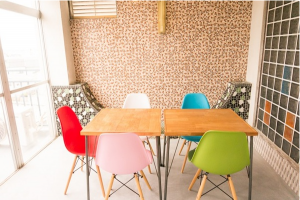 A super spacious coworking place where you can meet and greet fellow freelancers or entrepreneurs just like you! You will love the vibrant colors that were used in designing this very chic coworking place in Osaka.
The place is very spacious and fully equipped with printers, high speed wifi, AC, scanner, photocopier and video recording equipment. When you take a break you can network with other fellow coworkers – coffee, tea and water are on the house!
Osaka is truly an entrepreneur's paradise, full of possibilities and new opportunities, and definitely a cool place to work from. Don't you just love being a digital nomad?