Coworking at this point in time, is still a bit of a niche movement. But there's no denying that this movement is vital – alive and growing.
And Coworker is growing along with it. We recently added some new search categories on the site to let you filter coworking locations by criteria like:
And more – check it out:
We had some fun playing with these new search functions and thought – "Hey, these would make some really good article ideas!"
Today, we're going to look at some of the most reviewed coworking spaces in Southeast Asia. While we can't promise that you'll have an experience filled with sunshine and rainbows at all of these locations (you do have to work after all), we can promise at least a 90% chance of meeting some amazing people and getting stuff done.
These spaces, located in Thailand, Indonesia, Singapore, and Vietnam, offer some of the best location independent communities around.
Sit back, grab a glass of something tasty, and get ready to bookmark your next best coworking destination.
If you like yoga, meditation, vegetarian food, and use the word "namaste" in a serious way, you will absolutely LOVE Hubud.
Bali's first coworking location has a thriving community practically woven into the bamboo that makes up the space. But make no mistake: Hubud is super high tech as well, boasting some of the best WiFi in Bali, printers, scanners, copiers, and a Skype booth.
But seriously – Hubud has an amazing community. They have tons of skill shares, networking events, and general event awesomeness happening each month.
If a healthy lifestyle is calling your name, and you want to level up your work through collaborating with some amazing people – call Hubud your next home.
There are actually two locations of The Impact Hub @Signapore – at Cuppage Terrace and Prinsep street. Between the two of them, these coworking juggernauts boast over 80 positive reviews.

In other words – if Impact Hub Singapore was a movie series, this would be one rare case where the sequel is just as good as the first one.
If you're interested in getting mentoring, support, and funding for your startup, look no further. These two coworking spaces have given birth to over 250 startups, due to their Hub Ventures VC fund and the entrepreneurial mentoring this community provides access to.
Just be warned: if you're hoping to bootstrap in Singapore, you better have some deep pockets, as the city has a pretty high cost of living. But The Impact Hub makes your investment more than worth it.
Start Saigon, Ho Chi Minh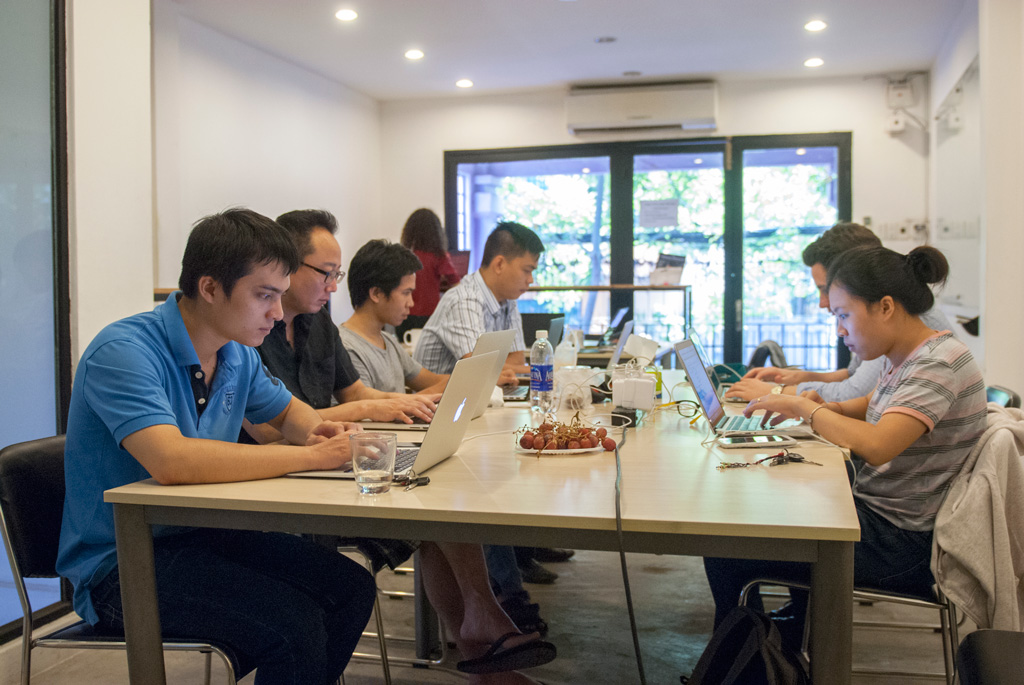 The first coworking location in Vietnam, Start Saigon has a unique feature that almost no other coworking places have.
Is it:
The lightning fast internet?
The private conference call booth?
The startup workshops and mentoring?
No… while Start Saigon offers all of these, many other coworking locations do as well.
But unlike those locations, Start Saigon also has…. a pool! The pool on site offers a perfect place to have BBQs and pool parties where you can relax and unwind after a long day or week of hustling on your laptop.
As one reviewer put it:
"This is the best place where gathers most of people specializing in IT field: designers, web developers, digital MKTers…so that we can accumulate knowledge as well as experience from each other.
Besides, there are many tech workshops and BBQ nights to join and share."
KoHub, Koh Lanta, Thailand

KoHub makes the idea of remote work seem like paradise. You know – all those pictures of digital nomads lounging on the beach, sipping a fruity drink, laptop open?
While literally working on the beach is a pretty bad idea (sand and water don't mix with electronics) KoHub offers the next best thing. This highly rated island coworking location has 59+ amazing reviews.
And while island life is amazing, that's not the biggest draw of KoHub. No, the biggest selling point is the community!
As one reviewer put it:
"KoHub not only offers everything you need for getting your work done (fast internet, delicious food served on your desk), but it also offers a "family".I found a very great, supporting and helpful community there. It felt like being surrounded by colleagues and friends and not by random coworkers."
This welcoming community, along with the warm and inviting beach lifestyle and the low cost of living, make Koh Lanta a prime location for your next coworking adventure.
When you think of a hive, you think of things like bees or ants being extremely productive in a community environment. This is a perfect comparison for this massive, 6 floor coworking space in Bangkok.
Members rave about the open air coworking areas, the abundance of natural light, and the eclectic mix of established expats and international entrepreneurs who come together in the space.
Oh, and we almost forgot… included in your Hive membership is a 50% discount to the on-site spa.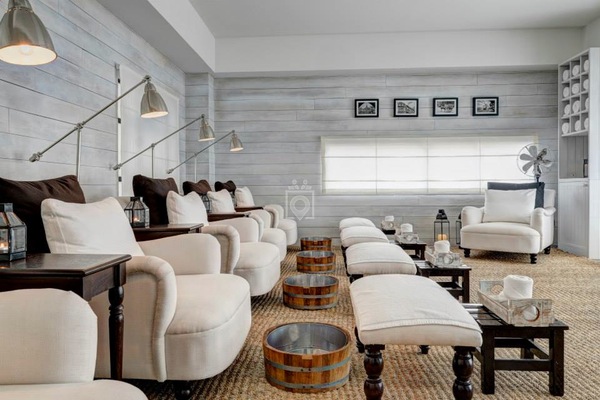 This spa offers foot and neck massages to keep your body feeling amazing after a stressful day of work. Or you can just hop into the Spa on an off day for some leisure time, and relax with friends on the rooftop terrace, sipping on some of the free beer the Hive offers with membership.
FREEWARE Spaces, Jakarta, Indonesia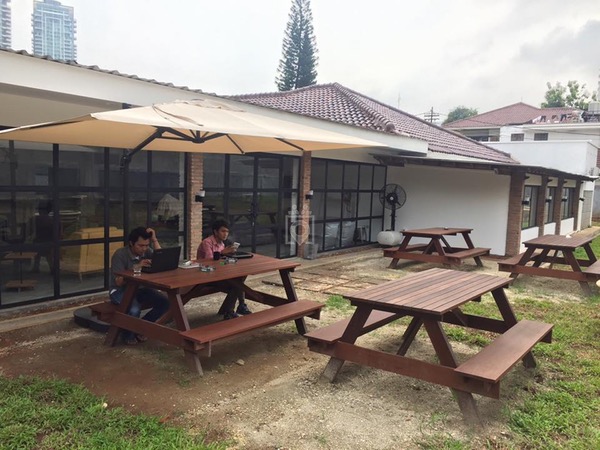 If you're looking for an "all in one" coworking location, FREEWARE Spaces might be one of your best bets.
This coworking space, sitting in the heart of Jakarta, has an on-site gym, garden, and common area where members can get their fitness on, relax, or enjoy some karaoke or movies with coworkers.
But don't be mistaken – FREEWARE Spaces is about work just as much as play. The community is high caliber with an entrepreneurial bent. As one reviewer puts it:
"Super cool place to work and networking with other million dollar start up companies. There's no other co-working space that gave free sharing session with giants such freeware spaces."
Conclusion
If Southeast Asia is calling your name, look no further – these 6 coworking spaces have everything you need in terms of community and amenities to make your next remote working trip into a great memory.