Looking for the perfect location where you can incorporate the perks of a city break with the necessities of a coworking space? Singapore can be the answer you are looking for.
Singapore, also known as Lion City or the Red Dot, is both an island and a country. This city-state offers the perfect combination between the western-style development and the eastern-style calm. The best of the two worlds.
This multicultural city blends Malay, Chinese, Arab, Indian and English cultures and religions. The multicultural diversity offers its visitors a wide range of sightseeing and culinary opportunities, as well as a variety of festivals and holidays celebrated all throughout the year.
Even though Singapore had a remarkable development over the past three decades and it has become a safe place for diversity to flourish, its historical value hasn't disappeared. Quite the contrary, its cultural heritage can be seen in the beautiful old buildings, in the values and traditions that have survived through this rapid development.
Located at the tip of the Malay Peninsula, Singapore enjoys tropical temperatures throughout the entire year. Combining with beautiful parks, nature reserves and tropical greeneries, Singapore is undoubtedly one of the most ideal destinations.
On top of this, Singapore offers some luxurious opportunities for shopping, top-rated luxury hotels and restaurants. It's a true delight walking and exploring the clean streets of Singapore, with smoke-free and hygienic public spaces.
With all these great things to offer, let's see some of the coworking spaces available in this fascinating city of Singapore:

Located in the heart of Singapore, The Hub is a coworking space that hosts the largest community of entrepreneurs and business pioneers in the country. With two prime locations in Singapore, this coworking space offers large working spaces and team rooms for over 250 startups.
Members get access not only to a great coworking space here, but also to a great community of like-minded people who enable endless opportunities through mentoring, coaching, building an international networking and business growth support.  
Some of the amenities available at The Hub are: high speed WiFi, kitchen, onsite restaurant and cafe, events and workshop space and access to library. This coworking space offers high quality equipment, including ergonomic chairs, photocopiers, scanners, printers, and more.
Its central location offers easy access to transportation and all the great restaurants and cafes  around that can become your favourite go-to places for your lunch or coffee breaks.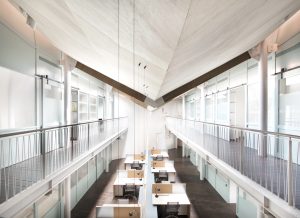 The Working Capitol is a modern and comfortable coworking space that offers both the "dream office space" and great opportunities for social connection.
With large, comfortable coworking offices filled with plenty of natural light, this place will get you excited about coming to work every morning. The amenities this great place can offer include a lounge area perfect for your social breaks, a kitchen, onsite cafe and restaurant for your lunch and coffee breaks as well as free coffee and tea.
You will be able to get your work done efficiently with the provided equipment—video recording equipment, printing equipment and high speed WiFi. The ping pong table is an added bonus. Perfect, right?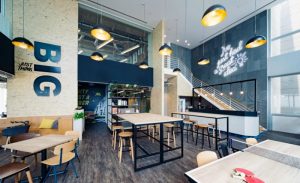 JustCo is a modern and creative working space in Singapore. With its hip vibe and chalkboard walls, this space is perfect for independent individuals looking for a unique and non-conformist setting to call their work home.
This coworking space offers both open space offices and private offices, for each working style. With ergonomic chairs, printers, scanners, photocopiers, AC and free tea and coffee, this place can be the perfect coworking option for you.
If you're a freelancer looking for a cool and hip office to get your work done, a startup or a small business looking for some comfortable space for your meetings, or a large company in search for some professional working space available where you can benefit from some business networking as well, JustCo is the perfect solution for you.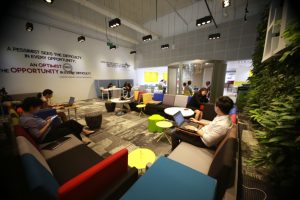 BIG Work is a chic and funky coworking space in Singapore. Located in the center of the Bras Basah, Bugis, and Dhoby Ghaut enclaves, you're at a walking distance away from at least 4 MRT Stations, as well as multiple bus stations and the Singapore Changi Airport is a 20 minute drive away. Transport is not something to worry if BIG Work becomes your coworking office space.
This office space offers both shared coworking spaces and private offices, spaces for events and workshops, skype room, a kitchen and onsite restaurant and cafe. You have everything you need in one place, no need to get out of the building. BIG Work offers free access to its onsite gym, so you have the option of getting your cardio workout done in between your working sessions or after work.
One more cool thing about this place is the onsite childcare center. You don't have to worry about daycare for your child, you can both spend your days in the same building. Have a playdate together in your work breaks. Does it get any better than this?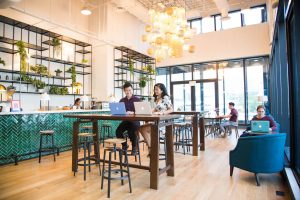 The Hive is one of the leading coworking providers in APAC, with two locations in Singapore: The Hive Carpenter (located at 36 Carpenter Street), and The Hive Lavender (located at 1 Kallang Junction). 
Both of these modern workspaces are perfect for entrepreneurs or freelancers, with shared and private office options, meeting rooms, and cozy lounges. Plus, at The Hive Lavender, members can access a full-sized fashion photography studio, portrait studio, YouTube studio, as well as a 3D printing and prototyping workshop – all under the same roof.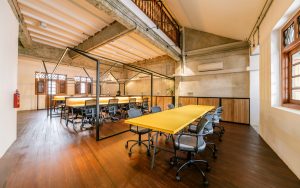 Workhouse is a stylish coworking space for entrepreneurs, freelancers, independent professionals and startups. This coworking space offers a variety of options, from shared office space and meeting rooms to private desks and event venues. You can have the option of customizing your desk with storage space, anything to make your space feel comfortable.
Start-up focused accounting and secretarial services are some of the additional services available here at Workhouse.
Here's a great perk of making Workhouse your coworking space: the full pantry available 24/7 where you can get your coffee, snacks and treats. Are you in now?
These are just a few of the great opportunities Singapore has to offer in terms of coworking spaces. Wouldn't you like working in one of these modern and unique office spaces? All you need is an adventurous spirit, a plane ticket to Singapore and your passport. Now go and enjoy your working holiday.