Playa Del Carmen (commonly called "Playa" or "PDC") is situated at the point of the Yucatan Peninsula on the Atlantic Coast of Mexico. Most Millennials will be more familiar with Cancun, which sits just 30 minutes to the north and holds the International Airport in which most visitors use to access Playa.
I recently spent 4 weeks in Playa Del Carmen on a coworking vacation and had the opportunity to scope it out as a potential future hub for the mobile workforce. There are 5 great reasons why Playa Del Carmen is prime to be considered a top destination for any remote worker.
Fitness – The long beachfront and the parallel Calle 1 & 5 are the perfect place for a walk/run in the morning before the busy hours. Calle 5 is approximately 2km long, making it a 4km in distance from one end to the other. PDC has several great gym options, Crossfit centres, and yoga studios. My favorite is a boxing gym called The Union on 44th and 10th Avenue. Its open 7am – 10pm daily, and during my visits there the place was almost always wide open, sort of like my own personal kickboxing playground. At just $60/month unlimited access, it's too good to pass up.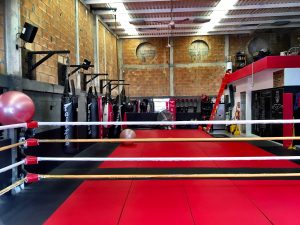 Food & Drinks – I thought I loved Mexican food before I spent time in Playa; now I am obsessed! I find the cuisine easy to eat in bounties, while still being able to stay lean on. Prices are those of SE Asia. Even on the main strip of Calle 5 it is easy to find a good meal for $5. Quality? Excellent. I found myself constantly giving the thumbs up to waiters from across the restaurant in delight of the food, value, and service. Oh, let's not forget the drinks. Endless buffets of ice cold drinks at college prices.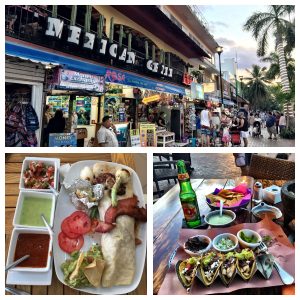 Coffee – PDC is missing the local coffee culture of other major digital hubs like Bali, Chiang Mai, and Medellin, but there is certainly no shortage of coffee. By 8am Calle 5 is already hustling to get ready for a busy day, and dozens of cafes and restaurants are already open with welcoming smiles. Starbucks has 4 well-situated locations located within 1km of each other along the Calle 5 strip. Ah Cacao is also a great local café with 3 locations and is a personal favorite of many locals and long term visitors. Reliable internet keeps Ah Cacao occupied and brewing the beans from 7am – to almost midnight daily.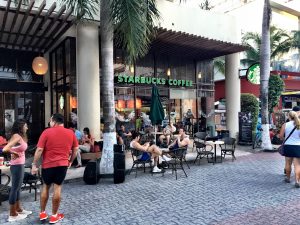 Calle 5 – Calle 5 has to be one of the coolest strips in the world. It is a 2km long walking street that parallels the impressive beachfront and offers limitless entertainment. Each of the 20 or so streets that cross offer an intersection teeming with life. Endless shopping, dining, street performances, margarita bars, and people watching opportunities await you.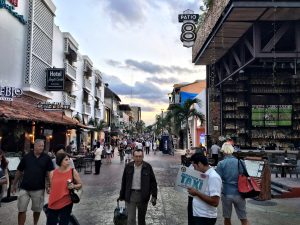 Beaches & Sunshine – Let's not forget the main reason most people visit Mexico. The beaches, year round warm climate, and seemingly endless sunshine are a top attraction. Playa Del Carmen has world class beaches that are just a few minutes walk from anywhere in the city. The seaside location brings a constant breath of fresh air to all the crevasses of the city.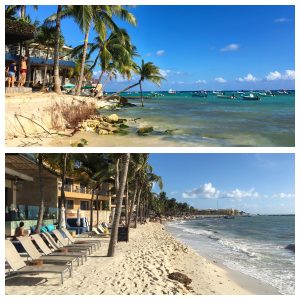 *Pro Tip: Places to Work
Nest Coworking is a proper coworking space located on 38th and 10th Avenue. Cowork In is also a good option but slightly outside the city center. Ah Cacao is a popular café to work from with cool air reliable internet and plenty of seating.
**The drawbacks
Oh the booze – There are endless alluring places to chill out with a cocktail and people watch. Coupled with the warm climate and college priced drinks, it is easy to get sucked into the booze scene here. If you're a hedonist like me you'll be hard pressed to take a walk and not be sucked into the limitless beer and margarita offers you pass by.
Depth – Most notable spots in Playa are on a 2 street by 20 street grid. The city is much bigger than that but there are fewer reasons to venture outside of the area. This could leave the location feeling confined after an extended stay. There are however, plenty of opportunities to get away to some great spots for day and weekend trips including Cancun, Tulum, and Cozumel.
Community – It's lacking a strong community of professionals like other digital hubs. A large coworking space that could host 75+ people comfortably would give help attract and unite a larger community.
Productive atmosphere – Playa is a high energy, always bustling destination with new people flowing through daily. There are quiet and even inspiring parts of the city, but it's no secret many people come to Mexico to let loose. Be prepared to join in!
*Pro Tip: Who and When  
Playa Del Carmen is a great destination for 1-2 months of working / vacation. I think it makes a great destination for part of the year, but not year round. November – March are the recommended months and avoid September unless you LOVE the rain.