While unfortunate, many people know Malaysia best for the insane amount of coverage the country received in 2014 for the mysterious disappearance of Malaysia Airlines Flight 370. We're not here to talk about that today. Instead, we'd rather share with you a few things you probably didn't know about Malaysia…
For one, did you know that this Southeast Asian country has one of the top healthcare systems in the entire world? Apart from being affordable, Malaysia healthcare practices are also waaay ahead of other developing countries.
Malaysia isn't a bad place to work either. From 1957-2005, Malaysia had one of the world's fastest growing economies with an average annual GDP growth rate of 6.5%! Things haven't slowed down much since then either.
Malaysia is still said to be one of the world's most competitive and fastest-growing economies in the world today. With high internet connectivity rates, an affordable cost of living, and multi-year visas available through the country's My Second Home Program, Malaysia may be a great place for you to work regardless of where you're originally from.
Plus, Malaysia has no shortage of great cities to settle down in such as:
Kuala Lumpur — Malaysia's capital boasting luxury shopping malls and some of the most developed infrastructure in all of Southeast Asia.
Penang — A relaxing island known for being one of the world's top food paradises.
Kuching — An upcoming "digital nomad" hotspot that offers an affordable cost of living while being surrounded by endless amount of lush green scenery.
No matter where you choose to go, however, we hope you enjoy our list of the 5 best coworking spaces in Malaysia!
Established in 2010, PAPER + TOAST is said to have been the first coworking space in Malaysia. Almost a decade later, the community at this space is still thriving.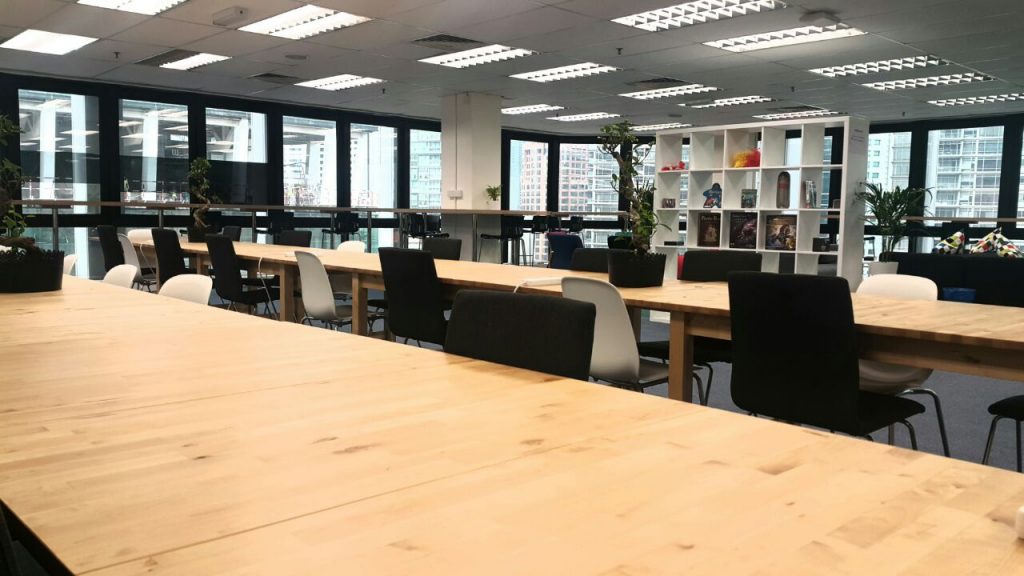 Perhaps it's due to this space's excellent location. PAPER + TOAST is located just a short walk away from Pavillion –probably the classiest shopping mall in all of Malaysia. This makes it easy for visiting clients to find your office, and inevitably leaves a favorable first impression when they do arrive.
Even if this space had a less favorable location, however, you'd still probably enjoy working at it. PAPER + TOAST offers coworking members fast wifi, multiple Skype rooms, excellent security, and a stunning 14th-floor view of the Petronas Towers.
Perhaps most importantly, there are no shortage of available seating arrangements. Do you like working in a traditional office chair? No problem. Read that sitting is the new smoking? Use the standing desks. There are also several sofas to work on if you'd like something a bit more comfortable.
Get your free day pass at PAPER + TOAST here.
WORQ
— Kuala Lumpur
WORQ is probably the most convenient coworking space in Malaysia. This Malaysian coworking space has everything you could ever ask for under a single roof. ATMS, a yoga studio, cycling gym, grocery store, and… a great work environment!
A membership at WORQ gives you everything you need for a productive day of work. Of course that includes a comfortable table and chair to work at, but that's just the beginning…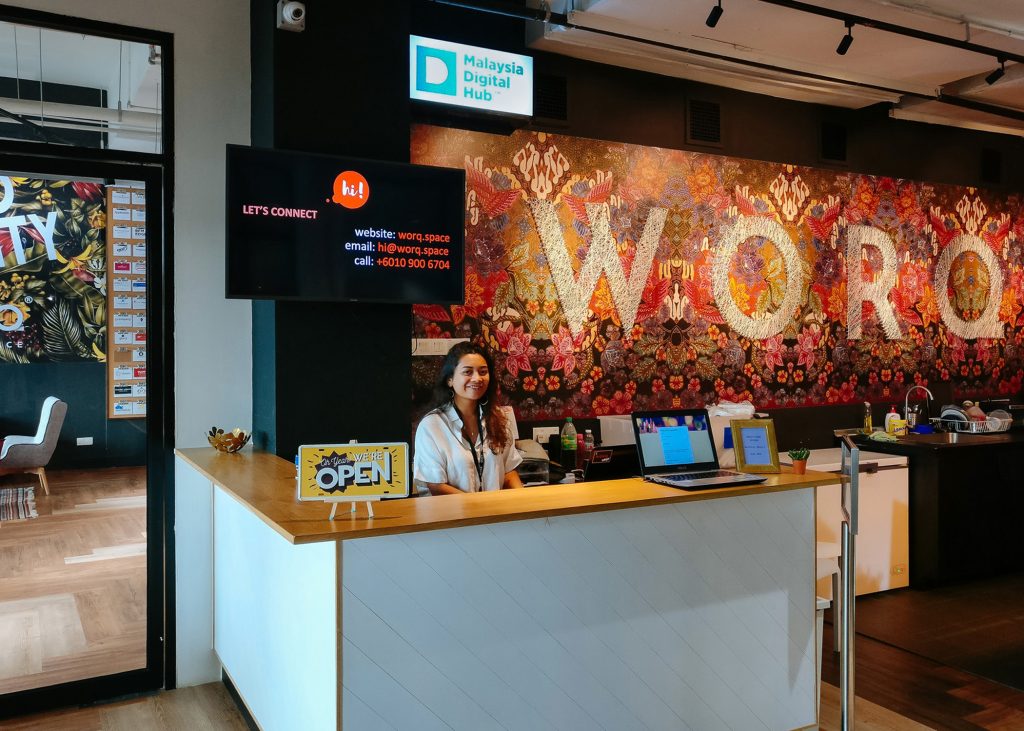 This space also offers members 24/7 access, excellent internet speeds, mail handling, printing/photocopying/scanning, and an endless list of community events.
From experienced investors, to coding bootcamp graduates, dozens of professionals and members of WORQ attend these regular community events.
Don't just take our word that WORQ is an excellent coworking space though. Read dozens of WORQ member reviews here.
Scoopoint
— Penang (Georgetown)
Scoopoint is one of the more unique Malaysia coworking spaces for a number of reasons. The first is that Scoopoint has managed to gather a community of hustlers in Penang; a laidback island not particularly known for entrepreneurs with a go-go-go attitude.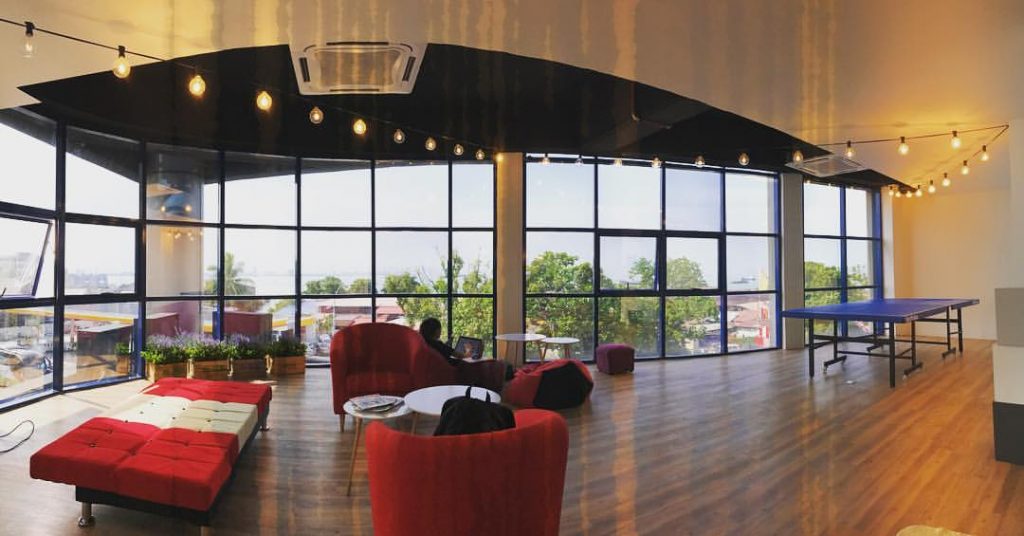 Apart from that, Scoopoint is also one of the few coworking spaces in the world that offers members a power napping room. If you're the type of person that gets hit hard by the 3pm crash, Scoopoint is the perfect coworking space for you.
You'll also enjoy working at Scoopoint if you appreciate a quiet work environment and beautiful harbor views.
Known as Malaysia's "Knowledge city" due to its abundance of universities and research institutes, Bandar Baru Bangi is located some 25km outside of Kuala Lumpur.
If you're in the area, the best coworking space in Bandar Baru Bangi is surely Common Room Bangi. While this isn't a luxury coworking space by any means, working at common room Bangi is incredibly affordable.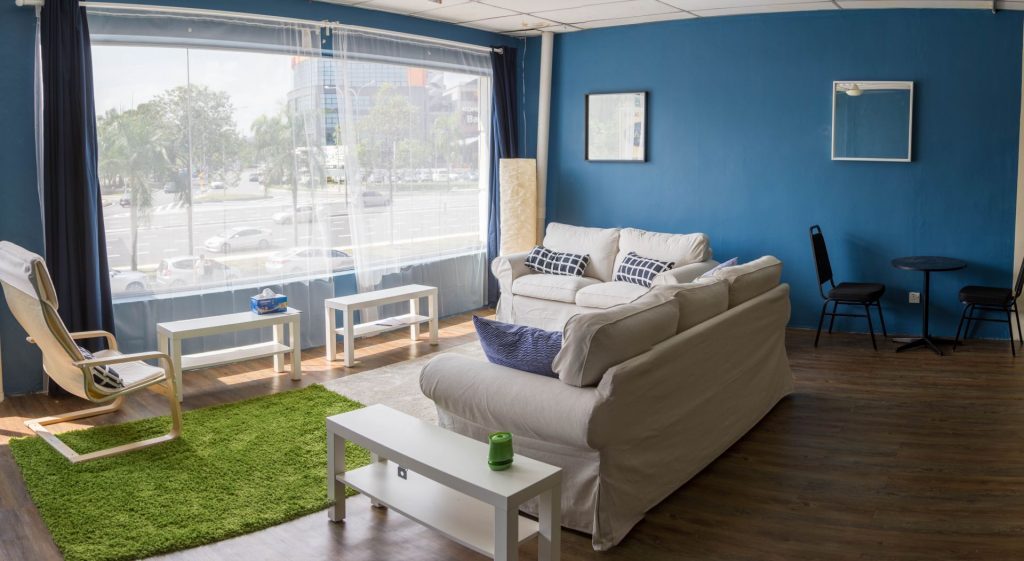 You pay 4MYR (about 1USD) for each hour you work capped at a daily total of 12 MYR (3USD). Despite its affordability, Common Room Bangi even manages to throw in free snacks and drinks at that price!
Out of all of Malaysia's coworking spaces, there's no doubt Common Room Bangi offers the best value for bootstrappers. And if $3 is too much for you to potentially lose to try this space out, they even offer a free day pass 😉
Wow, just wow. Air conditioning, wifi, cleanliness, free-flowing snacks, and a wonderful community, what are you waiting for?
iCube Innovation is East Malaysia's largest and most connected coworking space and innovation hub. It was designed to help entrepreneurs collaborate with other techies to grow their businesses and foster creativity.
The cool thing about this Kuching coworking space is that its community is incredibly eager to foster new connections. If you're new to Kuching and wondering how you should go about expanding your network, joining iCube Innovation would be a good start.
Don't worry if you're shy to be "that guy" starting up conversations with others while they're trying to get work done either. iCube Innovation has regular community events to booth incorporate you into its coworking community and strengthen your connections with other members of the space.
If you're a techie or creative looking for a comfortable place to work in Kuching, check out iCube Innovation's coworker.com page here.