If you're looking for a tech startup hub where "East meets West," Hong Kong is the city for you. Hong Kong offers a perfect blend of exotic Asian cultural experiences backed by homely Western conveniences.
One minute you're sitting on a plastic chair eating Dim Sum, the next you're using Hong Kong's world-class MTR system for an efficient commute to your coworking space. Don't worry about whether you'll be lonely doing all of these things either.
Hong Kong's government has taken numerous measures to support local tech startups and freelancers. This fact, along with Hong Kong's long standing reputation as a tax haven has attracted tens if not hundreds of thousands of elite entrepreneurs.
While life in Hong Kong isn't cheap, the city's exorbitant rents do an excellent job of pricing out less serious entrepreneurs. Just like New York, if you can make it in Hong Kong, you can make it anywhere.
Hong Kong's high population density and business friendly environment makes it one of the best cities in the world to build a powerful network.
If you're considering spending time in this exciting Asian city with its beautiful skyline and unparalleled business opportunities, keep reading to see our top 5 coworking spaces in Hong Kong.
Bigger is not always better — except for when it is. Cocoon is one of Hong Kong's largest coworking spaces at a whopping 14,000 square feet of prime real estate. That's a lot of space in a city where rents aren't cheap.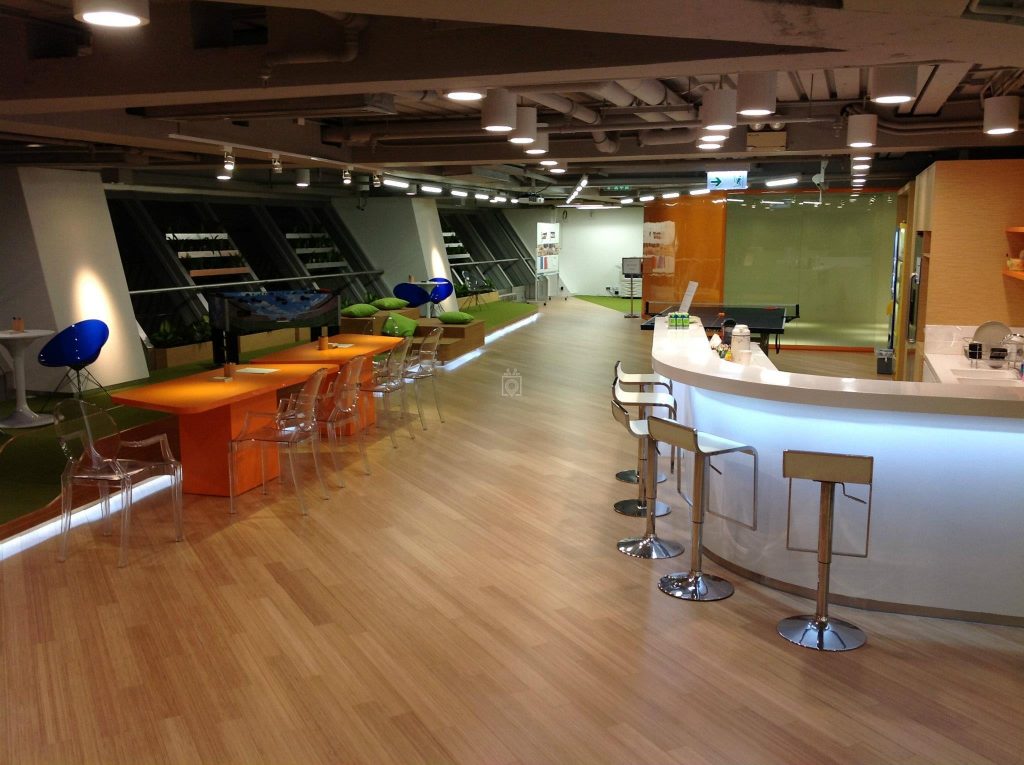 We're not sure how, but memberships at CoCoon remain affordable despite the abundance of space and long list of amenities. As a member of CoCoon you'll enjoy access to a photo studio, library, meeting rooms, conference room and even a 3D printer.
We like to get our drinks at CoCoon's on-site cafe, but if you're looking for variety you've got it. CoCoon is surrounded by upscale hotels and restaurants. The location is also convenient due to its close proximity to the beautiful Victoria park and MTR.
CoCoon is one of Hong Kong's best coworking spaces for networking, and hearing interesting ideas. The fact that members can enjoy a game of table tennis or table football after work also helps contribute to making CoCoon a fun place to work that you'll be excited to visit each day!
If you believe that nice things happen in nice places, a coworking membership at Garage Society QRC will be perfect for you. Hong Kong offers more upscale options than almost any other city in the world, and this Garage Society coworking space is a perfect example.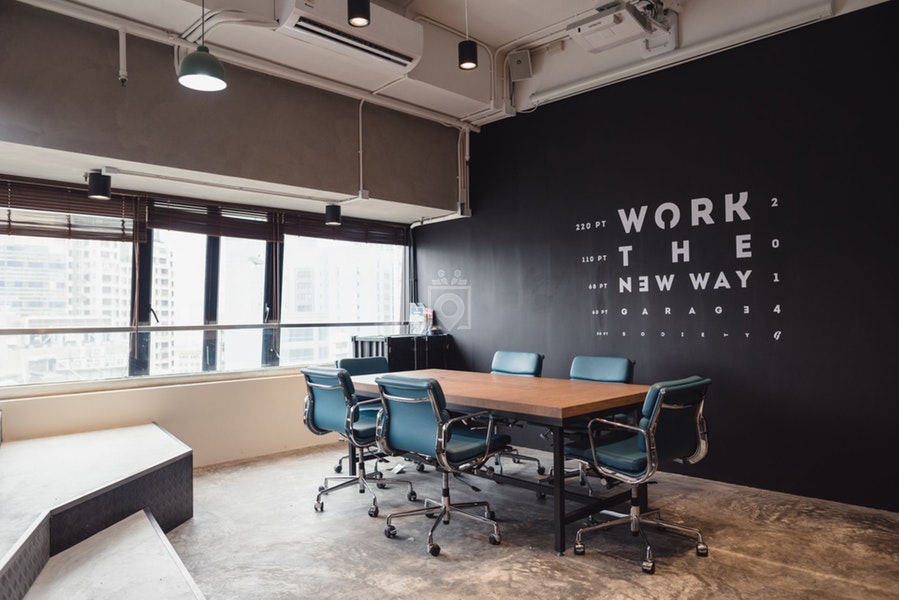 Let's start with the fact that this coworking space offers free beer on tap. Getting nickeled, dimed, and dollared for your alcohol consumption is a thing of the past. This Garage Society membership perk will be either the best or worst thing to ever happen to you 😉
Regardless of whether you're a drinker, or whether you already buy into the coworking movement, we're confident a membership at Garage Society will make you a believer in the concept of coworking.
This coworking space has a chilled vibe and an atmosphere 100% conducive to getting your hustle on. It also has friendly staff and an international community that'll make it easy for you to network with both expats and locals.
Dim Sum Labs is one of the best coworking spaces in Hong Kong. The reason is that you can get a decent feel for the space without paying any membership fee. Every Tuesday night from 8pm until the wee hours of the morning, Dim Sum Labs is open to the public.
During these times professionals, startups, and entrepreneurs gather to exchange ideas, form connections, and spend several focused hours working on the projects most important to them.
We'd recommend you join one of these "hacking" sessions. By attending you'll see if you vibe with the community and work atmosphere. If so, you can join Dim Sum Labs as a full-time member to use it the rest of the week and take advantage of the space's unique amenities.
A laser cutter, lathe, bench drill stand, soldering iron, and even an oscilloscope are all available to you as a member of this space. Not sure what any of these things are? Don't worry about it.
Dim Sum Labs also offers more common coworking amenities such as free coffee, a library, printer, library, and a peaceful outdoor terrace.
Everyone loves comfortable chairs, abundant natural lighting, and free tea/coffee. These are just a few reasons the Work Together — Yau Ma Tei coworking space has achieved an average 5-star rating from member reviews on coworker.com (as of May 2018).


Located in the center of the Yau Tsim Mong District, Work Together is close to both the MTR station and countless restaurants. This makes it easy to meet clients for lunch nearby. Even better, you can save more time by inviting them to one of Work Together's meeting rooms.
This space's most unique aspect is its close ties to mainland China. If you're looking to do business in mainland China, you'll benefit from the connections and insider information the management and community at this space can offer you.
Even if you're just hustling independently, however, you'll still enjoy working at Work Together. An awesome view along with a photocopier, scanner, printer, standing desks, plus free coffee/tea makes this coworking space a pleasant place for almost anyone to work at.
The Hive is one of the most popular coworking chains in Asia. Its location in the heart of Wan Chai is as good as any other.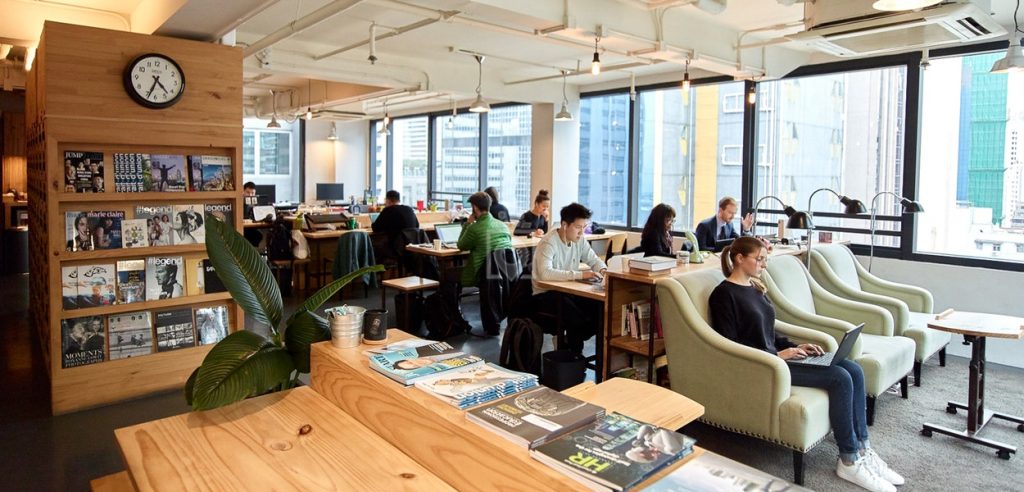 This coworking space offers 5 floors of contemporary shared workspaces, dedicated desks, posh private offices, and a lovely outdoor terrace to catch some rays on sunny days.
If you're new to the city, this is one of Hong Kong's more accommodating coworking spaces. Despite The Hive Wan Chai being part of a larger chain of coworking spaces, the staff members remain surprisingly welcoming.
They'll offer you lots of assistance getting settled into your workspace and providing you with recommendations for interesting things to check out around the city. It's also easy to meet other community members who are looking to meet a friend just like you!
For a soft introduction to the city, and a comfortable place to work at an affordable price, The Hive Wan Chai is one of Hong Kong's best coworking spaces.