Paris dominates every conversation about French cities. After Paris, it's difficult to forget about the beautiful port city of Marseille. These two world-class cities completely overshadow another that deserves to be in the debate of best city in France — Lyon.
Located in the Rhone-Alpes region of France, Lyon is famous for its light festival, Fête des Lumières, which lasts for four days each year in early December. No matter when you visit Lyon, however, there's sure to be a party right around the corner.
With over 120,000 students, the city always has something exciting going on. This heavy student presence may also be part of the reason Lyon's startup scene has grown in recent years. Building a team in Lyon is significantly more affordable than hiring in Paris.
That fact coupled with Lyon's more reasonable cost of living makes many entrepreneurs feel it's the best city in France to bootstrap their startups.
We'll go a step further and argue that you don't even need to be part of a startup for living in Lyon to be worth it! Lyon's economy boasts strong banking, pharmaceutical, biotech and software industries.
The city has a huge diversity of professional opportunities, and an equally large number of coworking spaces. No matter what you're working on, you'll have plenty of options for places to work from.
And then there's the lifestyle. Lyon is a UNESCO World Heritage listed site, and is home to dozens of amazing parks and museums. The city is also famous for its excellent cuisine and gastronomy.
Overall, Lyon is a city where you can join a coworking space, enjoy an abundance of professional opportunities during the week, and then enjoy awesome weekend nature activities like skiing in the Alps or swimming in the Mediterranean.
If the Lyon lifestyle sounds like it may suit you, keep reading to see our list of the best Lyon coworking spaces below.
With the ability to accommodate up to 350 professionals at any one time, Now Coworking is the largest coworking space in Lyon. It's also one of the nicer coworking spaces in Lyon for several reasons.
You'll feel inspired working at your laptop as you glance out large windows offering a panorama view of the city's rooftops. The community working from Now Coworking is elite too.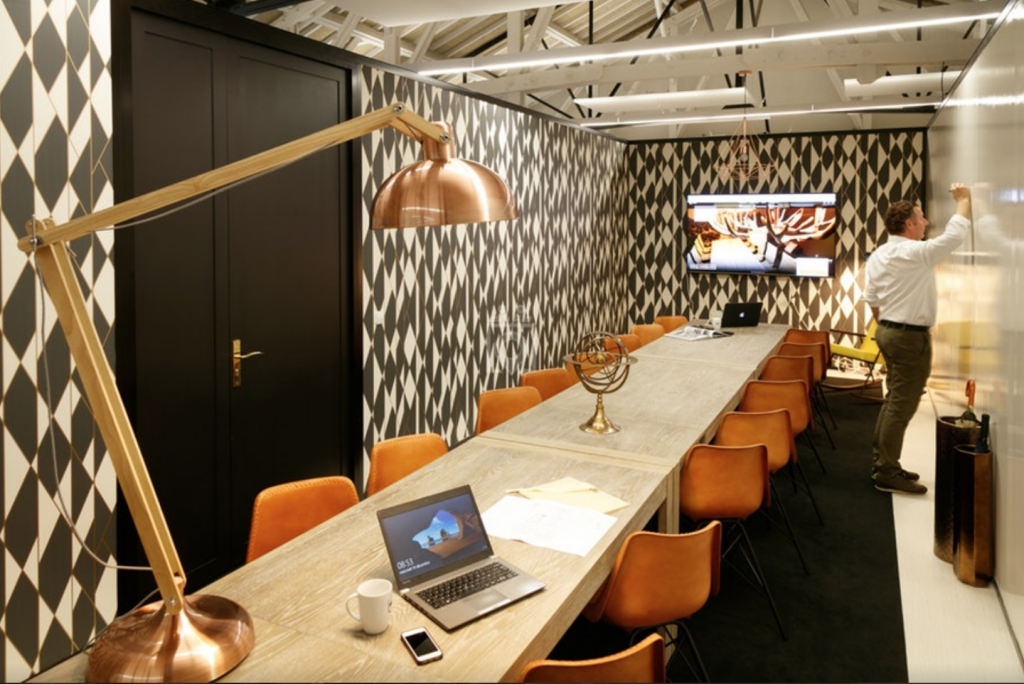 The space's over 1,000 members consists of brilliant entrepreneurs, consultants, and freelancers spanning all industries. Whether you're looking for a co-founder, a gym partner, or someone to play Ping Pong with in the game room, you're sure to meet someone that's looking for the same thing as you.
Best of all, coworking memberships at Now Coworking are flexible. You'll have flexibility in the type of office you work from (shared or private) as well as how many months you'd like to join the community.
If having awesome views and a dynamic coworking community are high on your list of priorities, Now Coworking may be your best coworking option in Lyon.
Tuba, an acronym for "Urban Experimentation Tube", is a coworking space that faces the Part Dieu train station. This coworking space was originally designed to be a place of innovation and experimentation for the city of tomorrow.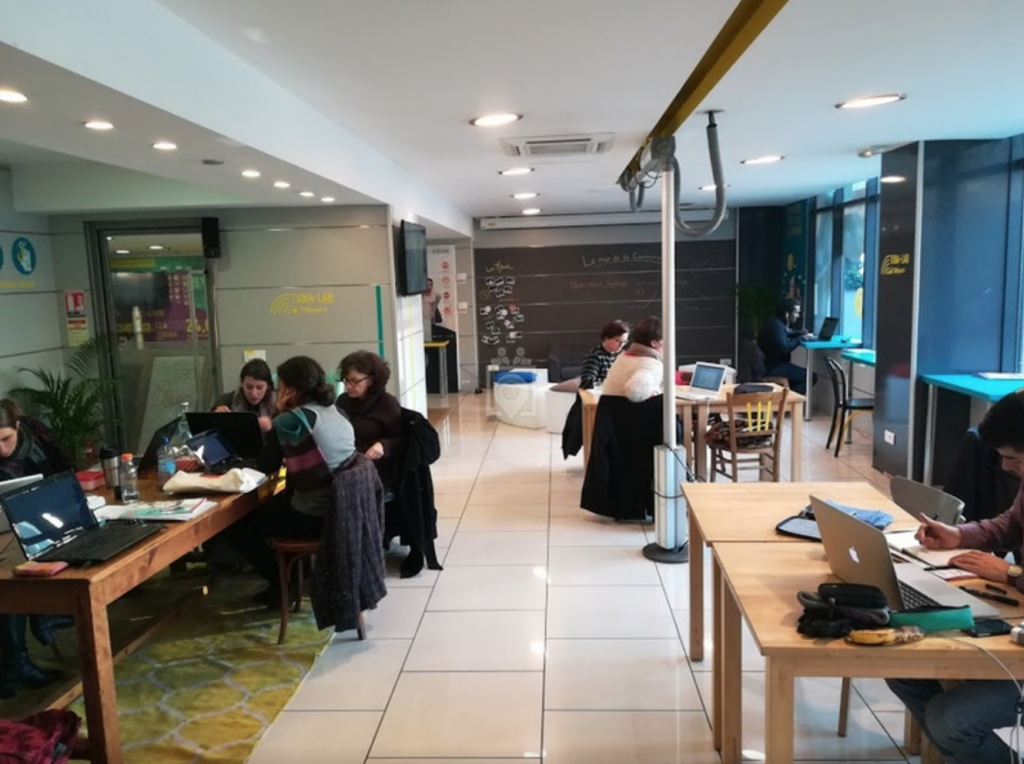 The SMEs, startups, and professionals working at Tuba certainly live up to the space's mission statement. The community at Tuba is incredibly forward-thinking.
A quick brainstorming session with other members of the space will contribute massively to your success whether you're planning a creative marketing campaign, or trying to develop a new product that revolutionizes your industry.
Yet, Tuba has a lot to offer for those that prefer keeping to themselves. Comfortable chairs, speedy wifi, free coffee/tea, and a convenient location are all perks you'll enjoy even if you don't say a word all day.
One of several "La Cordée" spaces in the city, La Cordée Coworking – Lyon Liberte Guillotiere is located in the heart of Lyon. Housed in an old building from the 19th century with a beautiful courtyard outside, you'll be proud to come to work at Liberte Guillotiere each day.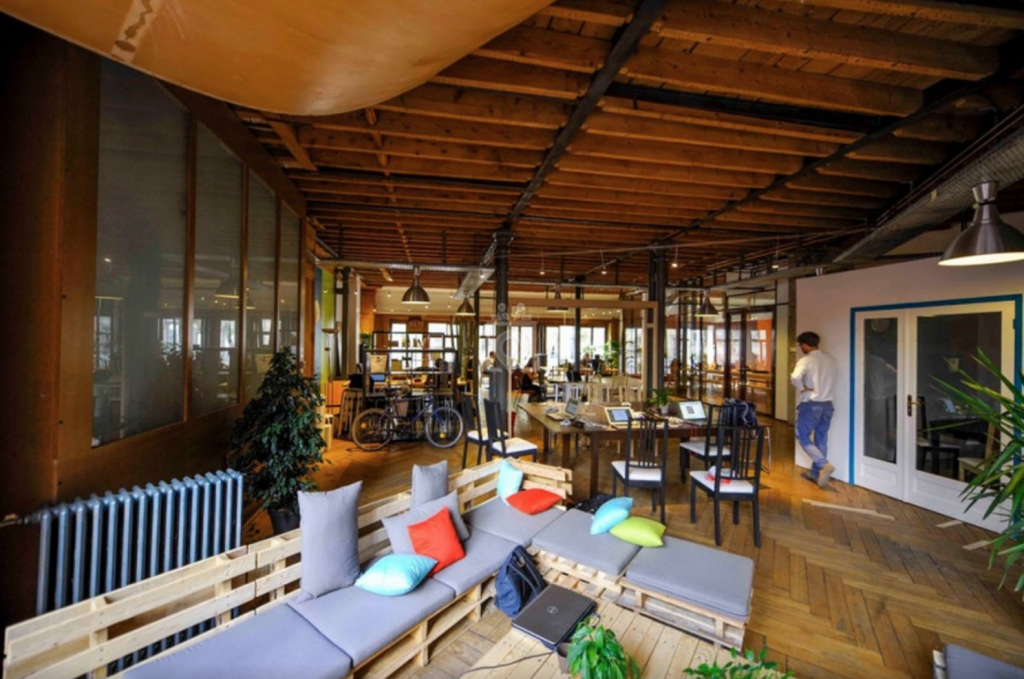 Don't worry about getting to work each day either. Liberte Guillotiere is nestled between the popular Part-Dieu and Perrache train stations and just a 15 minute walk from either.
Once you arrive at work, that's when the real magic begins. The coffee and tea bar have all the caffeine your brain could ask for.
Once you get your caffeine rush, sit at one of the coworking area's huge wooden tables. An abundance of space, a beautiful interior design, and calming potted plants all contribute to a peaceful work atmosphere.
If you need to make a call or meet with a client, private meeting rooms are also available. Other amenities offered by the space include printing facilities, super fast Wi-Fi, and 24/7 access.
Liberte Guillotiere is one of Lyon's highest rated coworking spaces because it offers a completely silent work environment without the isolation that comes from working at home. If that sounds like something you could appreciate, consider booking a tour of the space here.
Ecoworking is a socially responsible coworking space for environmentally conscious individuals. Ecoworking offers countless services that'll leave you feeling good about the impact you're having on our planet.
A bike bar is available if you'd like to commute to work each day by bike. A self-service scooter is available for any urgent shopping needs. If the items on your shopping list aren't particularly urgent, you can add them to the community shopping list that pools orders and deliveries for efficiency.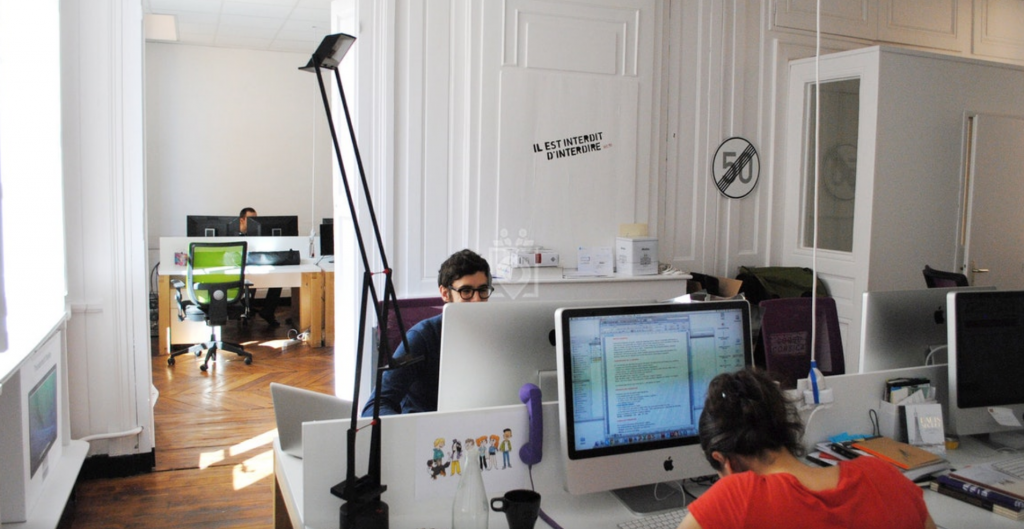 Most important of all, however, Ecoworking has a lot more to offer than just being a "green" space. Even if the environment was far down your list of priorities, Ecoworking would still be one of your better coworking options in Lyon.
The space has an awesome location in the heart of the city. Fancy decor, high ceilings, and an abundance of indoor plants make the interior of Ecoworking visually appealing. Comfortable chairs and spacious offices further contribute to the serene work environment.
Of course, working in an environmentally responsible coworking space also means you'll be surrounded by good company. Ecoworking is probably the best coworking space in Lyon for finding other entrepreneurs and professionals looking to do business "the right way".
Coworking in Lyon — Conclusion
Along with being ranked the 40th most livable city in the world, Lyon also offers professionals an abundance of professional opportunities. You just need to get out to Lyon's top coworking spaces and do some networking to find them!