While known as the world's most romantic city, Paris has much more to offer than just amazing tourist attractions and Eiffel Tower selfies for Instagram. Paris also offers numerous benefits for startups and professionals.
Paris provides excellent business opportunities in the commerce, services, transport and social welfare industries, just to name a few. Paris is also one of the most diverse cities in the world, which makes it easy for you to hire and brainstorm with individuals from differing backgrounds.
Whether you're looking to permanently relocate, or you're just in the city for a week to do some wine tastings and see the Palace of Versaille, it'll also be well worth your while to check out the dynamic coworking scene in Paris.
True to its reputation, Paris has some of the most elegant coworking spaces in the world. There's also a great diversity in the style of spaces Paris has on display for independent professionals.
If you're looking for the best coworking spaces in Paris, look no further. Here are 3 Parisian coworking spaces that are leading the way in the city's coworking movement.
Coworkshop is a coworking space with an innovative pay as you work concept. Work for an hour, or work for the whole day — Coworkshop offers you the ultimate flexibility. This makes it a perfect coworking space if you're traveling to Paris on vacation and need somewhere to work for the morning to keep your business afloat.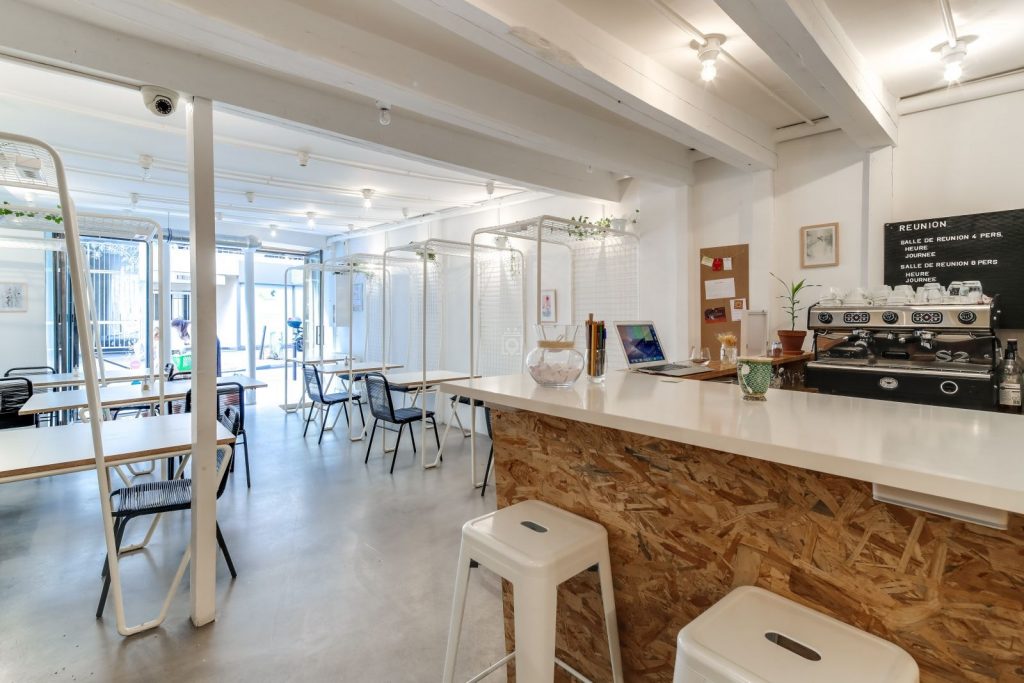 Coworkshop is also the perfect workspace if you're living in Paris and just feel the need to change up your working environment on occasion. Let's be honest, the home office gets stale sometimes. A day spent working at Coworkshop may be a great way to jumpstart your creativity again!
The other reason we love Coworkshop is its convenient location. The space is located in the 10th district of Paris near two major train stations (Gare du Nord and Gare de l'Est). This makes it a natural place to hold business meetings with potential partners and clients commuting in from Amsterdam, London, or Berlin.
If you're a young hustler looking for a coworking space with a get-your-work-done vibe, and a casual yet professional work environment, click here to purchase a coworking day pass or get more information about Coworkshop.
Cosy Corner is one of the most complete coworking spaces in Paris. Location in the center of the city? Check. Free coffee and tea? Check. Flexible membership options? Check. Plus, that's only the beginning.
Our favorite thing about the Cosy Corner coworking space is that it offers juices from organic fruits among other treats. Nutrition is an extremely underrated aspect of improving your ability to focus and produce great work.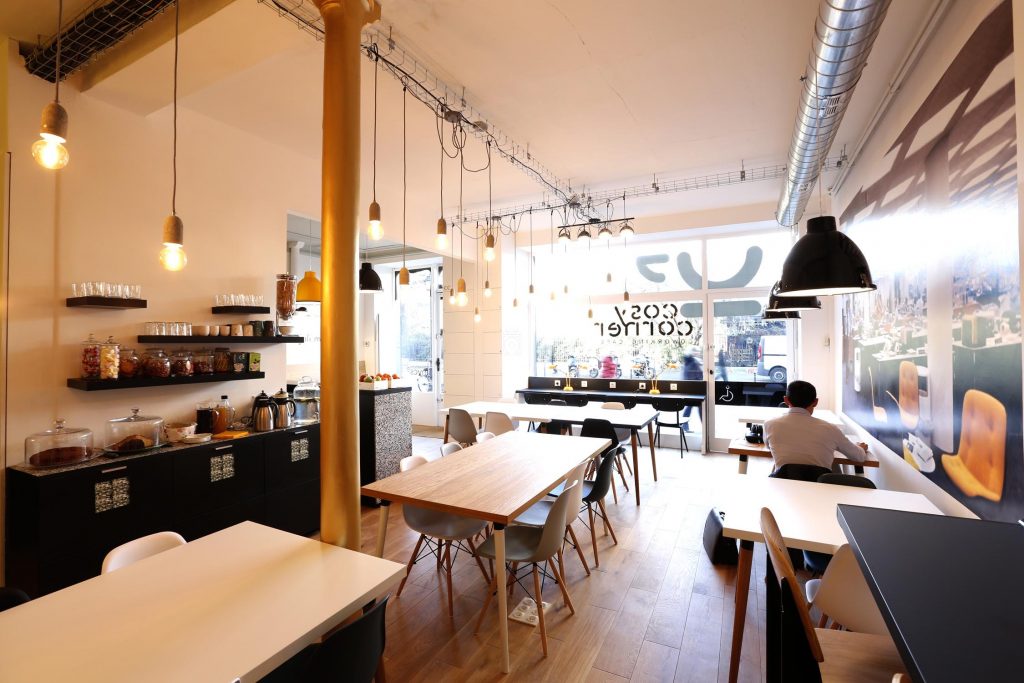 When you combine healthy snacks and fast internet, along with a quiet and relaxed work atmosphere, you've got an obvious candidate for the best coworking space in Paris to concentrate on your most important tasks.
Abundant natural lighting, beautifully designed furniture, and comfortable chairs also contribute to the working ambience of the space. Coworkshop makes a great first impression and is a quality venue to close deals with clients.
If we were in Paris writing a book, analyzing legal documents or working on some other project that required complete and total focus, there's no question we'd be spending most of our days at Cosy Corner.
Be Coworking les Epinettes is a coworking space in Paris' Epinettes district. It is easily reached by Metro line 13 or public bus. Standard coworking amenities such as tea, coffee, printing and excellent wifi are all included in your coworking membership.
Be Coworking also has a nice courtyard you can sit in and chat with your peers to clear your head after a long day of work.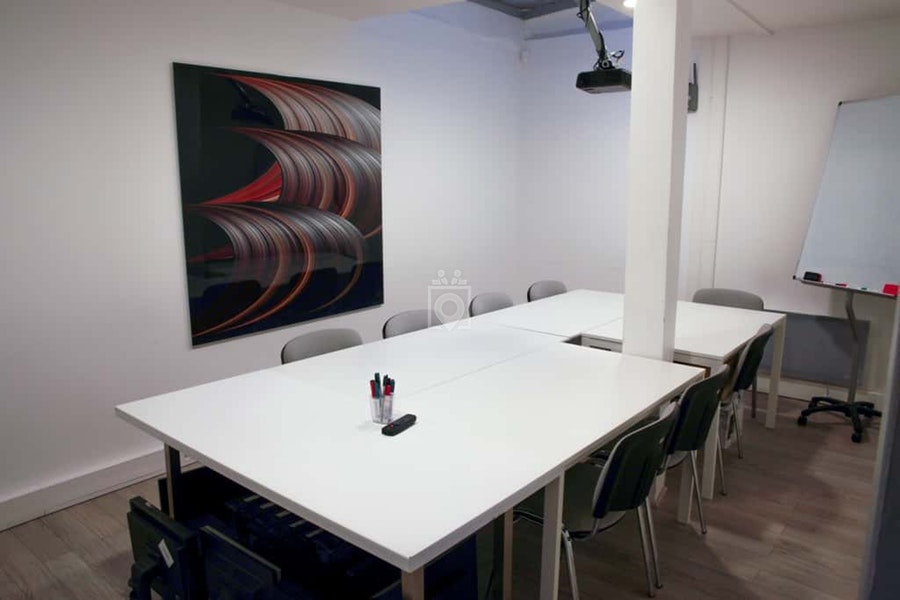 The highlight of Be Coworking is undoubtedly its community. Startups, artists, students, and business travelers all intermingle each day. The business ecosystem at Be Coworking is rich with incredible synergies and coworking collaborations occurring each day.
On your lunch breaks, you can network with peers and sample delicious Parisian cuisine at one of the many small restaurants nearby. Members of the space also partake in frequent happy hours at the bar after a long day of work.
For a collaborative coworking space with a work-hard play-hard vibe, we LOVE Be Coworking Les Epinettes. Whether working on your independent projects each day has you feeling lonely, or your career is stagnating from your lack of relevant business, a membership at Be Coworking just may be the cure!
Conclusion
Paris is a world-class city for a reason. It's beautiful, has great lifestyle perks, and also features a startup and coworking scene that's growing every year. If you ever make it out to Paris, be sure to check out some of the spaces we've featured here!