Located in the southeastern part of mainland Australia, the opportunity to live and work in Melbourne is to die for. That's probably why Melbourne has been ranked as the world's most livable city for seven straight years by the Economist Intelligence Unit.
It isn't difficult to see why nearly 5 million people are proud to call Melbourne home. The city has a highly diverse economy that's especially strong in its finance, manufacturing, tourism, IT, and transportation industries. The startup scene in Melbourne is also booming. That's a big reason why you have access to over 60 coworking spaces in Melbourne!
Fortunately, you won't have any problems filling your office with talented employees either. Melbourne is one of the top university cities in the world, giving entrepreneurs an abundance of options for young affordable talent to hire.
If you're ready to work in a city with a dynamic economy, a pleasant climate, and an excellent waterfront location, here are four of Melbourne's best coworking spaces.
You don't come to Melbourne for its low cost of living. You come to Melbourne for its excellent infrastructure and quality of life. As far as Melbourne coworking spaces go, few are as elegant as 844 Executive Co.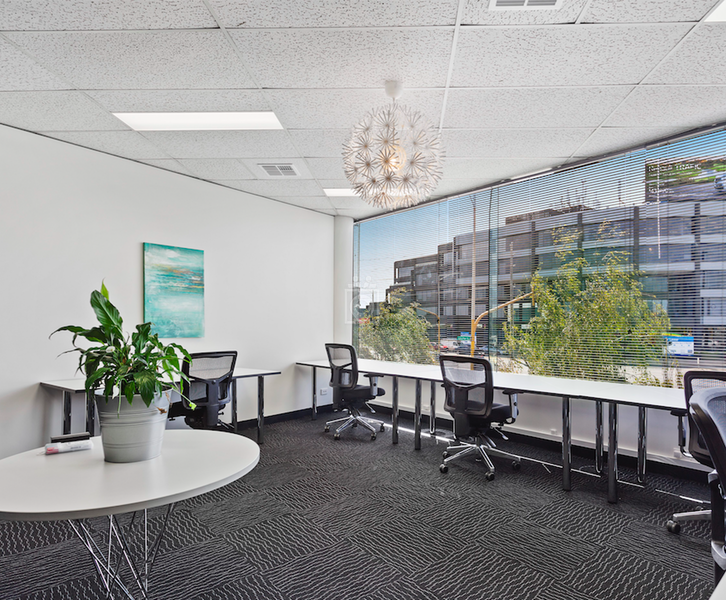 The only thing uninspiring about this space is its name. Get past that, however, and you're guaranteed to have a world class coworking experience. 844 Executive Co has a spacious work area with sleek furniture that'll have you feeling like a corporate hotshot regardless of how far along you are in your career or business.
The space also offers numerous other amenities such as your own business address, permanent desks, and meeting/board rooms suitable for groups of anywhere between 5-50 people.
The other big perk of 844 Executive Co is its close proximity to one of the world's most famous golf courses — the Royal Melbourne Golf Club. Whether you're a golf enthusiast or a young professional just looking for an excuse to get some face time with your next big client, a round of 18 at the Royal Melbourne Golf Club fits the bill perfectly.
Located in the middle of Chapel Street, Exchange Workspaces has a fantastic location with countless cafes and shops nearby. Multiple car parks and a post office are also in close proximity to Exchange Workspaces.
As diverse as its surroundings are, however, the interior of this coworking space has just as much variation. Exchange Workspaces has a spacious work environment, a kitchen, meeting rooms, an event space, and multiple chill areas to get that hustle-induced cortisol flowing out of your body.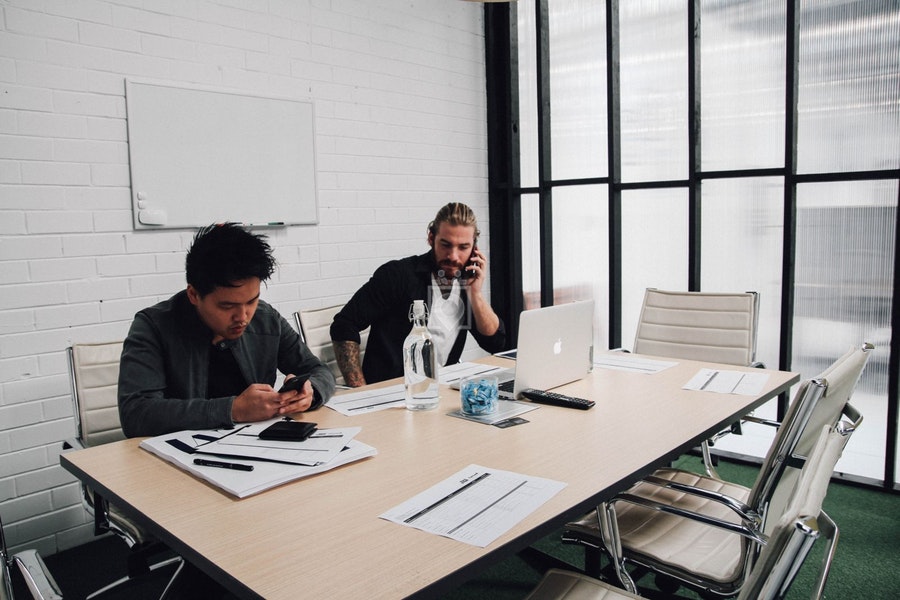 If you're looking for a friendly community that's laid back and neither too big nor too small, you'll love working at Exchange Workspaces. Get your free day pass here!
P.S. Exchange Workspaces was also one of Coworker.com's 2018 Member's Choice Award Winners in Australia.
Revolver Lane is a Melbourne coworking space that has its work environment on absolute lock down. From the tall glass ceilings flooding with natural light from above, to the warm wooden furniture and cosy interior, there's not a coworking space in Melbourne with better vibes.
Oh, and that's not even including the great community of professionals at Revolver Lane and the fact that your membership at the space comes with free beers! There's no way around it, Revolver Lane is the cool kid in Melbourne's coworking scene.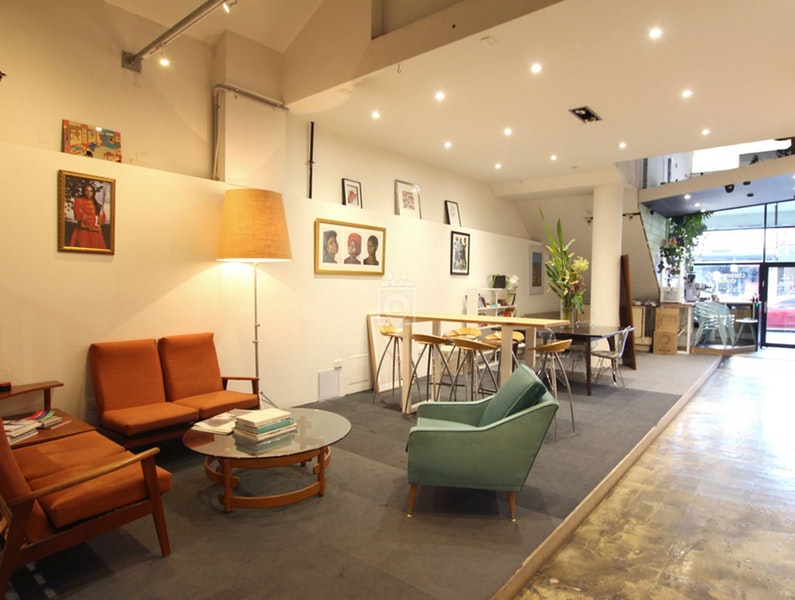 Yet, business isn't just a popularity contest. Being well liked never hurts, but ultimately you're going to need to produce results for your clients or customers to be successful. Fortunately, Revolver Lane gives you all the tools you need to execute on your projects.
Depending on your preferred work style you'll have the opportunity to work from either a communal or a private space. Members of the coworking space also enjoy facilities such as scanning, printing, standing desks, 24/7 member access, and blazing fast internet to get things done.
With all of these perks, it's no wonder there's such an active community of successful professionals at Revolver Lane!
Life is better when you've got a great view and there isn't a coworking space in Melbourne that tops the sky-high 360-degree views at The Cluster. If you're a creative or innovator that draws a lot of inspiration from your environment, The Cluster is the place to be.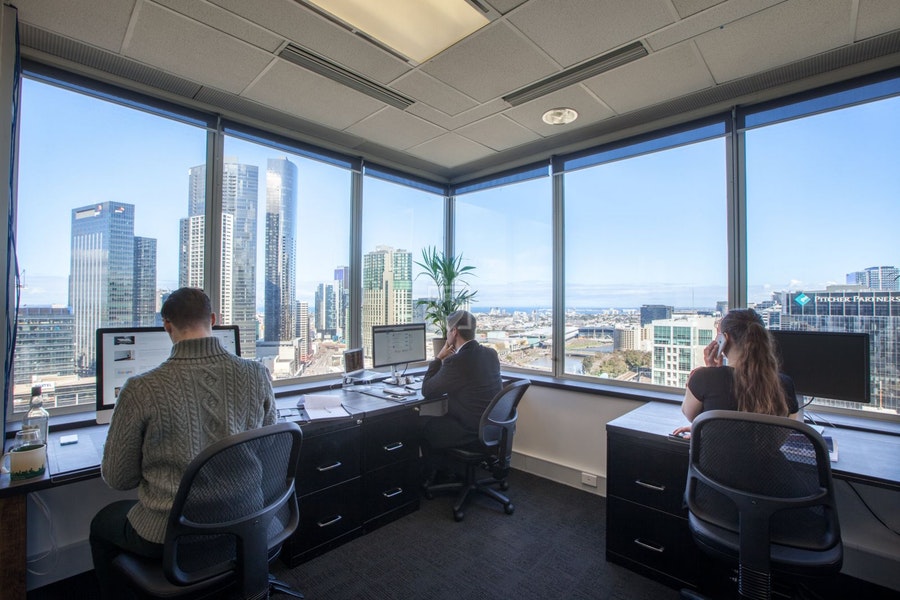 This coworking space is filled with an inspiring community consisting of disruptors, visionaries, and accelerating companies looking to change the world. Monthly drinks, an end of the year Christmas party, and daily snacks are all available to help you bond with the other hustlers at the space.
While the 5 star views may be the most unique aspect of this coworking space, most members find that the staff at The Cluster is what brings them the most enjoy on a daily basis. The space's receptionists are so friendly greeting you each morning that they'll have you excited to come to work even if you're not particularly enthusiastic about the tasks you have for that day.
With in-house receptionists, fiber internet, full-time IT assistance, telephone booths, a business lounge, complimentary meeting rooms, and more, The Cluster has everything you could need in a coworking space. But don't worry even if they haven't gotten the specific amenity you need yet.
The Cluster has built its success on adjusting its space with every piece of member feedback it receives. If you have a special need or request, this space will do its best to accomodate you.
Conclusion
As you can see, Melbourne coworking spaces do a fantastic job of providing you a fun and enjoyable work environment while still maintaining their focus on helping you achieve great professional success.
The coworking spaces we've listed above are a few of our favorites across the city. With that being said, the city has no shortage of excellent places to work. We clearly haven't covered all the quality places to work in Melbourne so why not give us a hand?
Tell us in the comments about your favorite places to work and what you think the best coworking spaces in Melbourne are. We'd love to hear from you!