Jakarta is both the capital and largest city in Indonesia. It's also the most populous city in all of Southeast Asia. We're going to be honest — the traffic is brutal in Jakarta. You could view the city's traffic issue in one of two ways, however.
You could see it as being a big annoyance of living in the city, or you could view Jakarta's traffic as being an indicator of everything great the city has to offer. Here at Coworker, we view it as the latter.
Jakarta was recently ranked 8th in the world by EIU (Britain's Economist Intelligence Unit) among cities with the highest confidence in the environment for digital transformation. In simpler terms, entrepreneurs and large companies see Jakarta as a city with a business environment worth noting.
Whether you're in the service sector, banking, trading or financial industry, you'll find an abundance of opportunities in Jakarta. Jakarta also has a strong manufacturing industry. Stemming from this industry are talented locals willing to work at affordable rates. If you love large exciting metropolises, Jakarta is a city you'll thrive in.
Don't get sucked into the upscale shopping areas and exotic nightlife too long though. Jakarta's coworking scene is calling. While the city's 66 coworking spaces (and growing) all have their unique appeals, we've listed some of Jakarta's top coworking spaces to delegate, design and develop in below.
Note: The general location of each space is also included to help you avoid long commutes across the city.

South Jakarta is home to many of the Indonesian elites. It's also considered by many to be the most desirable part of the city. There's a good chance you'll be spending a lot of your time in South Jakarta. Fortunately, South Jakarta is also the part of the city with the greatest concentration of coworking spaces.
Given this fact, it was difficult to choose a single favorite space for South Jakarta. One that stood out, however, was BITS. In a loud and overly crowded city, BITS is an enticing retreat. Located in the upscale Senopati area, BITS benefits from being near many top restaurants and bars. BITS is also located in a part of the city with a high density of trees (at least by Jakarta standards).
The magic really starts once you open the door into BITS. The interior is sleek with wooden floors and clean white walls. Furniture and creative artwork add color to the environment to create a beautiful work area any designer would approve of.
While designers are a big part of the community at BITS, other members of the space include freelancers, writers, techies and entrepreneurs.  Open Monday to Saturday from 8 A.M. to 8 P.M, BITS is THE place to be in South Jakarta if you'd like to interact with some of the city's most innovative personalities.
Central Jakarta is pretty similar to South Jakarta. It's trendy and expensive (by Indonesian standards). By comparison to South Jakarta, Central Jakarta differs in that it tends to attract a greater amount of foreigners.
If you find yourself in this part of the city, you'll enjoy a fair share of coworking options. One to start out with would be EV Hive Coworking. This coworking space chain currently has several locations. If you were living in the center of the city, the most convenient location for you would probably be EV Hive Coworking's D. Lab space.
Lab is a driving force behind Indonesia's rapidly developing startup ecosystem. This space is also known for its collaborative culture among coworking members. Regardless of which industry you're operating in, you'll feel welcome at D. Lab from the moment you walk in. Goofy comic style paintings line the wall and the space's staff are incredibly warm and attentive.
We love that the space features large windows that bring in a generous amount of natural light. Other features of the space you may enjoy include: affordable membership fees, multiple seating options, free flowing coffee and regular networking events.
Whether you're in the mood to do some work on the net, or you're feeling social and would prefer a networking social hour, you'll find EV Hive's D. Lab location to be an excellent place to advance your professional life.
P.S. When you're tired of thinking about work and would like to feed your materialistic side, check out Jakarta's top mall — Grand Indonesia, which is just a 15 minute walk away.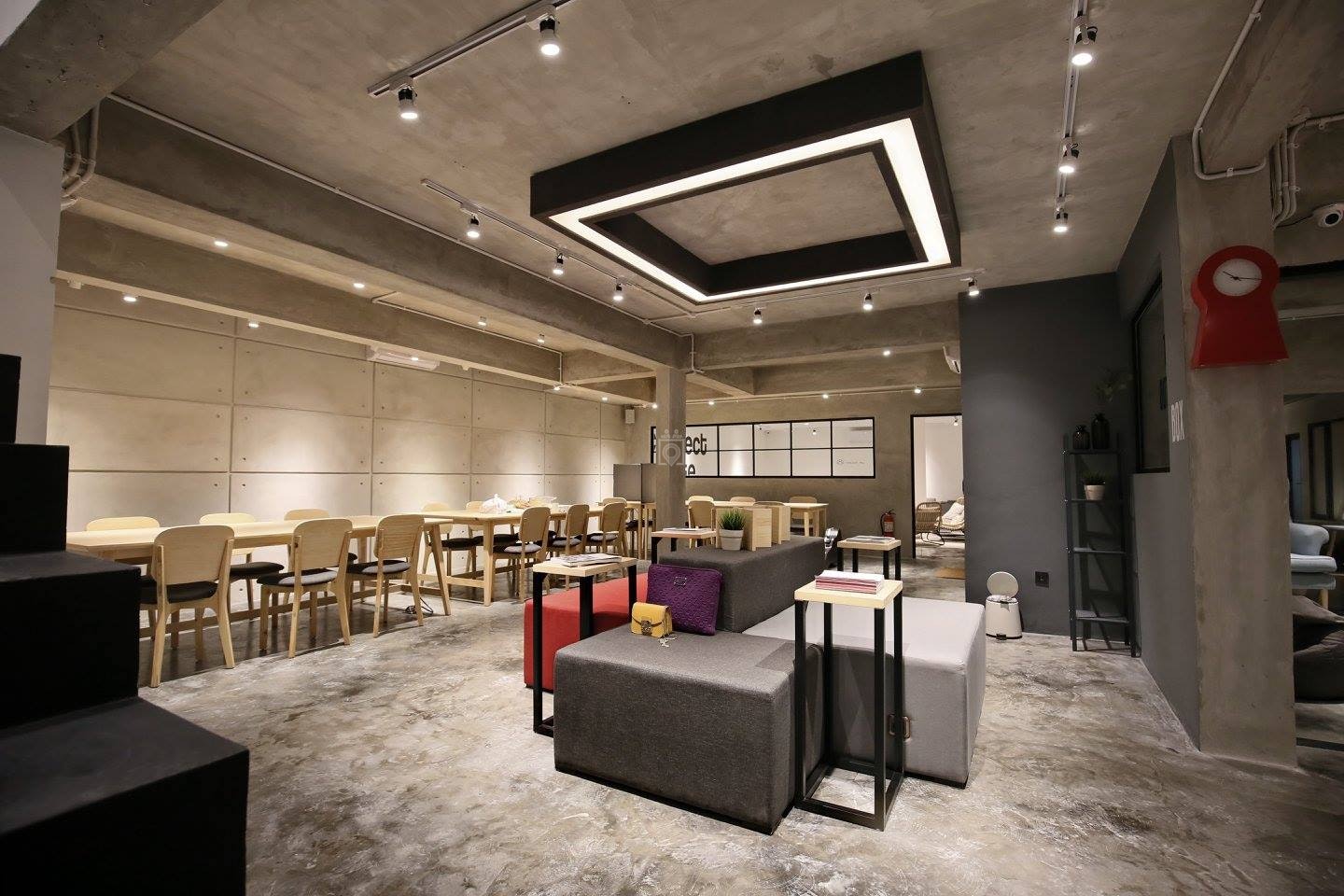 North Jakarta is, for the most part, the only slice of Jakarta facing the sea. If you'd like to be within walking distance of the water, Concrete Co-working Space is your best option in Jakarta.
Concrete Jakarta offers an impressive list of amenities. These include: high speed fiber-optic internet, an electrical socket and enough seating options to keep your body comfortable for as long as your mind can focus. Oh, there's an outdoor terrace too.
If closing deals is a part of your job, you'll love the soundproof meeting room. It's capable of seating up to 10 people and is also equipped with a Smart TV for presentations.
If you're responsible for organizing a seminar, workshop or other large gathering, you'll also be able to take advantage of the on-site Function Hall.
As you can see, Concrete Co-working memberships pack some pretty nice perks. If you were a professional looking for a cosy modern workspace in North Jakarta, a membership at Concrete Jakarta would give you exactly what you ordered at a price you loved.

West Jakarta is known for having a large Chinese population and being one of the more crowded parts of town. This is perfect if you're looking to find a dish of Dim Sum. Unfortunately, it's horrible if you're trying to commute to another part of Jakarta. If you live in West Jakarta, you should probably work there.
Fortunately, West Jakarta is home to one of the city's to coworking spaces and incubators — Kedasi. This workspace and education hub was founded on the idea that cutting edge technologies and innovative products are most easily created by those in a dynamic community.
Kedasi is home to many of Indonesia's most creative professionals and fast-moving startups. This is the place to be if you work best when surrounded by other ambitious professionals doing big things.
Apart from a dynamic community, Kedasi also offers excellent productive facilities. The wi-fi is blazing fast. Whether you're uploading or downloading, you won't have to wait long. You'll also appreciate printing/photocopying services, free coffee and an outdoor lounge for networking. In short, there are many good reasons to become a member of Kedasi.
Conclusion
You won't believe the stories you've heard about traffic in Jakarta unless you spend some time here. Luckily, there are excellent coworking spaces in every popular part of the city. What do you think are the best coworking spaces in Jakarta? Let us know in the comments, and we'll be sure to highlight them in the future!