More and more people are choosing to join coworking spaces, and with good reason. Coworking offices offer freelancers, digital nomads, start-ups and small businesses the opportunity to call incredible workspaces their home. Coworking spaces offer a previously overlooked sector of workers a place to succeed.
Before coworking spaces, people who were starting their own business or freelancing venture would've had to choose between working from home and renting a leased office. Beginning your business or enterprise from home is certainly the most cost-effective option, but it can soon become isolating to always work alone. It can also be difficult to stay motivated and distracting amidst the comforts of home. On top of this, home offices can lack a certain professionalism that the growth of your company may eventually require.
The other option, then, is to rent a leased office. But to acquire one of these private offices, you have to sign a lengthy, expensive contract for an empty space. This could be problematic, as a small business may not have the ability to predict their outfit's growth. A leased office could present an unrealistic overhead for a company or freelancer without guaranteed profitability.
Coworking spaces fulfill a necessary gap by offering members shorter-term contracts in beautiful and collaborative spaces, thereby helping their image, morale and flexibility. Given that coworking spaces are often impressive, there is a misconception that their monthly contracts must be extraordinarily expensive. But this is not the case; luckily FreeOfficeFinder took a look at some of the ways that coworking offices can save small businesses money.
Pay for the Office, Not the Facilities
As opposed to renting a leased office, you only pay for the space you really need in a coworking office. Facilities like toilets, kitchens, meeting rooms and break rooms are communal, managed facilities. The coworking office provider takes care of these so that you only have to pay for the desk space that you use. This can provide huge savings for businesses, who would otherwise have to pay rent on the entire internal area.
Already Outfitted
When renting a coworking office, you won't have to worry about chairs, desks, drawers or filing cabinets. In addition, the space will be decorated and can be configured on request. When you rent a leased office, you will need to purchase furniture, as these space are typically empty shells. Outfitting an office out can prove very expensive as building work isn't cheap, so there is a lot of time and effort, in addition to costs, saved in the process.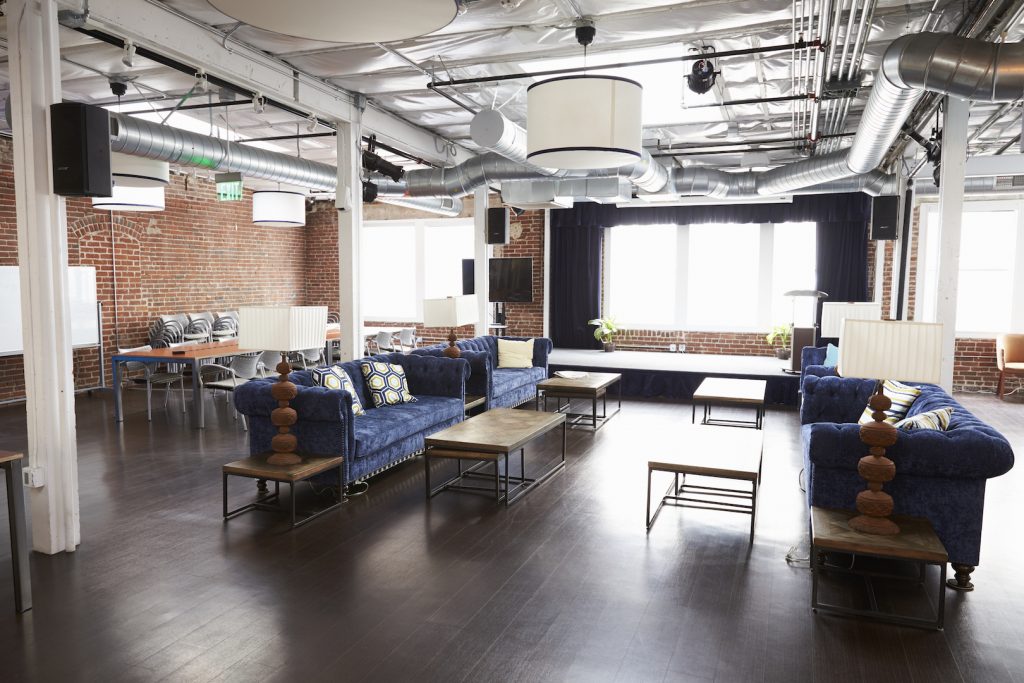 Fixed Business Rates and Utility Bills
When renting a leased office, you will normally have to pay business rates and a number of utility bills for the running of the office. Business rates are a property tax which can change depending on the valuation of the property. Utility bills can increase, as well. If you rent a leased office, your business and utility rates may rise, meaning another additional cost that you may not be prepared for. Coworking offices, however, come with fixed business rates and utility bills. When renting a desk space, be it monthly or daily, you will not be subject to any increases, as the office provider absorbs them.
Outsourced Staffing Costs
Coworking offices typically have employees, like receptionists and administrative staff. This means that you can benefit from in-house staff who can perform any adhoc task you need on site, without the need to employ and pay wages for a dedicated person for the role. Sometimes, you may need to pay an extra pay-as-you-go fee for support service staff, but this is minimal compared to an actual wage. Things like phone answering services, available at coworking spaces, can also add an air of professionalism to your setup that you would never be able to afford otherwise.
Flexible Space
Any company that wants to expand takes a risk renting a leased office space. New companies cannot be certain that they will grow into the space, nor can they be certain that they won't outgrow it. Either way, by taking a larger space to grow into, they will be paying for it (and for a long time, as you are usually bound to a three to 10 year contract). Renting a coworking office rids you of this worry. Rent the exact size or amount of desks which you need initially, and the provider will typically allow you to jump to larger spaces in the building when your company grows. 
No Dilapidations
When leaving at the end of a leased office rental term, you are normally charged for dilapidations, meaning that you may need to pay to have the office space returned to its original format as it was before you moved in. These end-of-tenancy costs can sometimes surprise tenants, with landlords exploiting this. Additional costs like these make a coworking office seem like a paradise. Coworking offices rarely come with hidden costs, don't normally charge any dilapidations and thereby allow you to leave without a big bill. 
Cheaper Call Costs
Once expensive additional costs in office spaces, telephone calls are no longer a financial worry. Lots of coworking offices now provide very low cost calls, and some even include the cost of calls in the monthly license agreement. 
No Agent Fees
Often, in order to acquire a quality office and ensure you get a fair deal when negotiating the lease, you will need to pay an agent to represent you. It can be an hourly cost or a percentage of the rent. Either way, it's an added cost. Coworking offices are much simpler and easier to locate. Companies such as Coworker and FreeOfficeFinder host thousands of offices and do not charge any finder's fees. So, with a free service like this, renting an office can be as easy as finding a hotel room.
No Maintenance Costs
Maintenance costs will no longer be a source of frustration once you have moved into your coworking office. When the air conditioning packs in, the electricity goes or the toilet gets blocked, it won't be your problem. In a coworking office, these inevitable troubles are covered by the workspace provider, meaning you save on maintenance. 
Networking
Although this isn't technically a money-saving point, the opportunities to network in coworking spaces can provide an extra source of income and help your company's growth. Coworking offices are packed with a number of small to medium-sized growing businesses, and the networking possibilities are endless.