Throughout the past few years, the ecosystem for entrepreneurs in Colombia has expanded tenfold, which has brought about a steady demand for shared offices like coworking spaces. 
While Bogotá and Medellín are most well-known globally for being cities with numerous startup successes and the office space rentals catering to them, the country's third and fourth largest cities – Cali and Barranquilla – are also becoming entrepreneurial hubs for coworking. In addition, Cartagena, is a surprising contender, drawing interest from investors who are beginning to develop the infrastructure needed for an entrepreneurial culture to thrive, which now includes shared office rentals and coworking spaces.
Moreover, startup accelerators in Colombia like HubBOG and grants from the government have allowed young businesses to prosper in cities of all sizes — many of which operate out of coworking spaces. Some of these innovative spaces even offer members the option to both cowork and co-live, providing the usual dedicated desks and private offices along with the added bonus of longer-term accommodation.
Whether you're a local in one of these cities, a traveller just passing through, or an expat looking to call Colombia home, the coworking scene has plenty to offer. Here's our list of the 10 best coworking spaces in Colombia.
1) Selina Chapinero Cowork — Bogotá
Scattered throughout the world with ongoing expansion plans in 2020, Selina's coworking spaces are known to be beautiful and relaxing, and Selina Chapinero Cowork in Bogotá is no exception. Located in the heart of the financial district of Bogotá, this centralized coworking space is in close proximity to the main university, restaurants, and cafes. 
If you're in town for a conference or looking for a way to connect with the Colombian startup scene, this coworking space has everything you need to be productive. Perks like free Colombian coffee, fast internet, 24/7 access, two phone booths, and an outdoor terrace make this space one of the top spots for remote workers in Bogotá.
2) Arsenal BRAINTECH — Cartagena
Looking for a truly unique coworking experience? Arsenal BRAINTECH offers a collaborative environment where the spirit of "go-getting" bounces off the walls. With five full stars on Coworker, past members have reviewed Arsenal BRAINTECH as a coworking space filled with some of Colombia's "most interesting people," which is great if you're in the market for strengthening your professional and personal networks.
Furthermore, Arsenal BRAINTECH acts as a multi-purpose coworking space. The space hosts regular workshops and skill-sharing presentations, so members can learn new skills like CSS coding and digital marketing. With a view that inspires tranquility, this space is one of Cartagena's finest and shouldn't be missed!
3) Tu Work — Cartagena
Is there anything better than being a member of a coworking space that's just a stone's throw from the Caribbean Sea? At Tu Work in Cartagena, you can finish off (or start) your workday by taking a stroll to some of the city's best-loved beaches, like Playa de Bocagrande or Playa Castillo Grande. 
Once you've enjoyed these beautiful Colombian beaches, you can get down to business in one of Tu Work's well-designed private offices or hot desk areas. Offering members the opportunity to form strategic alliances with its community of entrepreneurs, Tu Work provides a great solution for remote workers seeking the perfect work-life balance.
4) Coworking El Nido — Bogotá
Another great option in Colombia's capital city is Coworking El Nido, a beautiful coworking oasis with a sprawling outdoor space and garden. The founders of Coworking El Nido have made a special effort to make members feel like family, which has led to the creation and success of many powerful startup collaborations.
The exterior of this coworking space features colorful graffiti by one of Colombia's most famous street artists, Toxicomano, which translates to "street junkie." It's tough not to feel inspired by all of the natural beauty and light in Coworking El Nido, decorated as a calming, creative workspace that's perfect for getting down to business.
5) Co-Work LatAm — Medellín 
Selected as the most innovative city in the world by The Wall Street Journal and Citigroup, Medellín is home to a number of impressive coworking spaces, like Co-Work LatAm (which stands for Latin America). What began as a coworking initiative in Chile has now expanded into a multi-country shared office chain that's known for establishing communities of collaborators across Chile, Colombia, and Uruguay.
By joining Co-Work LatAm, members gain access to over 2,000 remote professionals who are part of the operator's network. As a result, many members of Co-Work LatAm have gone on to cultivate extremely successful ventures — and in some cases, partnerships — with like-minded entrepreneurs they met while coworking at this space.
6) Owlo Space, El Dorado — Bogotá
With new locations opening in Argentina, Chile, Mexico, and Peru in 2020, one of the fast-expanding coworking operators that was first founded in Bogotá is Owlo Spaces. Owlo Spaces currently operates shared offices in cities across Colombia, including its three fantastic coworking spaces in Bogotá like this space, located at 69-76 Avenida in El Dorado. 
Situated in one of the best corporate areas of Bogotá that's very close to the airport and public transportation, this coworking space in El Dorado provides a professional yet trendy environment with incredible city views. Best of all, Owlo Spaces is known for its networking events, regularly bringing together thought-leaders, founders, and industry experts to share their knowledge and strengthen your network.

7) TINKKO — Medellín
For more of a modern-office vibe, TINKKO has remained one of Medellín's most popular coworking spaces since its opening. With a five-star rating on Coworker and over 60 member reviews, this space is constantly ranking highly among its members for its "perfect location" and "beautiful space design." 
In addition to its comfortable workstations, TINKKO is known to have an incredibly friendly staff who are willing to support new ventures by recommending the proper professional services needed to propel businesses forward. Plus, while you work, you can enjoy beautiful views of Medellín and drink great Colombian coffee. What more do you need!?
8) Selina Cartagena Cowork — Cartagena
Our second Selina coworking space to make the list, Selina Cartagena Cowork is too beautiful to be left out of our top 10. (We weren't kidding when we mentioned how impressively fast Selina is expanding its coworking reach!) This particular space, which sits in the center of Cartagena's downtown area, is the perfect spot to take in all that this port city has to offer.
Selina Cartagena Cowork is just one block away from the Centro de Convenciones Julio César Turba y Ayala, which is a fantastic place to meet fellow digital nomads, entrepreneurs, and travelers in town for exhibitions, fairs, and events. After a productive day of grinding out your business goals, head to the 16th-century walled Old Town to witness Colombia's colorful historic district, featuring cobblestone streets and colonial architecture. You really can't go wrong by joining this space and situating yourself in the heart of Cartagena.

9) CoWorking Inspira — Medellín
If you're one of those people who needs to be surrounded by plants to feel your best, CoWorking Inspira is one of those "getaway" spots, free from the chaos of the bustling city. Since nature itself is inspiring to many professionals, CoWorking Inspira has taken note of this fact and integrated a range of luscious plants (and a vertical garden!) so you feel like you're working in a fresh, natural space.
In this environmentally-conscious coworking environment, CoWorking Inspira gives members the chance to minimize their carbon footprint by growing their business out of a green workspace. CoWorking Inspira aims to use less electricity by opting for natural, ambient light and LED lamps that save energy, reduce CO2 emissions, and mitigate visual fatigue when you're working.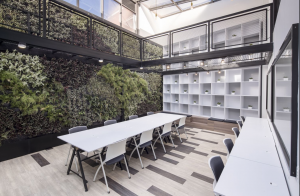 10) Co+Labora — Bogotá
The final space we'd like to highlight in Colombia's capital city is Co+Labora, which is located in the heart of Usaquen. A thriving network formed by a community of like-minded individuals, freelancers, and startups, Co-Labora is a hub for innovation that offers a range of workspaces with the highest standards of design.
This coworking space is perfect for people looking for a more cooperative-style experience, where each member can partake in a community of entrepreneurs that's based on the shared values ​​of collaboration, sustainability, accessibility, and openness. As such, Co+Labora's community seeks to promote the well-being, connections, and ideas of each of its members by embracing an avant-garde philosophy of teamwork. Want to experience what a full-fledged coworking community looks like? Then this is your place.