A few years ago, a landmark study about the advantages of collaborative workspaces came to light. After working from a coworking space, a significant number of professionals confirmed the ways in which their work-life balance, productivity, and opportunities for collaboration drastically improved. 
In the study, a number of global professionals who had never used a collaborative space before offered their feedback after working from coworking spaces for an extended period of time. After utilizing a collaborative office space, here's what they had to say: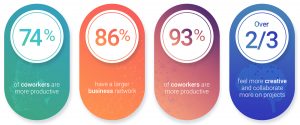 It's pretty interesting to note that simply being at a coworking space makes remote professionals feel more creative and collaborative. This positive feeling not only spawns a more productive workday, but it can also lead to expanded opportunities to do business with fellow coworkers. The act of physically being within a coworking and collaborative space makes people more likely to reach out, ask questions, and network with other members.
If this is true, the question inevitably arises: why exactly do people work better in coworking spaces?
The value of collaborative office space
Coworking has proven that the days of confined cubicles and segregated desks are long gone. Working right alongside people from other industries and with skill sets different to your own will create a melting pot for new business ideas. 
People work better from creative, collaborative work spaces mainly because there is extreme value in being around like-minded individuals who have interesting projects going on and who are willing to share their knowledge. 
If you're working from a coffee shop or library, it's unlikely you'd meet someone who could potentially further your own business. But in an open collaborative office space, it's much easier to spark a conversation with someone who might turn into your next partner, client, or even employer. 
At collaborative workspaces, there is value in merely being part of a group of people who share similar motivations, business objectives, and entrepreneurial pursuits. You'll find it easy to engage in a coworking collaboration when you're part of a community of members who are looking to join forces with you. 
This spirit of togetherness and camaraderie is missing from cafes, but ever-present in collaborative office spaces. Plus, there's a great chance that you will be asked to take part in other members' projects once you become a familiar face in the collaborative workspace and people are familiar with what you can personally bring to the table.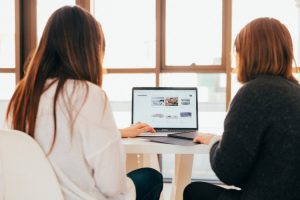 Why is office collaboration more common at coworking spaces?
As part of this year's Coworker Members' Choice Awards, Coworker asked our voters to respond to a series of questions about the way they cowork. 
After receiving feedback from voters in 1,336 cities in 126 countries around the world, Coworker discovered that 40.93% of voters have pursued ventures with people they've met at their coworking space. That means nearly four out of every 10 coworkers have taken part in an office collaboration as a result of their coworking experience.
Office collaboration is a more common occurrence at coworking spaces because the shared environment has a way of bringing out the best in people and in groups. Moreover, people feel comfortable networking in collaborative office spaces because they know they are (more or less) in the same boat as everyone else. 
According to Knoll Workplace Research, the success of today's creative collaborative work spaces is driven by the need for innovation. Remote professionals are demanding support in their business processes, improved productivity, fast decision-making, and innovation from the collaborative workspaces they choose as their home base. 
In doing so, people working from open collaborative office spaces gain access to all of these demands just by nature of being around other people and groups who also want the same things. If a group of people all want support in developing a business strategy, they can find their solution in one another.
Again, being around like-minded people who have the same set of expectations for their work experience makes it easy to use the shared office as a collaboration space. It's an entirely common experience at coworking spaces to see two members talking in the kitchen, and to later see those same people working together in one of the space's meeting rooms on a shared project.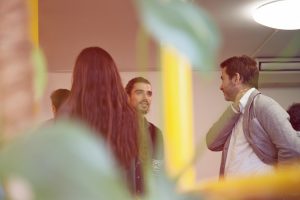 Final thoughts on coworking and collaborative space
Because passion and creativity thrive at coworking spaces, these innovation centers have become the go-to collaborative workspaces for people hoping to grow their network, make new friends, and take part in new projects. 
Want to keep reading about this topic? Learn more about why collaboration is not only good for productivity, but also for your soul.