With the intent to provide a platform that prioritizes business growth and member engagement, Julien Verspieren created Work & Co in March 2016, a versatile & innovative coworking space in Cape Town, South Africa.
Work & Co offers a wide variety of private and shared office spaces as well as meeting rooms, which all showcase beautiful, uninterrupted views of Cape Town. Robyn Macgregor, front of house at Work & Co, said the stylish, tech-advanced, and fully operational office space is mostly made up of small-to-medium sized enterprises (SMEs), freelancers, entrepreneurs, and like-minded thinkers, which makes for a progressive work environment. 
"The facilities available at Work & Co (including high-speed Internet, bottomless tea and coffee, meeting rooms, our NOVA: Mobile Office Pod, onsite IT support, fingerprint access and CCTV, full-time reception assistance, couriers, networking socials and events, printing, and scanning) are offered to every Work & Co member regardless of the specific membership-package they choose," said Macgregor.
In particular, the NOVA: Mobile Office Pod is one facility that coworkers just can't get anywhere else. This solar-powered, co-office on wheels raises the bar for other coworking spaces, which typically operate from a fixed location.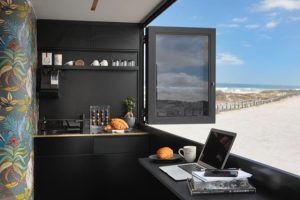 Developing the idea for NOVA Pod
Designed and created in 2017 and officially launched in February 2018, the idea behind NOVA was to create a fully functional, receptive space equipped with all the essentials for a productive day of coworking.
NOVA was created after the founders saw a need for an alternative space for conducting meetings; now, it's an example of the innovations being forged in "out-of-office" workspaces, much like coliving spaces that are located on the beach.

Developed from a flatbed trailer, NOVA measures to two-and-a-half meters wide and five meters long.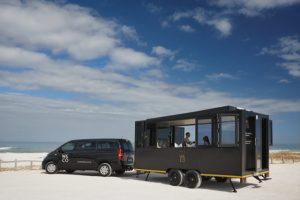 Design elements of NOVA Pod
NOVA can comfortably seat up to six people on its emerald green couch around a beautiful, marble-top table, providing the perfect setting for meeting with partners and potential investors.
This mobile coworking space is also fully-equipped with fast Wi-Fi, plug points, a smart Apple TV and printer, running water, bathroom facilities, a mini-fridge and Nespresso machine — all powered by eco-friendly solar panels.
The exterior of NOVA was created by graphic designer Chris Moore, including the pattern on the outside of the pod, the brand assets, and the customer station, which all match the interior's design aesthetic.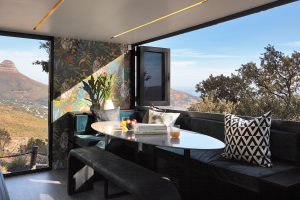 Making the most of NOVA Pod
Open to both coworking members and independent professionals, Work & Co offers five predetermined locations for clients to choose from where NOVA can be stationed for the day. 
"We have a variety of locations that we love to recommend because it's a chance for anyone using NOVA to combine their work with the beauty of the Cape Town scenery. We love our beach-front locations such as Camps Bay, Moullie Point, West Coast Road, and Coastal Road, along with our quiet Table Mountain and Signal Hill locations, too," said Macgregor.
Clients also have the option of curating their own NOVA experience, with Work & Co's NOVA chauffeur providing the transport to the selected destination and delivering breakfast or lunch.
"Our members love NOVA and have used it many times since the launch. We also continue to gain outside interest from businesses looking to enjoy a day in NOVA, and we have received nothing but compliments about the experience," said Macgregor.
NOVA can be booked for either a half day or full day basis. As an added perk, coworking members who rent a private office at Work & Co receive a complimentary half day in NOVA every month.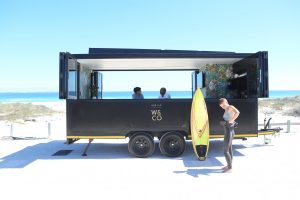 The future of alternative coworking
According to Macgregor, the team at Work & Co was quick to recognize the need for this type of niche, alternative coworking opportunity and went head-first into accepting the challenge.
While NOVA: Mobile Office Pod may be one of the first of its kind, the incredible response to this innovation shows that coworkers will continue to expect similarly progressive solutions that improve their work-life balance.
"Accessible and affordable working stations are popping up all over with their own unique flair, created to better serve coworking clients. Understanding what your clients need and then finding versatile and creative ways to fulfill that need is crucial. We are excited to see what will come next!" said Macgregor.