Over the last five years, an increasing number of brands have connected with social media influencers to promote and sell their products. What began as a secondary marketing strategy became a $5 to 10 billion industry, and now, influencers reign supreme in the world of branding.
Recently, the coworking industry has answered the call to provide the space that these influencers need to rise above their competition and create share-worthy content. One of the spaces that was created to empower both social and creative entrepreneurs to create top-quality content using shared resources is SocialSet in Los Angeles.
Founded in 2018, SocialSet's mission is to provide a truly creative space where content creators and visual artists could experiment and collaborate. The unique studio features a variety of customizable sets and shooting spaces for photographers, videographers, and influencers. More than that, it's a community where creatives can connect in real life and grow their businesses.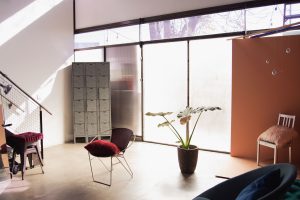 With just under 50 premium-level members and a growing network of over 3,500 local creatives and influencers who attend events and workshops, SocialSet has been expanding at a rapid pace ever since the studio space opened its doors.
Run by both photographers and artists who have a passion for designing original sets that incorporate a variety of hand-painted textures and backgrounds, the space has a very intimate feel, like it's your very own personal studio. This makes SocialSet a unique hybrid space—a cross between a photography studio and film stage.
According to SocialSet co-founder and creative director Jen Miller, the space offers creatives and social media influencers the opportunity to create fully customizable, on-brand photo shoots. No matter whether they want to repaint the walls, bring in wild colors and fabrics, or simply use SocialSet's eclectic collection of furniture and props, users of the space have complete creative freedom to make the most of the studio however they please.
"Influencers also get access to our in-house video production crew, lighting equipment, and professional network of photographers so they can take their content to the next level," said Miller.  "We're really excited about our new pro-influencer packages (launching in 2020), which will include video production and editing, hair and makeup, and still photography."
Moreover, SocialSet hosts a variety of social events—from hands-on workshops to mixers where creatives and brands can connect in real life. The studio space also offers panel talks with industry leaders in both the influencer space and creative production space.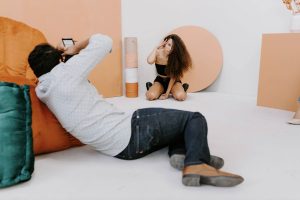 SocialSet also proves useful for business travelers, who can easily use the space to connect with local influencers, photographers, and videographers on the cutting-edge of LA's creative community. Business travelers can also use the studio to shoot branded product photography and lifestyle content.
"It's a great place to feel the pulse of the city's artistic upswing," said Miller. "We're always happy to give tips to people new to LA on where to go and how to get connected with local influencers here."
Looking to 2020, SocialSet's short-term goals include opening a new desert location (one hour from LA) with a variety of outdoor photography sets for fashion, lifestyle, and creative photography shoots. The space will also be expanding their workshop and event offerings. Over the long term, SocialSet plans to open new locations in multiple cities, and also to partner with other coworking venues to add a SocialSet creative studio in their space.
For more information on SocialSet, check out their website!