Hyped by Youtube personalities like Riley Bennet and Chris the Freelancer, Chiang Mai's coworking scene is one of the most active in Asia. There are countless reasons Chiang Mai is an excellent coworking destination.
Perhaps the most notable aspect of Chiang Mai is its ridiculously low cost of living. A luxurious lifestyle will set you back $1500 per month… or less. Alternatively, if funds are tight, you could bootstrap your startup and live a more modest lifestyle on $600 per month as seen in Chris's documentary below.
There's even a guy on Youtube called "Thrifty Steve" who used to live in Chiang Mai on just $300 each month! But hey, let's not get too crazy now.
Apart from just being cheap, Chiang Mai is also a great coworking base because it's so easy to get setup once you've moved to Chiang Mai. In fact, it's not uncommon for people to find an apartment and motorbike to rent within hours of arriving.
You won't regret settling into Chiang Mai either. This peaceful city is located at the base of the densely vegetated Doi Suthep mountain. As a result, waterfall hikes, elephant retreats, and ziplining opportunities are just a short drive outside the city.
Once you've finished connecting with nature, you'll probably be hungry. Fortunately, Chiang Mai has a diverse food scene consisting of delicious Thai and international foods. Whether you're craving Pad Thai, Japanese curry, or mouthwatering burgers, you'll easily be able to find a place to satisfy your hunger pangs.
Most importantly, however, is Chiang Mai's HUGE community of remote workers. Head to almost any coffee shop, and what do you see? People hunched over their laptops hustling. With both locals and expats working alongside each other, lots of great startups have come out of Chiang Mai in recent years.
Ezistock (an e-commerce platform), Noonswoon (A Thai dating app similar to Tinder or Bumble), or Aware (a technology and services firm), are just a few examples.
Whether you're looking to bootstrap your lifestyle business, build a new startup, or just save money while working remotely, Chiang Mai is a great place to do so. Having said that, here are our 5 coolest coworking spaces in Chiang Mai!
The Hub Chiang Mai is a coworking space dedicated to sustainability, experiential learning, and community. The difference between The Hub Chiang Mai and most other coworking spaces, however, is that The Hub really does live by its values.
In fact, this coworking space is as sustainable as they come relying solely on LED lighting. That's not all though… this coworking community is actually housed in a building that was made from 17 old shipping containers! If that's not cool we don't know what is.
Of course, The Hub has other draws beyond simply being environmentally friendly. Your coworking membership at The Hub will also provide you access to a variety of areas with different purposes. From quiet work spaces, to meeting rooms, Skype rooms for taking calls, an outdoor cafe, and even hammocks scattered about, The Hub Chiang Mai really does have it all.
Day passes at this space start at 250 baht, while monthly passes will set you back 5,000 baht.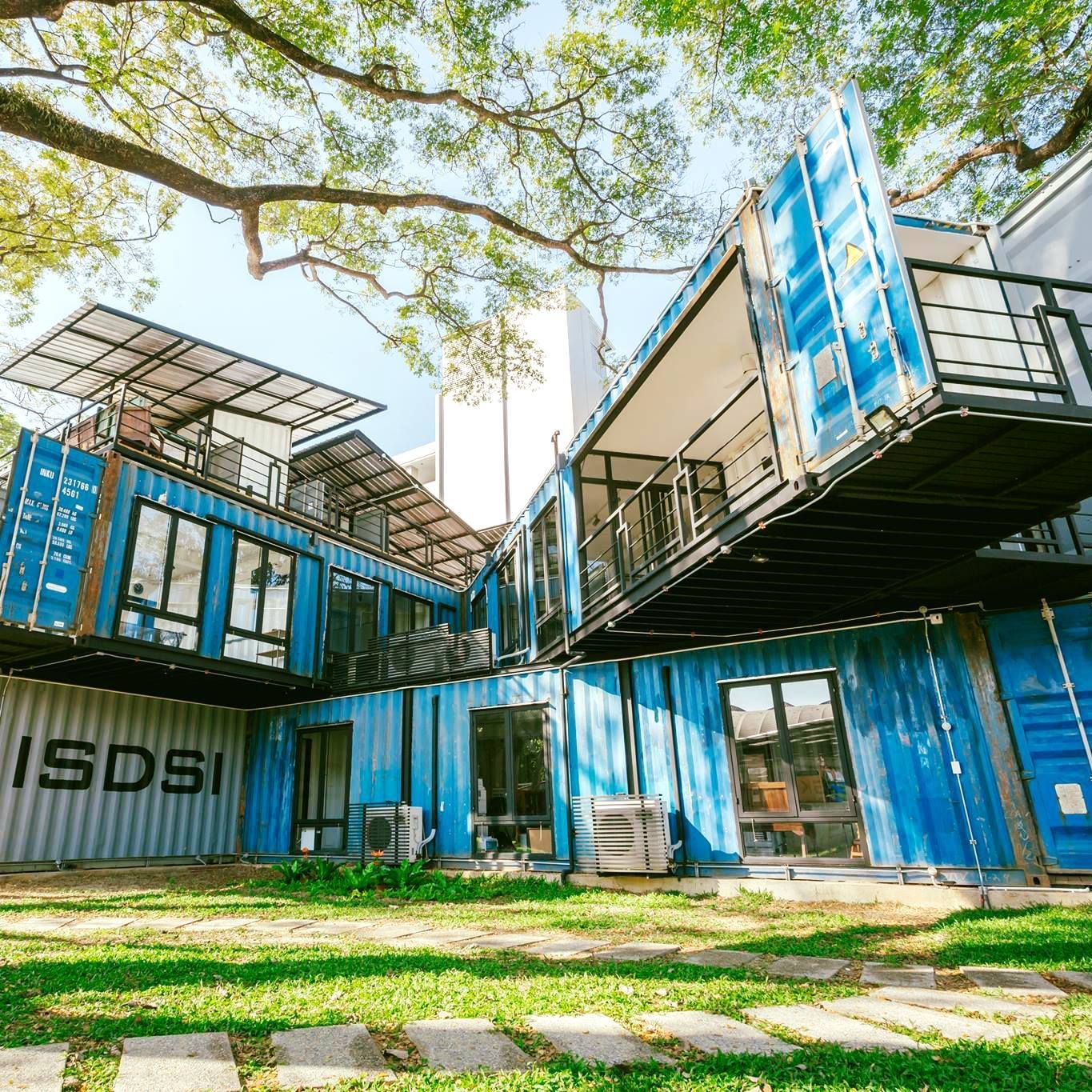 Punspace is probably the most popular coworking space in Chiang Mai. If you've ever watched Chiang Mai's "digital nomad" vloggers on Youtube, you've no doubt heard them talk about this coworking space.
Punspace is a great place to work if you're new to Chiang Mai and looking to make friends with people more established in the city. The community at Punspace consists of everything from copywriters, web developers, designers, accountants, and more.
Punspace also offers some of Chiang Mai's most reliable wi-fi and meeting rooms that can be booked very cheaply (if you're a member of the space). Oh, and a membership at Punspace's Tha Phae Gate branch also gives you access to their original location Punspace Nimman.
We recommend working at Tha Phae Gate branch if you're looking for a more laid back environment, and working at Punspace Nimman if you want a higher energy level and a chance of spotting your favorite Youtuber 😉

Hub53 is a coworking and coliving space with a warm community and welcoming staff. The space also has a nice location. Despite being less than 10 minutes away (on foot) from the boisterous Nimman Road, Hub53 offers a quiet and peaceful atmosphere.
Like any coworking space, the most important aspect of Hub53 is its work area. Fortunately, Hub53 has comfortable chairs and wide desks that allow you to spread out all your materials. The space also offers free snacks, coffee, and tea to help keep you energized throughout the day.
What you'll really like about this space, however, is that it was designed to accommodate you regardless of your needs.
Hosting a webinar or teaching English online? There's a Skype room. Need a place to brainstorm with others or work on a collaborative project? Head to the workshop room. Hub53 also offers private offices, a meeting room, a relaxation area with beanbags, and even a napping room.
On the coliving side, Hub53 offers comfortable accomodation options that include private bathrooms, weekly cleaning, shared kitchen, and of course, free 24/7 access to the coworking area.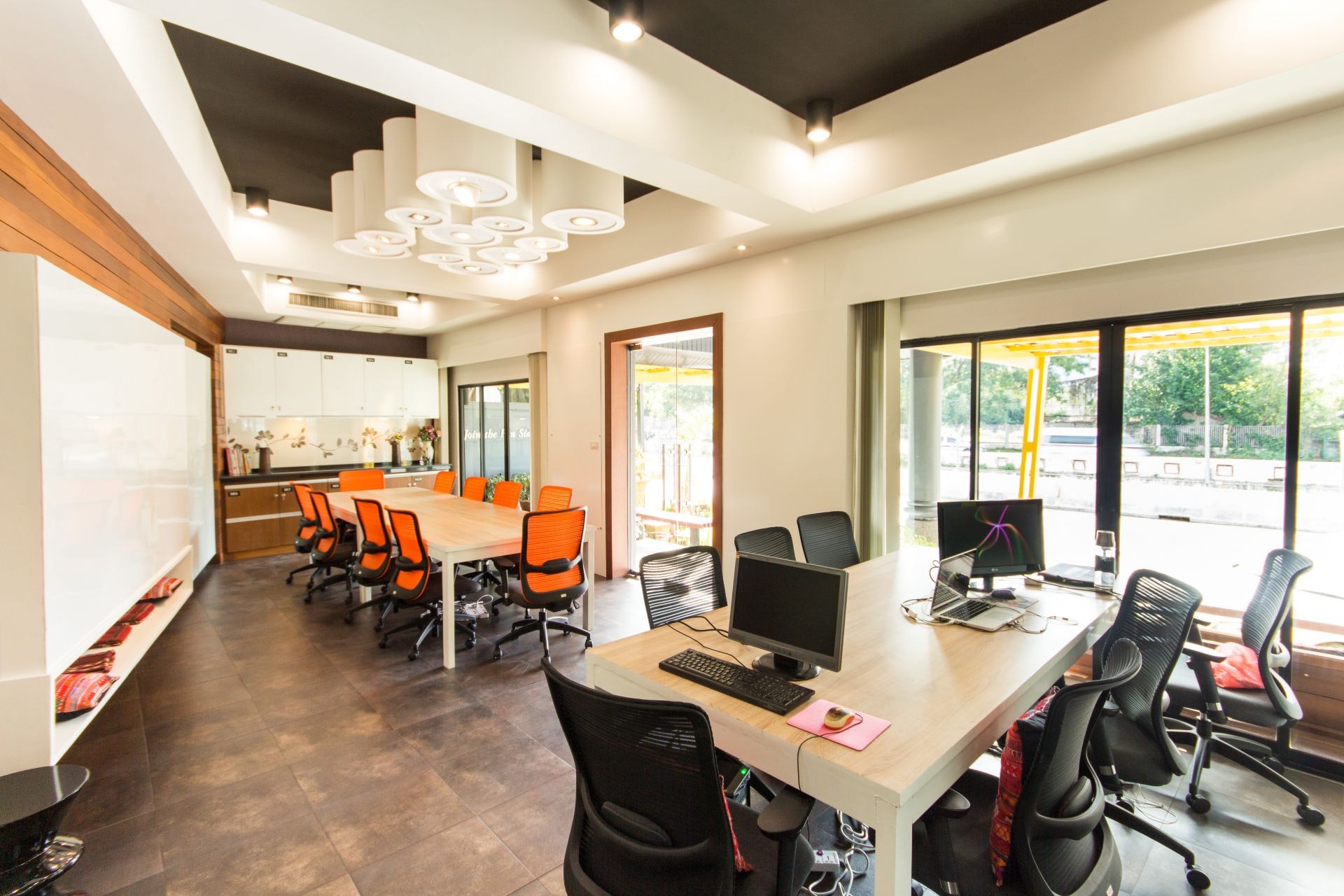 Outerspace Chiang Mai isn't a cool coworking space because it offers some luxurious features. This coworking space is as bare bones as it gets. Tables, chairs, fans, fridge, and a shared kitchen. That's about it.
Outerspace is one of Chiang Mai's top coworking spaces, however, because it offers such a unique opportunity. Starting at 3,400 baht for a fan room or 3,900 baht for an air conditioned room (roughly $102 and $117 respectively), Outerspace offers you one of the world's most affordable coliving options.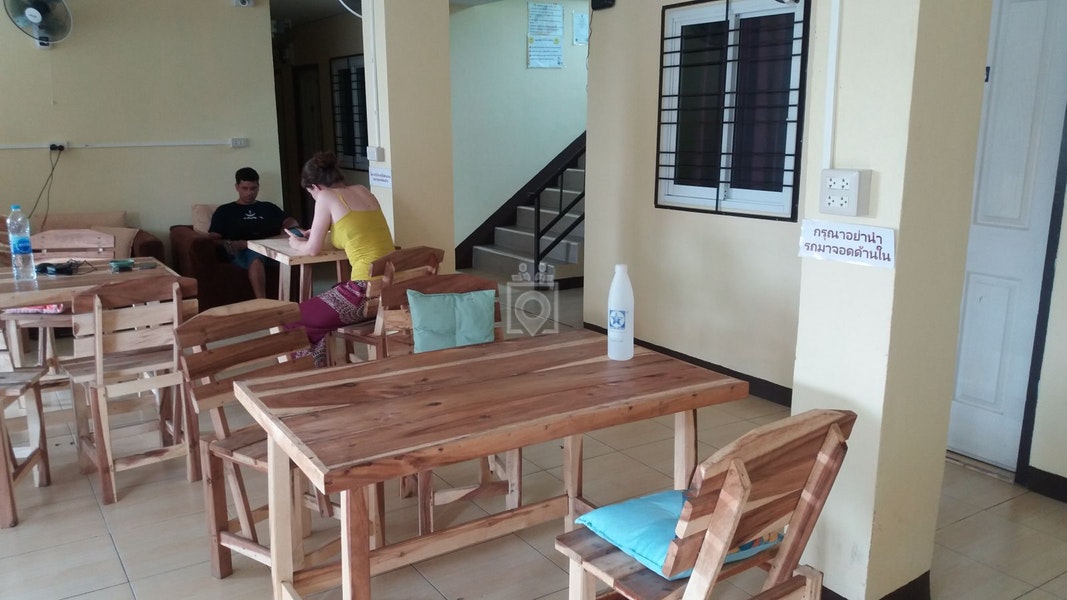 Even if you're in your 20s, having such a low burn rate allows you to take lots of entrepreneurial risks. You don't need to play it safe when your home and office barely cost more than $100 COMBINED.
While Outerspace may not have luxurious membership perks like a swimming pool or free beer, its core offering of allowing just about anyone the financial flexibility to bootstrap an idea and have a supportive community around them while doing so — that's exciting.
Planter's Space is a coworking space that offers a break from the chaos and noise of Nimman Road. Despite being just a 10 minute walk from Maya Mall, Planter's Space feels like a rural retreat with its lush vegetation, tree swing, and pond surrounding the building.
This space also offers a quiet work atmosphere that includes 150 mbps internet and comfortable chairs. The on-site cafe is inexpensive as well with lattes/cappuccinos starting at 40 baht and pastries starting at 39 baht.

Did we mention Planter's Space is also a hostel/coliving space? With several restaurants, a 7/11, and a laundromat nearby, the neighborhood has everything you need for a comfortable life. As such, Planter's Space is a perfect place for an extended work retreat.
We hope you've enjoyed our list of Chiang Mai's top coworking spaces. If so, show us some love on social media and share our post with someone that's going to Chiang Mai 🙂