Currently, 8.8 million people are living in Mexico City, which is the capital of Mexico.
In the early 2000's, Mexico City began growing rapidly and now it's a hub for all sorts of businesses and creative individuals. 
Numerous start-ups and entrepreneurs are growing their businesses in Mexico City. People are gathering in the city throughout the different parts of Mexico and from other nations. This rapid increase in a concentrated area has arisen the need for more space. 
Coworking spaces are usually more cost-efficient. Coworking spaces are increasingly popular in Mexico City. These shared spaces allow entrepreneurs, freelancers, and other creatives to collaborate and work together.
Many smaller coworking spaces have used it as a platform to connect mentors and potential mentees.
For mentees, it's a great way to gain experience and get guidance from more experienced mentors. Mentors will have an outlet to help others and find renewed creative energy.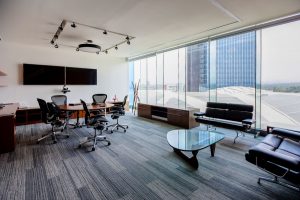 1. IOS OFFICES TOREO
IOS OFFICES TOREO is located in central Mexico City. It's located between Parque Bicentenario and Museo Soumaya.
Its building features led to them winning the "Best Development of the Year 2015" by the Association of Real Estate Developers (ADI). 
They have flexibility in terms of how they charge membership fees. You can get a private office, a dedicated desk, open-plan seating, or a virtual office. It has all the necessities like high-speed Wi-Fi and air conditioning. There is a lounge, kitchen, phone booth, and event space available. 
Some extra features involve complimentary amenities like drinking water, snacks, coffee, tea, beer, and wine. There is an onsite café for those that need a quick bite and get back to work. They work to host community events: lunches, drinks, and workshops to connect workers with other people.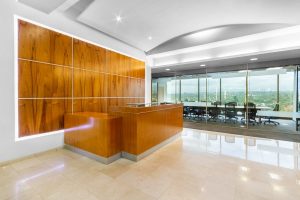 2. Regus – Mexico City, Palmas Torre Esmeralda II
Regus at Palmas Torre Esmeralda II is next to the Museo Nacional de Antropologia and the Museo Soumaya. There is a blend of traditional and commercial buildings in the area. This setting can be an excellent place to think about the upcoming changes in Mexico City. 
The shared office building welcomes visitors to the tenth and twelfth floors of its center facilities. It is a great way to get a high-level view of the city. Its views showcase the Lomas de Chapultepec district, famous for being called 'Garden City.' 
At Regus, meeting rooms can hold up to 30 members. If you plan on holding larger enterprise meetings, it can be an excellent way to get everyone gathered in the exact location.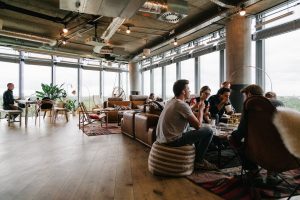 3. WeWork Artz Pedregal
The building has seven floors in Pedregal. The surrounding area is located next to residential development and the building itself is mixed-use. If you are looking for a flexible space with surrounding options, WeWork Artz Pedregal is a beautiful space. This are a lot of nearby restaurants and lunch options in this location. 
WeWork's most popular plans are to have a private office or sign up for an open-seating plan, and there are also plenty of dedicated desk options with 24-hour access.
It's best for entrepreneurs that are looking for a flexible space with all the essentials: high-speed wi-fi, air conditioning, a lounge, free coffee and water, a kitchen, printer, scanner, and photocopier.
They have a lot of the upscale needs of a business with many amenities needed for creative individuals to thrive.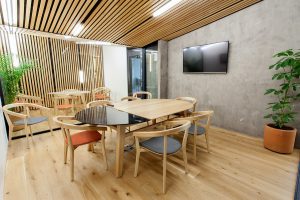 4. PÚBLICO Muzquiz 15
PÚBLICO is located at San Miguel Chapultepec. With a range of different spaces for people. They have private offices for up to 50 people. They have a blend of common areas and private rooms. They want to help people be able to have formal and informal meetings. 
A unique benefit is that PÚBLICO offers Público/Comedor that gets people to try authentic Mexican food at an affordable price. Some of their other features include High-speed wi-fi, a lounge, outdoor terrace, kitchen, and printer. They have free water and coffee for their users. Alcohol is available for purchase. 
They have three main options for membership. People can get a private office, dedicated desk, or open space. They are open to having dogs and cats at their facilities. It's a great way to connect with people and build relationships with people. 

5. Homework
Homework is located in central New Mexico. It's located near the Mercado De Artesanías La Ciudadela and Fuente de La Diana Cazadora. There is a blend of commercial and residential property in the area. 
Homework is centered around community. Entrepreneurs, creatives, and freelancers can work on their projects and are around similar people. They encourage collaboration, networking, and growth for your business. 
The prominent members are through dedicated desks and an open-plan seating area. They have high-speed wi-fi, air conditioning, complimentary water and coffee, and a lounge area. One of the extra features is that it includes a Skype room and personal lockers for members. Users can get access to the location 24 hours a day.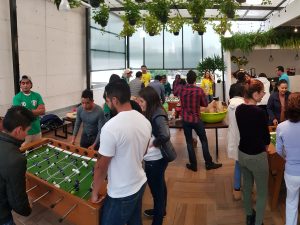 6. Ayni Coworking
Ayni Coworking is in San Miguel Chapultepec. They are focused on building a business center, trying to have a holistic approach to their members. They want to provide inner strength, balance, and productivity in their members. 
The coworking operator offers some unique features. They give access to yoga, meditation, and other holistic activities for community members. They have a total of 25 offices, 12 coworking spaces, meeting rooms, and conference rooms. So you can have a video conference in total peace and quiet. 
They have different types of memberships. People can have a private office, dedicated desk, or open-plan seating. They have essential features like high-speed wi-fi, a lounge, complimentary water and coffee, and personal lockers. Some of the other unique features of the space include having a podcast room, foosball, and a dog-friendly facility.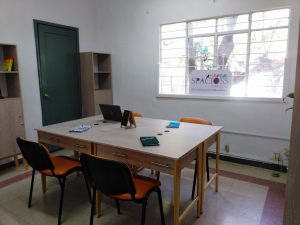 7. Spacioss Coworking
Spacioss Coworking is located near America's Park, Medalla Milagrosa Church, parish churches, and Parque Delta's Mall. There is a blend of restaurants, tourist options, and shopping in this location. 
Spacioss Coworking is exclusively for women, providing a safe and encouraging atmosphere for women to be mentored and supported, leading to personal growth and increased productivity. As a result, the operator often helps entrepreneurs in starting a business successfully. 
There are options to have a private office, a dedicated office, and an open seating plan.
These plans are available during reception hours and include high-speed wi-fi, a lounge area, personal lockers, free water, and coffee. Its best features involve events, workshops, and a mentorship program.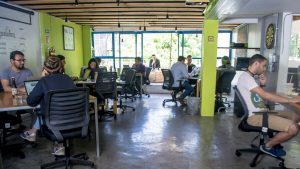 8. El 3er Espacio
El 3er Espacio is located in La Condensa Business District. It's a trendy location with nightlife, designer boutiques, and beautiful parks. The coworking space allows freelancers, entrepreneurs, and young startups to get involved with other creative individuals. 
There are differently-sized communal coworking desks and chairs. There are private offices and an open desk area for members. The access to this location is during reception hours, which includes high-speed wi-fi, a lounge, kitchen, personal lockers, a phone booth, and event space.
Members can also enjoy free drinking water, coffee, and tea.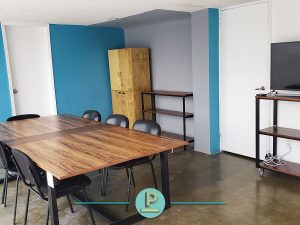 9. Pasamanos Coworking
Pasamanos Coworking is in the La Roma neighborhood in Mexico City. It's near Parque Mexico, Castillo de Chapultepec, and other popular tourist locations. Their membership includes a private office, a dedicated desk, and an open seating area. 
They have high-speed wi-fi, a lounge, an outdoor terrace, kitchen, personal lockers, free drinking water, coffee, and tea. This coworking environment is friendly to dogs and board games. Access hours are only during reception hours. 
Pasamanos Coworking is ideal for entrepreneurs and creative individuals. It's a blend between getting work done well and a space to rest. These spaces help people be able to stay creative and refreshed for their work. 

10. CoLabora
CoLabora is a space for entrepreneurs located in central Mexico City near Castillo de Chapultepec and Fuente de La Diana Cazadora. The shared office operator's aim is to support and encourage the development of creative ideas. 
The space's main membership plan involves a community open-seating plan. CoLabora is open during reception hours and is closed on the weekends. 
CoLabora is available for events, workshops, and has a community booking app available for members to engage with one another. Some of the space's unique features include having a microphone and professional lighting equipment if you are doing any creative work. 
Conclusion
Make sure to check out Coworker. They have a platform to find all the best coworking spots in Mexico City. There are options for larger businesses looking for a cost-efficient way to have space. They also have smaller coworking spaces for individuals and freelancers. 
Many networking events and mentorship opportunities can lead to greater collaboration. Check to see the different features and culture that the shared spaces emphasize in their environment.