While we love Barcelona and Madrid, they're not the only cities with great coworking scenes in Spain. It's time to wake up from that siesta because professionals have been sleeping on Valencia for too long.
Valencia, Spain is an excellent potential base city if you'd like to live in the Mediterranean area.
There are at least 29 coworking spaces in Valencia and that number is only likely to grow over the next few years. Beyond Valencia's coworking scene, the city also offers an excellent quality of life.
The Mediterranean diet is one of the healthiest diets in the world! By Western European standards, Valencia is also an incredibly affordable city.
Those wholesome Mediterranean restaurants won't break the bank, and apartment prices are more than reasonable too. Oh, did we mention there's a beach as well?
Don't worry about how you're going to get around to enjoying all these things either. Valencia has an outstanding public transportation system that includes a modern subway as well as an abundance of buses and bicycles.
As you can see, we're getting excited just thinking about life in Valencia. Yet, one can only really appreciate the city's lifestyle after a long day of work. Here are our recommendations for Valencian coworking spaces to get your hustle on.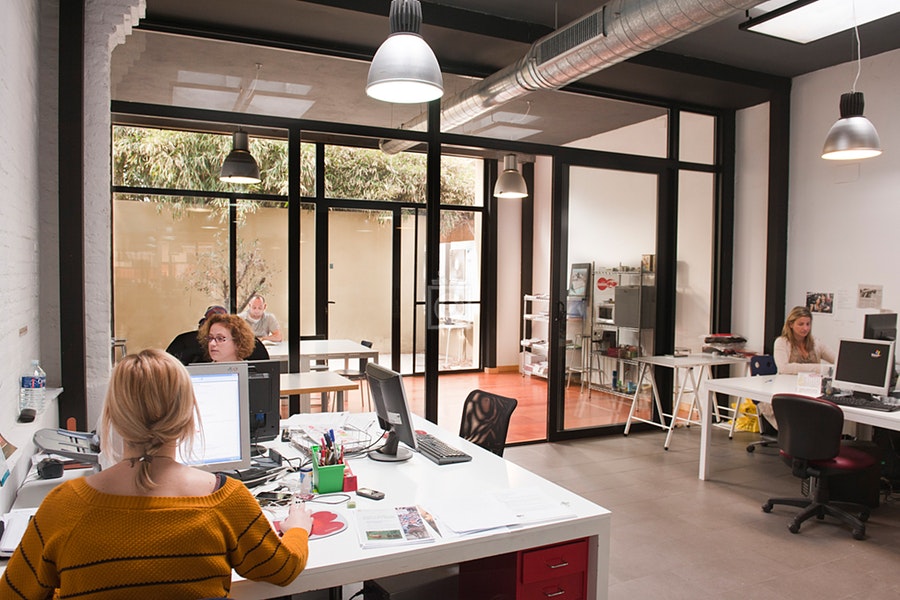 Botánico Coworking has an incredible location on a quiet part of the famous Turia street in Valencia. Whether you're a fan of green spaces or historical buildings, you'll appreciate the beauty that surrounds this workspace.
Don't let yourself get distracted by the beautiful surroundings though. The main attraction of Botánico Coworking is its unflashy workspace. Tools don't get results; you do.
That's why this coworking space has a clean design that features only the essentials. Large tables, bookshelves, abundant natural lighting and a meeting room are some of the fundamental offerings you'll use to be productive. Other perks such as printing and car/bike parking are also available.
]It doesn't matter whether you're a freelancer, independent professional or entrepreneur, if you're willing to "bring it" everyday to work, you'll find it easy to make friends and professional connections as a member of this coworking community.

"My favorite place to work is on a crowded plane with crying babies," — said no one ever. Most of us work best in peaceful environments. It's nice to have the ability to deal with distractions, but the ideal is obviously to avoid them in the first place.
If what we're saying is resonating with you, you'll love working at Wayco. Wayco offers remote employees and independent professionals a spacious modern work environment to make progress on all of the projects most important to them.
Wayco's flexible membership plans are also able to adapt to your preferred work environment, and level of usage. Fully furnished and inclusive of all utilities, a coworking membership is the easiest way to get up and working in Valencia quickly.
Most members cite the excellent facilities and hospitable staff as their favorite part of working at Wayco. While those are obvious highlights, we'd also recommend enjoying a nice lunch break on the space's outdoor terrace with your new coworking friends!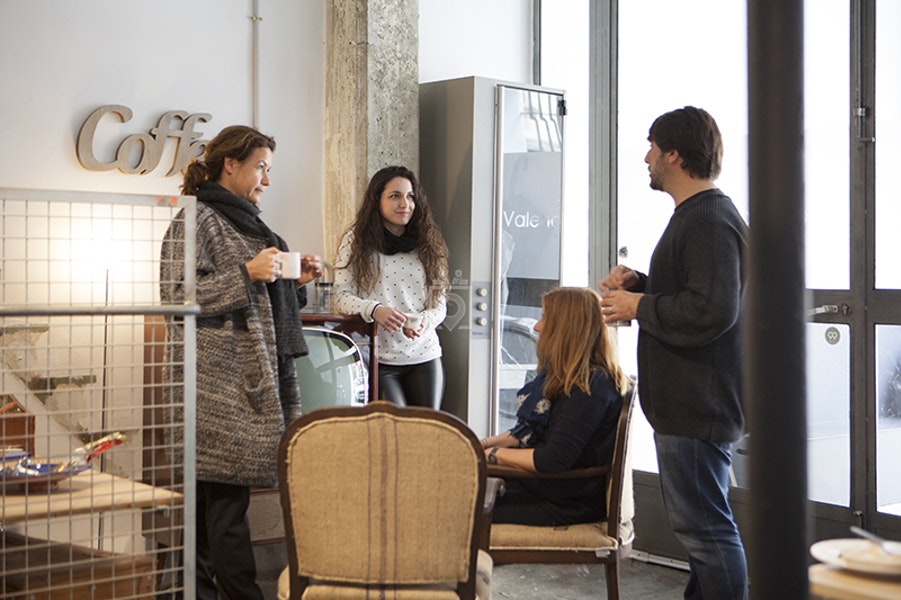 A2 Coworking Valencia was designed with the intention to transform your work experience. The days of uninspired cubicle grinding or isolated home office work sessions are over. A2 Coworking was created to make these previous methods of working irrelevant.
Those looking to insert themselves into a more social or inspiring environment will love working at A2 Coworking Valencia. The community at this space is definitely amongst the warmest in all of Valencia. Of course, it's a lot easier to be friendly when you're in a great environment each day.
Apart from being a comfortable place to work, A2 Coworking Valencia also offers its members meeting room usage, a conference room, comfortable seats and an excellent location. Whenever you need a break from work, countless restaurants or a relaxing walk along the river are just minutes away.
Overall, we'd say the best aspect of A2 Coworking is the fact that the members have different, yet complementary careers. That's difficult to find in most coworking communities. As a result, your networking efforts tend to be more fruitful at A2 Coworking Valencia in comparison to most other coworking spaces.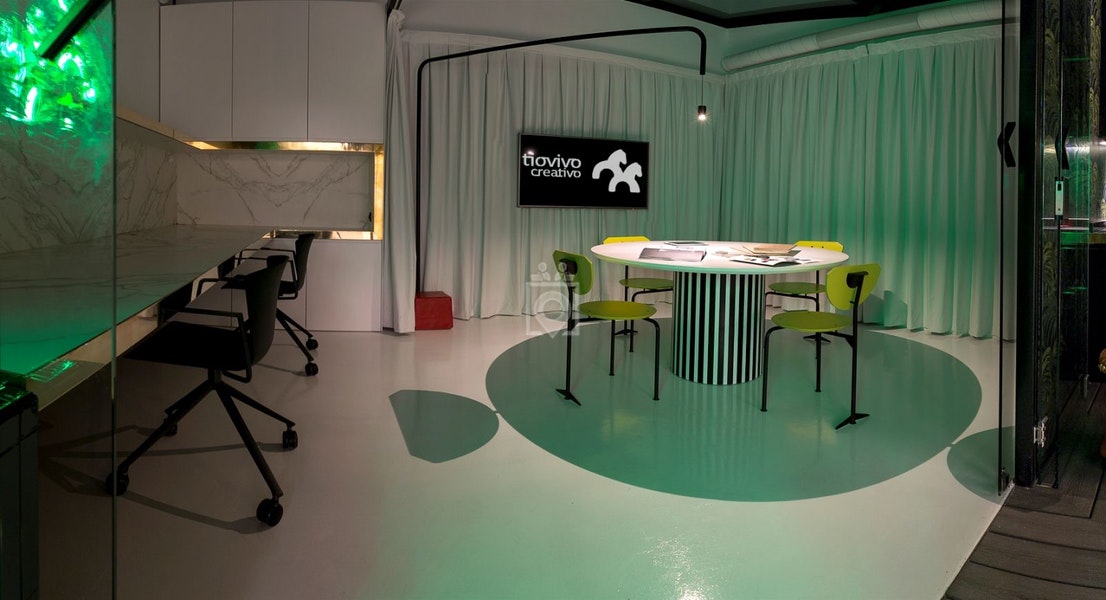 Tiovivo Creativo is an interior design and architecture company that doubles as a coworking space and boy does it show! Tiovivo Creativo is as attractive as any other luxury coworking space in the world.
The Tiovivo Creativo coworking space features spacious desks, private storage, blazing fast internet, meeting rooms, a Skype room and even a bathroom that's so elegant members frequently brag about it in their reviews!
If we were an interior designer or another creative professional that thrived off inspiration from his/her environment, this is surely the Valencia coworking space we would spend most of our time working at.

Valencia wouldn't be Valencia without its beautiful beaches. If you'd like to work somewhere that's just a few steps away from the beach, be sure to schedule a tour at Vortex Coworking. Vortex Coworking is located in the trendy El Cabanyal neighborhood walking distance to the beach, and surrounded by hot restaurants and coffee shops. #WorkLifeBalance
The interior of Vortex Coworking is just as nice as its surroundings too. Two work areas are available depending on how intimate of an environment you'd like to work in and how social you feel that day.
Multiple small meeting rooms, and a larger room for workshops are also available. Speaking of workshops, the coworking space holds regular community events most Wednesdays.
Whether it's a member offering a presentation on their area of expertise or a casual networking hour, the community events are an excellent way to integrate yourself into the local business community in Valencia.
If you aspire to accomplish big things, but still enjoy yourself in the process, there's a good chance you'll find yourself compatible with the coworking community at Vortex Coworking 🙂
Conclusion
As you can see, there are no shortage of quality coworking spaces in Valencia. With the excellent lifestyle, and numerous places to get your hustle on, Valencia is an excellent option for your next coworkation.