Argentina's capital of Buenos Aires is often described as being the most European city in South America. This is because of its distinguished architecture, culture, and immigration history. Fortunately for you, Buenos Aires manages to pack all that European goodness in without the crazy London and Zurich prices.
In fact, Buenos Aires is currently one of the best bargains in Latin America due to a tanking Argentine Peso. While life in Buenos Aires still isn't cheap, the cost of living is very reasonable.
Plus, there's so much to love about coworking in Buenos Aires. For one, the city has an extremely educated workforce. If you're looking to hire help for your team, you're sure to find suitable amigos in Buenos Aires.
In particular, Buenos Aires is known worldwide for being a global outsourcing hub for web design and mobile app development. This is due to the highly skilled workforce along with a strategic time zone (four hours behind London and four hours ahead of Silicon Valley). The affordable local labor rates are a nice bonus as well.
Oh, and if you're into startups… keep reading. Argentina's capital is home to Startup Buenos Aires, a free startup community that offers you classes, events, resources, and support to help you be more successful in your entrepreneurial endeavors. Cool stuff.
With excellent infrastructure, a vibrant atmosphere, and a metro population of roughly 15 million, opportunities are abound in Buenos Aires. Just ask Mercado Libre, Latin America's largest e-commerce site that traces its roots back to the city's excellent startup scene.
Whether you're coming for the tango, legendary Argentine asado (BBQ meat), or the startup scene, Buenos Aires will be an excellent coworking destination for you. Buenos Aires has tons of great coworking spaces. With that being said, here are 4 of the best coworking spaces in Buenos Aires!
Manaway Coworking is ideally located on a quiet street right in the heart of Palermo Soho — one of the city's trendiest neighborhoods. While the convenient location may be what gets you to sign up, Manawa's awesome community is what'll keep you coming back.
The coworking community at Manaway is an awesome mix of people. There are locals, expats, economists, programmers, writers, designers, you name it. Safe to say, the daily community lunches at Manawa are both interesting and inspiring.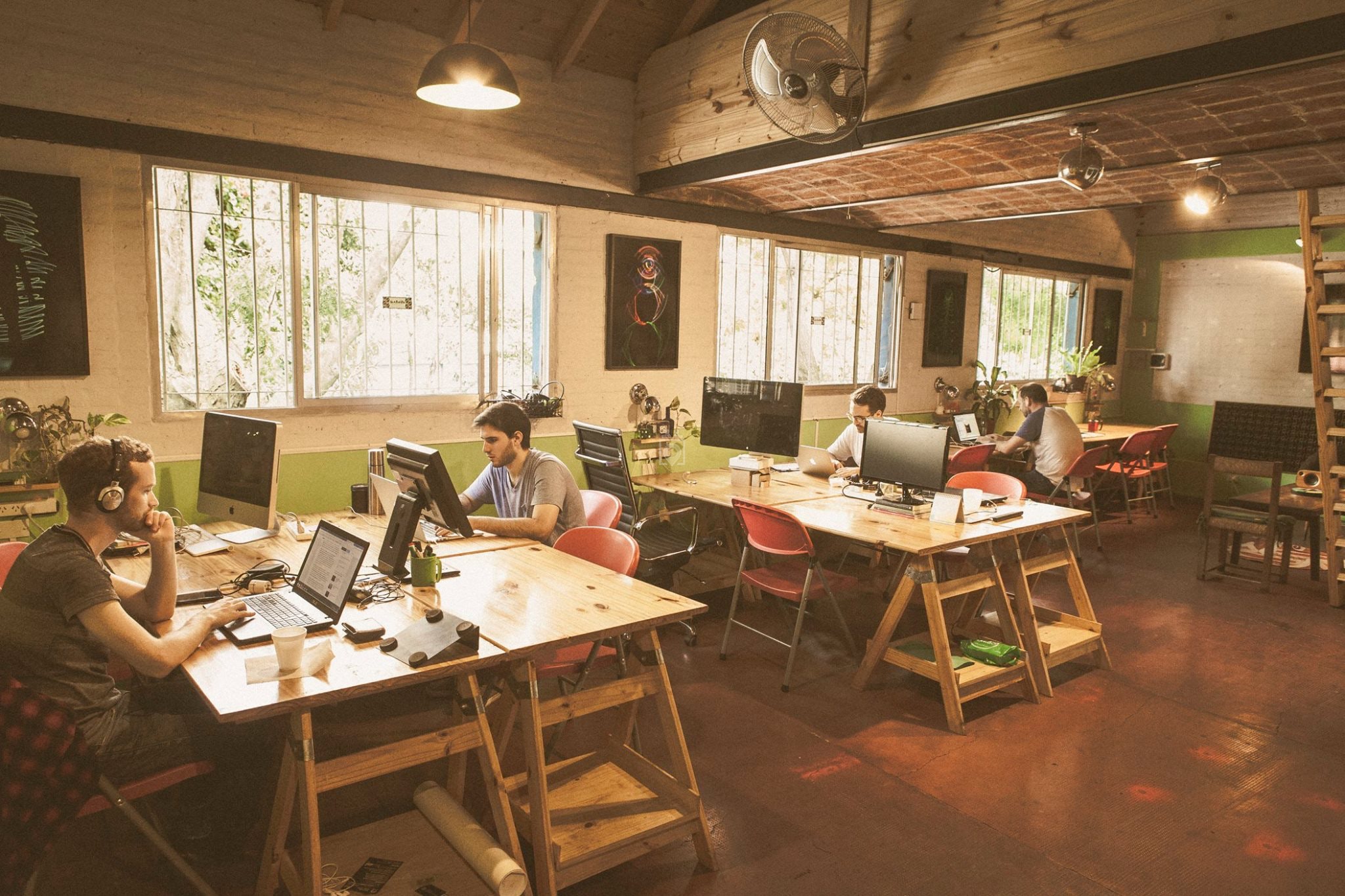 The other factor that makes Manawa one of the best coworking spaces in Buenos Aires is its work atmosphere. Though you're surrounded by other ambitious individuals to keep you focused, the work area is almost always silent. You'll also enjoy large windows that bring in lots of natural light. The garden view isn't too shabby either.
Of course, like any good coworking space, Manawa offers a strong internet connection. Some of the other goodies that come with your membership include a personal locker, ping pong table, free coffee, multiple outdoor terraces, and on-site parking.
Finally, let's talk $$$. Manawa Coworking has flexible membership options. You should have no problem picking a plan that offers all the features you'd like at a price you're comfortable with. Just remember that the first time you come to Manawa you'll either need to schedule an appointment in advance or be accompanied by a current member of the space.
Urban Station is an upscale coworking space located in the nicest part of Pallermo Soho. Urban Station is perhaps the best coworking space in Buenos Aires if you often need to conduct meetings.
Apart from having several meeting rooms upstairs, your coworking membership at Urban Station Pallermo Soho also grants you access to other Urban Station locations around the city. This makes it easier for you to set up meetings with key clients.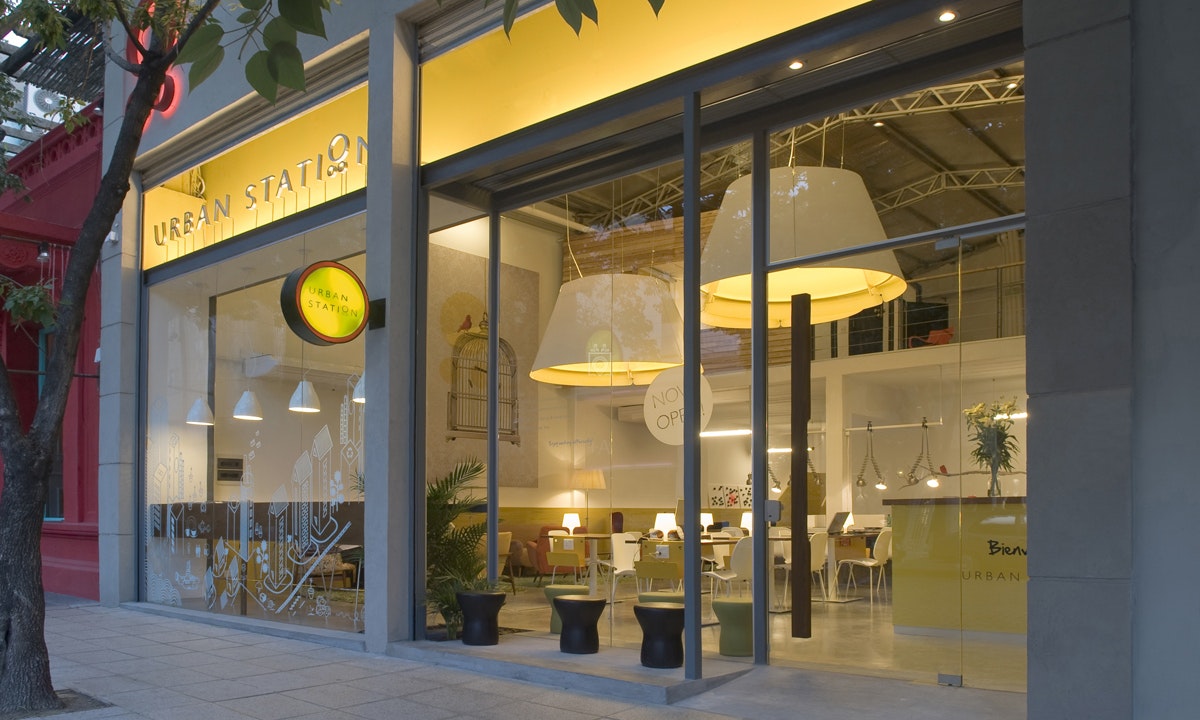 It's also great if you like the variety of working at different places everyday. With a lovely staff, fast internet, and long opening hours, it'll be well worth your while to consider joining Urban Station Pallermo Soho.
P.S. We've heard there is free fruit, coffee, and even croissants available at this coworking space…
La Huerta Coworking is a dynamic working space with a conquer-the-world work atmosphere. The space's community consists of elite entrepreneurs, startups, and freelancers. You'll have no shortage of bright minds to collaborate and network with.
La Huerta also gives you option of working from shared tables (hot desks), your own dedicated desk, or a private office. The nice thing about La Huerta's private offices is that they come in a variety of sizes, the largest of which can seat a team of up to 20 people.
No matter which seating scenario you choose, however, you'll feel comfortable. La Huerta's work environment is spacious.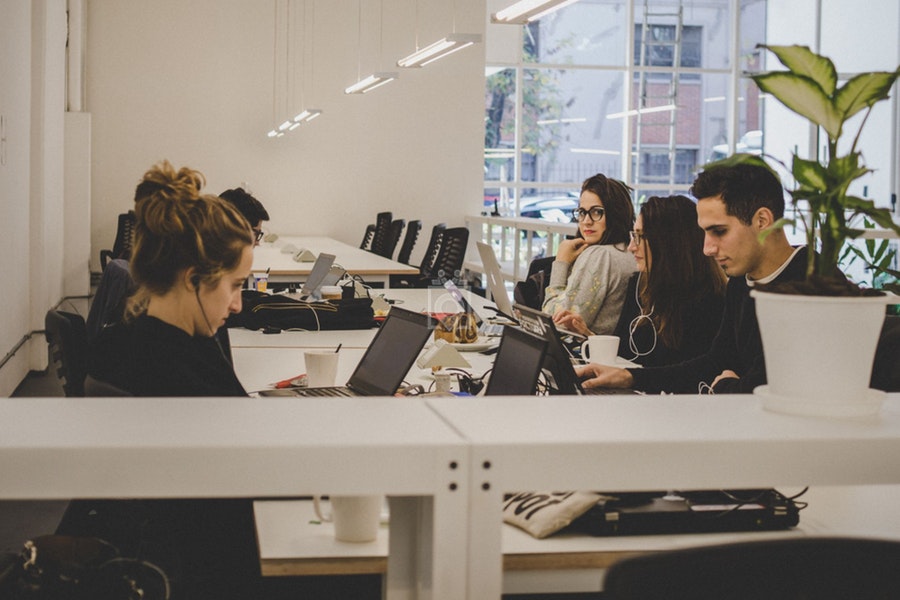 Your coworking membership will also allow you to take advantage of a number of other productivity-boosting perks. There's the super fast wi-fi, printing facilities, meeting rooms, educational events/courses, and even a play room when you just need to relax your mind.
If you're looking for a coworking space in Buenos Aires that's easily accessible by public transport, and that offers an abundance of professional development opportunities, La Huerta Coworking is calling your name.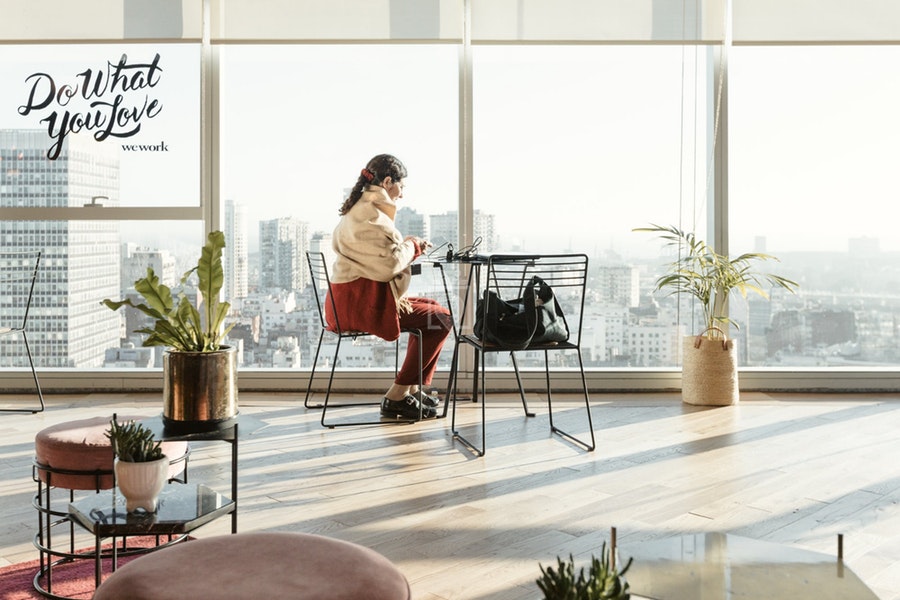 WeWork is one of the world's largest chains of coworking spaces. While it wasn't easy, we recently added over 300+ of their spaces across 19 countries to our listings at coworker.com. Of all those spaces, however, perhaps none is more magnificent than WeWork Torre Bellini.
WeWork Torre Bellini is an entire 25-story building of unique Buenos Aires office space. From classy business lounges, to rooftop barbeques, a meditation room, ping pong table, and more, Torre Bellini is like Disneyland for entrepreneurs.
Becoming a member of WeWork Torre Bellini isn't about just having cool things though. It's also about being around awesome people. As a member of this space you'll be around innovative tech startups, entrepreneurs, lawyers, travel agencies, and just ambition in general.
Oh, and the views from the higher floors of Torre Bellini… Don't get us started. Best. In. Buenos Aires. Easily.
What we're trying to say is that WeWork Torre Bellini is the coolest coworking space in Buenos Aires. Of course, there's always tradeoffs. Monthly membership fees are quite high at Torre Bellini compared to other spaces in the city. Membership fees at Manawa Coworking (listed above) for example are well under half those at Torre Bellini.
If your budget is flexible, however, and you're looking for a place that offers all the amenities you could ever want, be sure to arrange a visit at Torre Bellini.
Conclusion
We hope you've enjoyed our list of the top Buenos Aires coworking spaces. If so, show us some love and share our post with your friends on Facebook or Twitter 🙂