The year 2020 was tough on entrepreneurs.
With COVID-19 leading to the closure of workspaces all around the world, both coworking and local startup ecosystems faced uncertain times. But beating all odds, London emerged as one of the two top cities for coworking supply growth.
London coworking spaces were already popular hubs for UK entrepreneurs before the COVID-19 pandemic. And as businesses rapidly shifted toward remote models, they became irreplaceable for far more than your run-of-the-mill founders and freelancers. Decentralized corporate teams, for example, started using London coworking spaces as safe spaces to collaborate, pivot, network, and grow.
With extra precautions in place — from plexiglass screens to socially distanced seating — London's rising coworking scene helped minimize the impact of the economic downturn.
Adapting to coworking life
The transition to coworking hasn't been easy for every employee or team. Learning to communicate and stay accountable can be hard when teams are remote. There are a number of tools and strategies for communicating when your teams are remote, including regularly exchanging feedback.
One of the best ways of doing this is by video conferencing, and some team members may not have the tech at home to do this. But by embracing a hybrid work model, you can encourage your teams to use coworking spaces to access the tech they need to communicate and collaborate.
In London, these 10 shared office spaces offer valuable resources on top of workspaces and internet so business owners and professionals can thrive. (We definitely can't complain about amenities like free coffee, tea, and massages either.)
1) Clockwise Wood Green
If you're looking to maximize your flex space options, Clockwise Wood Green has six stories and two stunning roof terraces to help you out. Clockwise uniquely emphasizes sustainability and strives for carbon neutrality, so you'll find greenery throughout your coworking space.
But beyond being a beautiful place to work, Clockwise Wood Green is all about supporting businesses of all sizes through personalized service. You can choose from a variety of plans, even if you're only sticking around for one day.
2) eOffice – Soho
Located on London's iconic Oxford Street, eOffice in Soho is a community that's buzzing with energy. As one of the first coworking offices in London, this flexible workspace is designed to help businesses grow. Once you become a member, you can uniquely access angel investors and networking events among 250+ coworking communities in over 120 cities across 60 countries.
eOffice amenities include video recording equipment, advanced IT infrastructure, and more tools that can help your business flourish without investing in more than a membership.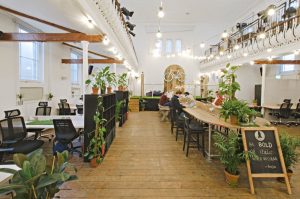 3) Only Connect
Only Connect is far more than a shared workspace. It's also a charity that helps people from disadvantaged backgrounds, runs rehabilitation projects in prisons, and helps recently released people live crime-free lives. Your membership costs will go straight toward Only Connect's inspiring initiatives!
As a shared office space, Only Connect is built for creatives. Located in Kings Cross, which is home to many art installations, Only Connect is a rare coworking space that offers a music recording studio in addition to an event space.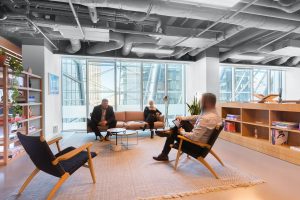 4) Spaces – London City Point
Spaces in London City Point is a vibrant workspace that's built to impress. With several Spaces location throughout London including Baker Street and Cannon Street, these flex offices offer city-center working in collaborative and freshly-designed workspaces.
With designer furniture and an in-house café, this is a coworking space you'll be proud to invite your most important clients to. Plus, you'll be surrounded by plenty of other professionals with whom you can network throughout your workday.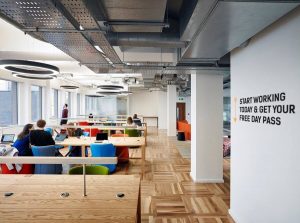 5) Us&Co Monument
An accessible location and river views to die for are just the starts of what Us&Co Monument has to offer. This coworking space is a hub for freelancers and small businesses that offers impressive amenities you'd expect from a corporate office. Can you really say no to free sparkling water on top of complimentary coffee, tea, and biscuits?
Select plans also come with secure 24/7 access, while meeting rooms are equipped with high-tech gadgets. If you need to host an event, there's space for over 100 guests and a professional kitchen to boot.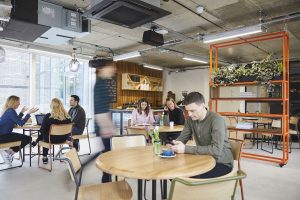 6) This Time Next Year
Located in a more residential area of East London in Leyton, This Time Next Year can definitely feel like a second home. With plenty of natural lighting, the new Leyton workspace is designed to help you get inspired, get creative, and get productive.
At This Time Next Year, however, it's not just about helping your business succeed. This coworking space also provides cultural and wellness programs to help you live a well-rounded life. It even has free coffee and an on-site café to lift your mood!
7) Regus – Fleet Street
Regus on Fleet Street is a historic six-story building with modern solutions. Located in London's renowned publishing district, this Regus location boasts one of the oldest working lifts in London, famous for its appearance in the film "Diamonds are Forever."
Newly refurbished, Fleet Street's meeting rooms overlook St. Paul's Cathedral, making training sessions, interviews, or conferencing a joy. Whether you're part of a small business or large corporation, this Regus location has your professional needs covered.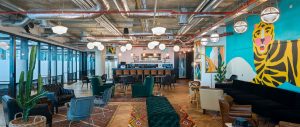 8) Mindspace Aldgate
Mindspace Aldgate is a member-focused coworking brand that promises personalization for every member's needs.
It has the look and feel of a boutique workspace while offering a network of 32 global locations in 17 cities and seven countries. If you're a frequent traveler, the Mindspace experience may offer the productivity you need to thrive. (You can check out Mindspace's latest development in Tel Aviv on Coworking Insights.)
9) Wimbletech
Need an affordable place for your business to call home? Wimbletech offers memberships starting at £85 in a central London location. It's a great place for small teams, solopreneurs, and even digital nomads to connect with a network of over 450 members.
Wimbletech reinvests its profits in the community to offer more resources to entrepreneurs. It also uniquely hosts "Hour of POWER" events designed for members to collaborate on solving business challenges.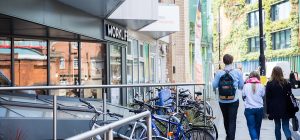 10) Work.Life
Work.Life is another holistic coworking space. This workspace can inspire your creativity while you're focused on work, but it also offers regular perks like massages, yoga, food tastings, and a running club.
Work Life is also a great option for the many entrepreneurs who work odd hours or have day jobs. You can 24/7 access or access up to 8 p.m. with select memberships, or even attend networking nights.
Which London coworking space will you try out next?