Lisbon is best known for its amazing architecture and history.
When tourists come to Portugal, Lisbon is definitely a spot on the list. Not only is the city an amazing place to visit, it's also a major economic center in Europe.
Digital opportunities have allowed people to work from the places they love on their own terms. Entrepreneurs, business owners and people who just don't want to work from home alone can definitely find a co-op space in Lisbon that truly meets their needs.
Here are some of the top coworking spaces in Lisbon: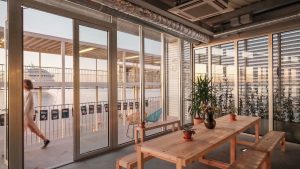 1. HEDEN SANTA APOLÓNIA
Between the new Lisbon Cruise Terminal and the famous Santa Apolónia station, the Heden Santa Apolónia is a modern coworking space filled with many amenities, including a river view.
If you're a digital nomad and want to explore Lisbon from your coworking space, then you will find several historic buildings nearby. The Castelo De S Jorge, Convento do Carmo, Sé de Lisboa, Praça do Comércio, are all fairly nearby.
One thing that makes Heden Santa Apolónia a great place to work from is the kind of people working there. From small entrepreneurs to larger companies and even some unicorns, there will be a lot of room for you to network and discover new opportunities.
In terms of amenities, Heden Santa Apolónia has a lot to offer.
Not only do you get to experience beautiful sunshine from the floor to ceiling windows and contemporary design, but you also get access to a dog and cat friendly workplace.
Other amenities include free water, free coffee, free tea, high speed wi-fi, air conditioning, standing desks along with ergonomic chairs, a nice ping pong table, just to mention a few.
You can also use equipment like the projector, printer, scanner and photocopy machine on site. The Heden Santa Apolónia has a lot to offer, all for a decent price.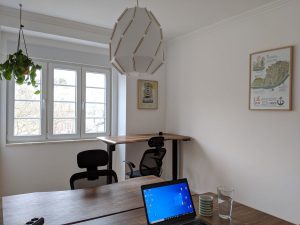 2. HYGGELIG
While Hyggelig may not have the same river view as the Heden Santa Apolónia, it is still close to a lot of Lisbon's historic and beautiful attractions.
Estufa Fria, a botanical garden with a waterfall and different statues, is just 3 kms away from Hyggelig. If you ever feel tired of working at the office, you should definitely check this place out.
Hyggelig gets its name from a Danish term that is used to describe comfort, safety, and closeness, and it certainly lives up to it.
The space is smaller compared to some other places on the list, but it still deserves a place here because of its location and the overall vibe of the place.
Windows help bring in rays of the morning sunshine, an outdoor terrace to catch up with fellow digital nomads and entrepreneurs, and a lounge to just relax, maybe even take a moment for yourself.
In terms of amenities, Hyggelig has the basics covered that any co-op space needs to have. A speedy wi-fi connection, standing desks and ergonomic chairs, bike parking, free beverages (water, tea, coffee), and even a kitchen.
The space is open 24 hours for members and has several AirBnBs nearby.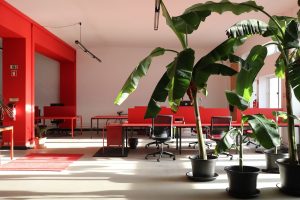 3. GDI HUB
Not only does a dedicated desk at the GDI HUB come at a price of 150 euros per month, but it has an amazing location right in downtown Lisbon and just two minutes from the sea.
The GDI HUB has a unique and eye-catching design that works beautifully thanks to its contrasting colors and pretty modern furniture.
In terms of amenities, it's pretty hard to out-do GDI HUB.
Not only do they have the basic furniture including standing desks and ergonomic chairs, but they also have beanbags and even hammocks to really chill out and vibe with everyone or alone if you'd like.
For caffeine aficionados, there is not only free coffee and free tea available onsite, but you can also quench your caffeine craving by either going to the café or the barista, both of which are on site.
GDI HUB has a lot of equipment that you can use. From projectors to printers, you can find a green screen, pro lighting equipment, and even a recording studio that you can take full advantage of.
Other cool things that make GDI HUB a co op space that you should at least try out include it being cat and dog friendly, laundry service, arcade games, incubator programs, along with a library.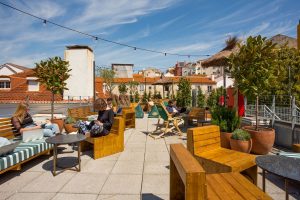 4. SELINA SECRET GARDEN
Selina Secret Garden is a great place to work if you're looking for a coworking space that is warm, inviting, and has a good bit of natural sunlight.
The thing that will surprise you about Selina Secret Garden is that not only is it in a pretty good location, but a dedicated desk for the most costs around 200 euros per month.
Something that Selina Secret Garden does that other co-op spaces have a hard time doing is making sure that all people are welcome, regardless of their physical condition. The space is wheelchair accessible and definitely deserves a spot here.
Amenities that you can find here include fast internet, a swimming pool, yoga studio, on site restaurant, ergonomic chairs, free drinks (i.e, water, coffee, tea), event space that can be rented, just to mention the big things.
You can also take advantage of the free snacks and even purchase alcohol on site.
Another benefit that working at the Selina Secret Garden is, is that you can even stay there. Selina Secret Garden is also an AirBnB, so you can just hop out of bed and go to your desk to begin the hustle for the day.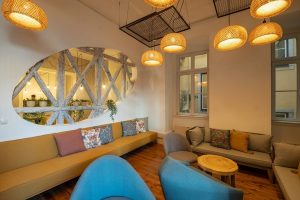 5. TIME TO COWORK
Time To Cowork is in the center of Lisbon and is a quick two minute walk from Cais do Sodré station.
Ideal for smaller startups and individuals, Time To Cowork provides everything you need to get your business up and running. The simple and well lit ambiance is professional, but inviting at the same time.
High speed wi-fi, air conditioning to beat the heat, free drinks (water, tea and coffee), suitable seating arrangements, are all things that you can find at Time To Cowork.
Another interesting thing you can find at Time To Cowork is that not only does it have bike parking space, but it also has a plug-in for electric cars as well.
The view from the window can also serve as a really pleasant background for videos and meetings. You can also make use of the lighting equipment along with things like a printer, scanner, and photocopier
Conclusion:
Lisbon is simply booming with opportunities.
Now more than ever, people should explore places like Lisbon that are just the right mix of amazing scenery, maintained infrastructure, and ripe for business.
The coworking spaces mentioned here are just a few out of so many great places that you should definitely explore. But at the very least, you might want to spend at least a day at each of these places, and see what the coworking scene is really like in this wonderful city.