As Bob Dylan noted, "The times they are a-changin,'" and nowhere is this change felt more acutely than in the American workplace. 
Back in the day, people lived near cities so they could work in the offices and factories located there. Slowly, over the course of half a century, this urban sprawl gave way to orderly green suburbs where many businesses and their employees relocated. 
When businesses adopted digital technology, some employers let people work from home or other remote locations. 
Covid reshapes the workplace landscape
Then came the COVID-19 pandemic of 2020. Work methods changed more in one year than in the hundred preceding it. Lockdowns and quarantine forced everyone but the most essential employees to work remotely. 
Everyone had to adopt new online work procedures. And much to everyone's surprise, it worked! Productivity increased during the pandemic instead of dropping off. Businesses really can run efficiently with remote workers!
Now the way we work is changing again. Working with remote teams is great, but not ideal. There's a better way. And that way is coworking spaces. 
Sharing remote workspaces is a dynamic new business trend, transforming the way America and the world works.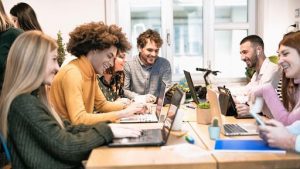 Who is thriving in coworking spaces and why? 
Let's take a look at who is benefiting — and thriving — in the world of coworking spaces. 
1. Creative collaborators
Working from home has many advantages, but ideas don't come to life until you bounce them off others. Creative collaborators are thriving in coworking spaces. This is where content created in private gets shared before a live audience.
Emails and Zoom meetings only go so far — creatives need immediate feedback from real humans to see if their content hits the mark. Coworking spaces are where that magic happens. 
2. Freelancers unite!
Freelance work is great, and the gig economy is thriving, but getting everyone on the same page can be a challenge. 
According to Upwork's 7th annual study, 59 million U.S. adults reported doing freelance work in 2020. More and more of those freelancers are finding coworking space is an ideal way to turn a group of individuals into a team.
A good team can accomplish more than any one person can alone. Organizing your freelancers into a unified force can be a challenge, even with all of the communication tools available. One of the best ways to create an effective freelance team is to assemble in a coworking space. 
Decisions are made more quickly in face-to-face situations, and the feedback is immediate. Freelancers will feel more a part of the team — and will work harder — if they spend some time with the people they work with. Plus, an upscale coworking space will attract the best freelance workers.
3. Workers benefit from a change of scenery 
You've got a great office space … but you need a change of scenery!
Even businesses with established offices can benefit from utilizing off-site coworking spaces. Planning a brainstorming session?
Break out of the stuffy boardroom and get into a coworking space! Assembling a team for a special project. Treat your team to a coworking space.
New environments breed new ideas. Executives looking to break out of a strict corporate mindset have successfully used shared coworking spaces to inspire their employees and get them thinking outside the box.  
4. Clients will be impressed
Making a good first impression is key to most successful business relationships (as well as personal ones!). Coworking spaces are sleek, modern, and have the most up-to-date business amenities. Clients will be impressed with your meeting location! 
Coworking spaces can be especially effective for small businesses and start-ups. As we know, today, after the Covid-19 pandemic struck, most small businesses needed digital transformation and remote teams to keep up with the changing business milieu. 
From this perspective, coworking spaces are the exact places that can give a chance to entrepreneurs and small businesses to build their remote teams and establish flexible work processes in a cozy atmosphere. And investors will never know you're building prototypes in your basement when you slip into slick business attire and meet them at an upscale coworking space!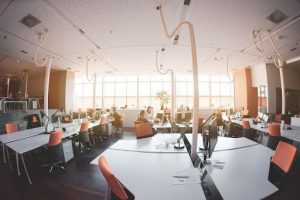 5. Non-traditional settings yield creative thinking
Ever try to brainstorm ideas while sitting in front of a webcam or, worse, sitting across from your boss in a boardroom. It can quickly become an exercise in futility. These bland workspaces don't inspire anyone! 
But what about a wall of windows overlooking a snow-capped mountain peak? Or an outdoor patio complete with palm trees and wi-fi? Coworking spaces offer a variety of unique and inspiring locations that will give your brainstorming sessions a boost. 
6. Great shared spaces
Let's talk more about those palm trees or that wall of windows. How about adding a big comfy couch, mood lighting, and a cozy fireplace? Ready for romance? Forget it! It's time to roll up your sleeves and get to work in a warm, inviting coworking space! 
Great shared spaces yield great productivity — just ask anyone who uses them to get ahead in business!
The ideal shared workspace is very inclusionary. Everyone has equal access to the amenities of coworking spaces regardless of physical limitations. Many coworking spaces have an open floor plan that makes it easy to move around and collaborate. 
Coworking spaces should appeal to everyone, from those that prefer working in big groups to those who work best on their own, tucked in a cozy corner.
7. Familiar faces
Sometimes working alone can be very productive. But this type of seclusion can be damaging to your mental health. Nearly 45% of workers felt a dip in their mental health while working from home during the pandemic lockdowns. 
Shared coworking spaces allow the social interactions that are so vital to our mental health to occur in a relaxed, friendly environment. Seeing familiar faces regularly in a coworking space not only keeps remote workers in the loop but also keeps them in the family. 
8. Improved work tools
Ultra-fast wi-fi. No wait at the copier. Great lighting and air conditioning. Plenty of space to spread out. Plenty of snacks and coffee, coffee, coffee. Coworking spaces offer the best work tools around, such as fast, reliable internet connections. 
Coworking spaces not only offer the latest technology, but they are also safer. No need to replace the ink in the copier (this can be quite expensive to do on your own) or restock the toilet paper in the bathroom — coworking spaces not only cover the basics, they often offer the best tools for conducting business. 
9. Flexible work hours
Does next Tuesday afternoon work for you? How about Thursday morning? Friday at midnight? With coworking spaces, anytime is the right time to get down to work. 
Night owls and early risers are thriving in coworking spaces because of the flexible work hours. Write 'The Great American Novel' from 3-6 a.m., grab a cup of coffee, and start taking client meetings at seven. With a coworking space, anything is possible. 
10. Everybody saves money!
Employees have an easier, more cost-effective commute. Employers no longer have to rent, lease, or purchase traditional office space. (There are a few things you should know however before moving from a private office to shared space.) 
There is zero physical plant maintenance and no costly insurance for your office space. Win-win all around. When both the workers and the boss benefit financially, that's the definition of thriving!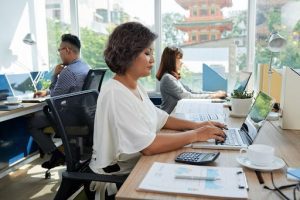 Productivity in coworking spaces
The bottom line of any coworking space is to increase the productivity of your employees. Before that can happen, you need to give your employees the right tools and a comfortable workspace that inspires creativity. Oh, and it needs to be conveniently located. That's a tall order. Fortunately, coworking spaces have risen to meet the needs of a thriving work culture.