In just a few short months, the coronavirus pandemic has upended nearly every aspect of our lives, from the ways we learn and socialize to the ways we do our work. Now, however, as cities across the world are beginning to reopen, more and more workers are beginning to question not only the safety, but the desirability, of returning to the physical office space.
And their employers are listening. Over the last three months, we've learned a whole lot about the benefits of telecommuting. And we've experienced first-hand the power of the virtual workspace.
But if you and your company are a little late to the party, if you've yet to really dive into all that today's telecommuting technologies have to offer, this article will give you a primer. Because, like it or not, ready or not, it's looking increasingly like virtual workspaces are the future of workspaces.
The Benefits of Remote Work
The outbreak of COVID-19 has taught us the hard way that sometimes telecommuting isn't just a convenience or even a luxury. In crisis situations, it can literally save lives — and the economy.
But now that shelter-in-place orders are beginning to be lifted, millions of workers are reluctant to go back. And it's not just fears of a second surge of the virus that's driving this desire for more telecommuting opportunities.
It's also the fact that working remotely, in general, makes employees happier and more productive. That's not surprising, given the personal — as well as financial — benefits.
In general, telecommuters don't have to worry about child or elder care. They don't have to buy work clothes or office lunches. And they don't have the fuel costs that come with the daily commute. Over time, because fuel costs rise and then fall — and then rise again — those expenses add up, meaning that workers are getting more bang for their buck by working from home.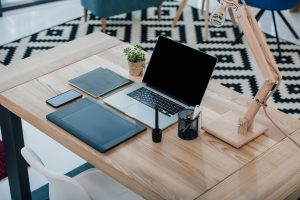 The Virtual Office
Perhaps the best thing about telecommuting today is that you really don't have to give up a whole lot of the perks to do it. Working alone doesn't have to mean working lonely.
In fact, working alone doesn't even have to mean working alone at all. That's because today's virtual office spaces allow you to collaborate in real-time with your colleagues. Video conferencing technologies give you the seamless kind of experience that is just like being there face-to-face.
You can even customize your virtual office space to simulate the look and feel of your physical office, complete with door knocking sounds, private meetings, and group conference spaces.
Getting Things Done
The virtual office space might seem like a place to "play" office with your colleagues, experimenting with all the gadgets and gizmos of the online environment.
In fact, the virtual office space is highly efficient and productive — if you know how to use it well. These spaces allow you and your coworkers to collaborate in real-time, creating and editing materials, securely sharing sensitive information.
Pretty much anything you and your colleagues would need or want to do in the office, you can safely and seamlessly do in an online coworking platform. And that spirit of teamwork and camaraderie can be precisely what you need to stay engaged, motivated, and confident when you're working from home.
Not So Fast
As great as the benefits of the virtual office may be, there are some caveats you should be aware of. First, and most important, is the reality that when your home is also your office, the temptation to be constantly working can feel impossible to resist.
But that's a temptation that you must resist. And you need to help your team fight that urge as well. Because if you and your team aren't able to maintain a successful work/life balance when you're telecommuting, burnout isn't just likely. It's inevitable.
Respecting your co-workers' boundaries, and maintaining your own, is essential when it comes to working remotely. Collaborating and communicating with your team to determine the best schedule for holding virtual team meetings ensures that you have a workflow in place that is productive without being overwhelming.
In this way, you're using your virtual office space to find that sweet spot between collaboration and autonomy, working together to prepare you for excellence when working apart.
The Takeaway
In recent months, millions of people have discovered the benefits and opportunities of telecommuting — whether they wanted to or not. But working from home doesn't have to mean working alone. In fact, virtual office spaces can offer the best of both worlds: the benefits of working remotely and the inspiration of teamwork.
The virtual office space will only be as productive and motivating as the people who use it. When it becomes the reason, or the excuse, for incessant, unremitting work, the virtual office will soon become a dread rather than a delight. The end result will be surrender, not success.