With the rise of remote and flexible work arrangements growing in popularity, coworking spaces are becoming increasingly fashionable, largely in response to the pandemic.
This has led to an increase in technological methods of communication. Some prefer the ability to work collaboratively online using whiteboard software. Others prefer to share a physical space.
The rising number of women spending more time out of the office has naturally led to an increased demand for environments that cater to their ever-growing set of requirements.
In the U.S. and elsewhere, women prioritize flexibility at work to a higher degree than men. Coworking spaces are an option that can facilitate this.
These open-plan offices might be the ideal working arrangement for a businesswoman who still wishes to work in a shared environment when not in the workplace. These work environments are best known as women-centric coworking spaces.
The rise of female-centric collaboration
There is a range of workspaces all over the world and many would agree we are spoilt for choice. But out of this choice, the number of spaces that truly offer what everyone needs is much smaller. 
This has resulted in a multi-faceted range of coworking spaces that are adapting to these diverse needs, each with its own target audience.
Niche trends
Many workspaces have emerged to meet particular sets of demands. For example, some parents may require childcare services to help attend to their children while they work. 
Creatives may need a space where they can work in close proximity with a whiteboard to brainstorm and bounce ideas off each other. Similarly, LGBTQ individuals might seek a space where they can feel comfortable being themselves and express their true selves without fear of judgment.
This is where researching what is out there and knowing what you need out of these environments will set you up for success.
Every person has their own set of needs, and women tend to search for unique features that are simply not available everywhere.
A space where women's needs come first
Although the Global Gender Gap Report from the World Economic Forum shows that the top 10 economies have closed the gap of gender disparity by an estimated 80%, there is still room for improvement.
Wat this statistic shows is that one-fifth of work environments do not give women's voices the equal opportunity to be heard.
This can potentially be resolved by offering women-centric workspaces.
Recognizing unique requirements
Organizations are operating on a global scale that offer thousands of collaborative spaces across the globe. These can really help remote workers missing social interactions to build connections.
With so many to choose from, locating and then making calls to those in your area and inquiring about the availability for female working is a great place to get started. Some factors to consider might include:
– Policies around anti-harassment in the workplace: Is this a safe space?
– The work culture: Is it formality or relaxation you prioritize?
– Work-life balance: Are there easy modes of transport to and from your home?
– Amenities for children: Single mothers might require a child-friendly environment, with changing rooms to cater for these needs.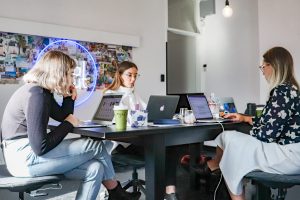 Finding empowerment through community
For mothers-to-be, stress may be associated with the time they need off work. It's normal to worry about how this might affect career opportunities. 
Research suggests that mothers, on average, earn just 70¢ to the fathers' dollar. If this represents what the global top 10 economies offer, then finding opportunities to empower yourself as a woman is critical.
Rather than finding a place that rejects the male presence, finding one that understands women's needs and allows those in similar situations to band together, discuss their issues, and find solutions together is paramount.
15 supportive amenities and facilities
As a woman, here are some specifics that you can add to your list of workplace needs to find a space that feels optimally supportive: 
Complimentary wellness programs, including yoga, meditation, and barre classes for members

Dedicated office spaces for individuals

Mobile applications with

workforce management call center

to facilitate remote reservations

Large, conducive spaces for learning and teaching

Complimentary hot beverages, including coffee and tea

Facilities for new mothers, such as lactation rooms

Access to a vast selection of books in the library

Personal care services, including hair blowouts and beauty salon

Free and convenient parking facilities

Roomy, hygienic showers and restrooms

Networking opportunities through member events

Multipurpose conference facilities

Workstations adaptable to varied work needs

Restful areas for power naps

Full-service beauty salon for ultimate relaxation and self-care
The benefits of utilizing a female-centric workspace
There are many benefits that come with coworking spaces in general, whether it be the inclusion of gym facilities for the active crowd or kitchens for foodies. 
However, when it comes to female-centric spaces, we can build on some of the benefits already made apparent.  
The following are some of the reasons that you might find they suit women better than generic workspaces.
Building self-esteem
Self-worth is so valuable. Every time an idea is overlooked, or a suggestion is ignored, this can lead to a downward spiral.
A supportive environment with other women might help to build your confidence in a way that leads to progress, in both your professional and personal life.
Embracing female leadership
These environments may also be more supportive of embracing and encouraging female leadership. Women in senior positions might find their wisdom and guidance acknowledged in a more positive light when working among other women.
Future managers might find a more supportive environment where they can develop without potential fear of judgment.

Leveraging technology
Whether using voice over IP phone technology or leveraging the power of a virtual office, there are also solutions for women seeking to work more privately.
With a focus on the virtual office: freelancers, the self-employed, and entrepreneurs can have many of the benefits associated with a physical office space, at a lower cost.
Firstly, you gain a separate postal address for your business. This provides an additional layer of privacy.
Secondly, you get a business number and email address that will forward to your personal devices. This adds credibility when others are communicating with you professionally.
Lastly, access to digital conferencing software will allow you to network with other businesswomen, without the need to travel excessively.
Safety within a secure location
For women who need to work later in the evening, a safe environment where they can arrive and leave at the same time as others has huge potential benefits.
Additionally, the presence of CCTV and access to transport home that does not require a long commute will be so beneficial.
A supportive community
Many women seek to progress diversity in the business environment. Collaboration with others in the same situation can only move things in a positive direction.
A supportive environment may lead to new friendships, business partners, and a higher quality of life in the workplace. Networking is fundamental, but networking with the right people might just take you to the next step in your development.
Increased focus through reduced distractions
There might be a fear of ideas being dismissed or unwanted advances that can be avoided in an environment geared to your needs. With these distractions removed, more time and energy can be focused on developing your skills and doing good work.
Reduce gender bias and inspire future generations
These workspaces might challenge outdated perspectives. They could dismantle frameworks around what women "should" be doing.
Gaining freedom to pursue personal career goals, despite fear of reprisal, might only be achieved on a wide scale through a bias-free environment. This can help to promote women in industries that still have gender imbalances, STEM being one that is referenced frequently. 
As movement towards these aspirations is accomplished, space is created for the next generation to pursue their interests in whatever field they choose. 
This will allow women more time to develop their skills. Doing so from a younger age further balances the scales in roles that have so much opportunity for anyone who wants to get involved.
The takeaways
The increase in demand for remote work opportunities has led to many niche workspace offerings, one of which is women-centric coworking. 
Find or create a space that will help you work towards that work-life balance, fairness in the workplace, and the flexibility to work around your commitments. Thrive in your chosen career path.
This is what sets these spaces apart. Now it is your turn to find the coworking space that works for you and live the fair and equal life you deserve.