Are you a remote worker, or want to become one soon? Have you read about the advantages but are still unsure about where to settle down and start your remote life?
Let's take a look at your options in Budapest — a location that is prone to be at the top of your list!
In this article, we're going to talk about why Budapest is one of the top destinations amongst remote workers. We'll take a look at what you can do in the city and go through the key information you need to decide whether the city is right for you! 
Not only are we going to talk about general and useful information about remote working in the city, but you'll also find useful tips about the city and overall life in Budapest. When finished with the article, you'll have a complete understanding of Hungarian culture and local practices, and you'll know what you can expect in Budapest—and Hungary in general!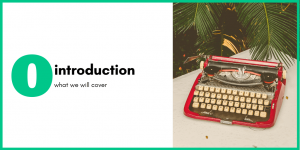 The key things we are going to cover in this post are the following:
1. REMOTE WORK
What is remote work? What are the trends? What you can expect and what to watch out for. 
2. REMOTE WORK IN BUDAPEST
Why is Budapest so popular among remote workers? What can you expect as a remote worker based in this city? 
3. STAYING IN BUDAPEST
Where should you look for a place to stay (for a short, a medium, or a long term stay)? What are the different areas of the city to consider?
4. EXPLORING THE CITY
An overview of all the things you could do in and around Budapest, after your workday or crammed in a shorter stay. 
5. EATING OUT
Some places that won't disappoint you if you're looking for a nice meal. We won't focus on the cliché "traditional and typical Hungarian food" only, rather take the approach that suits someone considering to settle down in the city.
6. WORKING FROM BUDAPEST
If you feel like Budapest is the right place for you to work from, where can you get work done? What are your options and what are the pros and cons of each of them?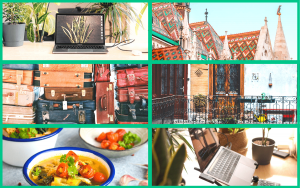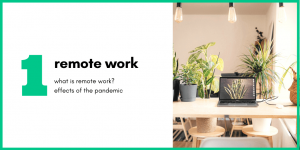 Let's first take a look at what remote working is.
According to the Cambridge Dictionary, remote working is a situation in which an employee works mainly from outside of the office, and not from the corporate offices of the company that employs them.
A wide range of jobs can be done remotely. Some types of employment are of course immune to this kind of flexible work (sorry government employees), but typically you'll find remote workers in every sector, and even more so in a post-pandemic world, where this type of employment widely increased. 
Some of the jobs that are no strangers to remote work are designers, programmers, writers, product managers, social media managers, and accountants. These are just a few of them, however, and many more could be listed.

Did the coronavirus change anything about remote work?
According to research from the United Nations, while remote work was on the rise before the arrival of the pandemic, the COVID-19 crisis certainly accelerated the trend. 
With the increasing availability of telecommunications, and remote access to corporate tools, frameworks, documents, and coworkers, the barrier that was holding off remote work from becoming the norm has quickly vanished.
Not only is it easier than ever to work remotely, it also comes with additional benefits for companies. With the crisis, even companies that were reluctant to partake in the remote working experience have been forced to do so, changing how this way of working is looked at.
Remote work went from being a week a day in home office to an alternative approach to office presence. 
This can come as a relief to you, dear reader, as well as to 95% of the workforce, who see remote work positively and encourage their fellow colleagues to take this approach.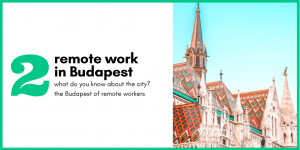 Budapest, the capital of Hungary, is in Eastern Europe, and it is one of the top top destinations for remote workers.
Budapest is a vibrant city, disposed to make its visitors fall in love with the place, and quite often, wanting to settle there. 
For the average European, or North American, it is not too far removed from their home, so traveling back on holidays is easy. It also isn't too far culturally removed from other countries that the typical remote worker is from, so getting accustomed to the place is easier than to one in a faraway destination.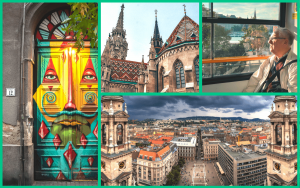 The variety of cafés, bars and pubs, restaurants, cultural sites, architecturally interesting places, mixed together with the below average size of the city (compared to big european cities), and combined with Eastern European living expenses make it a destination worth considering for remote workers.
The Budapest of remote workers
Why is Budapest such a popular destination for people who work remotely?
When taking into consideration the five most important aspects that come into choosing a destination, remote workers find that the city's attributes are overwhelmingly favorable.
What are the most important things to consider when choosing a destination where work conditions are great for remote workers?
We can group these criteria into five main categories:
Reliability of Internet

Cost efficiency

Atmosphere

Safety

Livability
Budapest can boast about performing well in all of these categories. Take internet connection, for example. Budapest has one of the best internet connections in the country (as capital cities usually do), and the country as a whole has been listed in the top 10 countries for internet speed!
As for the costs, with Budapest being an Eastern European city, your monthly budget on food, housing, and anything in general, is going to be below what you are used to. For example, your groceries will be 60% lower than in Paris, and your rent 74% lower than in London, to cite a few examples.
And these positive attributes only continue, whether you want to know about the safety in the city which is confirmed to be high in Budapest, the atmosphere which has been praised as the best destination in 2019, and the livability, which you can deduce from all the positive attributes mentioned so far.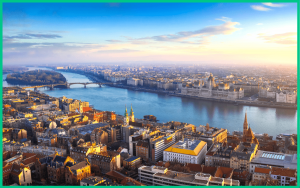 All over the city, you'll find great places to access the internet if you're in need of wi-fi, and you'll be happy to know, if you are more of a mobile data person, that its speed in Budapest is double the global average! 
If you like what you read about Budapest this far, continue reading to find out more about places where you can grab a quick meal, places where locals go for a chill brunch, advice to find accommodation, and information on finding your way in the city!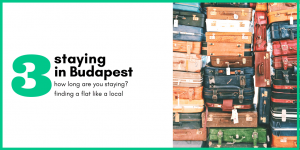 We will consider two scenarios when it comes to staying in Budapest. 
One is that you want to move to Budapest and immediately have a flat that you rented out and can stay at. The other is that you want to come to the city, stay somewhere for a few nights or weeks, visit flats after your arrival, and then rent out a place. 
These cases don't necessarily cover all the scenarios, but these are your options when moving to a new city. 
Now if you're not sure about moving here, but want only to stay as a remote worker in Budapest for a few days or weeks, you should take a look at the part written about the second scenario, which provides useful tips that will help you save money and make the best of your stay.

Coming to Budapest directly and renting a flat:
This is an option that can sound interesting to people that are risk averse. Coming to the city without having a preselected place where you will be able to settle down can feel like a big risk, but it is not. 
If you want to move to Budapest and be 100% certain that you'll have a proper flat to stay in without having been to the city, only one option can be recommended: trustworthy relocation companies.
These companies will give you a fully inclusive relocation service. You won't need to bother with any of the paperwork or the possible troubles of finding a flat, and they provide a plethora of additional services that you can ask for to make your relocation as simple as possible. 
The down side? Costs. When asking for a quote from one of these companies, make sure you're sitting down when you read the response, as the number you'll get will probably be way above your expectations. 
Moving somewhere new, that is, in this case, Budapest, can seem to be full of uncertainty. But you are probably seeing more uncertainty than there is. The housing market is growing and changing dynamically. You will find new places up for rent every day.
This is why I'd recommend the second approach, which is to book a place to stay in for a few days and settle down only after getting around the city. 

Finding a flat in Budapest at a fair price, in a good neighborhood:
In this scenario, you'll arrive in Budapest and stay in temporary accommodation. This can either be a hotel, a hostel, or a bed and breakfast. 
Here you'll have two main options of course: hotel or AirBnB? Both are perfectly fine and sound. Based on your approach and expected duration of your stay, your approach may be different.
You're planning to move to Budapest or stay for a longer period of time:
If you know you'll stay here for a longer period of time, you'll get temporary accommodation for a short period of time. In that case, you could choose to stay at a very nice hotel, for a third of the cost you'd usually have to pay in other cities. This will give you a comfortable place to go back to after visiting apartments. 
If you want to get a good deal on hotels, you can check out the prices on Hopper. If you plan a trip on their app, you can get special deals for hotels. Of course, you should double check prices on other booking sites, but usually they have the best rates.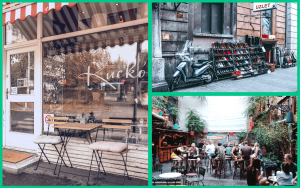 You're planning on staying in Budapest for a short period (less than 6 months):
The typical rental period of flats in Budapest is one year (at least). Certain apartments are rented out for six months minimum, but they are usually shared flats for students.
So if you are planning on staying in Budapest for a few weeks or months only, you will have a hard time finding an apartment with a regular rental contract.
This is where Airbnb comes in. You can book an apartment that suits your needs on the platform directly for the time of your stay. But there is an additional option, common in Budapest and Hungary, for these types of medium-term rentals.
Contact the owner of the Airbnb, tell them your needs for a longer stay, and ask for a discount. Be blunt (not rude of course, but direct communication is what we like here), and ask for what you need. Be aware that a little hustling isn't uncommon on the AirBnB market in Budapest.
A complementary approach is to suggest to the owner to book on the platform for a 30 – 40% of your stay online (the starting date should be your arrival), and the rest offline. That way, they avoid online fees, and you can (at least) split the difference.

Where to book your flat, and which areas are considered to be best:
For short term rental, as discussed above, there are only so many options available. However, for longer-terms contracts, that is, for regular rentals, where should you look? 
The most widely used flat rental platform in Hungary (and thus Budapest) is called ingatlan.com which is also available in English and German. This is the most popular and widely used website for those looking for an accommodation, so you most probably won't even need to look elsewhere.
When looking for available apartments, you can select the area, or even the exact location where you want to search. If you're not sure about which are to take into consideration in your search for the perfect spot, you can take a look at this map of Budapest, which shows you the three areas of the city that are widely considered to be the best to stay in.
These areas are suggested based on what would be the best place to consider for someone looking to stay in the city (not the outskirts) in the safest areas, which also have the most vibrant neighborhoods. The map takes into consideration cost and living conditions, access, safety, and atmosphere.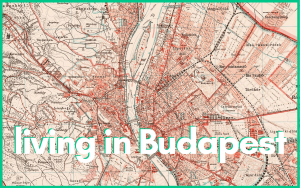 If you didn't check out the map these are the three key areas: 
– Újlipótváros 
– Belső-Terézváros / Belső-Erzsébetváros
– Lipótváros
One thing you'll notice is that all these are on the Pest side of the city. That's because most "attractions" in Budapest are in Pest. 
If you want a more calm, or a greener area, you can check out the XI.th district (which is an area filled with younger people and more moving there from the city center, which is taken over by AirBnBs). 
You can also take a look at the XII.th district (which is the most green area of the city). These areas are shown in two shades of blue on the map of Budapest linked here.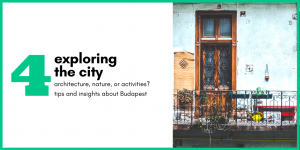 Whatever your preference, you will find a lot of things to explore in the city! 
Do you like sightseeing and architecture?
You can wander around in the newly renovated Buda Castle, which is gorgeous (but please do me a favor and don't eat in one of the rip-off restaurants there). 
You should certainly check out the Fisherman's Bastion too if you get up there (it's free to visit after a certain hour at night, while you have to pay during the day, so be sure to check that out!)

It is super easy to access from the city center, too! You can use bus line 16 to get up and down from there. Be sure to download the BKK Futár app to your phone to plan your trips around the city! You can get it from Google Play or the Apple Store.
Want to see a huge church? Go to St. Stephen's Basilica! Entrance is free, but you can make an optional donation. Though it may initially feel like a donation is mandatory, know that it is not! If you are a religious person, you can also go there for Mass!
Did you know that one of the world's largest synagogues is in Budapest? I discovered that when I was 15, so don't feel ashamed for not knowing! It is in Dohány street, and it is gorgeous—though a bit on the pricey side! 
Do you prefer nature and parks?
Fear not, there are plenty of these, too! 
First off, near the city center and with direct access with the Metro line 1, which is the world's second oldest metro line — after the London tube — you can go to Heroes' Square. 
From there, take a good look and a few photos of the statues, and then head to Városliget to enjoy the green side of the city center!

Still not green enough for you? Well on the other side of town, that is, on the Buda side, you'll find plenty more forest! 
Take a walk at Normafa if you want to feel fully immersed in nature! You'll feel like in a faraway forest in the mountains more like in one of Central Europe's capitals! 
Would you rather go around and do an activity rather than just looking at things?
We've got you there, too! Do you like thermal baths? Budapest has a ton of them. This is partially because of the Roman and Turkish invasions in the past and their cultural remains, but it's also because they are really chill. 
Now, baths are a bit on the expensive side, so be sure to check out the pricing before you have a heart attack! You can do that here. (My favorite is the Rudas baths, with its ancient Turkish part.) 
Another side-note is that the baths are not always open for both men and woman; they are only mixed on some days, so check that out too before stepping out of the tram in flip-flops!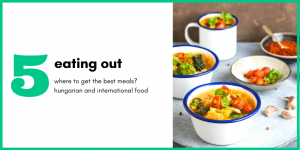 In Budapest, you'll find restaurants on every corner, some may be good, some may not be worth visiting. Before you go and figure it out by yourself, take a look at the following checklist that will help you decide whether you should try it out.
– Are prices listed on the menu in euros?
– Is a chalkboard menu of hungarian dishes, written in English, hanging outside?
– Is there someone trying to lure you in?
– Is it in Váci Street? 

If any of your answers to the above questions was "yes," please do not eat there. You can take your chance, but the probability that you'll end up disappointed or worse is higher than if you follow these guidelines. 
This is not true for all restaurants, of course. Some of them may have any of these attributes and still be great, but as a rule of thumb, stick to this and you'll avoid any problems.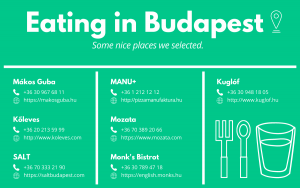 Here are a few places that will not let you down.
Hungarian Food:
Mákos Guba // Kék Rózsa Étterem // Pozsonyi Kisvendéglő // Centrál Kávéház // Kőleves
International Food:
MANU+ // Mozata // Leila's Cuisine // IGEN // Khan
Brunch? YES:
STIKA Budapest // Juicy + // Kuglóf // TOPRUM // HILDA
Feeling Fancy? Alright:
ÉS Bisztró // Pata Negra // Zeller Bistro // Monk's Bistrot // SALT
Extra Mentions:
You want a good coffee or a cold beer in a very cozy atmosphere? Go to Művész Kávéház!
Want a slow drip coffee, special V60? Are you a coffee specialist? Go to Madal Cafe!
Want a drink with a view over the whole city? Go to the 360 Bar or to TOPRUM!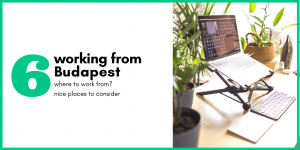 Now that you know all about the places you want to visit in the city, the activities to do, the places to eat at, where to stay at, and things to discover in Budapest, you may also want to find the place where you can work from. After all, you'll be working remotely, not just planning a holiday trip!
Where you can work from:
Remote work comes with its own challenges. This was experienced by a large percentage of the global workforce during the COVID-19 crisis, as companies asked their employees to work from their homes. 
Distraction, isolation, insufficient work motivation, lack of productivity are only a few of the challenges commonly faced by the remote workforce.

You can choose to combat these difficulties alone by adopting and setting up a strict schedule and routine that you can follow, and by working on the elimination of distractions in the place you work from. 
You will also have to choose a place to work from. This can be your home, a coffee shop, or a coworking space. While each of these have their own merits, the best way to set yourself up for a productive day is to work in a coworking space. 
Working from a coworking space has many advantages for remote workers, freelancers, and those working alone in general. It has been shown by several studies that coworking spaces improve your efficiency and productivity. 
Not only are you surrounded by like-minded people who want to get their work done, but you can also separate your workspace from the place you'll call home. You will be subject to less distractions during your work hours, and make it easier to unplug after you finish your work day, which is one of the biggest problems faced by remote workers.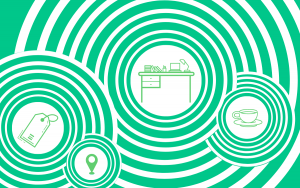 Choosing a coworking office:
To keep your work hours efficient while keeping your living expenses in check, there are several key factors you need to consider when choosing your coworking space.
The most important aspects that should enter into consideration are as follows:
– Location of the coworking space
– Price (monthly / including VAT)
– Type of desk / office space
– Amenities (open hours, additional perks)
A few flexible workspaces you could take into consideration:

With headlines about WeWork's rise and fall, and the growth of coworking's reach, it is easy to forget that once upon a time, "coworking" was a weird and unknown word. But for Kaptár, it is nothing new. 
This place has been around for eight years! Can you imagine that? That's only two years less than WeWork!
So who is Kaptár for?
– For people who want to socialize
– For shorter term coworking rental
– To try out the first coworking space in the city

The Other WorkSpace opened in late 2019. So it is one of the last coworking spaces to open in the city. The offer here is a bit different than in most coworking spaces, as it is focused on monthly dedicated desk rentals. 
Focusing on providing a calm, office-type environment, and building a stable community of coworkers, The Other WorkSpace won't suit everyone. If you plan on staying on the longer run, need a calm place, and want a large dedicated desk however, you'll be happy there.
So who is The Other WorkSpace for?
– For developers and designers who need large tables
– For those who want a smaller community
– For night owls and early birds who need 24/7 access

UrbanFood Café & Coworking, is not your usual office-like coworking space. It is the complete opposite of The Other WorkSpace mentioned above. In this coworking space, you'll find an ambience that mixes hard work with friendly coffee shop goers.
This place is not only a coworking space, but is a café that is remote worker friendly. You'll find a lively and happy crowd composed of freelancers and many regulars.
So who is UrbanFood Café & Coworking for?
– For those who want daily coworking passes that include drinks and snacks
– For those looking for a place to work from occasionally, on a day to day basis
– For people who don't want to feel like they work from an office anymore

Regus. You've probably heard this name if you spent more than an hour searching for office spaces anywhere in the world. The flexible office company—which boasts a crown in its logo—is the largest company focused on serviced offices rental.
For the coworking space membership, you will get a spot in an exclusive environment. Of course this does not come cheap, but it is a good solution for those who need to welcome clients in their offices frequently, and want to do so in the nicest way possible.
So who is Regus for?
– For people who want to find an office anywhere in the city (14 locations in Budapest)
– For those who want to welcome their customers in extra-shiny office spaces
– For the company owner that doesn't have spending limits on company office space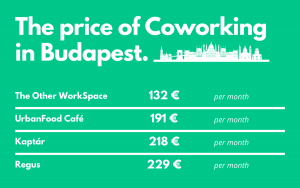 And now, just before we wrap up, let's take a look at the pricing of coworking in the Hungarian capital. Above, you'll find a comparison of the prices you can expect in the coworking spaces we mentioned.
You can also check out the current and more in-depth pricing information on Coworker by searching for coworking spaces in Budapest.
Before committing to an office space of your liking, be sure to ask for the price including the VAT, as some places feature VAT-less prices, while others include the VAT in the offer they show online!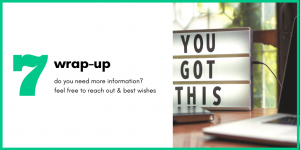 After going through all this information about Budapest, I hope I managed to convince you to come and visit the capital city of Hungary. 
If not, I'd be happy to hear what I missed or lacked the insight to provide more information about! Who knows, maybe I'll manage to change your mind after all! 
If yes, I'd be happy to help you out if you have any further questions about Budapest, Hungary, remote work from the city, or anything I have some knowledge about, and hope you'll come and pay me a visit at The Other WorkSpace.
All the best to you, safe travels, and great days, weeks, months, and years to all of you!