As soon as you land at the airport, Bali reveals its incredible, buzzing energy for entrepreneurs where everybody is eager and ready to get to work. The quiet determination that exists on the island, along with a fantastic balance between work and play, has inspired thousands to flock to Bali.
With higher Wi-Fi speeds and better infrastructure, all while maintaining the low cost of living, Bali quickly became a hub for digital nomads. Over the last 10 years, several new coworking spaces have popped up in Bali, all with unique personalities of their own.
This article features some of the best coworking spaces in Bali, divided by the area in order to get a better idea of not only what all the different coworking spaces are like, but to also decide which location is best for you.
SANUR
We like hidden gems and places that can really boost productivity while enjoying what tropical life has to offer. Home to the beautiful stretch of white sand beaches, Sanur is the embodiment of what life in Bali is really about. Calm with streets that are walkable, Sanur is more than just the port where you take the ferry to visit the Nusas.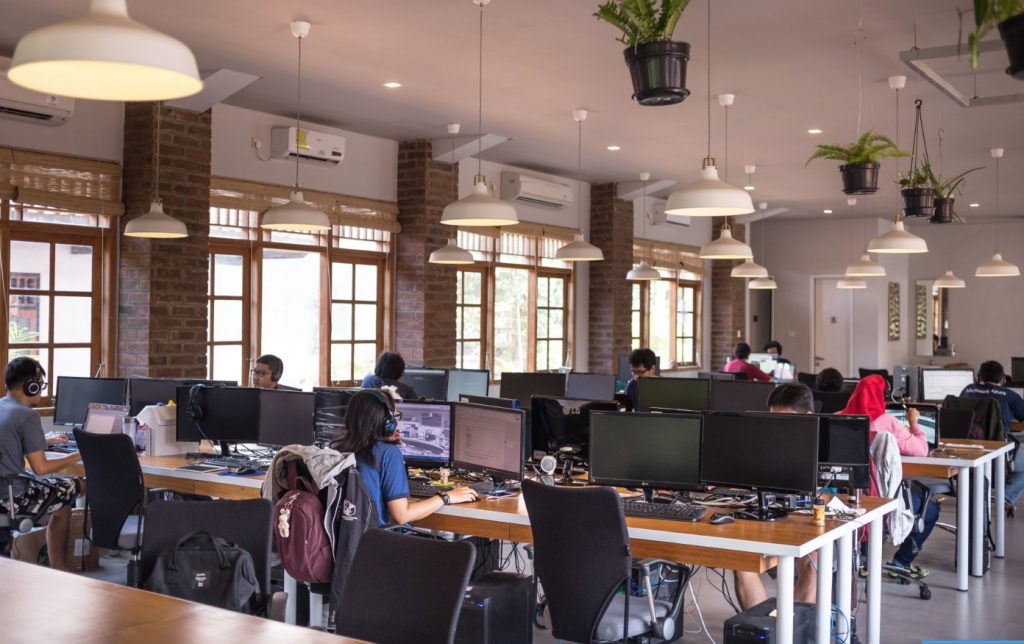 Being based only minutes away from the beach is only one of the many perks Livit has to offer. A premium shared office and coworking hub, Livit is an extremely diverse yet like-minded community that strives to achieve the work-life balance.
The Livit Hub not only enables startups to grow their venture but also specializes in providing business support services all over the world, such as consultancies for nurturing global teams. Livit has also helped launch several startups, most notably Mailbird, Labster, and Magloft.
Livit recently opened their doors to all remote workers and digital nomads, who have the unique opportunity to work from the space's beautiful café or the rooftop, providing some magnificent views of Sanur and Mount Agung. It is great value for money, as members gain access to the space's Skype and meeting rooms, free meals, and laundry services among many other perks! Not to mention, members are invited to all the cool community events, which will make you feel right at home.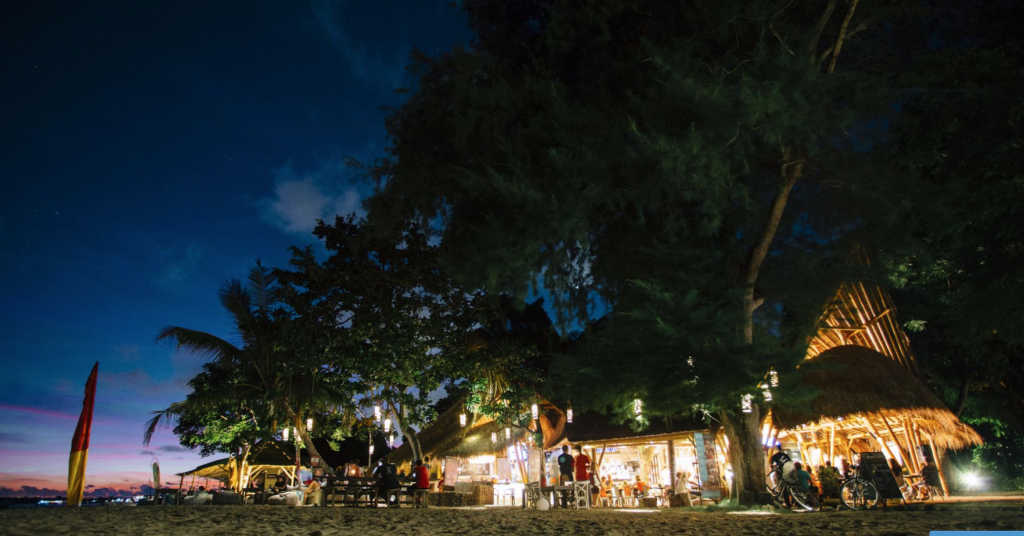 The Genius Café is the only coworking space in Bali where you actually work with your feet in the sand and can look up from your screen at the ocean. By paying to work at this dynamic café, you not only gain pristine blue ocean views, but you'll also have premium access to a global community of entrepreneurs. To sweeten the deal, The Genius Café also provides discounts with several of its partners if you decide to become a member. Lastly, the food at the café is focused on stimulating the mind and thus their delicious plant-based menu is made from the freshest of ingredients.
Rumah Sanur Creative Hub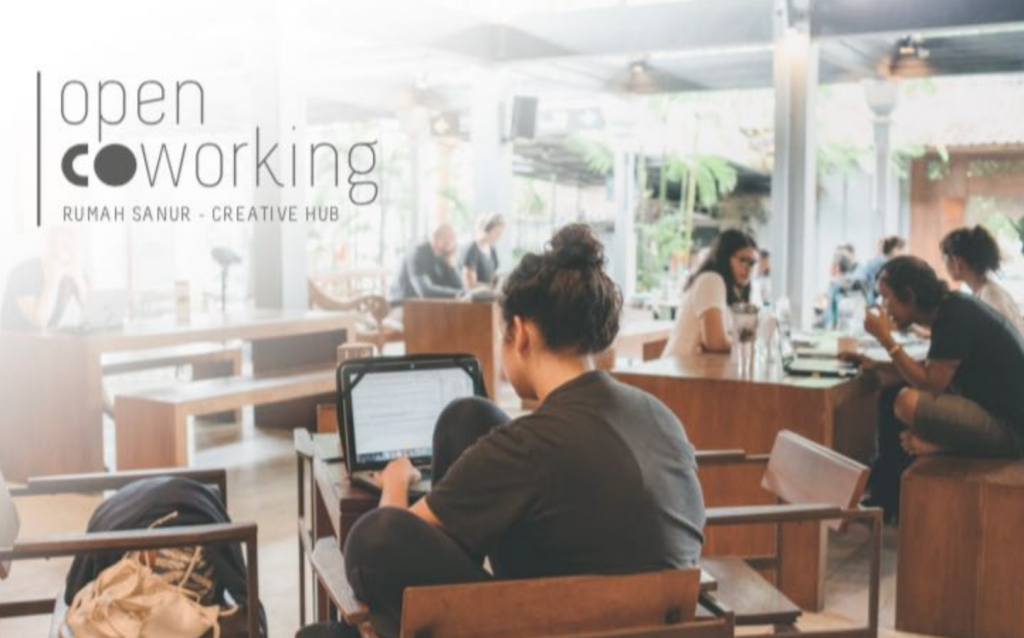 Rumah Sanurhttp://rumahsanur.co's motto is very clear: Connect, Collaborate, and Celebrate. The three C's have attracted people from various industries, including artists, thinkers, and innovators, who all make up the diverse community of this creative hub. Rumah Sanur is committed to hosting events that bring these people together to inspire potential collaborations and to achieve great things in a collaborative setting.
The hub is not only extremely passionate about connecting people, but also about protecting the environment. Their café, Kopi Kultur, is a by-product of this mission and has successfully combined entrepreneurship with responsible source management. As a result, Kopi Kultur not only brews Indonesia's best cup of coffee, but the space also creates a dialogue between producers and connoisseurs looking to better understand and protect the coffee industry.
UBUD
Made popular by Julia Robert's iconic film "Eat, Pray, Love," Ubud is the cultural heart of Bali. Surrounded by lush greenery, Ubud's emphasis on peace and mindfulness make it the ideal place to gather your thoughts and work toward being the best version of yourself.

Hubud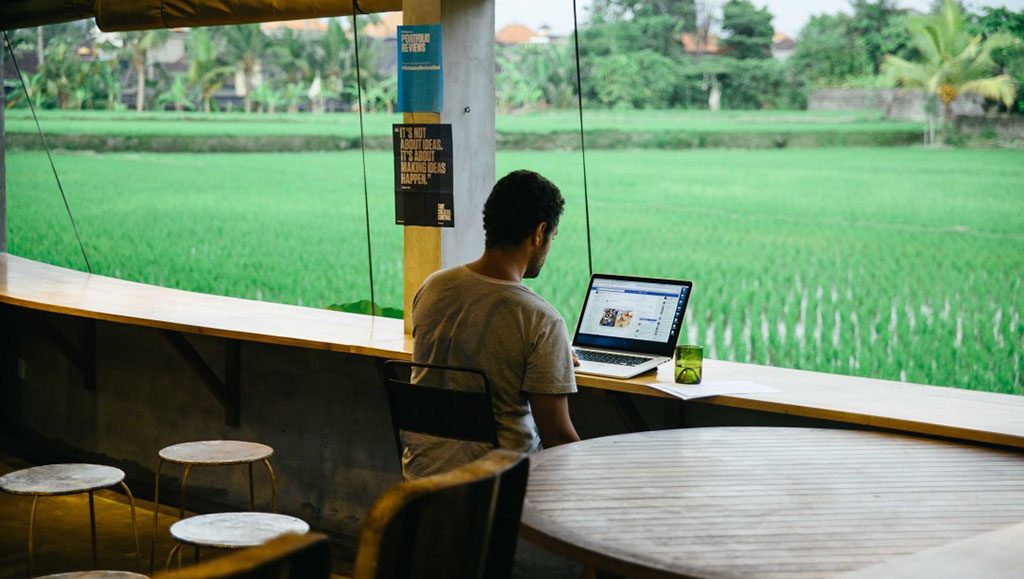 As the first coworking space in Bali, Hubud recently merged with Dojo Bali, the most popular space in Ubud, which can only mean more benefits for their shared members. In Hubud, you're surrounded by lush green rice fields on one side and the forest on the other. Along with the occasional monkeys, Hubud is the place where more than 10,000 visitors come each year for different reasons. Whether it's to meet new people, learn new skills, or even to find themselves, the staff at Hubud is dedicated to ensuring that each and every person gets what they need.  
Outpost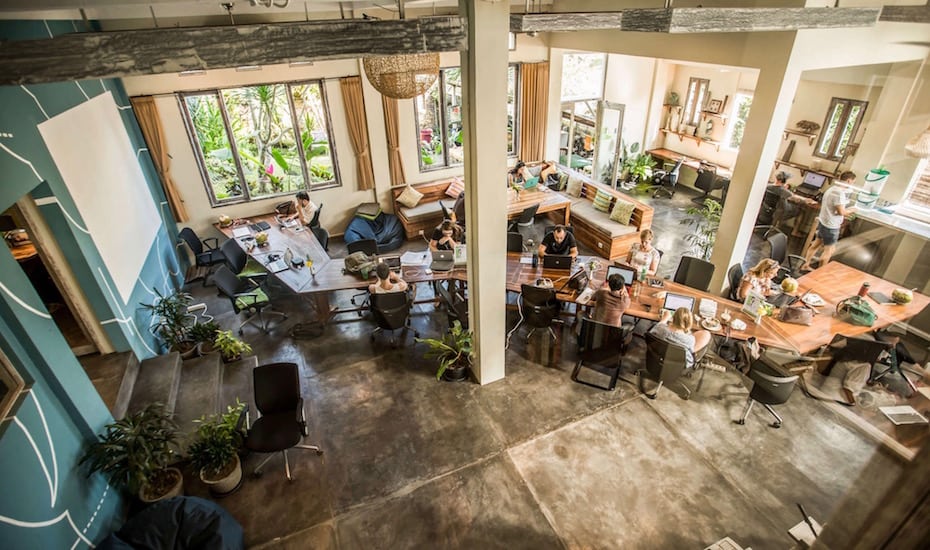 With a modern, jungle chic vibe, Outpost coworking space looks like something that could only be created by your imagination. Extremely modern and surrounded by nature on all four sides, Outpost not only offers a beautiful office with air-conditioned work spaces and 24-hour access, but it also gives its members the option to co-live with other individuals. Only a short ride away, these beautiful villas and studios with king-sized beds and ensuite bathrooms seek to provide the highest level of comfort.

Outpost's dedication to providing the best working and living experience is not only limited to Ubud. They also have a coworking space open in Canggu!
CANGGU
Calling Canggu just a neighborhood of Bali would be doing it a massive disservice. Canggu is more than that – it is a state of mind. With rice fields and black sand beaches co-existing peacefully, Canggu represents the ideal balance that should exist between work and play. Filled with tons of hip (and might I say healthy) cafes, Canggu provides ample space to relax and get your work done.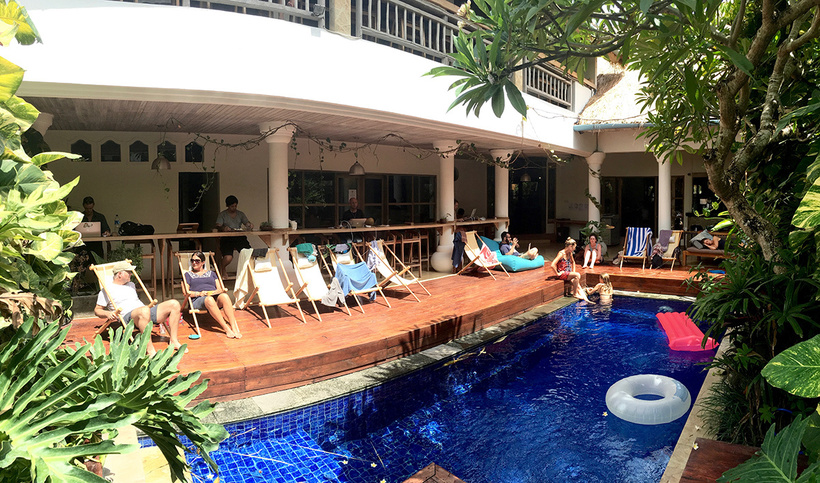 As Canggu's first coworking space, the Dojo is an institution in Canggu. With extremely sociable staff and members, Dojo prides itself on being a thriving community rather than merely a coworking space. With its local staff and international members, Dojo fosters the perfect learning environment to discover more about the world and the different perspectives and experiences of people. Furthermore, the learning never stops at Dojo, as the space is enthusiastic about hosting a variety of workshops and masterminds on different topics relating to entrepreneurship.

Tropical Nomad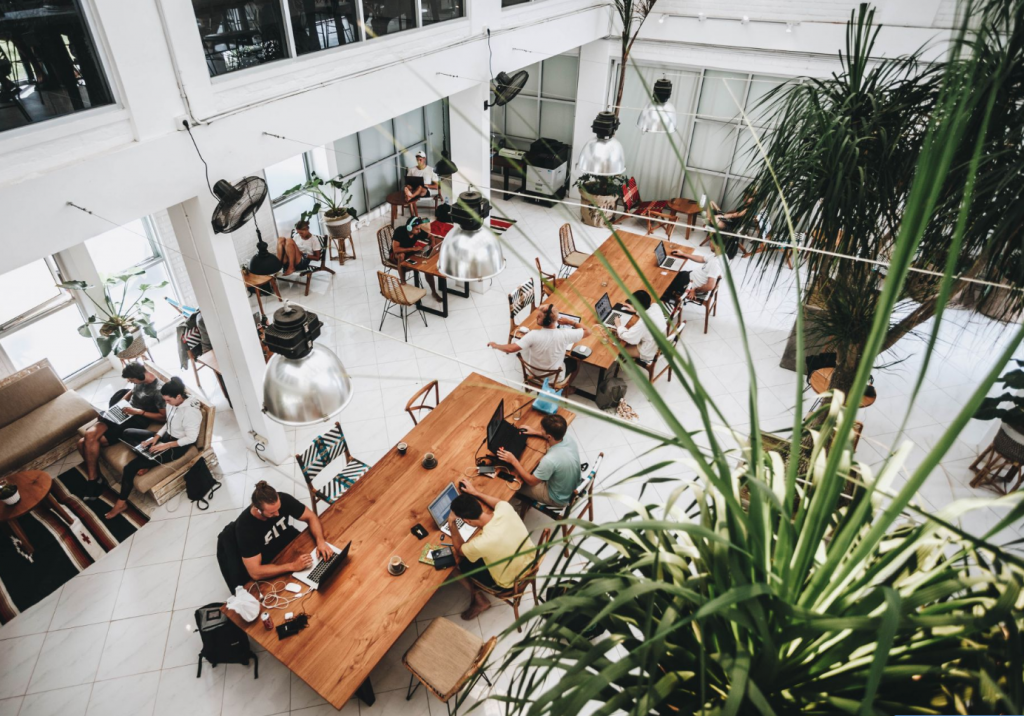 Canggu's newest coworking space is located right by the famous Canggu shortcut. With a beautiful view of lush green rice fields (paired with some of that inevitable Canggu traffic), it's hard not to feel inspired at Tropical Nomad. Since it's newly opened, it is not as crowded as some of the other coworking spaces, which makes it the perfect place to concentrate. Although it is quieter, there are still plenty of opportunities to be sociable, such as networking with other members over lunch at the space's beautiful Bali-style café.

Genesis Creative Centre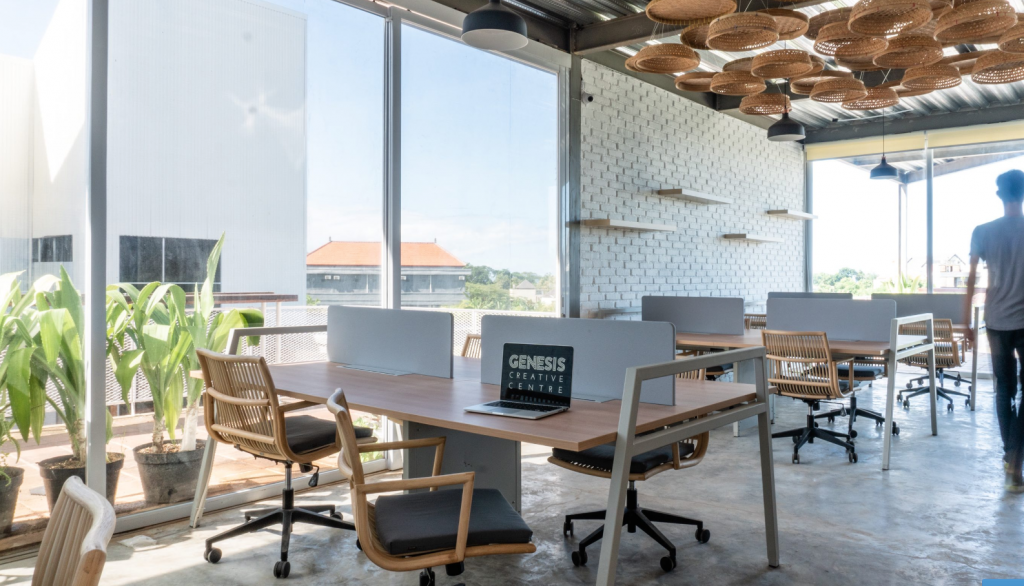 The Genesis Creative Centre is not your typical coworking space. Specially designed for creative souls, Genesis offers resource-filled studios aimed at photographers, artists, fashion designers, and musicians. The facilities at their studios range from beginner all the way to the professional level. Genesis aims to inspire its members with not only the view of the beach (which is an extremely short walk from the coworking space), but also through workshops and mentoring. Their goal is to have their members create, collaborate, and even exhibit their art at their creative centre.
KUTA & LEGIAN
Along with some of the most beautiful sunsets Bali has to offer, Kuta is also the best place to socialize in the city. Although crowded, Kuta has a unique charm that makes it irresistible to all that visit Bali. With millions of people flocking to Kuta each year, it is guaranteed that you'll meet like-minded people who will be sure to inspire you and perhaps the way you work. Not to mention – it's extremely affordable!
Bali Bustle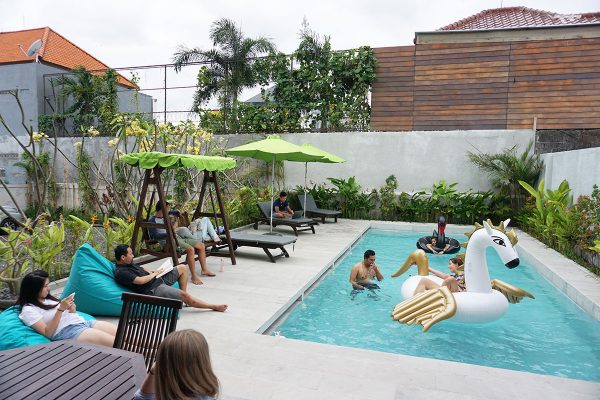 Bali Bustle doesn't only offer the option to work in their beautiful and sleek coworking space, but it also encourages members to co-live at their privately serviced, apartment-style home so members have more opportunities to mingle and network with the space's diverse community. Even if you don't stay at their beautiful apartments, members who purchase the affordable packages to this coworking space still have access to amenities, such as the gym and their pool!
The Hub (Legian)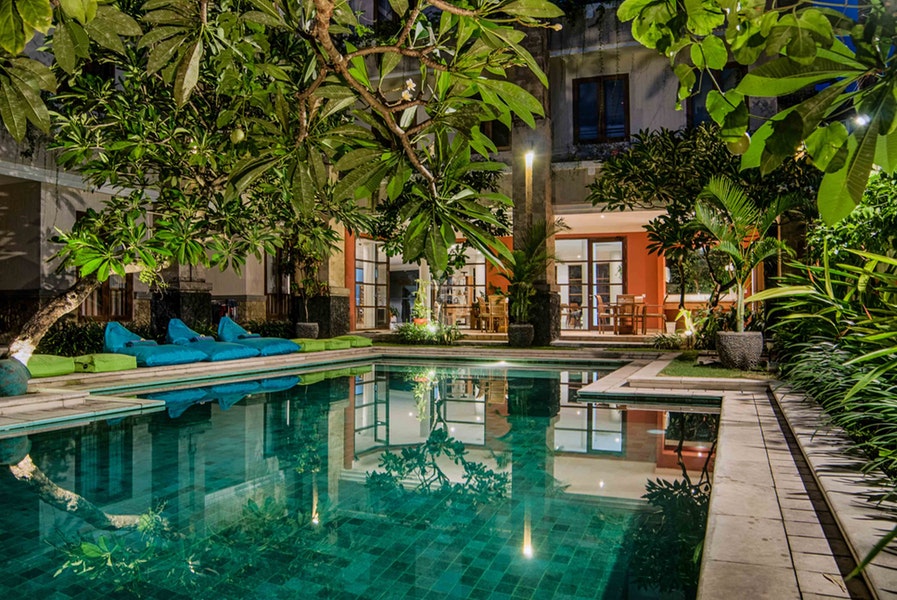 Located in Sara Residence, The Hub is one of the most affordable coworking spaces that Bali has to offer. Starting from only $3.5 USD per day, remote workers gain access to the communal space along with free access to the Skype room and all other areas of the coworking space. If you feel that you need more space, you can also snag your own dedicated desk for only $6.5 USD per day.
With plenty of open space and a pool to relax in, The Hub is the perfect place to work if you want a calm and relaxed ambience with minimal interruptions — still minutes away from the hustle and bustle of Kuta.

SEMINYAK
Just north of Kuta, Seminyak can be named Kuta's more laid-back brother. Home to tons of expats, Seminyak is filled with international businesses, allowing people from multiple cultures to mingle seamlessly. With scores of renowned cafes and restaurants based in Seminyak, everyone who visits this area is absolutely spoiled for choice.
Biliq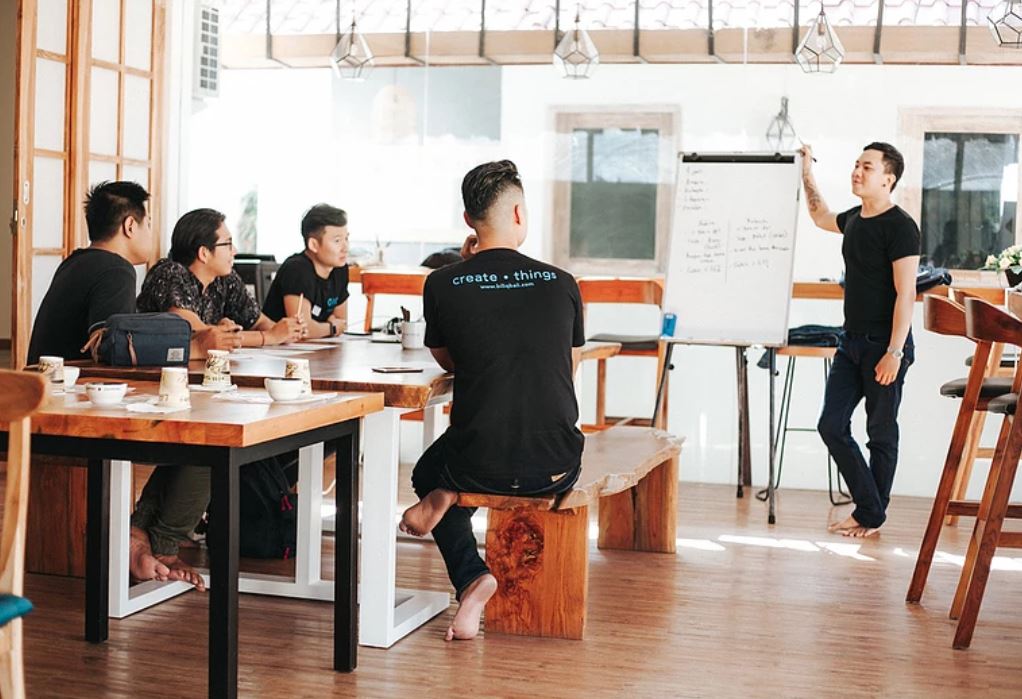 Make every minute count at Biliq! As Bali's best reviewed space on Google, Biliq is also the first and only coworking space that charges you by the minute! This business model lifts any obligation to stay a certain number of hours just to make your money count, charging you 500 Rupiah per minute to work.
Biliq gives remote workers the best of both worlds. Along with the cost-effective price, members also have the option to choose whether they want to work indoors or outdoors, sitting down or standing up (those standing desks are a lifesaver for some), or to even work by the pool! No matter what you want out of a coworking space, Biliq will be there to ensure that your needs are met.
What's your favorite coworking space — and area — in Bali? Share this feature and tell us which space you've had the best experience visiting and working in!