More small businesses and entrepreneurs are choosing to work from coworking spaces than in the past. This is mainly because these spaces can offer many benefits to employees, including a more relaxed work environment with the freedom to collaborate and be inspired by individuals outside of your own business. There are a lot of factors to consider when choosing a coworking space that affect not just your business's ability to work and grow, but also the job satisfaction and overall happiness of your team.
If you are moving your company from a private office to a coworking space, answering these key questions will help you find a new workplace that is right for your business.
1.    How much space do you need?
To start with an obvious point, you need to find a coworking space with enough room for all of your employees to work. Most employees expect to have between 150 and 250 square feet of space each in their work area. If it gets much cozier than this, productivity can be affected and it can impact employee job satisfaction due to the lack of privacy and personal space.
Take your business's growth into account when deciding how much space you need. If you're planning on building a larger team over the next few years, make sure you will have enough room for the extra employees.
Additionally, you will need enough area not just for each employee to work separately, but also space for work together in groups and collaborate without disturbing other team members. Many coworking spaces offer meeting rooms and other areas designed for group work. It can be useful to have a variety of group working spaces available, from informal seating areas for group discussions to rooms equipped for presentations. Make sure your new workspace can support the technology you need.
2.    What are the perks?
A great coworking space is more than just a place to work, with some offering additional perks such as:
Gym facilities
Showers
On-site cafeteria or food court
Well-equipped break rooms
Outdoor areas for work or relaxation
These extras can increase employee satisfaction and make your workspace a more enjoyable place to be, and facilities like a shared cafeteria or gym provide opportunities for team members to bond on breaks and outside of work. In fact the potential benefits of exercising at work are so great that some companies, such as TotalWellness, actually pay their employees to work out every day.
Choosing a coworking space with attractive extras can also be a major point in your company's favor when it comes to recruitment. 76% of hiring managers say that attracting top talent is their biggest recruitment challenge. With more and more people seeking a healthy work-life balance, the ability to easily get a healthy meal on work breaks or hit the gym straight after a shift can be very appealing. Even something as simple as a workspace with showers can be a big draw for some workers — for example, people who want to cycle to work.
Finding a coworking space with extra amenities is especially important in locations where your workers can't easily go anywhere else on their breaks.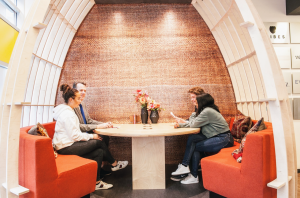 3.    How long is the commute?
The location of your new coworking space is just as important as the available facilities. Your decision here will have a big impact on the commute each of your team members faces every day. Take into account not just the distance between each of your employees and potential co-working spaces, but also traffic conditions on common routes to work and the availability of public transport.
A long commute can have a major impact on both productivity and job satisfaction, so it is vital to discuss the location of coworking spaces with your team. Long commutes can cause stress for your workers and can result in them being late due to issues outside of their control. According to a 2017 study, workers with a commute of more than 30 minutes lose a week of productive work time each year.
4.    How long is the lease or membership period?
Coworking spaces are already up to 75% more cost-effective than traditional offices, and committing to a longer term usually works out at a cheaper overall cost. This can lead to some issues however, particularly for a growing business.
On one hand, only signing up for enough space to accommodate your current workforce could limit your ability to take on more staff. On the other hand, committing to a long term in a coworking space that leaves you room to grow means you will initially be paying for space you don't need. If your business doesn't grow as fast as you predicted, this could leave you stuck making payments for space you are not using.
You should always consider what options you will have for upgrading your membership to increase the space available to your team, especially when looking at contracts that last for several years.
5.    How will you communicate?
Your new coworking space should enable easy communication with both employees and clients. This means that in addition to private spaces where you can have confidential conversations, network access and mobile phone signals throughout the building should be a priority. This includes having quiet spaces where you can take video calls, and meeting rooms with video conferencing capability are ideal.
Your own communication tools should also be taken into consideration when moving to a coworking space. These will include:
Email
Phone
SMS
Video calling software
Instant messaging apps
Team productivity apps
Using communication tools like a team chat or SMS app lets you manage and schedule messages and tasks for employees in the coworking space and remotely. Different methods of communication have different applications, so it is important to have a variety of tools.
Conclusion
There is a lot to gain from moving your business to a coworking space, but you need to pick the right space to capitalize on those benefits. Think about your business's current and future needs, as well as how your new workplace will affect the daily lives of your team. By answering these questions, you can find a new workplace that enables your business to be more productive and improves the job satisfaction of your employees.