Doesn't it inspire you more when you're working at coworking spaces with beautiful, fun, wall murals? Be it hand painted, hand drawn or even digitally printed, colorful or highly detailed black and white ones. Working in an art inspired working space will bring loads of inspiration and ideas, no matter what sort of business you are doing. This may be why lots of ad agencies all around the world have pretty, fun and creative office spaces. Here are my top 10 most inspiring spaces with wall murals to get your creativity/inspiration juices flowing!
The beautiful wall mural of black and white line drawings of coconut and banana leaves against the orange striped lines at the kitchen and coffee counter is just so refreshing. Coupled with bright natural light coming from the high windows lighting up the whole area, the drawings create such a relaxing and chilled vibe. I also love that it relates back to India: coconut and banana leaves. Having relevance with the location gives the artwork more depth and also tells a simple story of the piece on its own with these two simple elements. In addition, the colorful interior design gives it both a modern and vintage touch, making it an even more awesome space to work at, specially for artists like myself. I would feel so inspired just by being there.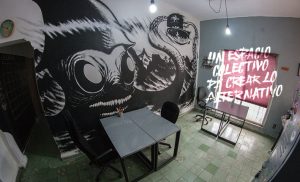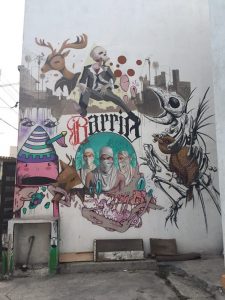 This brilliant Mexican coworking space that started as a co-living and coworking space with empty white walls are now filled with brilliant graffitis by local talents. Almost every wall within the vicinity is filled with expressive arts, from colorful crazy characters to black and white doodles. On its own, Coworking Monterrey is not only a booming progressive art space for the artists but also an inspiration for its members. Highly recommended whether you are an artist, designer or writer, or even a hack geek!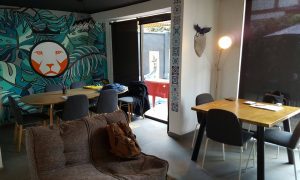 Take a step into the main hall of this magnificent Chilean coworking space and you'll be greeted by a gorgeous mural with lush turquoise jungle leaves and a lion head in a complementary orange. Some walls are also garnished with beautifully hand painted blue tiles in Aztec style. Beside the murals, the lighting is cooling and inviting, giving the space a very home-like feel. In other words it's like walking into an artist or a designer's studio. But why just walk into it when you could cowork in it?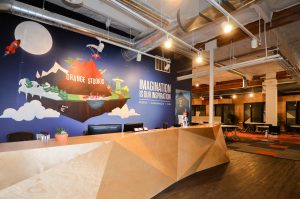 Mythical creatures and beaming UFOs on a floating island are just a few examples of what makes Orange Studios' murals most quirky and creative. Orange Studios in Redmond Washington, once an envelope factory, now has been completely renovated into a fun, vibrant coworking space. The pink tentacles grabbing all the rum bottles at the bar area is simply hilarious. Did I tell you that the caption reads "Where did all the rum go?" There are many murals at Orange Studios, each and every one is originally quirky. However, the true star of the show really belongs to the floating island with an Arctic landscape, an igloo, a farm, a UFO, and a cow. Bizarre right? And totally awesome.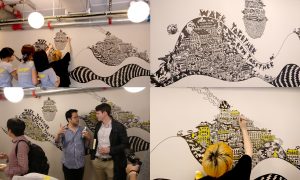 Black and white little collectives of houses with windows that resemble the eye from afar. Hilly rolling hills of zig zag pattern awesomeness. Yellow rooftops and yellow walls. Little tiny characters of the Garage Society team in Hong Kong. Miniature flying bubble cars. Imagine how awesome if these were animated landscape scenes. A modern Miyazaki I would say they are.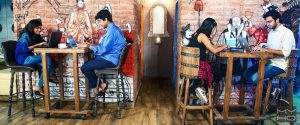 The majority of wall space at Barcelos myHQ Workzone is covered with orange, red, black and white drawings of a festive food gathering in a palace. These murals are rustic with just a tint of raw hand drawn feel to it. The perfect of imperfection.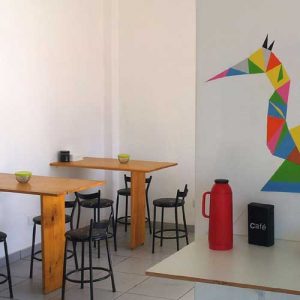 Colorful vibrant geometric triangles in different shapes and sizes forming a somewhat abstract flamingo are a perfect counterbalance for their blue triangle background. This arrangement, leaving the rest of the white wall empty, is a brilliant play of negative and positive space. We love what Uberlandia has accomplished! Simply minimalism at its best.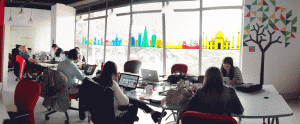 Vibrant, bright colored landmark buildings on the glass windows at HubBOG are a breath of fresh air! I think they may be vinyl prints but they do look pretty awesome! Looks as though they are real from the natural light from the outside. The tree with triangle leaves does seem like a really nice way to hold the whole landscape together.
If you're a coworking space in Asia that wants a wall mural or any original commission artworks, get in touch with me! I am May, a designer and an illustrator/artist. I'm based in Malaysia but can fly anywhere to put my creativity on your walls. Just drop me an email at [email protected] or feel free to check out my artworks on my Instagram @thisisiammay.