One of the most remarkable trends we have seen over the past decade has been the rise of coworking spaces. For context, there were around 75 coworking spaces back in 2007. Less than 10 years after that, around 2015, there were more than 7,800 spaces. 
What's more, experts predicted that there would be more than 20,000 coworking spaces by the end of 2020 and that the number would reach 40,000 by 2024.
Obviously, the coronavirus pandemic has hit coworking spaces hard, as it has other sectors of the economy. For instance, the global coworking space market has shrunk from $9.27 billion in 2019 to $8.24 billion in 2020. This represents a contraction of 12.9 percent.
It wouldn't be a stretch to say that coworking space operators have faced several challenges this year. Some spaces have been forced to close permanently, while others have had to shut some of their branches. 
Those fortunate enough to have had enough cash reserves on hand to weather the storm still had to overcome a few hurdles in order to remain operational during these trying times.
Before we can delve deeper into the challenges faced by coworking spaces, let's first take a look at their business model.
The business model of coworking spaces
This rise of the coworking model has been fueled by several factors. For starters, coworking spaces offer several benefits to their tenants, including increased networking, cheaper spaces, and increased productivity. 
Another factor is the growth of the gig economy, which encompasses freelancers and individuals running their own business. 
Let's not forget how coworking spaces can also be an attractive option for employees working remotely.
That said, one more factor that has allowed coworking spaces to become so widespread is the business model itself.
In a nutshell, the most popular business model (the one established by WeWork) sees coworking spaces taking out long-term leases on buildings and office spaces. Consequently, regardless of how a space is doing, it has to pay its landlord rent every month. 
This is not to mention other additional expenses that act as a constant drain on a coworking space's resources, including electric and internet bills, cleaning service, and office supplies.
The flipside of this coin is that these spaces have several different ways to make a profit. Yet, all these methods boil down to subleasing the space for the short term to tenants willing to pay more than the original rent, especially when calculated as the cost of rent per square footage.
However, since the tenants only have to pay for the space they use, be it a desk or a small office, they end up saving money in the larger scheme of things. As for the coworking space, it makes a profit by getting as many tenants as it can for its space.
To make the space attractive for the tenants, operators invest in the decorations, the office supplies, and the overall infrastructure. They decide how close or far the tables are and how the overall space will be partitioned. Coworking spaces also organize events to help their members network with each other.
The challenges faced by coworking spaces during this pandemic
Once you understand the basic business model behind coworking spaces, it should be easier to see the challenges posed by the pandemic.
1. Maintaining social distance
Seeing as coworking spaces want to maximize the number of tenants using their facilities, it was normal for these spaces to have several individuals share adjacent desks or to work in the same room. 
If anything, this proximity was seen as an advantage as it helped build a sense of community, which has always been one of the main benefits of coworking spaces.
However, when the pandemic hit, these spaces had to take precautionary measures to protect their tenants and their employees. Obviously, this meant that people had to wear masks, and social distancing was enforced. 
It also meant that the number of tenants had to be reduced. Other implications include the cancellation of events. As a result of all of this, a large draw of coworking spaces — the social aspect — took a hit.
However, even though coworking spaces had to distance tenants, most of them didn't have to reduce the number of tenants because the tenants themselves stopped showing up in an effort to minimize social interactions.
2. Retaining tenants
Before the pandemic, around 15 percent of European employees had ever worked from home, but, thanks to COVID-19, more than 40 percent of Europeans were working full-time from home. The same pattern can be seen in the US, with the number of remote workdays more than doubling during the pandemic.
As a result, several coworking spaces have seen a decline in their occupancy rate, and one of the main challenges facing them has been to keep tenants around. 
While some tenants might have agreed to stay so long as their rent was temporarily reduced or even waivered, others chose to terminate their rental agreements altogether.
3. Paying rent
While a freelancer working at a coworking space can decide to work from home and not pay next month's rent, the coworking space itself doesn't have that luxury. The landlord expects the space to honor its contract regardless of the raging pandemic. 
When you take into consideration the aforementioned drop in tenants, it becomes clear how the pandemic stressed coworking spaces financially. 
To make matters worse, we cannot forget about other expenses that also had to be paid during this period, including utility bills, payroll, and so on.
4. Looking after the space
Aside from taking precautionary measures, coworking spaces have had to look after the existing equipment and to rearrange their infrastructure.
On the one hand, this means sanitizing the desks constantly and increasing the investments in cleaning; some spaces provide their tenants with hand-sanitizers on their desks. 
Moreover, some spaces provide their members with basic office equipment, such as monitors and computers, all of which have to be sanitized and maintained every day. 
And, since most spaces provide their tenants with a common area where they can get a cup of coffee, said common area along with any equipment in it needs to be kept clean and sanitary at all times.
On the other hand, the space has had to be rearranged to facilitate social distancing. For example, some spaces have opted for individual booths to replace open plan desking. 
Also, some spaces have invested in new equipment, such as screening machines and protective gear; this equipment was necessary to protect the employees of these spaces as much as the tenants. 
Obviously, with the new equipment comes the extra cost of maintenance and management of all assets involved in a coworking facility. Staying on top of these new assets and ensuring their profitability was an additional challenge to face in response to equipping safe and functional spaces for the remaining tenants and employees.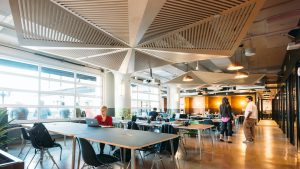 What is in store for the coworking spaces moving forward?
As there's finally some light at the end of the tunnel, people have started flocking back to coworking spaces; after all, many individuals have grown tired of working from home. 
Moreover, several large corporations have started seeing coworking spaces as a satellite solution that enables their teams to work together while still maintaining social distancing. 
Furthermore, companies working from home can benefit from virtual office arrangements with coworking spaces.
In the not-too-distant future, it is expected that coworking spaces will take up more of our professional lives. In fact, this pandemic has led many of us to enjoy the benefits of working flexibly, and some of us may have a hard time going back. 
Also, some companies may wish to avoid tying up their capital in long-term lease agreements, and coworking spaces a fine option to minimize such a long-term expense.