From San Francisco to Jakarta and more, many entrepreneurs are beginning to see shopping malls not as a place for leisure, but as a place for work. While shopping malls aren't a traditional place to get things done, they are quickly becoming a legitimate option.
All around the world coworking spaces are beginning to pop up in malls. This may be a relatively new phenomenon, but it seems to be one that is here to stay.
There are a lot of benefits to working at a coworking space hosted in mall. For one thing, taking a break from work to eat or go grocery shopping doesn't even require leaving the building! Your daily errands can be quickly completed rain or shine if you're working from the mall.
Being a member of a coworking space at the mall also makes it easy for clients to meet with you. Giving clients complicated directions to your office or finding an alternate location they're more familiar with is a thing of the past.
Finally, working daily from the mall can be an excellent boost to your social life. Whether you start to get the "regular customer" treatment at restaurants you frequent, or simply have a convenient place to meet friends after work, you'll likely find yourself becoming more social after joining a mall-based coworking space.
Of course, coworking at the mall is still in its infancy. Not every mall has a coworking space, and not every coworking space is located at the mall. That's why we've put together a list for you of some of the best coworking spaces we've seen across the world's shopping malls. Here are our four favorite places to earn rather than spend money at the mall.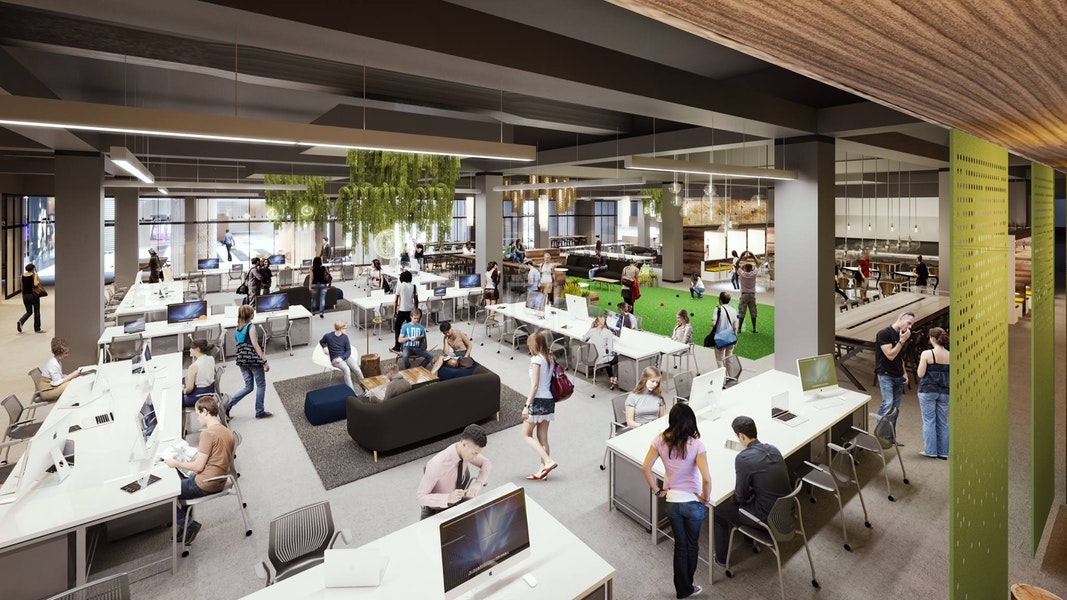 Everyone knows office space is expensive in San Francisco. Fortunately, because coworking is continually becoming more popular, you still have affordable workspace options in San Francisco. One of your best options is located in the upscale Westfield Centre.
Located on the top floor of the shopping mall is Bespoke Coworking. Bespoke Coworking is a triple threat space. Local professionals use it as a coworking space, event space and product demoing center.
It's most known, however, for being a place for retail and tech industry startups and professionals to gather. Excellent networking opportunities are in abundance. Both modern and spacious, you'll also find the work area incredibly conducive to deep creative work.
The most unique aspect of this space is its unique amenities. From its library, to the bouldering wall, to the bocce ball court, you'll have diverse options to clear your head after an exhausting morning work session. Plus, if you need a complete reboot, Bespoke even has a dedicated rest area with pillows, blankets and napping nooks.
For a fun, yet functional space in the hippest area of San Francisco, Bespoke can't be beat.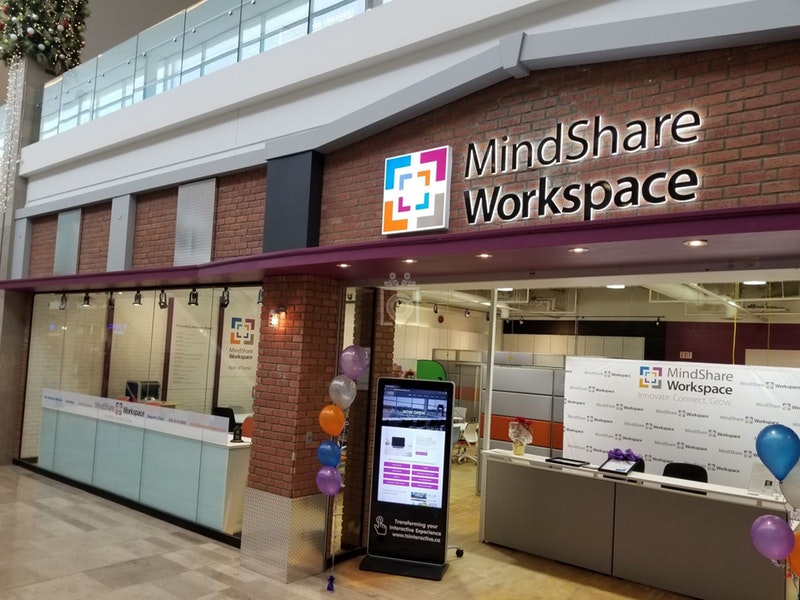 Next, let's head over to Mississauga, Canada (a suburb of Toronto). Don't let the fact that Toronto is located in the southern half of Canada fool you. The winters are still brutal.
Fortunately, if you're living in the Mississauga suburb of the city, you'll no longer have to brave an icy commute and brutal traffic to downtown Toronto for work. Just head to the Erin Mill Town Centre. Once there, you'll find the most innovative workspace in Mississauga.
Mindshare Workspace is a coworking space seeking to redefine the future of work and learning. Mindshare was created by CEO Robert Martellacci who was inspired to design a place that would help locals innovate, connect and grow. It's difficult to argue with the fact that those wonderful pillars are the perfect inspiration for creating a aesthetically-pleasing workspace.
Fortunately, the execution in developing Mindshare has been excellent. The 4,000 sq.ft. coworking space is equipped with modern work desks and state-of-the-art technology, such as its podcasting/video studio.
The space also provides members with drinks (gourmet coffee, tea, filtered water), along with professional development workshops and other educational events. Some of these include: leadership training, robotics and coding workshops for both children and adults.
Beat the freeze and miserable commutes. There's no need to waste time and money heading to downtown Toronto each day when you have an excellent coworking space in your backyard. Plus, after work, you'll have all of the amenities of the downstairs shopping mall waiting for you.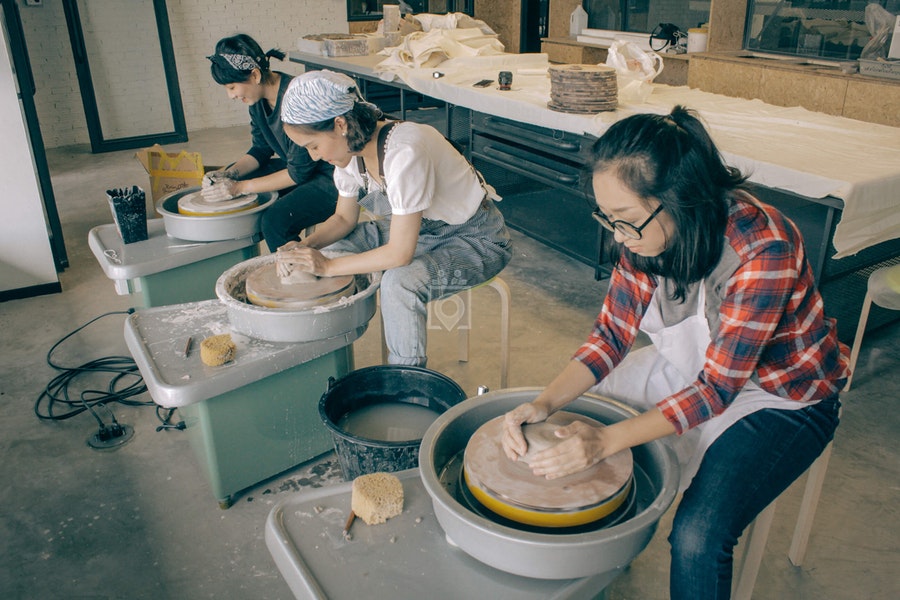 HUBBA-TO
— Habito Mall — Bangkok
In 2017 Bangkok was the most visited city in the world for the second straight year. You've probably already heard countless times about Bangkok's unforgettable street food and nightlife. While not as famous, the city's coworking scene is just as good.
Located on the third floor of the Habito Mall, HUBBA-TO is one of our favorite coworking spaces in the world. While Bangkok's chaos and energy is part of its draw, anyone who has lived in a mega metropolis knows that the constant go-go-go can get tiring after a while.
Fortunately, HUBBA-TO is located in a quiet neighborhood that'll calm your senses. A beautiful view of the canal and a number of peaceful dining spots are located nearby to decompress after a long day of work.
HUBBA-TO also offers a number of productivity boosting amenities for professionals that include: a speedy internet connection, standing desks and delicious hand-brewed coffee. The most unique amenity this space has to offer, however, is its ceramic studio.
Joining a ceramic workshop for a few hours and getting your hands dirty is an excellent way to destress and get your creative energy flowing again.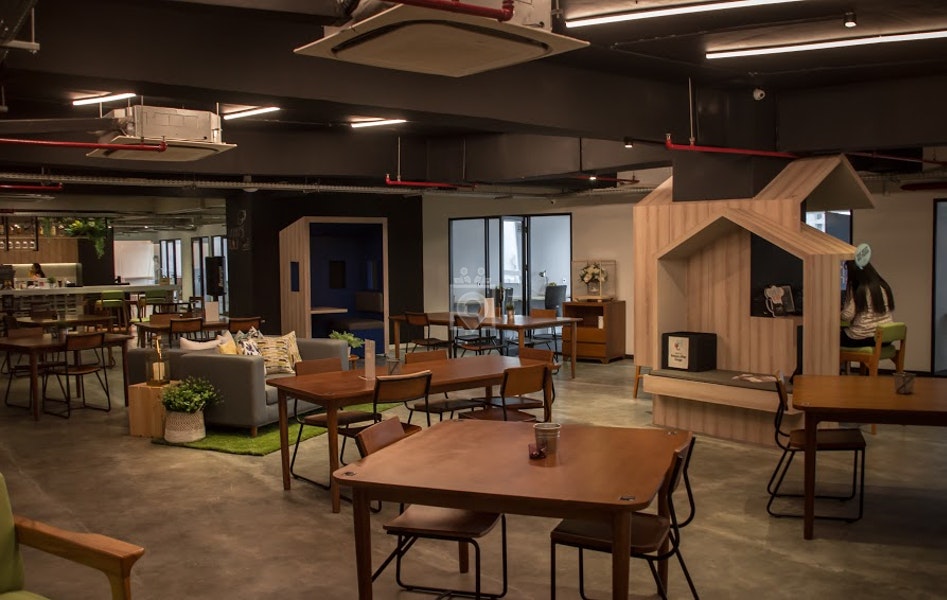 Jakarta is an amazing city to work in. Like Bangkok, Jakarta has hustle in the air. That hustle is particularly concentrated on the sixth floor of the PIK Avenue Mall. There you'll find the Cre8  Community & Workspace. Take it from us: this coworking space is awesome.
For one, its location is incredibly convenient. Cre8 is located in North Jakarta's central business district (which offers easy access to Soekarno-Hatta International Airport). Coworking members can also enjoy easy access to all of the mall's downstairs shops.
Cre8 is most well known for its community and amenities. Being a member of Cre8 will give you opportunities to mingle with many of Jakarta's top business owners and professionals. Whether it is masterminding or networking, this exposure is valuable.
The Cre8 Workspace also gives you a Google-like experience without having to work at Google. Featuring arcade games, napping pods, hoverboards and more, Cre8 is probably the sweetest workplace out there if you aren't about that Silicon Valley life.
With so many great coworking spaces in malls to choose from, your options are virtually endless. If we've not mentioned your favorite one, list it in the comments below!