Coworking spaces are thriving in the post-pandemic business world. Business owners, new entrepreneurs, remote teams, freelancers and everyone in between are now utilizing coworking spaces to obtain everything they need to run an efficient and effective operation. 
Not only are flex spaces great for companies that want to truly embrace the remote and hybrid work models, but they are excellent for individuals and entire teams of professionals that want to avoid renting and equipping a space of their own. 
Some of the coolest coworking spaces in Denver and other thriving coworking hubs around the world serve as true inspirations when it comes to design, tech, and their overall vibe and community, but what else can you do to make your guests feel like home?
Let's explore 6 creative and functional coworking space design tips and ideas that you can implement quickly to get ahead and get your flex space buzzing in the local community and beyond.
Make people feel welcome and appreciated
The beauty of a coworking space is often hidden in the minute details, and it's often described as a positive vibe and experience that people get the moment they walk in, but also as they keep coming back day after day. It's this kind of positive experience you want to evoke throughout the space to keep teams and individuals coming back to your coworking space. 
Just like businesses would design a welcome kit for new employees, a coworking space can design small welcome kits for new members as well as incentives for returning members and referrals. The possibilities here are endless and expressing your appreciation for every member might just be that little detail that puts you above your competitors.
So, what can you do to make people feel welcome and appreciated? Consider this:
Put welcome notes with a branded promotional item on every desk

Send out welcome emails for new teams and members

Enter new members in a referral program, allowing them to unlock perks

Set up milestones for returning and long-term members – when they reach a milestone, they get a small thank-you present

Engage with your members and ask them questions about the space, their needs, and any challenges they're facing – this will show them how much you care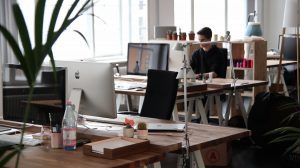 Equip and optimize every workstation
People don't expect a flex space to provide workstations that are decked-out in the latest tech, of course, because everyone brings their own equipment to work. That said, there's a lot you can do to make your workstations more user-friendly and optimized for the modern workforce. 
This is all about helping teams and individuals organize their desk for maximum productivity, and to do that, they need some quality of life improvements. For example, simply making sure that every desk is in close proximity to a few power outlets is a great perk. But why not take it a step further by making power outlets an integral part of the desk?
Or how about choosing work desks with a wireless charge spot instead of a conventional desk so that people can charge their devices easily when they inevitably forget to bring their charger? 
Another great idea is to simply think of desk storage. Sure, desks without drawers or side pockets might look good, but that forces the user to clutter the desktop and put their bags on the ground next to it. That's not a good look. Instead, choose desks with drawers and hooks or pockets on the side to allow people to enjoy a clean workstation.
Adapt and scale the lighting across the space
Here's something that flex space owners tend to overlook but users really care about – the lighting scheme. Optimizing the lighting scheme for a coworking space is more complicated than you may think, because it's not just about letting plenty of natural light in or making sure that every workstation is properly illuminated at night.
No, there are many things to consider, all of which will affect mood, productivity, and the overall vibe. For example, have you considered how to improve the lighting for video calls for your members wherever they are in the space? Should they have to battle the screen glare or be forced to endure unflattering overhead lighting from a halogen light strip? We sure hope no, because those are the little overlooked details that turn people away over time.
With that in mind, optimizing the lighting means:
Assessing the whole space, every workstation, and all nooks and crannies

Analyzing the natural light distribution

Investing in quality overhead lighting with warmer LED tones

Focusing on spot lighting for individual workspaces

Introducing supplementary desk lamps in a warmer hue

Adding light dimmers and choosing dynamic lights fixtures 
Focusing on the lighting like this is one of the best ways to create a warm, welcoming, and comfortable work environment, while making everyone look good in the process.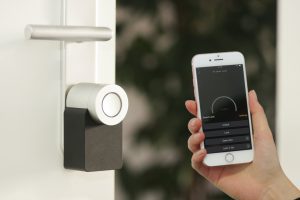 Focus on network and communication security
If there's one area where coworking spaces must never drop the ball if they want to preserve safe and comfortable coworking, it's online and offline security. Investing in top-of-the line security for your internal network, app, and any tools you provide for our members is essential for building trust and protecting your brand. 
If you're a member yourself, then you understand the importance of feeling secure when you connect to a coworking network to communicate with others and transfer files between devices, browse the internet, and more. To that end, flex space owners need to ensure their members that their network is secure.
To do this, you can introduce standard software firewalls, but also protect your network with a secure web gateway and a hardware firewall that will analyze all inbound and outbound traffic. As for offline, physical security, there's no question  about it – you have to ensure the safety of your members and their belongings with cameras, walk-in authentication, and have security staff on site.
Keep the space organized with smart storage
We mentioned briefly the importance of having some sort of storage at every workstation and desk, but what about storage in general – how do you keep the space free of clutter? For one, you don't want people simply leaving their belongings anywhere and everywhere.
Keep in mind that not every freelancer will come to work here with nothing but a backpack and a pumpkin spice latte. People can carry a lot of stuff with them, and when you have entire teams at your place, they can bring in a lot of equipment, clothes, tools, hardware, and other necessities.
Because they need a place to put all of that without dropping it in the corner, it's important that they have lock-operated storage cabinets that they can use to safely store their belongings. Safety is the operative word here, because they need to feel safe when putting valuable items out of sight. 
You can dedicate a separate room for these storage spaces or you can put lockers up in every room, the choice is yours and how they fit into the design of the space.
Embrace the biophilic design scheme
One of the ways coworking spaces stand out from each other is through their overarching theme or design scheme. There needs to be something unique about the overall design of the space to appeal to its target demographic and inspire people to keep coming back – not just because the space is functional but because it's comfortable and feels like home.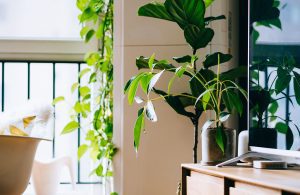 This is a big deal among the modern workforce, because it's allowing them to nurture a much-needed work-life balance. With that in mind, why not try the biophilic approach?
Introducing greenery into the space is a wonderful way to make it feel more comfortable and welcoming, but it serves many a functional purpose as well. It's a great way to support and encourage sustainability in your flex office, and by introducing air-cleansing plants, you'll keep the vibe and the air quality inside high at all times.
Plus, greenery is one of those functional design elements that will benefit your members and their work. It will create a sense of calm and positivity throughout the space, and people can rest their eyes on the serene green hues at any moment, helping them relax, banish mental fog, and improve their productivity.
Yes, maintaining the biophilic design with real live greenery is an investment, but it's one that will pay off wonderfully in the long run.
Over to you
With the rapid popularization of coworking spaces across the US and around the world, it's important for business leaders in this sector to consider the ways they can elevate their flex space above the competition. There's nothing truly fancy you need to do to achieve this, nor do you have to pour money into a comprehensive remodel.
Instead, all you need to do is to understand what your users really need and what quality of life improvements will truly make their stay more productive and enjoyable. With these design tips and ideas in mind, go ahead and make your space welcoming and appealing to a wide variety of teams and individuals and their unique needs.