The COVID-19 pandemic radically changed how we work and live. In addition to the ability to work from the comfort of our homes, we also have the freedom to do so from just about any destination around the world.
While you have the option of renting an apartment or home and working out of your residence, you also have the choice to work from a coworking space, where you can complete your assignments and tasks alongside other professionals.
If you are thinking of heading to Bali, Indonesia, then this guide will showcase five awesome coworking spaces in the area, along with some information about the benefits of coworking spaces and how to be as productive as possible during your travels.
Coworking in Bali
While coworking spaces are certainly not a new idea, their popularity has grown by leaps and bounds since the arrival of the COVID-19 pandemic. To stay safe and socially distant, many companies had to choose between closing their doors or transitioning to a remote workforce.
While many employees were excited about this change, some realized that they either did not have a suitable office space in their residence or there were too many distractions that kept them from their work. The solution for many is the coworking space, which is a location where people can rent a desk and work their eight hours as if they were back at the regular office.
There are pros and cons to obtaining a spot in a coworking space. While you are working in a more professional environment, the cost of a private office is often more expensive, so you will often be sitting only a few feet from another patron at a hot desk.
Also, since most coworking spaces are not open 24-hours a day, your working hours may not be as flexible as you may be used to, especially if you are a freelancer. However, the pros typically outnumber the downsides with the ability to work with fewer distractions and have access to the same equipment that you had at the office. Plus, working in a new space may even bolster your creativity.
So, with coworking spaces popping up all over the world, why choose Bali?
To start, the country of Indonesia is a beautiful place with gorgeous landscapes and an amazing culture. On top of that, Bali has been seeing a resurgence as of late due to its atmosphere and the fact that the country provides everything you need to connect to the internet and be productive in your work.
Many companies that have a remote workforce are now allowing employees to work from just about anywhere, so there is no reason not to relocate to an Indonesian paradise like Bali.
Coworking best practices
Many people like the idea of moving to Bali to work remotely, but some professionals, especially managers, worry that they won't be able to lead their teams from miles away. However, you just need the right approach.
Whether you are a manager or a regular employee, working remotely can have a downside in the form of burnout. When we work outside of the standard office, it is easy to get carried away and work longer hours, but you must create a work/life balance, so you can take time away to enjoy the beauty of Bali and spend time with your family.
If you have trouble separating yourself from your work, then consider a digital detox. This is when you plan at least a day where you eliminate all electronics and stay away from your work email and instead take time for yourself to meditate, read a book or take a nature hike. A detox is a great way to return to work relaxed and refreshed.
Top coworking spaces in Bali
Once you have officially decided on Bali as your destination, it is time to choose a coworking space to call home. There are many great options throughout Bali.
Let's look at some of the best: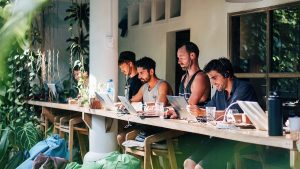 1.    Dojo Bali
Located in Canggu, Dojo Bali is a wonderful coworking space that is suitable for a variety of professions, from bloggers to artists. The location is great for workers from around the world because it is a high-tech facility that features business-grade fiber optic lines for easy computer hookups.
Another benefit of working from Dojo Bali is that you have the option to rent air-conditioned rooms and even sound-proof, private Skype booths for optimal independent working. When you need a break, you can stop by gorgeous Echo Beach, which is just a stone's throw away.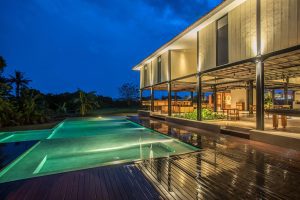 2.    Tribal Bali
Another great coworking space located in Canggu is Tribal Bali, which is a community workspace with an open floor plan that offers plenty of seating for professionals from all walks of life.
The great thing about this establishment is that there aren't any membership fees, so people can come and go as they please. Tribal Bali has everything you need to work, including whiteboards, standing desks, and an all-day lunch menu that features refreshing coffee and great Indonesian snacks.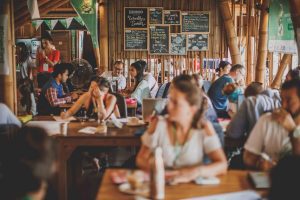 3.    Hubud
If you find yourself in the area of the town of Ubud, then consider bringing your laptop to Hubud, which is one of the pioneers of the coworking trend in Bali. Hubud has everything you need to work, including super-fast internet, public and private desks, and meeting rooms where you can talk to your team over Zoom.
Hubud also offers perks that other coworking spaces don't have, such as a physical mailing address and storage lockers that are protected at all times. The best part is that this coworking space is open 24-hours a day on weekdays.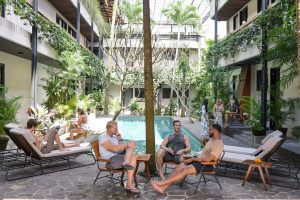 4.    Outpost Ubud Penestanan
People looking to work in a relaxing atmosphere with all the bells and whistles should try Outpost Ubud Penestanan, one of several stunning Outpost locations in Bali. Often compared to the work environment at tech companies like Google, Outpost offers an amazing atmosphere by providing not only the office space and meeting rooms that you require, but also outdoor gardens, deck spaces, and even an online masseuse that can help you relax after tense work sessions.
This coworking/coliving facility is uniquely-tailored for individuals and groups seeking to immerse themselves in developing a new concept or grow existing ideas. Outpost is a coworking space where you really feel like part of the community, and it is a location you must check out if you are in the area!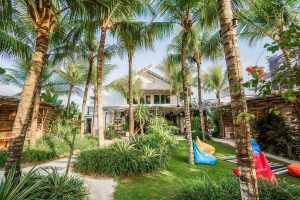 5.    Tropical Nomad
Established in November 2018, Tropical Nomad is a coworking space where you could get your work done while enjoying your stay in Bali or living your best life on the island! Perfectly located in the heart of Canggu, in between two main roads Berawa and Batu Bolong, the Tropical Nomad neighborhood is famously called "Canggu Shortcut."
With beautiful surroundings, this space is within walking distance to many restaurants, convenience stores, and is also only 10 minutes away from the beaches by bike. Offering high-speed internet, spacious open-air areas, private desks, air-conditioned rooms, balconies overlooking the rice fields, and a beautiful garden area with bean bags to enjoy the always-summer days in Bali, this space truly has it all.
As you can see, there are many perks to relocating to beautiful Bali and setting up shop in one of the city's many unique and tropical coworking spaces.
Use the tips we discussed to make your coworking experience as effective and relaxing as possible in Bali.