Dubai is one of the most popular cities in the world to work and live. It's a multicultural city home to people of 200+ nationalities, with mesmerizing skylines and beaches. The architecture of Dubai of buildings like the Burj Khalifa, Emirates Towers, and Dubai Mall are breathtaking. 
Aside from the main cultural and visitor attractions, Dubai is a great place for business. It's home to a world-class financial center. The economy is incredibly diverse. A zero-tax regime, an extensive airline and transportation network, and a strategic location between Europe, Asia, and Africa make business ventures popular here as well. 
As business becomes a driving force in Dubai, coworking spaces are growing in popularity, too. With almost 60 coworking spaces in the city, their flexibility, cost-effectiveness, and functionality are especially enticing. 
There are a few other reasons why coworking spaces are becoming a core part of Dubai's business infrastructure.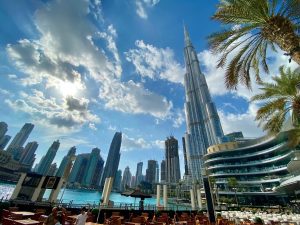 The Need for Coworking Spaces 
Aside from the flexibility, cost-effectiveness, and functionality of coworking spaces, the impact these businesses have on how someone works is tremendous. 
For example, many remote team managers may struggle with ensuring their employees are productive. From all of the distractions at home to not being able to see what an employee is doing, it's difficult to gauge remote employee engagement and effectiveness. For this reason, some companies may choose to track remote employee productivity in order to determine how their employees are currently spending their time, and how they could do so more efficiently. 
A survey conducted by Business.com demonstrates that 46% of professionals claimed their productivity increased once they joined a coworking space. Instead of being at home, employees can go to an environment built for professionals and surround themselves with people and amenities that help them get their jobs done. 
In addition, employers know where to find their employees. So, they can visit them to see how well they're doing. They also know that their workers are equipped with the tools they need to get their jobs done, helping them feel confident in their employees' productivity. 
Lastly, coworking spaces can reduce employee stress and burnout. A comfortable work environment with color, cheerful decor, and a refreshing atmosphere can make work less stressful and more enjoyable. The social interaction presented in coworking spaces helps, too. 
And once you leave the coworking space, it signifies the end of your workday. So many remote workers have an issue with clocking out, increasing their stress. Having clear work hours will help establish a healthy work-life balance. 
Whether in Dubai or another part of the world, coworking spaces are needed, and their benefits support this claim. 
6 Best Coworking Spaces in Dubai
To help you with your search for the perfect coworking space in Dubai, we've narrowed the list down to the top six. Let's explore them below.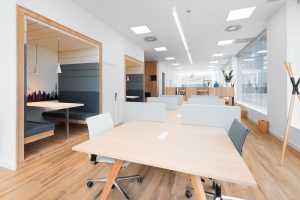 Regus Dubai, Boulevard Plaza Tower 1 
Regus Dubai, Boulevard Plaza Tower 1 is located in downtown Dubai on one of the most prominent streets, Sheikh Mohammed Bin Rashid Boulevard. It's surrounded by some of the city's most iconic buildings, including the Burj Khalifa and the Dubai Fountain. 
The Regus Dubai, Boulevard Plaza Tower 1 has a luxurious feel to it, built of steel and glass that allows ample natural light. Lavish lifts, a comprehensive business lounge, kitchen access, ergonomic chairs, high-speed wifi, and the space's proximity to restaurants, shopping, and transportation are noteworthy amenities. 
You can rent fully-furnished offices, individual coworking spaces, virtual offices, or meeting rooms that can be customized based on your needs.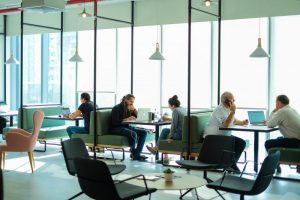 Nook 
Nook is an exclusive coworking space made specifically for people in the sports, fitness, and wellness industry. It's located in the heart of JLT, Jumeirah Lakes Towers, Dubai, near many waterfront cafes and restaurants, community retail stores, and office solutions. 
Nook can help you set up your wellness business if you're just starting. You can also rent meeting rooms, offices, event spaces, zoom rooms, coworking spaces, and meeting pods.
Depending on your membership, you can enjoy amenities like high-speed internet, free refreshments, printing, and access to a fully-equipped on-site wellness studio. 
Regus Dubai, DAMAC Smart Heights
The Regus Dubai, DAMAC Smart Heights coworking space is located on the 23rd floor of DAMAC Smart Heights in Barsha Heights. It's adjacent to Dubai Media City, Dubai Internet City, and Knowledge Village. 
Aside from the breathtaking views and location in a prominent business center, this coworking space offers amenities like a business lounge, an on-site swimming pool and sauna, and convenient parking. 
Fully-serviced private offices, executive meeting rooms, individual coworking spaces, and virtual offices are available to rent monthly or daily at various prices.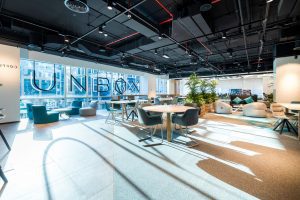 UNBOX Coworking Space in Dubai
UNBOX is an award-winning coworking space in the business hub of Dubai, located on the 2nd floor of building four in Bay Square.
It's one of the most diverse coworking solutions in the city that offers world-class amenities like 24/7 access, mail management, a barista-driven coffee shop, premium office furniture, and business registration support. 
Whether you're an individual, startup, or corporation, UNBOX has a private office, meeting or event space, virtual office, or coworking solution for you.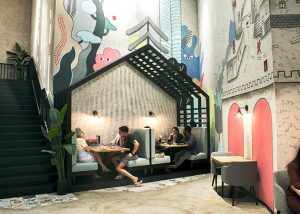 Letswork Dubai
Letswork is a global platform that connects workers with workspace solutions in various locations. Some of the company's most prominent locations are in Dubai, including:
Rove City Walk

The Six Cafe 

Molecule

OBK Business Centre

Calyp 

Polo & Equestrian Club
The exact amenities you get depend on the location you choose. But you can count on great views, a lively business atmosphere, food and refreshments, and office solutions.
You can pay for a Letswork membership or opt for a pay-as-you-go plan to access individual coworking desks, entire offices, or private meeting rooms.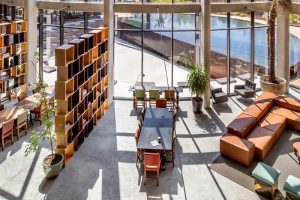 Nasab KOA
Nasab Koa is a members-only coworking space and social club located in Al Barari. Al Barari is a modern, gated community that features some of the most expensive luxurious villas in Dubai. This neighborhood is one of the most eco-friendly, with more than half of it composed of freshwater streams, gardens, green spaces, and natural lakes. 
Nasab weaves together work, wellness, and socialization. Its most notable amenities include The Tuck Shop, a photography studio, an in-house restaurant, LOWE, and wellness offerings such as a state-of-the-art gym, tennis court, and meditation room.
Once you apply to be a member and are approved, you have your choice of private office suites, shared workspaces, and meeting rooms.  
Conclusion 
Tired of a traditional office setting? Need a more flexible, affordable business solution? Want your employees to be more productive and engaged? Try a coworking space.
These six in Dubai are some of the best. But the shared space you choose should always account for your unique team and professional day-to-day needs.