In recent years, Spain has seen a movement away from traditional offices towards a more modern coworking culture. The numbers speak for themselves. Coworker.com currently has 436 coworking spaces listed in Spain and that number is only continuing to grow each month.
While getting off the beaten path in Spain will take you to incredibly livable cities such as San Sebastian and Bilbao, it's impossible to overlook Madrid when discussing places to work from.
The country's capital boasts a high quality of life on par with any other city in Spain (look out Barcelona!). For one, Madrid is compact enough to easily walk around. Having the ability to almost always get where you need to go on foot is an awesome convenience!
Another amazing aspect of living in Madrid is the city's beautiful architecture. Just about anywhere you walk in Madrid you'll see a building or landmark that'll make you say, "Wow!"
We could go on and on talking about the Madrid's trendy shopping plazas, beautiful boulevards, or hipster cafes, but let's just say Madrid has a lot to offers in terms of lifestyle and leave it at that.
Madrid isn't just a place to vacation and lose yourself as a tourist, however. It's also a city with a thriving local start-up community. Whether you're a fresh graduate or a budding entrepreneur, you'll appreciate Madrid's abundance of business opportunities as well as its surprisingly affordable cost of living.
While no city is perfect, Madrid checks the box for most things you'd look for in a city to work from — including an awesome coworking scene. Here are four of the best Madrid coworking spaces you should consider joining to make the most of your time in the city.
If you're looking to start coworking in Madrid, Bee Lab Coworking is a great option. This coworking space is spacious being larger than 400 square meters. All of that space is filled with excellent facilities as well!
A kitchen for making fresh coffee and snacks, meeting rooms to land your next big deal, one of Madrid's best internet connections, and even a mini-golf course to clear your mind after a long day of work, Bee Lab Coworking has all the amenities and features you could want from a coworking space.
The community at this space isn't half bad either. Members of Bee Lab come from a number of different countries giving the community an exciting cosmopolitan feel. Plus, events to enjoy some community warmth and networking are abundant. Every Friday for example, the community gathers for a breakfast event.
For a solid desk to work and abundant opportunities to network with friendly, authentic local professionals, Bee Coworking is one of Madrid's best coworking spaces.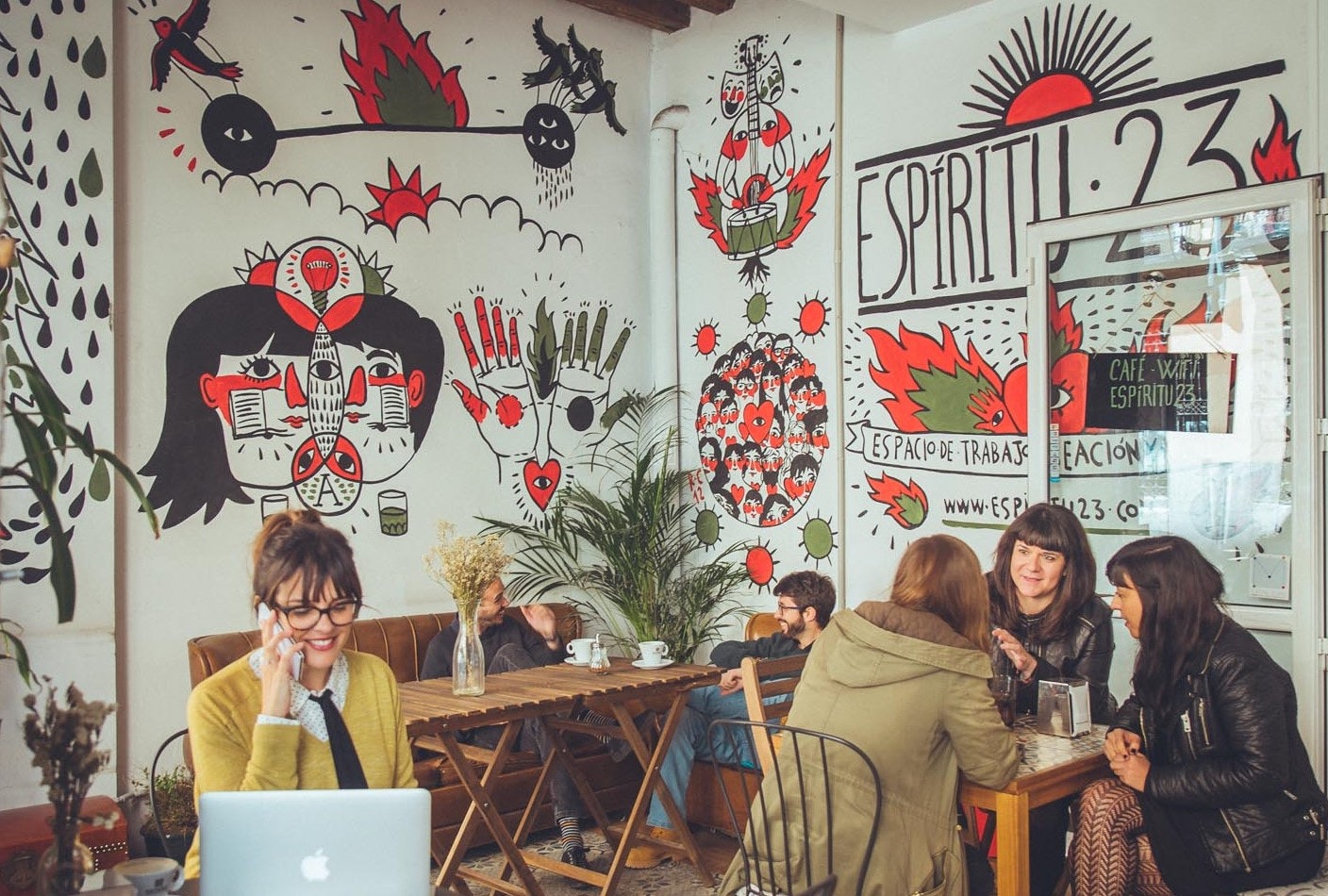 Espiritu23 is an affordable, yet dynamic coworking space located just a few minutes north of Madrid's Centro district. Apart from just being in the center of the city, this coworking space is also well positioned near several theaters, yoga studios, and even a nice park.
While the upscale neighborhood surrounding Espiritu23 is appealing, the same can be said of the space's interior. Countless paintings on the wall give this space character and can help inspire you to be more creative yourself.
Some of the community members are quite the characters themselves. When asked, "Why do many professionals consider Espiritu23 to be the best coworking space in Madrid?" One community member answered half-grinning, "Because I work here!" 😉
Laughs are pretty much a guarantee as a member of this space. Of course, you'll also be well equipped to be productive. As a member of this space you'll have access to a fast internet connection, kitchen, meeting room, printer/scanner, and more to crush the day's tasks.
Membership options include hot desks, shared tables and dedicated tables. Monthly fees are currently a great deal, but subject to future increases once management realizes they're offering members a complete steal at current prices!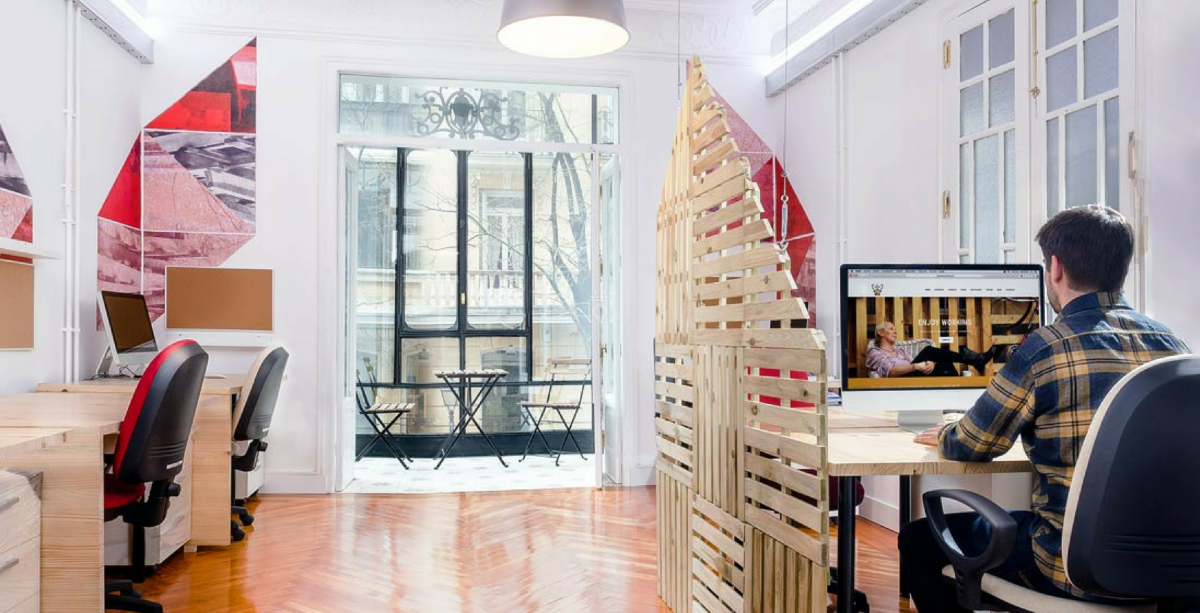 Some members of The Shed Coworking have called it not just the best coworking space in Madrid, but the best coworking space they've ever worked at! We're not quite ready to make that guarantee for you, but we will say there is a lot to love about coworking from Shed.
Starting with the location, Shed is located in the Salamanca neighborhood in the heart of Madrid. This location provides easy access to restaurants and bars after work, and is also easily reachable by public transport on your morning commute.
The highlight of Shed Coworking is clearly its naturally lit communal work area designed to maximize the efficiency of your efforts. With that being said, a membership at this space also offers a number of other benefits worth mentioning
Members are able to use meeting rooms, training rooms, wifi, a kitchen, and the space's beautiful outdoor terrace just to name a few things. From time to time, interesting workshops are held on topics such as email marketing, sales and cryptocurrencies too.
If your top priorities in a coworking space are continued professional development, networking opportunities, and working in a classy neighborhood, Shed may be the Madrid coworking space for you!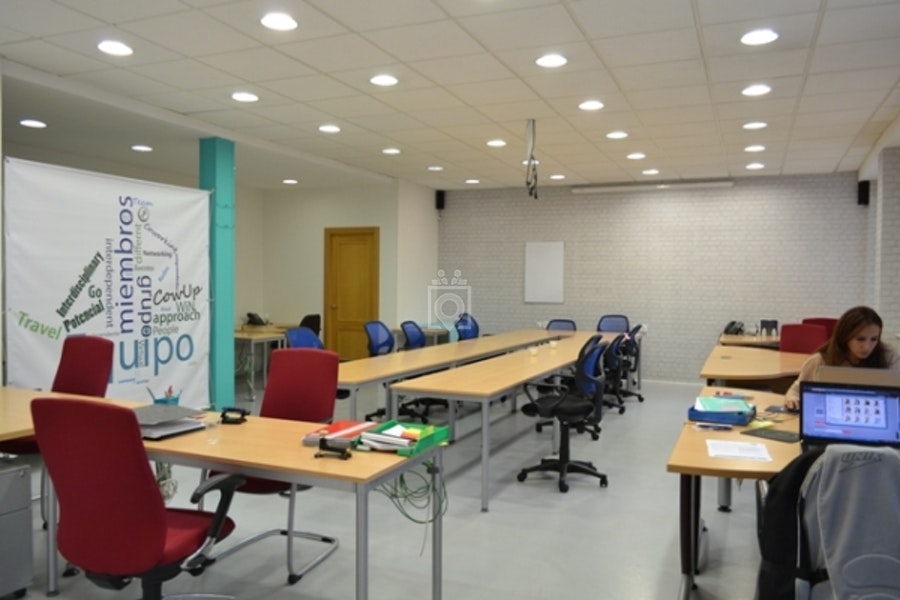 Despite being a decent 20 minute commute outside the city center, no list of Madrid coworking spaces would be complete without mentioning CowUp Coworking.
If you can relate to sometimes needing more daily motivation to be productive and stick with your tasks — especially the difficult ones, you NEED to get yourself over to CowUp.
Working alongside the community at this space will help stave off feelings of isolation, and energize you to do your best work or else… Yes, that's a threat! And that's why we love CowUp Coworking.
This tight-knit community will encourage you to make ambitious goals, and hold you accountable when you're not producing. While everyone has an off-day on occasion, you'll be motivated to not slip up too many times in a row when you see your peers crushing it at the table next to you.
A few other aspects of this space that make it a winner are the regular community events, meeting rooms for rent, photocopying, and the coffee area's heavenly smells. Oh, and most important of all, members have 24/7 access to the space.
Honorable Mention:
Espacio Muttante — A great community of designers, developers, copywriters, translators, marketers, and more. As a member of Espacio Muttante, you'll also have the opportunity to meet the wonderful space manager Guille Garcia.
This space is easily accessible by public transport and is located in downtown Madrid. We recommend this space if you love networking and working alongside other talented local professionals. The coworking room's atmosphere is casual and open to collaboration, yet still quiet enough for you to focus deeply.
Didn't see your favorite coworking space in Madrid on our list? As we said, there's plenty of other coworking spaces in this city, and all throughout Spain, to choose from. List your favorite in our comments below!