With such a large proportion of the world still working away from the office, it's not surprising that coworking spaces remain popular as people seek out more places to work comfortably. Coworking spaces offer a space for collaborative working, networking, and increased productivity as well as a host of useful amenities like printing, video conferencing, and high-speed internet. 
But when you're working with people from different walks of life and sharing workspaces, how do you maintain a professional and enjoyable environment for everyone trying to get their work done? This guide provides the accepted house rules for coworking that will help members work safely and cooperatively. 
Remember personal hygiene
One overhanging legacy of the pandemic is the importance people now place on maintaining good hygiene. In a coworking space where everyone is working closely with one another, it should definitely be a priority. Ultimately, there's only so much that you can regulate, but it's easier for viruses and germs to spread in public spaces. 
You can, and should, encourage people entering the space to be mindful of their personal hygiene, whether that's posting signs around the space to remind them to wash their hands, use sanitizer and wear face masks when they're indoors, or supplying hand gel and surface wipes for them to use before and after they've used a desk or computer. 
Share and manage equipment responsibly
Many people bring their own devices to a coworking space but the facility you're working from might have devices available for shared use. Therefore, owners of coworking spaces should be investing in regular deep cleans to ensure these areas are sanitary, but members also have a responsibility to ensure they're taking care of any items they're using.
From wiping down your computer keyboard and mouse to making sure that you log off completely when you're done and taking any printouts or documents with you when you're finished will ensure the person who's booked in after you can get on with their work straight away without needing to clean up after you first.
With this increase in employees working on their own devices away from offices, companies have started to introduce new rules and revise their policies on home device use and even created apps to support staff. 
Keep noise to a minimum
Coworking spaces should be relaxed, and they are the perfect environment for collaborating with others. But remember that you, and everyone around you, are there to work, so noise pollution can be a problem. Be mindful of your volume whether it's talking to people around you, on the phone or listening to music, as you run the risk of disturbing others. 
Many coworking spaces tend to have noise policies in place, so make sure you're aware of what the policy is where you're working and if you need to have a conversation, take it away from communal areas. If you and your colleagues need to have a meeting or know you're going to be chatting for some time, be considerate and book a private meeting room so you're not distracting those around you. 
Get rid of your waste
No one wants to work amongst someone else's rubbish and waste, so make sure you're clearing the space of any paper, used food packets and drink bottles, and other items you no longer need before you head home for the day.
Many coworking spaces will have centralized waste areas so you can also recycle your waste properly, which will help you and other members to stay mindful of how much you're throwing away and will encourage a collective practice of responsible disposal.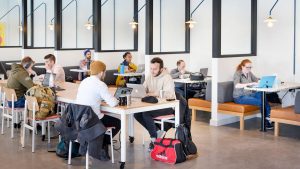 Respect boundaries
Boundaries are important when you're working with other people, not just from a physical perspective but also emotionally. In a coworking environment, this means making sure you're allowing plenty of space for others in communal areas, especially if you have a lot of items with you, and don't assume that the items on hot desks are there for you to take or borrow without asking. 
While communal desks are there to be shared, be mindful of how much space you're taking up. It's impolite to spread out over an entire table, particularly if others are looking for a space to work at. 
Keep your eyes on the clock
Time is the focus when it comes to coworking etiquette. If you've reserved a desk or a meeting room, make sure you're staying on top of the time you have left, so you're not impacting someone else's work time. The same can be said of using phone booths for a call, as someone else might be waiting to use it after you. 
Most things in a coworking environment are there to be shared, so make sure you're sticking to your schedule so you're not impacting someone else's. Take note of the opening and closing times for the coworking space too, so you can gather your things and be prepared to go on time – you don't want the manager to have to come round to ask you to leave. 
Key takeaways
So many people enjoy the feeling of working around others. Coworking spaces are ideal for this, giving you the opportunity to work flexibly but without needing to be alone at home. However, when you're working with strangers, you need to be mindful of your behavior to ensure you're not disrupting other people or making their work experience harder. 
From keeping desks and equipment clean to making sure you take your waste with you, staying on top of your schedule and keeping the noise down when you're working, these tips will ensure that your coworking experience, and the experience others around you have, is an enjoyable, safe, and hygienic one.