The Monday Blues. The Three O'Clock Slump. That Friday Feeling. Spend a week in any workplace, and you're bound to hear some combination of these excuses for slowed (or completely vanished) productivity from employees.
One poll by Budget found that employees in the UK are checked out of work mode by 10:19 a.m. on Fridays. Thanks to factors like social media and our ever-shrinking attention spans, focus and concentration in the workplace are increasingly transient. On average, 70 percent of professionals feel distracted at work, with another 16 percent admitting that they feel unfocused almost all of the time.
Moreover, the average professional checks their email 36 times an hour and takes 16 minutes to refocus their attention after opening a new email. All of this lost work costs the U.S. economy an upward of $650 billion every year, leading to a vicious cycle of poor productivity that can cause professionals frustration, stress, and disengagement in their work, potentially impacting mental health.
For business owners and remote managers, the question arises of how to increase employee productivity in the workplace so distraction doesn't lead to lost revenue.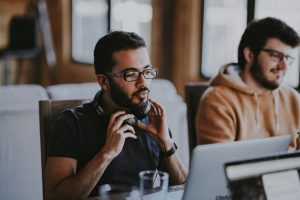 Ways to improve employee productivity through coworking
Knowing how to increase productivity of employees is no easy feat, especially when managing a team of remote workers who operate on different timezones. However, one innovation in the workplace arena that has proven to increase employee productivity is the rise of shared offices like coworking spaces.
Harvard Business Review defines coworking spaces as "membership-based workspaces where diverse groups of freelancers, remote workers, and other independent professionals work together in a shared, communal setting."
These spaces, which have expanded in quantity and quality to reach the now 35,000 spaces worldwide, provide a context that allows employees to be more productive than work-from-home or traditional office settings.
This is mainly because coworking spaces cater to both internal and verbal processors — members can get down to business in quiet zones or choose to utilize the open floor plan to be more interactive during the workday. No matter their preferred work style, employees have endless options at coworking spaces to be productive in the manner that is best for their particular attention spans, levels of motivation, and general output.
Furthermore, coworking spaces are incredibly productive working environments, teeming with self-starting entrepreneurs and business owners striving to grow their companies. In this type of environment, it's merely human nature to become adapted to and evolved by the people around you. The basic psychological principle of feeling a need to 'keep up with the pack' in an environment where people are getting work done will, in turn, act as a motivator.
Next time you're considering the best place for you or your team members to work, why not suggest a coworking space? You may be surprised to realize that knowing how to improve employee productivity can begin with a simple change of scenery.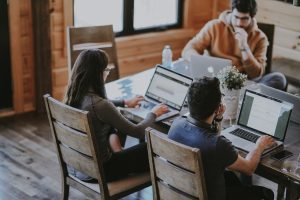 How to increase productivity of employees by coworking
While plenty of people find shared workspaces to be beneficial for many reasons, a whopping 74 percent of professionals experienced a boost in productivity after joining a coworking space. While there isn't any single reason why coworking improves productivity, there are several reasons why people thrive in shared workspaces.
For one, people who utilize coworking spaces are more likely to see their work as meaningful. This may be because coworking spaces are home to such a wide range of members working in different industries, which minimizes the internal politics or direct competition that are typically found in traditional offices.
Plus, working alongside a diverse ecosystem can make one's own professional identity stronger, as coworking members are often given the opportunity to describe what they do and what their goals are.
Secondly, professionals thrive in coworking spaces because they have more job control. Since most spaces are open 24/7, employees can choose to put in a long workday when they need to show progress or they can take a mental break when they get distracted. They can even choose to work from home if a family member needs them or to accept a delivery.
And while people value having this type of freedom and autonomy in their professional lives, they equally value some form of structure. Too much freedom can oftentimes work against one's productivity. But having a go-to community where they're more or less expected each day, employees gain the structure and discipline they may need to be motivated.
Thus, some minimal form of structure paradoxically enables the degree of control professionals desire and need to be productive.
______________________________________
Knowing how to increase productivity of your employees can present a challenge at first, but by making coworking part of their workday routine, you can provide a motivating setting where they can thrive.