New York has coworking spaces in almost every configuration imaginable – from sleek and professional high-rise suites to casual, laid-back one-story conversions.
Offering amenities like high-speed internet, cafes, virtual offices, and mail services, the best coworking spaces in NYC provide everything that entrepreneurs need to get down to business. 
Here are the five best coworking spaces in NYC that you can visit and try out for yourself in 2022, as well as a breakdown of each space's pricing.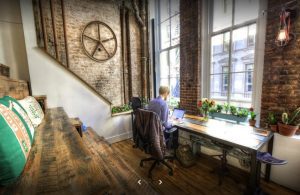 #1: The Farm
An engaged community for designers, developers, artists, and entrepreneurs, The Farm has locations in Soho and NoMad. Between its unique features and affordable pricing, we consider it the city's best coworking space.
The original Soho location was built out using reclaimed, century-old barn wood from Missouri, with a treehouse hideaway and nap room in addition to hand-built custom workspaces. All memberships include pet-friendly 24/7 access and use of the conference rooms. Perks include free weekly yoga classes, happy hours, rooftop barbecues, and more.
Hot desk memberships, including a guaranteed seat in the shared workspace area, range from $169/month for a six-month commitment to $299/month for month-to-month. A dedicated desk in the shared workspace area costs $399/month.
Private offices for up to four people are $2,000/month. Enterprise offices, which hold up to 14 people, range from $22,000 to $25,000/month, depending on location.
The Farm's virtual office package ranges from $10 to $42 a month, depending on mail volume.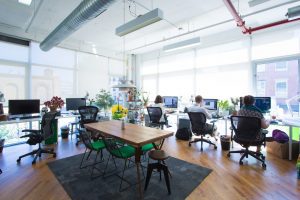 #2: Greendesk
Are you looking for eco-friendly office space? You'll find it at Greendesk. With an emphasis on sustainability and features like an onsite cafeteria at each location, Greendesk is among the best coworking locations in NYC.
Their nine turnkey locations are spread throughout Brooklyn and Long Island and offer month-to-month and long-term arrangements. The buildings all feature recycled aluminum and glass, a mix of traditional and renewable energy sources, green cleaning products, and energy-efficient LED and CFL lights on motion sensors.
Geared toward start-ups, Greendesk workspaces provide 24/7 access, organic coffee, fruit-infused water, open event spaces, and weekly office cleaning. Each location has an outdoor patio, cafeteria, bike storage, lounge access, and weekday on-site building management. Most memberships also include a set amount of conference room usage.
Hot desk memberships, with access to any available desk between 9-5 on weekdays, are $29/day or $150/month. A dedicated desk in the shared workspace runs $199/month. Private office suites start at $250/month per desk, and same-day move-in is usually possible. Greendesk's virtual office option starts at $49/month.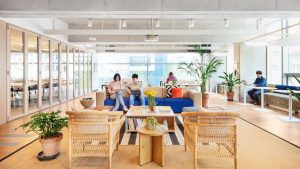 #3: WeWork
WeWork is perhaps the most famous coworking company worldwide. With 85 locations sprinkled throughout New York City, including most of the higher-profile commercial districts, it's also among the city's best. Most locations are situated near popular shops and subway lines.
Emphasizing convenience and community, WeWork offers custom spaces for remote, part-time employees and companies. Members enjoy 24/7 access plus amenities like printing services, office supplies, and cleaning services. Mailing services and conference space are also available.
Hot desk memberships start at $350/month. A dedicated desk within a shared workspace runs $450/month and up. Private office space starts at $750/month and is priced per desk. Check for occasional new-member promotional pricing.
WeWork is also an excellent alternative for those who frequently travel, as you can buy an all-access membership that lets you use any of their more than 800 locations worldwide in 77 cities across 23 countries.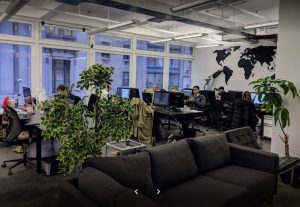 #4: Ensemble
Ensemble offers users a midtown Manhattan address at a bargain price that still includes access to a number of the most-wanted features in coworking spaces. Amenities include conference rooms, phone booths, projectors, a community library, event space, and more. The kitchen is supplied with organic teas and coffee, and management sponsors monthly events like beer and pizza night. Grand Central Station is just a few blocks away, and both the New York Public Library and Rockefeller Center are nearby.
Open workspace access starts at $35/day Monday through Friday.  Dedicated desk space memberships start at $600/month. Private office suites, including 24/7 access to a suite holding up to 14 people and 20 hours of conference time each month, start at $2,000/month.
Ensemble's virtual office package, which lets you use their address solely for sending and receiving mail and packages, is $50/month.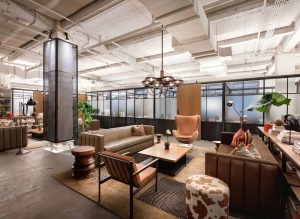 #5: Neue House
Neue House attracts people from the creative and artistic professions, such as fine arts, filmmaking, architecture, fashion, design, and the media. Covering five floors of the Madison Square building in the Flatiron District, previously the home of Tepper Galleries, the site features very high-style décor and furnishings. A bar and restaurant populate the ground floor.
Most memberships can be used nationwide at all five Neue House locations (NYC, Hollywood, Los Angeles, Venice Beach, and Miami). Depending on membership level, amenities can include a broadcast studio, private phone booths, podcast rooms, in-house production services, private event spaces, cultural programming, art exhibitions, noise-canceling headphones, Linus bikes, and a lot more. There's even a screening room.
Salon memberships, which start at $275/month, provide shared workspace access for eight days per month. Gallery memberships offer unlimited access to a single location's shared workspace for $595/month and up.
Starting at $900/month, Atelier memberships provide a dedicated desk within the shared workspace. At $3600 a month and up, Studio memberships include a private studio space that can seat two people comfortably.
Neue House also has a unique membership called Brand Access, which provides complete access to all locations and amenities for a set number of days each month. This is quoted on request.
—
Whether you're a start-up company, a small enterprise, or something a bit larger, there's one common feature of coworking spaces that appeals to all – flexibility.
Whatever rates and amenities you are looking for, we think you'll find them among our top five coworking spaces in NYC. But if you don't, just keep looking. New York City offers hundreds of coworking options to suit just about every need and want.