There's never been a better time to earn money as a writer than now.
Whether you are looking to change careers or gather some extra bucks on the side, the remote work revolution – together with the different types of freelance writing opportunities – has made it entirely possible to get paid right from the comfort of your own home.
Unlike before, there are now scores of work-from-home jobs. If you're familiar with where to find them, you could potentially be earning handsomely from your writing in just a few days.
This guide will walk you through what to expect from work-from-home online writing jobs, including the types of jobs available, how to find online writing jobs, and how much you can earn for your writing expertise.
Working from Home: Online Writing
Not long ago, the types of jobs you could do from home were scarce. But nowadays, the innovative remote work industry is quickly revolutionizing industries and the options to work from home are innumerable. You can now be a personal blogger, write college essays for cheap, manage social media accounts, or even operate your own psychology practice.
Work-from-home job opportunities have rapidly expanded, and so has one of the most popular remote job options: online writing.
Remarkably, you don't need to be a journalist or write a book to be a writer. Web content creation is a key element of today's businesses, and traditional ads and brochures still need to be written. Companies are in dire need of writers, and most of them are willing to afford you the luxury of writing from home.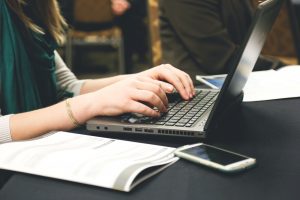 What sort of writing jobs can you do from home?
Surprisingly, there is a wide assortment of different types of online writing jobs you can do from home, although some are more popular compared to others.
Some of the most common and easily accessible ones include:
Blogs: Numerous businesses use blogs to boost their digital marketing strategies. Writing blog posts for different clients can be a steady and exciting job option.
Poetry: You may be surprised to learn that you can make a living by writing poems for various publications. It may involve some pitching, but before long, you'll have a steady assortment of outlets who will continually publish your poems.
Articles (Journalism): Magazines and newspapers hire both freelance and full-time writers to draft their articles that are subsequently read by millions of individuals across the globe.
Recipes: While writing recipes online isn't a particularly lucrative job option, it can be a fun option of making some extra bucks—especially if you enjoy getting creative in the kitchen.
Resumes: Resume writing is quite an interesting gig. Numerous job seekers want to make the best impression on their potential hiring managers, and as such, if you are good at this, you could assist them by fixing or writing their resumes from scratch.
Besides journalism, all of the types of writing mentioned can either be ghostwritten for other individuals or be published under your personal byline. Typically, while having your name on your content significantly boosts your portfolio, ghostwriting actually pays better.
Full-Time vs. Freelance Online Writing Jobs
It's basically up to you to decide whether to search for a full-time or freelance writing gig based on your schedule or current workload. Your choice will depend on your preferences and goals.
Each of these options has both pros and cons to consider:
Full-Time
Yes, you can easily get a full-time online writing job. Lucky for you, it'll come with multiple perks like a steady income, paid vacation, and health insurance, among other benefits. Usually, full-time gigs also come with responsibilities not directly tied to writing, such as managing social media handles of a business or even performing some data entry tasks. This will definitely be the case if you are writing full-time for a relatively small business. What's more, some businesses might require you to be present in the office on certain days or attend meetings.
Freelance
Freelance writers are basically independent contractors who have complete control of their schedules and have the luxury to pick the types of content they want to create. As a freelance writer, your initial income will usually be less steady, particularly when you are building your reputation and portfolio. But, it will get better over time, depending on your commitment and quality of content.

Where and How To Find Online Writing Jobs
Before you venture into the world of online writing, it's essential that you decide whether you want a part-time or full-time gig. Once you know, you can then easily navigate the various sites and forums that offer your preferred job description.
Some of the most popular options for finding online gigs include:
Full-Time Positions
If you are searching for a full-time online writing job, these are the most popular and reliable job platforms. They feature the most diverse array of job listings for full-time online opportunities:
Freelance Positions
Alternatively, if you are looking for a freelance writing job opportunity, check out these top-rated job platforms: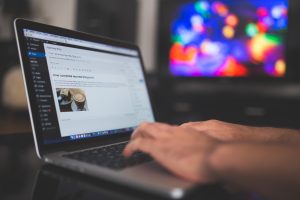 How Much Can You Earn From Online Writing Jobs?
Your overall earnings as an online writer will depend on what type of job you are doing (freelance vs. full-time), the type of content, and the overall quality of your work. With full-time online gigs, you may need to include your resume and demonstrate that you have a degree. By contrast, freelance gigs will simply focus on whether you can create high-quality content in a timely manner.
Usually, you can earn anywhere between $30,000 to about $60,000 annually with a full-time writing job based on the type of job and your overall experience.
As for freelance writing, the pay might vary from between $10 to around $400 to write a single blog post or between $25 to about $200 to write a poem. What's more, some freelance online writing gigs pay on an hourly basis. Hourly pay can be a fantastic option, especially when you are just starting—though your success will depend on your efficiency as well as your ability to write fast. Hourly freelance writing rates can range from between $15 to about $25 per hour—a price that can usually rise to around $200 per hour for professional copywriters.
Stay Home and Start Making Money Online
By now, you're familiar with what to expect if you want to start making money from online writing. Now, the decision is up to you! No matter what you decide to do, your next step is quite easy: work on your portfolio and get pitching!
Although you may have to settle for a low starting income, if you are dedicated to consistently delivering high quality work, you'll be surprised at how fast you will ascend the ranks.
Happy writing!