As a freelancer, one of the biggest challenges is constantly attracting new clients to your business. 
Due to the nature of freelancing, in which even satisfied clients can leave your services in an instant, developing a steady stream of referrals allows you to protect yourself from the worst-case scenario. 
So, even if your current clients leave, there's always somebody waiting to become your clients. And we're not just talking about any prospects here—we're talking about highly targeted, high-ticket clients.
To do this, you must develop a system allowing you to generate more referrals to your freelancing services. To help you create one, below are strategies you can use to build your setup so you can find the right clients to work with.
1. Leverage your network
One of the best and easiest ways to find referrals for your freelance business is from your existing contacts.
Since you have established relationships with people in your network, i.e., colleagues, coworkers, friends, it is much easier to strike up a conversation with them regarding a job opportunity they may have for you. They know the high quality of work you produce, so the chances of them giving you the job are higher than someone they don't know.
Also, people in your network can refer you to others looking for freelancers who possess your skillset. Again, the fact that they know the kind of work you do allows them to match you with the right prospective employers.
But before reaching out to them via DM or email, you must prepare your portfolio in case they ask. Aside from the usual information, it should show samples of your work and how you can help your freelance clients grow their business with the kind of freelance work you offer. This way, you can communicate the value you can provide for companies that wish to work with you.
It would even be better if you could turn your portfolio into your website, complete with personal branding to help you stand out from other freelancers seeking the same job opportunities. The website makes accessing your personal and professional information much easier without sending over a hard copy of your portfolio or resume.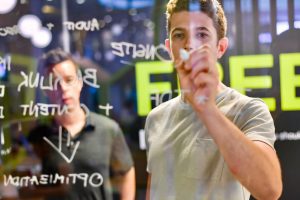 2. Develop an SEO and content marketing strategy
You must manually reach out to potential clients to hire you as a freelancer when starting out. This process becomes tedious and difficult to manage, especially if you barely have time to work with existing clients.
Your goal as a freelancer is to continuously replenish your client base with new clients so you won't run out of professional opportunities. And a combination of SEO and content marketing allows you to develop an autonomous referral system for generating client referrals on autopilot.
So, instead of actively running client acquisition campaigns to garner more clients, your strategy will do the heavy lifting for you. From here, you can simply vet through the list of opportunities you have collected from your campaign and turn the best ones into clients.  
To do this, you must conduct keyword research and find search terms that people use to search for your services. Create pages and optimize for these keywords on your landing page so you can rank on top of search results for them.
To help you increase your organic search visibility, search for informational keywords of search queries that ask questions about your expertise. Then create a page for each question and provide them with the answer in the content. Also, consider creating YouTube videos if the questions call for more visuals in answering them.
You create topic relevance by creating pages showcasing your knowledge about a topic you're freelancing for. It allows search engines to acknowledge you as an authority in the niche (assuming that you publish high-quality content).
The results may take a while to manifest. But once they do, expect to rank on top of Google for your target keywords and turn organic visitors into leads and clients.
3. Use social media
Social media is a great way to grow your client base as a freelancer. You can leverage the different platforms to promote your services to attract more prospects.
But to do that successfully, you need to establish your brand as an authority in your industry. Showing your network that you know your niche like the back of your hand can impress some of them to become your clients.
First, you need to determine which channels you plan on exerting your influence. As a social networking platform for professionals, LinkedIn is the obvious choice. But Facebook and Twitter can be a goldmine for referral clients, especially if the majority of your prospects use these platforms.
From here, you must create a content calendar that allows you to share posts showcasing your knowledge in your niche while engaging with your network.
Start by curating content such as infographics and educational videos relevant to your industry and share your thoughts about them. Ideally, you can share your latest blog posts on your website to help funnel traffic into your site in the hopes of converting visitors into leads or clients.
You can also ask questions to people in your network as a way to connect with them on a more personal level. 
To help you schedule the posts in advance, use a tool like Hootsuite or Buffer. By preparing the content to be published over a period using either tool, you can focus on working on your clients and growing your revenue.
After publishing the posts, check the analytics from each social platform you're using to see how effective your posts are. The higher the engagement and clicks to pages you shared, the better the chances of landing clients in the process. 
You can then tweak your next set of posts based on the results. Maintain the same approach to creating posts with the highest engagement and clicks. For posts that underperformed, find ways to improve them or disregard them in your next campaign so you can focus on the tactics that worked.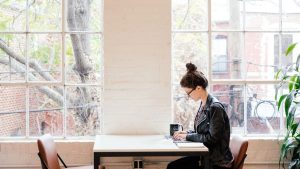 4. Launch an affiliate program
An affiliate program allows you to mobilize marketers or even existing clients to promote your services. For every successful referral every member of your program makes, they receive a commission for their efforts.
An affiliate program is an excellent way to generate clients passively and grow your freelance business. You give the reins to marketers on promoting your freelance business. They earn only when they can turn any of their prospects into your clients. It should incentivize them to ensure that their efforts are not in vain to make money.
Launching such a program requires you to have tools in place. If you're running your website using WordPress, plugins like AffiliateWP allow people to sign up as members to get their unique tracking URL that they can promote to their audience. 
It also helps you create an onboarding process, so clients know what to do and expect from your services. 
Finally, the plugin monitors how many clients each member has converted so you can send them the correct amount for their commissions.
An affiliate program is a time-consuming process and is ideal for freelance businesses with enough resources to manage the entire operations. It's best to outsource business tasks for your program so you can focus on your clients and let your lead generation system take care of itself.
5. Publish guest posts
Guest posts are synonymous with link building and SEO. The idea is to create content that other sites are willing to publish. Within the content or on the author bio of the post, you should include a link to your website if readers wish to reach out to you for questions about the post.
But for the purpose of getting client referrals to your business, guest posting works just as well, if not better. Instead of focusing on getting backlinks to grow your organic traffic, you want to impress readers of the sites you're writing guest posts for. 
You can do this the same way you use social media—create compelling content that resonates with your audience and encourages them to hire you for your expertise.
For starters, you must first identify websites you wish to guest post on. Some sites have a "Write for Us" page that provides you with instructions on submitting guest posts to them.
You can find these sites by typing "industry inurl:write-for-us" (replace industry with your industry) on Google. The results should show you the top websites in your industry to submit your guest posts.
If you're eyeing to guest blog on authoritative sites that don't have a Write for Us page, you can reach out to them via email drip campaigns. The initial email of your guest blogging campaign should introduce who you are, your writing credentials, and topics you want to write about for the target sites.
The succeeding emails should ask them if they receive the first email or who you should reach out to instead to help you with your query.
Even if you don't fancy yourself as a writer, you should still leverage guest posting into your strategy. You can hire someone who can ghost-write for you and edit the work before submitting it to ensure that the quality is up to snuff.
If your content impresses, you can expect readers of the site to check out your link in the author bio to learn more about what you have to offer.
Conclusion
Using the strategies above to encourage referrals to your freelance services should help you build a steady stream of high-quality prospects over time. 
Some of the strategies require manual effort, while you can set others to take place on autopilot using different tools. The key here is choosing the strategies that fit your branding and campaign. This way, you can scale your multichannel approach and maximize the results of your effort.
Also, to help you compliment your lead generation campaign, you must focus on building client relationships with existing clients. By personalizing how you treat your customer, you make it difficult for them to leave your service due to the excellent support you provide.