The year 2023 is fast approaching, and with it, the need to optimize your hybrid workspace is more important than ever. As more workers embrace remote work and flexible office arrangements, employers must take steps to ensure that their hybrid workplace provides a productive and efficient environment for employees.
This article will discuss the critical considerations for optimizing your hybrid workplace, helping you create an environment that supports office and remote workers.
Optimizing Your Hybrid Workplace
Here are some practical tips to help you optimize your hybrid workplace.
Understand the Benefits of a Hybrid Workplace
To create a successful hybrid workplace, begin by understanding the benefits. A hybrid workspace allows for more flexibility, allowing employees to work from wherever is most productive. It also offers more significant cost savings due to reduced office space and fewer travel costs.
Encourage the Use of a Coworking Space
Coworking spaces offer a great way to bridge the gap between working from home and in an office. They are often more affordable than traditional office space, allowing employees to take advantage of all the benefits of a professional working environment without the high costs associated with leasing.
Additionally, coworking spaces typically feature amenities such as meeting rooms, printing facilities, and even social areas – perfect for connecting with other entrepreneurs or freelancers. Consider partnering with local coworking spaces or investing in one if your budget allows it.
With many lesser-known benefits not always immediately apparent, it can be helpful to use a coworking space as an incubator for your hybrid workplace. This way, employees can become accustomed to its advantages before fully committing to the concept.
Evaluate Your Company's Needs
When designing your hybrid workplace, assess your company's needs and determine what type of setup would best support employees. Evaluate the size of your team, the types of work they are performing, and their preferences when working remotely or in an office.
Once you clearly understand where and how employees will be working, set up a system that allows them to communicate effectively with each other and with management. This could include video conferencing software, instant messaging tools, project management platforms, and cloud-based file-sharing systems.
Choose The Right Technology for Your Hybrid Workplace
Technology is a critical component of any efficient hybrid workspace. To ensure a productive environment, choose the right technology for your needs.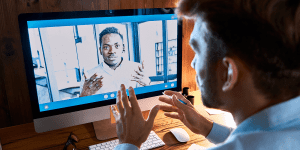 For example, a company that relies heavily on remote workers in different time zones may benefit from more advanced video conferencing software. At the same time, a small business may invest in a project management platform to ensure efficient communication.
A company that provides medical marijuana recommendations may invest in a secure data management system, while an engineering firm may require advanced software for product testing.
As you can see, it depends on the type of business and its operations.
Create An Onboarding Program for Remote Workers
When transitioning to a hybrid workplace, an onboarding program is essential for ensuring the smooth integration of new hires. As well as introducing them to the company culture, processes, and systems, you should also ensure they understand how to use any collaboration tools available.
At the same time, supporting existing employees who may need help adjusting to their changing organizational roles or mastering new technologies is essential.
Implement The Right Policies and Procedures
The right policies and procedures include setting ground rules on working hours and expectations, defining security protocols for protecting confidential data, and establishing guidelines on communication and collaboration.
From having virtual meetings dos and don'ts to giving remote employees access to the tools they need, implementing the right policies and procedures are essential for a successful transition to a hybrid workplace.
Train Your Employees on How to Use New Technology
The key to successfully transitioning to a hybrid workplace is training your employees on using the new technology. Ensure they understand the features and functions of any available tools and the security measures for confidential data.
In addition, provide guidance on collaborating effectively when working remotely or within an office. This could include setting up video conferences, using online collaboration platforms, and establishing procedures for communication between employees.
Consider the difference between upskilling and reskilling for remote workers and the training necessary for in-office employees. Upskilling refers to enhancing existing skills, while reskilling involves learning new ones.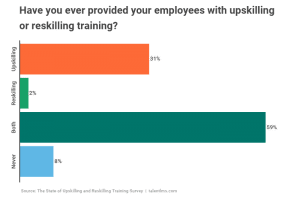 Knowing which training best fits each employee's needs is an important part of successful implementation.
Make Sure Your Hybrid Workplace is Secure
While we've already touched on this, it's important to emphasize the importance of security when transitioning to a hybrid workplace. Security features should include encryption for all files, strong passwords for accounts, and access control systems to prevent unauthorized use of confidential data.
You should also provide cyber security training to all employees. This will ensure they know the risks associated with remote work and understand the steps necessary to keep their data safe.
It also bears mentioning that different levels of security may be needed depending on the type of data being stored or shared. For example, a real estate investment company may require an extra level of protection than a marketing agency.
Take Advantage of Cloud Solutions to Reduce Costs
Gone are the days of investing in costly hardware or software solutions. Thanks to cloud computing, businesses can access information from any device with an internet connection and reduce the cost of maintaining expensive infrastructure.
Cloud solutions are also highly secure and provide scalability as your business grows. From accounting software for consultants to project management systems for remote teams, there are cloud-based solutions available to suit any business need.
Utilize Analytics and Data to Inform Decision-Making
Data collection is key to enabling efficient remote work. It also makes it easier to track the performance of your hybrid workplace. By gathering data on team productivity, collaboration, and customer satisfaction, you can gain valuable insights into how your hybrid strategy works.
You can also use analytics to identify trends and patterns that could help inform decision-making. For example, suppose you notice a drop in customer satisfaction when employees are working remotely. 
In that case, you may want to improve communication between team members or increase accountability by introducing more robust performance metrics.
Whatever the solution might be, it all starts by identifying the issue through data. With the right analytics tools, you can unlock greater insights into your hybrid workplace and use them to adapt and optimize for success.
Support Employee Well-Being Through Flexible Scheduling and Workload Balancing
A hybrid workplace should not only increase efficiency but also promote employee well-being.
This means allowing employees to set their hours and providing flexibility when workloads become too heavy. It also involves supporting employees with the resources they need to stay motivated and productive, such as access to mental health services or meditation classes.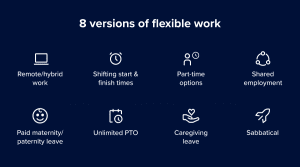 Fighting loneliness and isolation can also be a challenge in hybrid workplaces. Coworking spaces, online forums, and virtual social events can be beneficial in addressing this.
Prioritize Diversity and Inclusion in Your Hybrid Workplace
Diversity and inclusion are vital to creating a successful hybrid workplace. By recruiting team members from different backgrounds, you can benefit from different perspectives and skill sets, as well as gain insight into the needs of your diverse customer base.
Let's say a company specializing in building physical buildings and structures is transitioning its operations to a hybrid workplace. The company receives a construction worker's resume showing the applicant has remote work experience.
This experience includes helping to create virtual blueprints and simulations of physical buildings, which could be a great asset in the new hybrid workplace.
While this is an unusual situation, it could benefit the company. This applicant has already proven they can work remotely and likely have specific knowledge of managing construction sites remotely. In addition, the person's experience building physical structures could be an asset when transitioning to a hybrid workplace that still requires some on-site elements.
It's essential to remain open-minded when recruiting for a hybrid workplace and consider applicants who may not fit the traditional mold but could bring unique skill sets or experiences to the table.
Focus On Communication and Connection Among Employees
In a hybrid workplace, staying connected with team members and maintaining open communication lines is essential. This could include regular check-ins or virtual coffee breaks that allow employees to build relationships in an informal setting.
Providing knowledge-sharing opportunities, such as online workshops or cross-functional projects, is also essential. This can help ensure everyone is on the same page regarding goals and objectives and foster a sense of community among remote team members.
Finally, create channels for feedback so that employees feel heard and their suggestions are considered. This can go a long way in creating an engaging culture within your hybrid workplace that encourages innovation and supports growth.
Conclusion
The most successful hybrid workplaces have balanced the need for employees to collaborate and connect in person while providing the flexibility necessary for remote workers. This allows companies to leverage their existing physical space and quickly scale up or down according to changes in demand.
Despite its challenges, embracing a hybrid workplace is essential if your business wants to remain competitive in the ever-changing landscape of flexible office space and remote work.
With careful planning and implementation, businesses of all sizes can create an effective hybrid workplace that fits their needs.